Walk down the plaza path and up the wooden steps leading to the Social Graces Vintage shopette. Inside, vintage treasures and a warm smile from owner Jordan McMills await.
Through the end of April, the shop is operating on a temporary, three-month lease in the intimate Mid City shopette formerly home to the Mimosa Shopette. The stylish, rentable boutique trailer is parked next to businesses Red Stick Reads and Mimosa Handcrafted. As her online boutique's national connections have grown, McMills saw the space as an opportunity to make more local ties. 
A 1960's nude pop art poster hung in the center of the room catches eyes the moment shoppers walk in the door. Her newest find— a collection of bucolic hummingbird artwork from the 1800s—is scattered across the walls. McMills uses neat displays and professional framing to challenge the maximalist and mucky stereotypes sometimes used to characterize vintage and antique shops.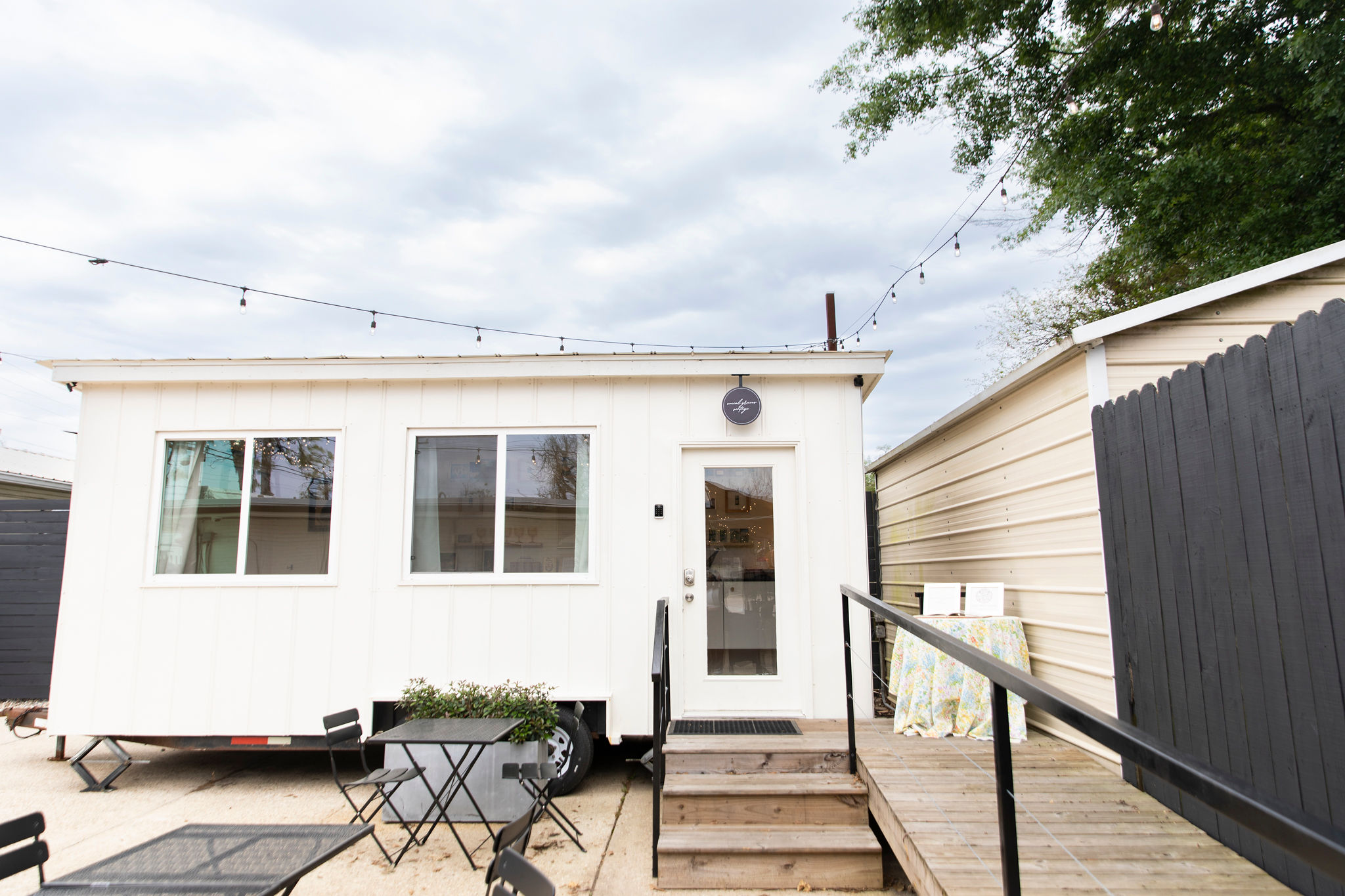 "Finding a lot of these things is really incredible," McMills says. "It's been fun to give a modern slant to certain vintage things that people haven't really thought about before." 
McMills dedicates anywhere between eight to 14 days each month to searching for vintage objects at garage sales, estate sales, Facebook Marketplace. She researches each piece to identify its history and value. She dreams up creative displays for her online store and shopette. She is especially drawn to 1900s and Art Deco-era vintage paper, glassware, china and furniture. 
Through undergrad and law school, she recognized the importance of finding creativity within herself. 
"There really wasn't a lot of love for legal field stuff," McMills says. "It didn't really feed my creative side."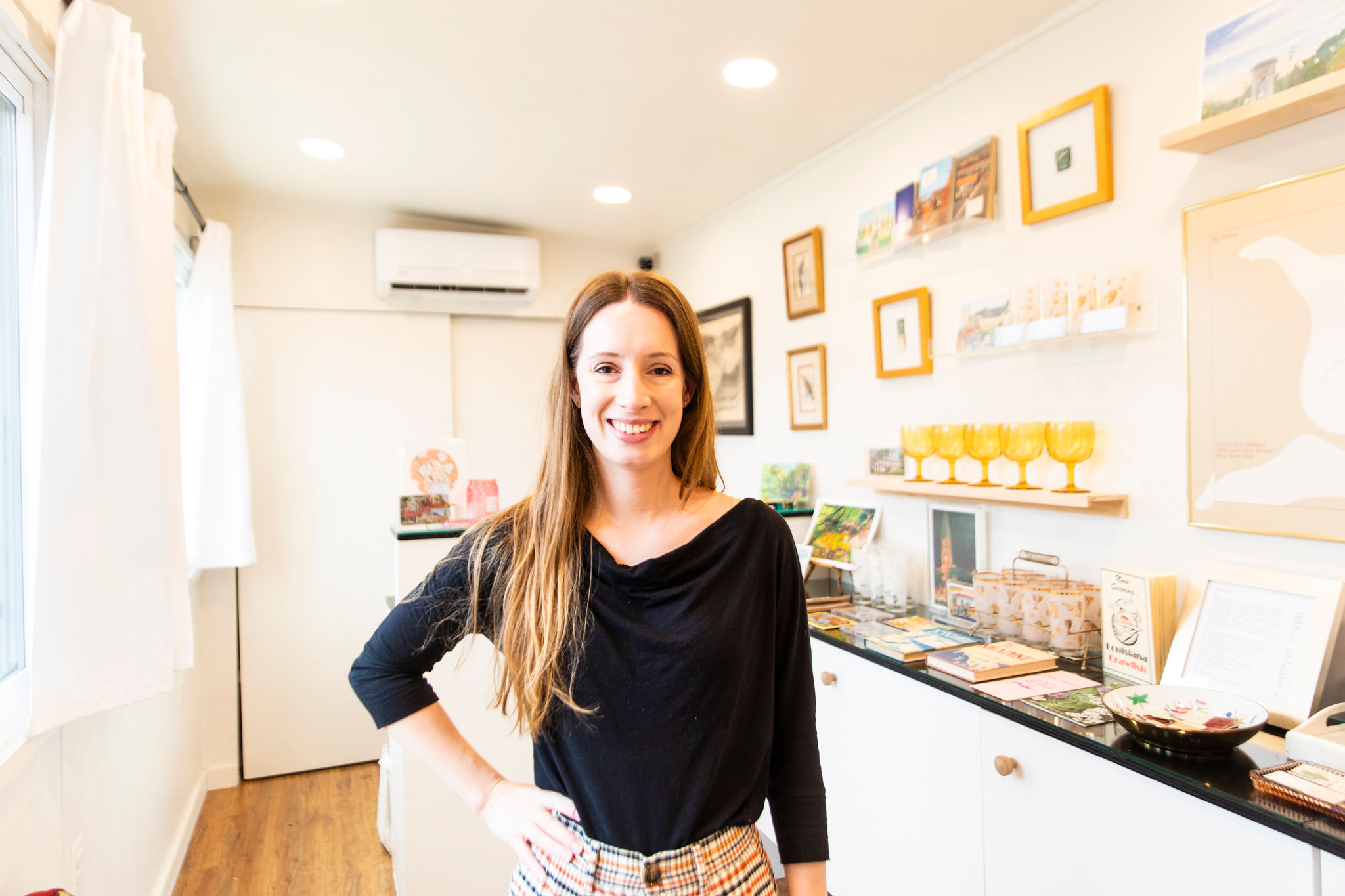 Social Graces Vintage all started as a creative outlet for McMills during the pandemic lockdown. As business budded on her Instagram page and website, people began reaching out not only to buy already listed items, but to also ask for help finding specific pieces.
For nearly two years, she stayed on high alert for an Austin Powers-esque 1970s Flower Power Glassware Set produced during the flower power movement. It was a request from a desperate family in California. The client, Jennifer, was on a life-long mission to find the glassware, and as she stumbled upon Social Graces Vintage Instagram, she requested McMill's help. Jennifer was raised drinking out of these vintage glasses in her grandmother's kitchen. They were special to her mother, who somehow didn't have a complete set.
After the initial request in March 2020, McMills was finally able to cross the glassware off of her wish list in April of 2022. McMills found the set in mint condition during one of her scouting trips. The set is now near and dear to the family's heart, as the glassware has been a part of their lives for generations.
Social Graces Vintage will fill The Shopette on 541 S. Eugene St. until the end of April. It is open Wednesday through Saturday, 11 a.m.-3 p.m. 
But once the vintage business moves out, there's more to come. McMills promises to continue growing her online presence and connecting with locals at pop-up markets. 
"As for being creative, you really just have to try something," she says. "It is a lot of trial and error, and that's how I'm looking at being in the shopette for this time period. I'm very open to the research and trying new things."