While many animal-assisted therapy services rely on dogs and other companion animals, some local groups harness horsepower.
"Horses are so sensitive; they can feel a tiny fly on their back," says Sarah Davis, executive director of GaitWay Therapeutic Horsemanship. "So, of course, they are aware of how their rider is feeling. They just have amazing intuition."
GaitWay offers riding instruction for adults and children at all levels at its facility in St. Gabriel, and it's one of the few Louisiana programs certified by the Professional Association of Therapeutic Horsemanship.
The nonprofit's adaptive riding instructors teach individuals with attention deficit/hyperactivity disorders, depression, anxiety, neurodivergent traits, cerebral palsy and genetic disorders, as well as students who are blind, nonverbal or wheelchair dependent.
"We personalize the tack and lesson plan based on each student's ability and goals," Davis explains. For adaptive riders, those goals often involve improving strength, balance, mobility, focus and communication.
Building the trust necessary to acquire those skills requires an especially empathetic equine. "You need a horse who has a calm and kind disposition, knows his job, trusts his caretakers and is steadfast," Davis explains. "It's not all that common; but, that's definitely what Kajun is."
Even though he's one of the younger horses at GaitWay at age 13, he's been around the stables longer than any of the staff and volunteers. GaitWay history has it that before his time as a therapy horse, Kajun walked through McDonald's drive-thrus and performed on Zydeco dance floors. Davis says the tales are consistent with his peaceful, trusting demeanor today. And it's these traits that help Kajun connect with hesitant horsemen. Davis recalls how one GaitWay equestrian wanted her brother to try riding.
An adult in his mid-20s with Down syndrome, he was reluctant because of an aversion to getting dirty. His sister persisted and brought him to the barn, where he was drawn to the Gypsy Vanner horse with the flowing mane, tail and fetlocks.
Soon, he was brushing Kajun, tacking up and riding regularly. By the semester's end, he was riding like any other equestrian, Davis says. Later, he advanced to riding without stirrups to improve core strength.
"It's so fulfilling to see the students' progress," Davis says. "It affects everyone positively—not just the students—but their families, the staff and volunteers." gaitway.org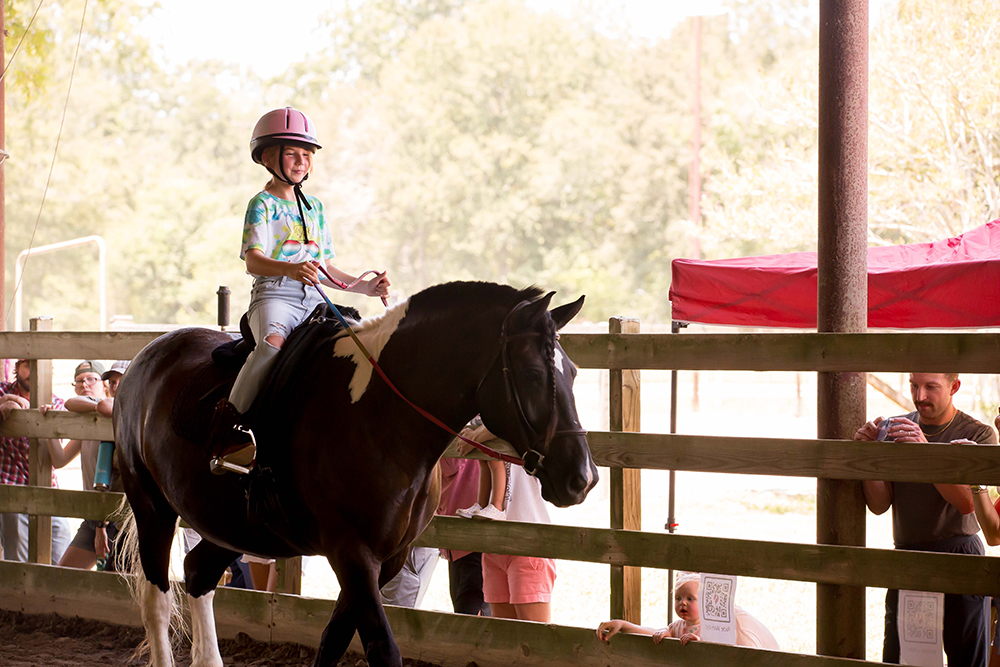 Save the date
Nov. 4
GaitWay's All Strides Horse Show
The work of GaitWay's highly trained herd will be showcased at BREC's Farr Park Equestrian Center as part of the barn's annual fundraiser.
Professional and amateur riders of all ages will compete in English and Western events, from dressage to barrel racing and pole bending. But the biggest winners won't necessarily be those with the fanciest footwork or fastest times.
"What really makes this event unique is our adaptive division," Davis explains. "Now, our riders can participate on the same stage as everyone else."

Man's best friends
Other local animal-assisted therapy programs in the Capital Region
---
BREC's Hearts & Hooves Therapeutic Riding Program
Riders ages 6 and older with physical, mental and social disabilities participate in six-week riding lesson sessions, where they learn stretching exercises, basic equine skills and games that improve core strength and coordination. brec.org
---
Capital Area Animal Welfare Society (CAAWS) Pet Touch Therapy
Once a month, a team of volunteers and their trained dogs visit LSU students who need a break from their studies; residents in nursing homes; and others who could use some love from a furry friend. caaws.org
---
LSU Tiger HATS (Human Animal Therapy Service)
The 25 volunteer teams of trained dogs and their owners visit the area's major hospitals, some nursing homes, schools, libraries, special events and the LSU campus. lsu.edu/vetmed/tigerhats
---
Prisoners Assisting Warrior Services (PAWS)
Louisiana State Penitentiary's PAWS trains service dogs to assist U.S. veterans in a variety of tasks. A core group of 21 inmates trains the dogs, many of whom are rescues. Find it on Facebook
---
Southern Human-Animal Relationship Experiences (S.H.A.R.E.)
From goat yoga for college students to pre-K experiences with baby farm animals, this Southern University Ag Center-affiliated group organizes animal encounters for all ages to boost mental and physical health and form connections. suagcenter.com
---
This article was originally published in the November 2023 issue of 225 magazine.