Every college campus needs a good pizza place, believes developer Tevin Wade, who opened Light House Bar & Pizzeria in the shadow of Southern University in January.
The stylish lounge serves freshly made Detroit-style pizzas and craft cocktails.
The restaurant is housed in a revived strip of storefronts on Scotland Avenue, just off Scenic Highway facing Scotland Plaza park. It had long been part of Scotlandville's commercial fabric, but in recent years had been shuttered.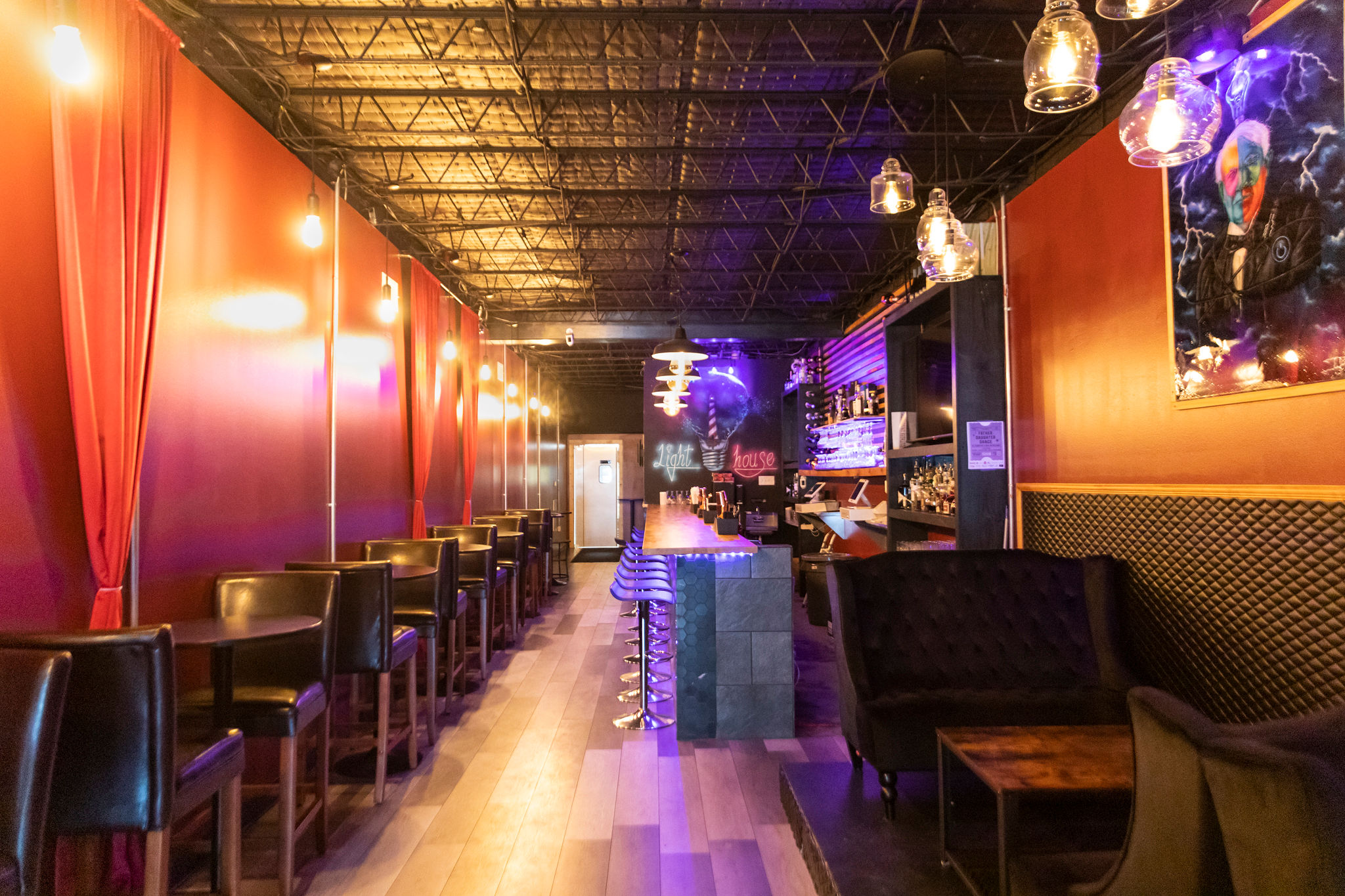 "The idea for Light House really came from wanting to do something good in Scotlandville," says Wade, a contractor and electrician whose company, CMG, has been involved in several real estate projects in north Baton Rouge. He grew up in the nearby Scotland Square Apartments.
"Our goal is to revitalize Scotlandville and really get it back to having thriving businesses," Wade says. "This spot is kind of a center point for Southern, and we thought it would be the perfect location for a restaurant."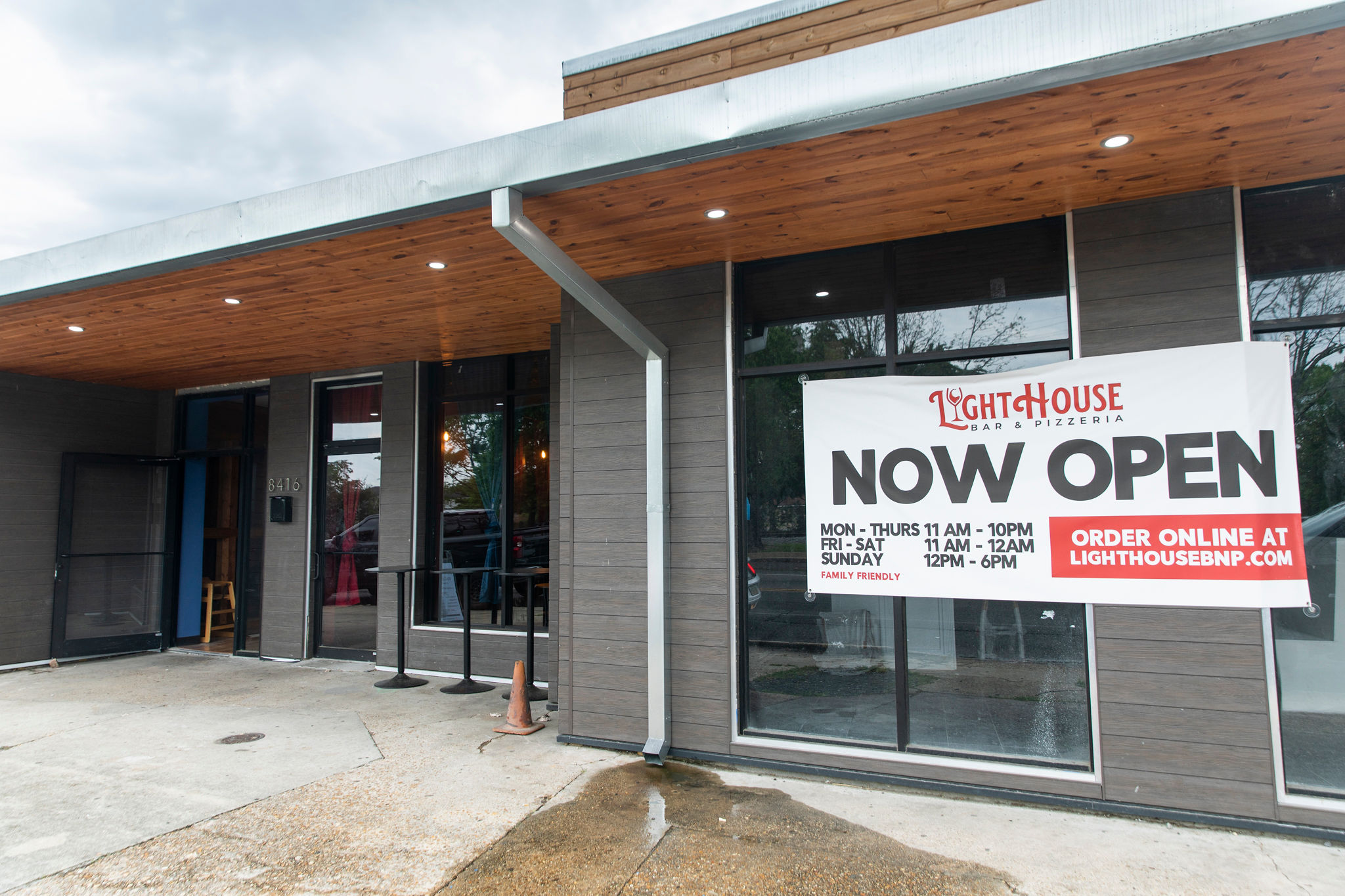 Immediately next door to Light House Bar & Pizzeria is the coffee shop Southern Cofe, which reopened in January after an extended renovation. Southern Cofe also has a location at the Main Street Market, but the Scotland Avenue location was its original. Additional businesses are expected to open in the strip soon, Wade says. On the other side of Light House, construction is underway on what will soon be a seafood restaurant. A small marketplace that will host craft and food booths is being planned for another storefront, he says.
While Wade has been involved in numerous residential development projects, Light House is his first restaurant. The idea to open a pizzeria came from his love of making pizza, he says, stemming back to working as a teenager in Baton Rouge pizza eateries that included Rotolo's, Domino's and the since-closed Buck's Pizza on Coursey Boulevard. Wade says he also liked the idea of combining the comfort of pizza with a lounge atmosphere, much like the now closed Mid City pizzeria, Fleur de Lis, which was originally a bar.
Light House's narrow interior is filled out with bar stools and tables for two on one side and elevated banquettes on the other. A classic R&B playlist and TVs keep the vibe light and fun. "I see it as the kind of place where you can meet your friends or bring your lady," Wade says.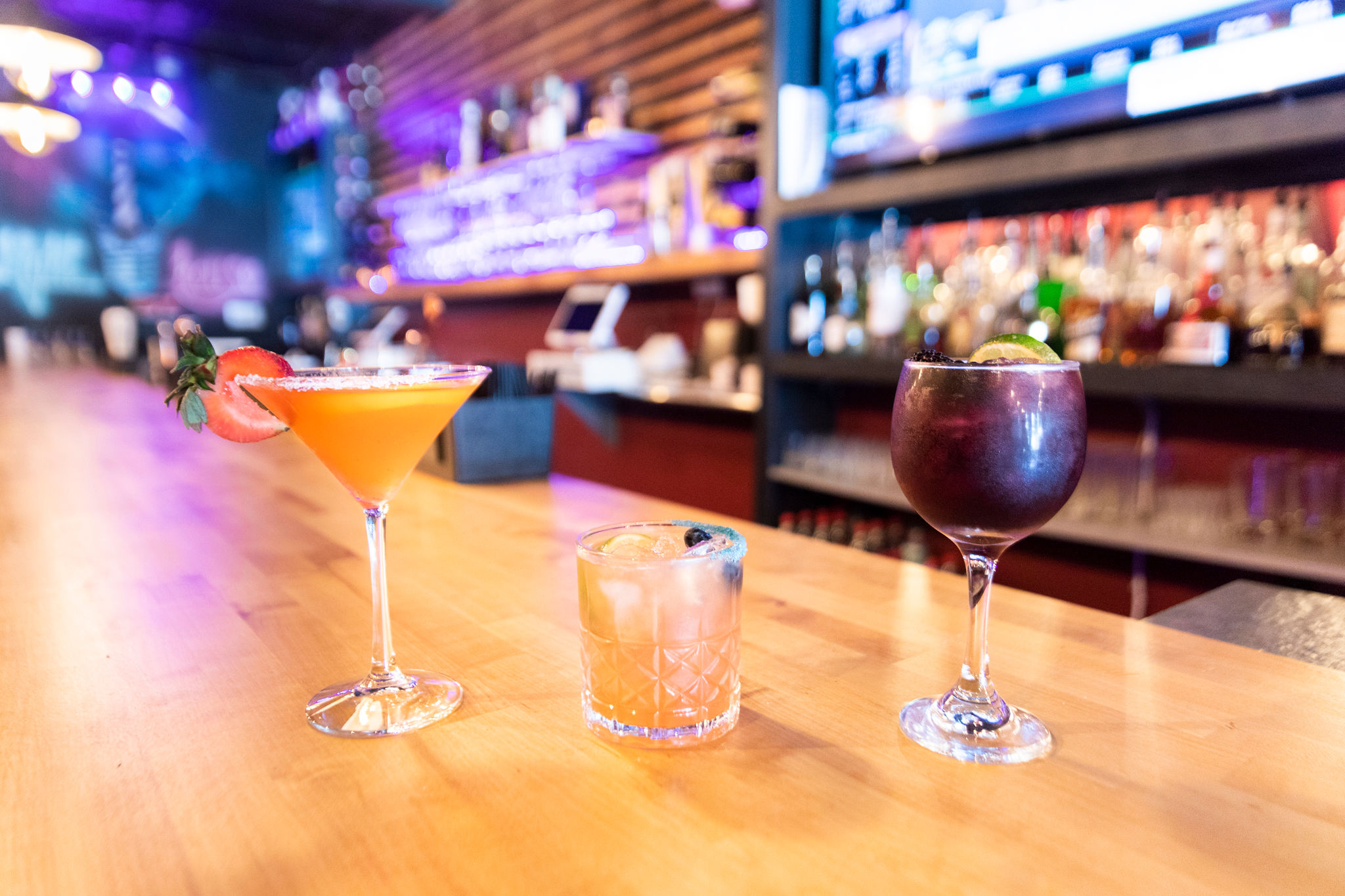 The bar's craft cocktails use freshly muddled fruits and fresh-squeezed citrus, he adds.
Signature drinks include the Light House—a fresh blueberry margarita. The bar also serves blackberry sangria and the Eddie Fashion, a riff on an Old Fashioned that incorporates peppercorn syrup for extra kick. A new spring cocktail menu is coming out soon, Wade says.
Light House serves two pizza sizes, 14-inch and the personal pie 7-inch, called a "pizza bite." The rectangular, semi-thick Detroit-style crust is covered with light sauce, lots of cheese, meats and veggies procured from Fresh Pickins Market on Coursey Boulevard, Wade says. The pizzas are baked in turbo chef ovens, which cook them in less than five minutes.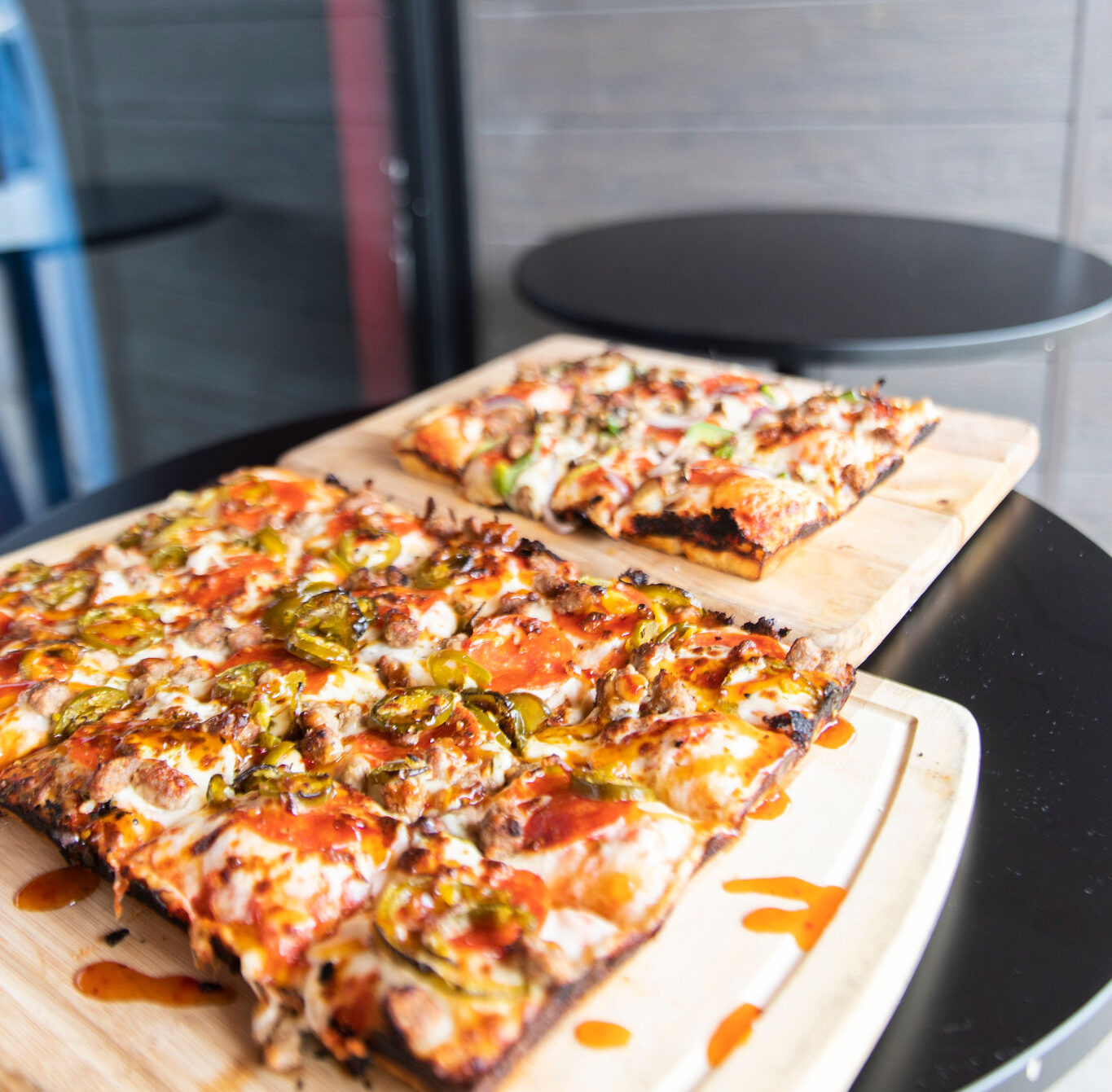 "I wanted to try to make sure we could get them out fast since we're by a college campus," he says.
Popular flavors include buffalo chicken and the sweet heat, topped with pepperoni, beef sausage, jalapeños and sweet chili glaze.
Wade designed the interior, dominated by black and dark red, and punctuated by references to the invention of electricity, a personal interest of his. Framed pictures feature images of Thomas Edison, Nikola Tesla and Lewis Latimer, inventor of lightbulb filament.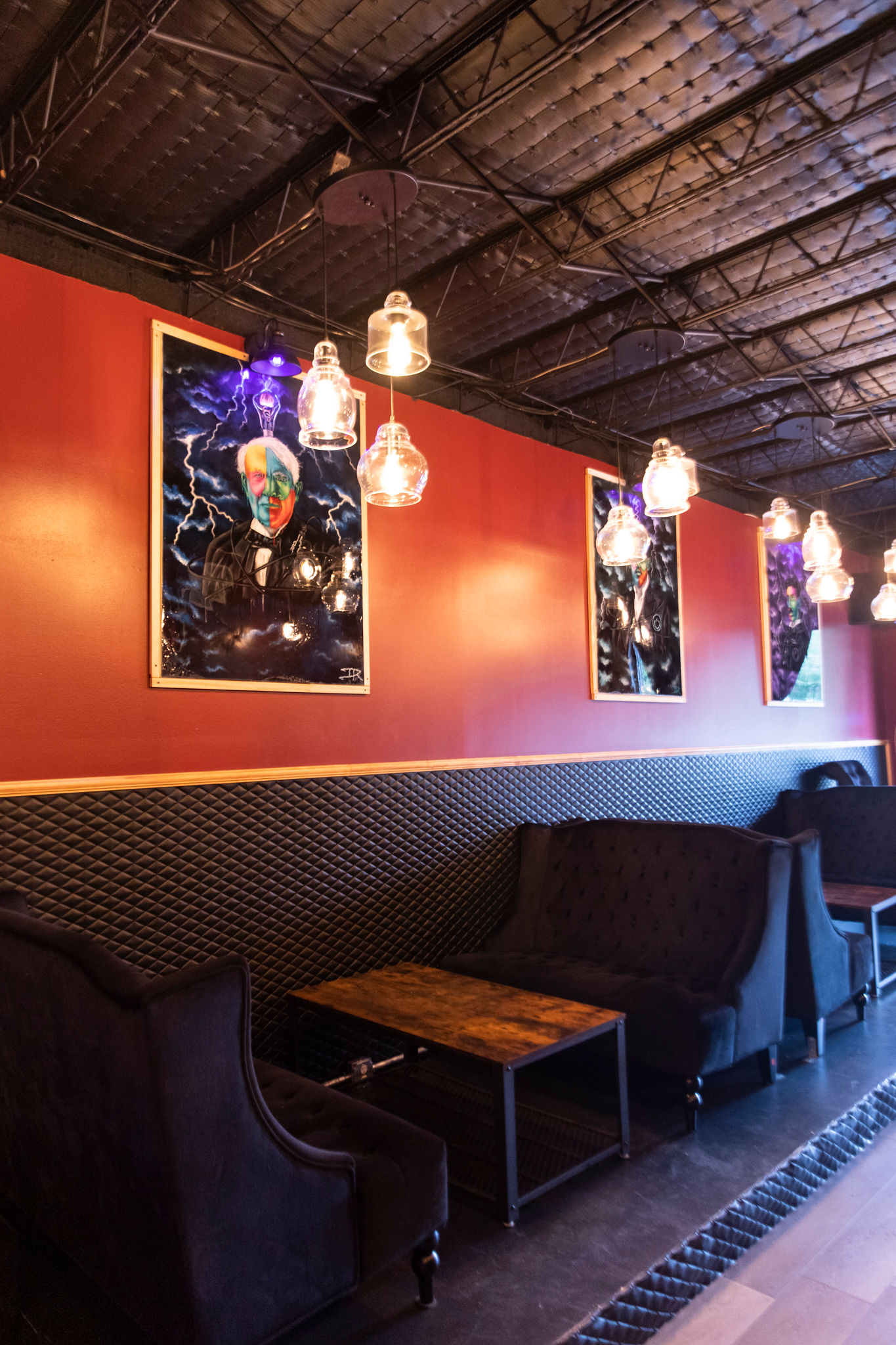 This Saturday, April 1, 1-5 p.m., Light House will co-host a block party. The street will be closed in front of it and Southern Cofe, and vendors will set up with arts and crafts. Light House and Southern Cofe will feature food and drink specials, and there will be children's activities, Wade says.
Light House is open 11 a.m.-10  p.m., Monday through Saturday.