---
Elise Smith holds football close to her heart. Some of her best memories were made while tailgating on campus with her family or cheering on the Fighting Tigers in Death Valley.
Smith and her three sisters graduated from LSU. While they each had unique interests, there was one thing they all bonded over: their love of game days. Whether it was piecing together the best purple and gold outfit or catching up with old friends, fall Saturdays were special.
So when the university updated its bag policy in 2016, Smith was inspired to help women stay stylish around the stadium.
The freelance marketing consultant launched her accessories shop, Geaux Clear Collection, in 2017 to offer women stylish purses that met the school's requirements. It's inspired by LSU's similarly named "Geaux Clear" policy, which permits only clear bags or non-clear clutches smaller than
4.5 by 6.5 inches.
"I wanted to give women a way to still be able to incorporate their own style at the events despite the bag restrictions," Smith, 37, says.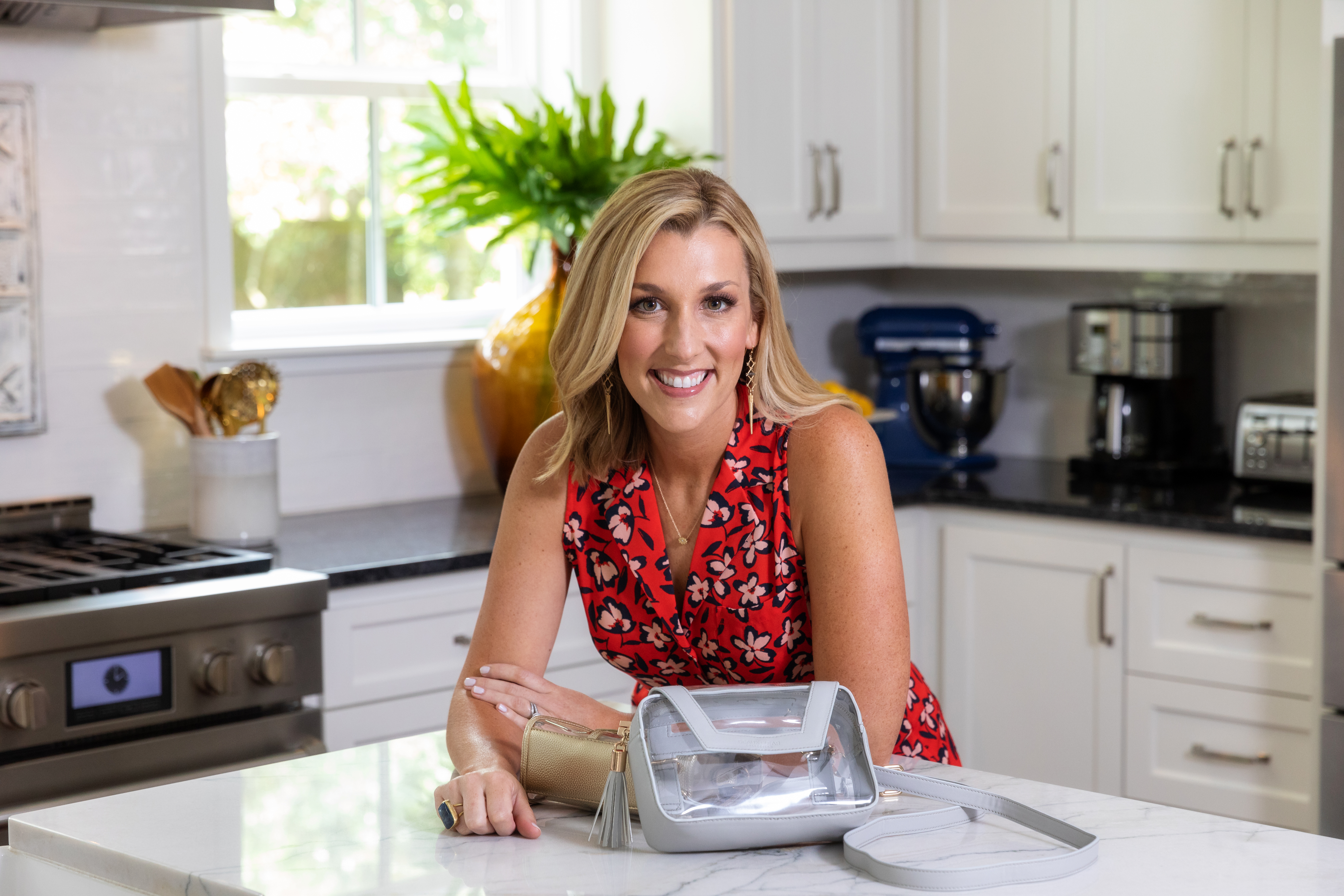 Her designs prove clear bags have come a long way since the bulky, thick plastic backpacks popular in the '90s. Geaux Clear Collection purses are fresh, fun and fashionable. Smith makes purses with every style in mind, from the purse with classic black accents to the bag that makes a fiery red statement. Each bag is finished with bold, chic, gold hardware. For extra flair, the wearer can clip a black or gold leather tassel onto their purse, also available in Geaux Clear Collection's online shop.
The women in Smith's life have a large influence on her designs. She imagines what bags her friends and family would wear. She draws them out on paper before sending the final sketch to her manufacturers to be created. After a digital design and prototype are made, all the purses are examined and measured to ensure they meet SEC football stadium requirements before adding them to the shop. She often names the purses after one of her muses.
"One of the bags is named after my oldest daughter," Smith says. "It's called, 'The LA,' for Little Audrey. When she was a baby, my family gave her that nickname, so it stuck with me. Some people think the 'LA' stands for Louisiana, and I like that too."
While Geaux Clear Collection was started with LSU in mind, Smith now collaborates with boutiques all over the country. Outside of Louisiana, her purses are sold at shops in Kentucky, North Carolina, Alabama, Florida, Mississippi, Ohio and Iowa.
Back at home, locals can shop the collection at SoSis Boutique, STYLE by soho and Lukka Boutique.
The LSU football team members aren't the only ones hard at work prepping for the fall season. Smith is finishing a new line of bags just in time for game day, complete with new designs and colors, more intricate metals and details, and accessories to complement the clear bags.
"I don't want to just make clear bags," Smith says. "I want to make accessories people will stop and compliment you on." geauxclear.com
---
This article was originally published in the August 2019 issue of 225 Magazine.
Click here to read more from our special Tiger Pride section, highlighting the passion and pageantry of LSU football.