---
The kitchen is the heart and soul of a house. It's that essential space where we connect, savor and create.
The way it looks and flows can make or break how you feel about your home, and sometimes, tweaking its design can radically improve your daily routine.
But with so many options in cabinetry, appliances, flooring, surfaces and fixtures, updating the kitchen can be overwhelming. A good place to begin, says Acadian House Kitchen + Bath owner-designer Angela Simoneaux
Poirrier, is becoming aware of your rhythm.
"The way we approach it first is to listen and understand what someone's lifestyle is like and what their design preferences are," Poirrier says. "Getting people to become aware of this goes a long way."
It's also helpful to learn from a fellow homeowner's experiences.
We asked three Baton Rouge homeowners to show us their recently renovated kitchens and share tips on surviving the process.
---
OPEN & AIRY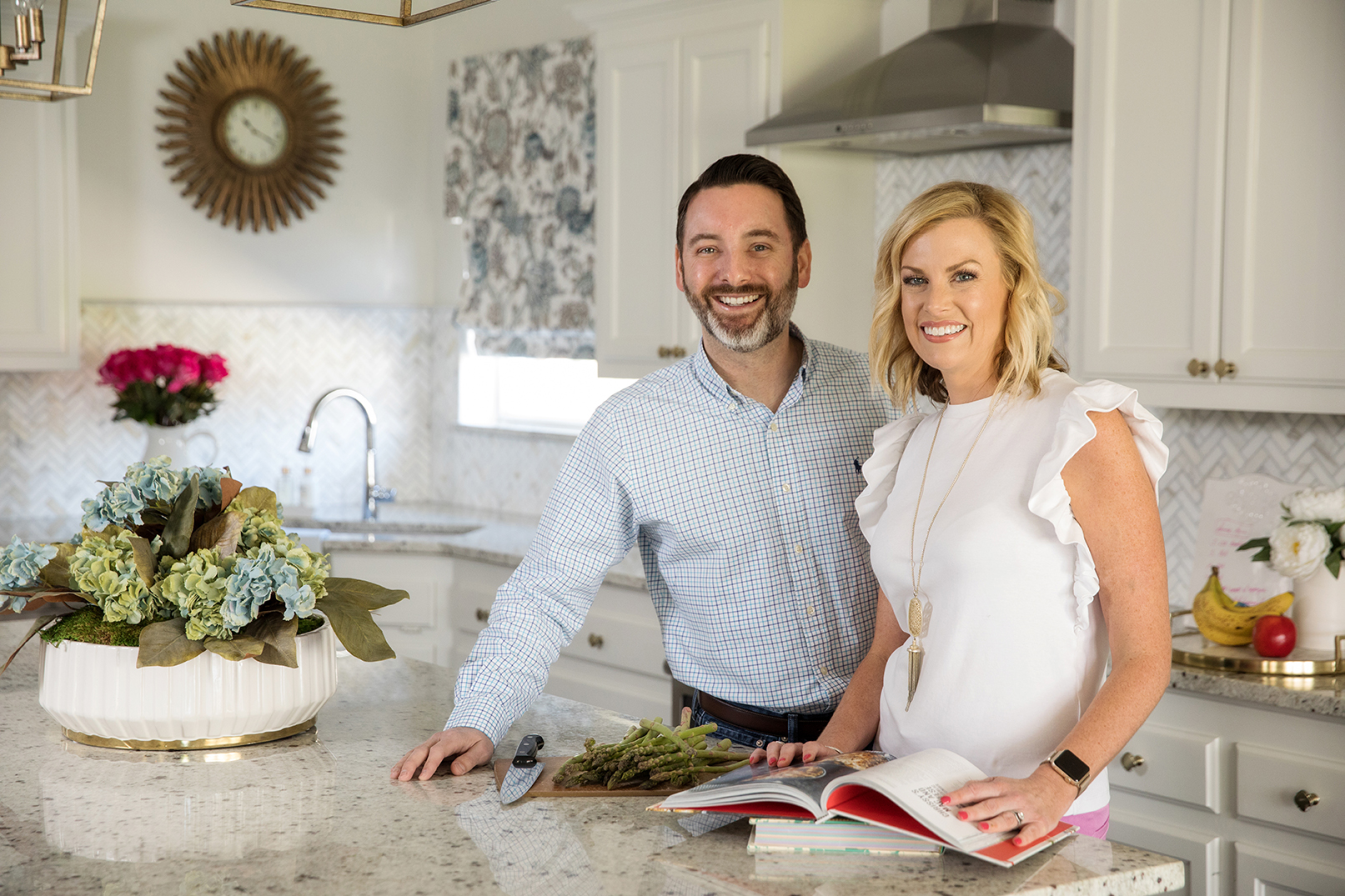 Brittany and Eric Relle weren't satisfied with their kitchen. The young professionals bought their Oak Hills Crossing house in 2009. As their family grew, its quirks became noticeable.
"The way the kitchen was originally designed made it cluttered and clumsy," says Brittany, a licensed social worker. "We both love to cook, but it was dark and dingy and made us not want to be in there."
The Relles worked with designer Rachel Cannon of Rachel Cannon Limited to transform a gloomy space into a friendly, well-lit one. Cannon used a soothing color palette of Colonial White, light blue and gold.
Cannon also recommended eliminating a large angled bar on the kitchen's periphery, which impeded its flow. She replaced an undersized center island with a larger, custom-made one. It's painted in a mellow blue and flanked with open shelves for Brittany's favorite cookbooks. Patterned, custom bar stools provide extra seating.
Cannon recommended stain-resistant fabric—a nice touch for a family with two small children.
"What we ended up doing was a lot bigger than what we originally planned, but I'm so glad we did it," Brittany says. "It's where our family lives."
Homeowners' advice:
• Find every possible opportunity for storage, including deep drawers for small appliances, oversized platters and linens.
• Use consistent flooring in the kitchen and its adjoining areas to make the space flow better and look bigger.
• Little touches can make a big difference. The Relles say the brass foot rail around the island finishes the look and is one of their favorite features.
---
MINIMALIST & CHARMING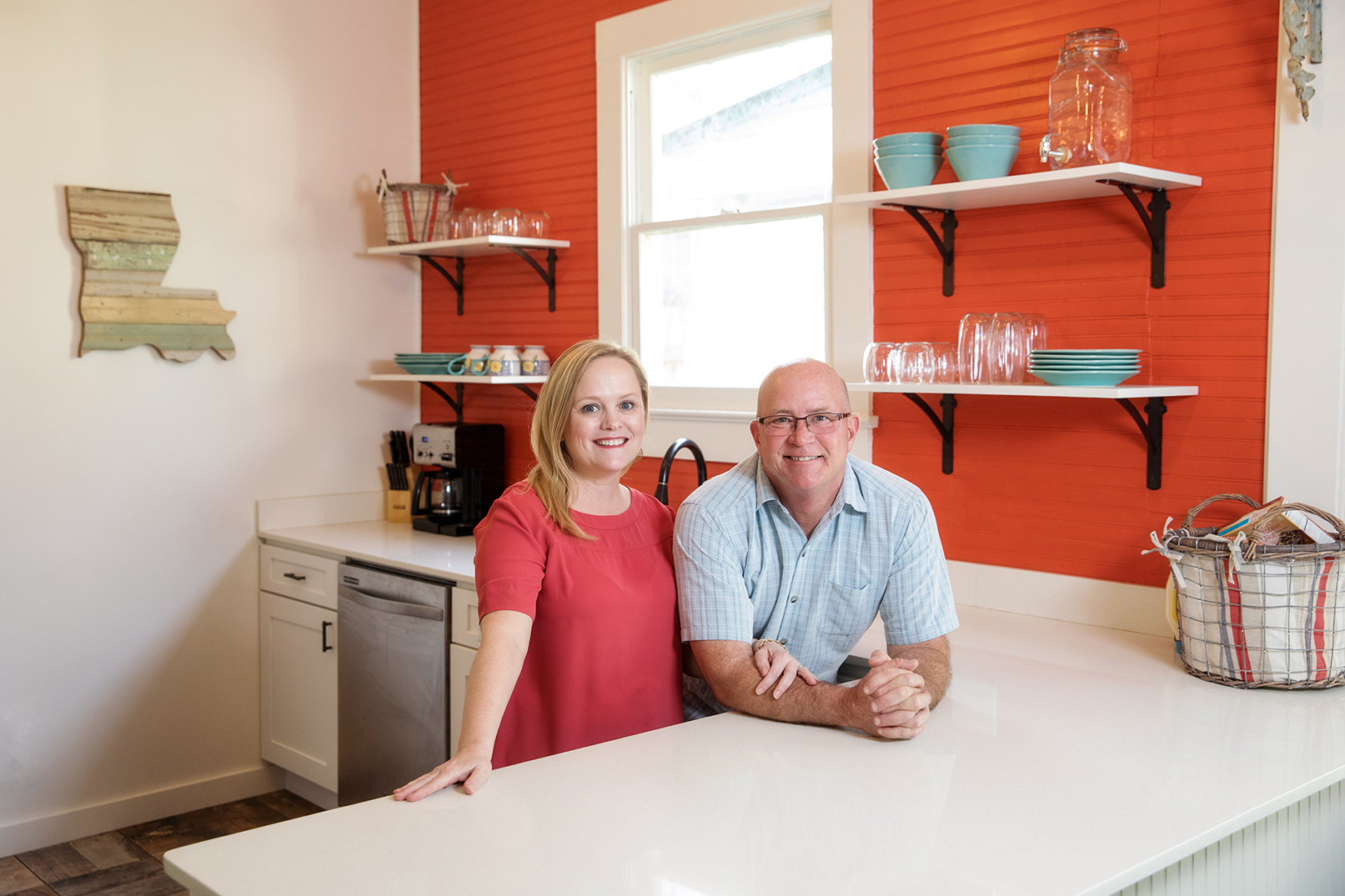 Downtown dwellers Doug and Tracy Shaffer renovated a historic Beauregard Town home and turned it into an Airbnb.
Doug worked on the upgrades himself, juggling his role as the LSU Diving head coach. Tracy, an LSU communication studies associate professor, created the design.
"It's a neat, 100-year-old house," Tracy says. "I wanted it to be really fun and representative of Louisiana."
The original kitchen was small and cramped. "It was a hideous little room with a diagonal entrance," she says. "We knew we were going to have to take a wall out and open it up."
The couple achieved this by replacing the wall between the kitchen and living room with a peninsula.
During the construction, they uncovered a beadboard wall in the kitchen and painted it bright orange to highlight its texture. The Shaffers added another pop of color by painting the ceilings light blue. The color scheme was
inspired by a favorite Louisiana Earth Day poster framed in the living room.
Smaller appliances, appropriate for a weekend rental, create more work room in the kitchen, while open shelving provides just enough storage for travelers. Wrought-iron corbels purchased from Aladdin's Antiques in Mid City, square off the kitchen's former diagonal entrance.
Homeowners' advice:
• Capitalize on original features that you can highlight, like the Shaffers' beadboard wall.
• Add some whimsy. Fun, affordable antiques can add vibrancy.
• Choose durable elements, like easy-to-clean quartz countertops and patterned flooring. The Shaffers installed flooring tiles that resemble stone, which handle traffic well.
---
SLEEK & UNCLUTTERED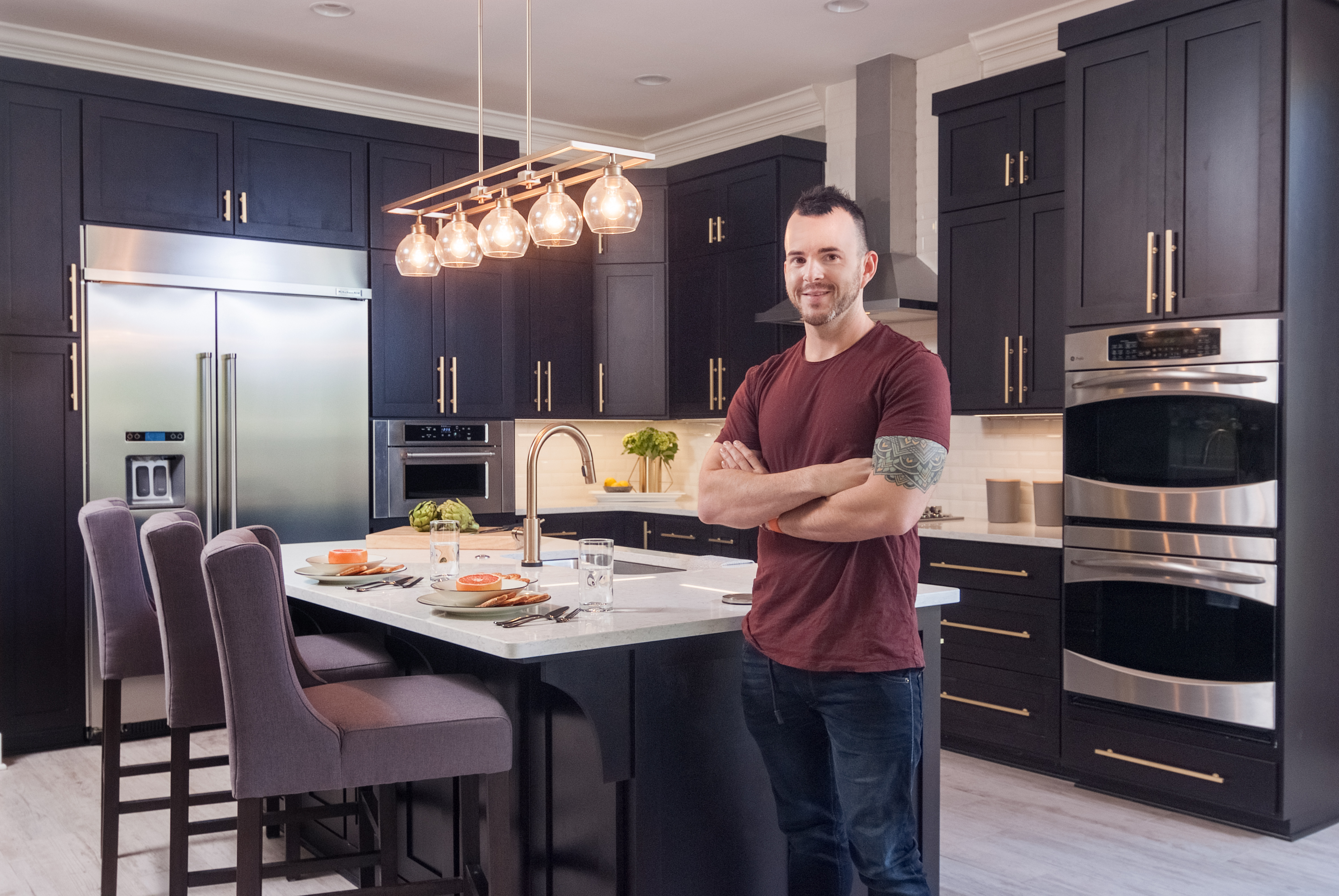 Peter Pistorius was one of the thousands of locals whose home flooded in August 2016.
Once he cleaned up, the flood gave him a chance to spruce up his kitchen and living/dining area.
For Pistorius, who owns a title company, the open floor plan was one of the best things about his house. That gave him plenty of room to create a dream kitchen and entertainment zone.
Pistorius knew he wanted dark cabinets. Acadian House Kitchen + Bath designers Angela Simoneaux Poirrier and Heather Vicedomini found espresso-colored wood cabinets and linear brass pulls. The dark hue contrasts with cream and gold quartz countertops and a bone subway tile backsplash.
All of the appliances are commercial grade, giving Pistorius plenty of bandwidth to cook and bake. And because he likes uncluttered countertops, the designers installed hidden pop-up outlets with plugs. They also gave him deep drawer storage for small appliances.
They carried the color scheme to a bar area in the living room. To make that space distinct, they used cabinet doors with frosted glass and a cream-colored hexagonal tile for the backsplash.
Homeowner's advice:
• Take some chances. Pistorius says he never would have chosen the large brass statement light fixture his designers picked out, but it's now one of his favorite elements.
• Be patient. There's an endless number of choices in the world of kitchen renovations, so take your time making selections. You'll have to live with them for a while—at least until you renovate again.
---
This article was originally published in the 225 Extra: 2018 Spaces & Places issue. Click here to read more articles from this issue.