---
Summertime pool splashes and indoor sweat sessions offer an escape from the scalding Southern heat—but they aren't always great for jewelry. Certain metals might tarnish, dull or even turn your skin green.
But maybe not anymore, courtesy a new jewelry trend that has landed in Baton Rouge. Gold-filled and gold-plated jewelry looks similar to the real thing but at more budget-friendly price points, allowing wearers to stack all the bracelets, necklaces and rings.
To achieve the gilded look, a less costly metal is given the Midas touch in a shimmering bath, plating the jewelry in a light layer of gold to mimic the look of higher-end, solid-gold pieces.
Grace Robichaux, owner of Designs by Grace in The Village at Willow Grove, prefers to use stronger metals like stainless steel or titanium steel to ensure her gold-plated pieces stand the test of time. She began her business a little over two years ago, popping up at markets to help customers create jewelry-heavy looks that were well-made but not expensive.
Inside Designs by Grace, shoppers browse glimmering trinkets displayed on mini, white-stone busts that make the setup look just as luxe as any fine jewelry store. Though she's her own boss, Robichaux dons an unofficial work uniform that includes stacks of her jewelry in her ears, on her neck and around her fingers and wrists.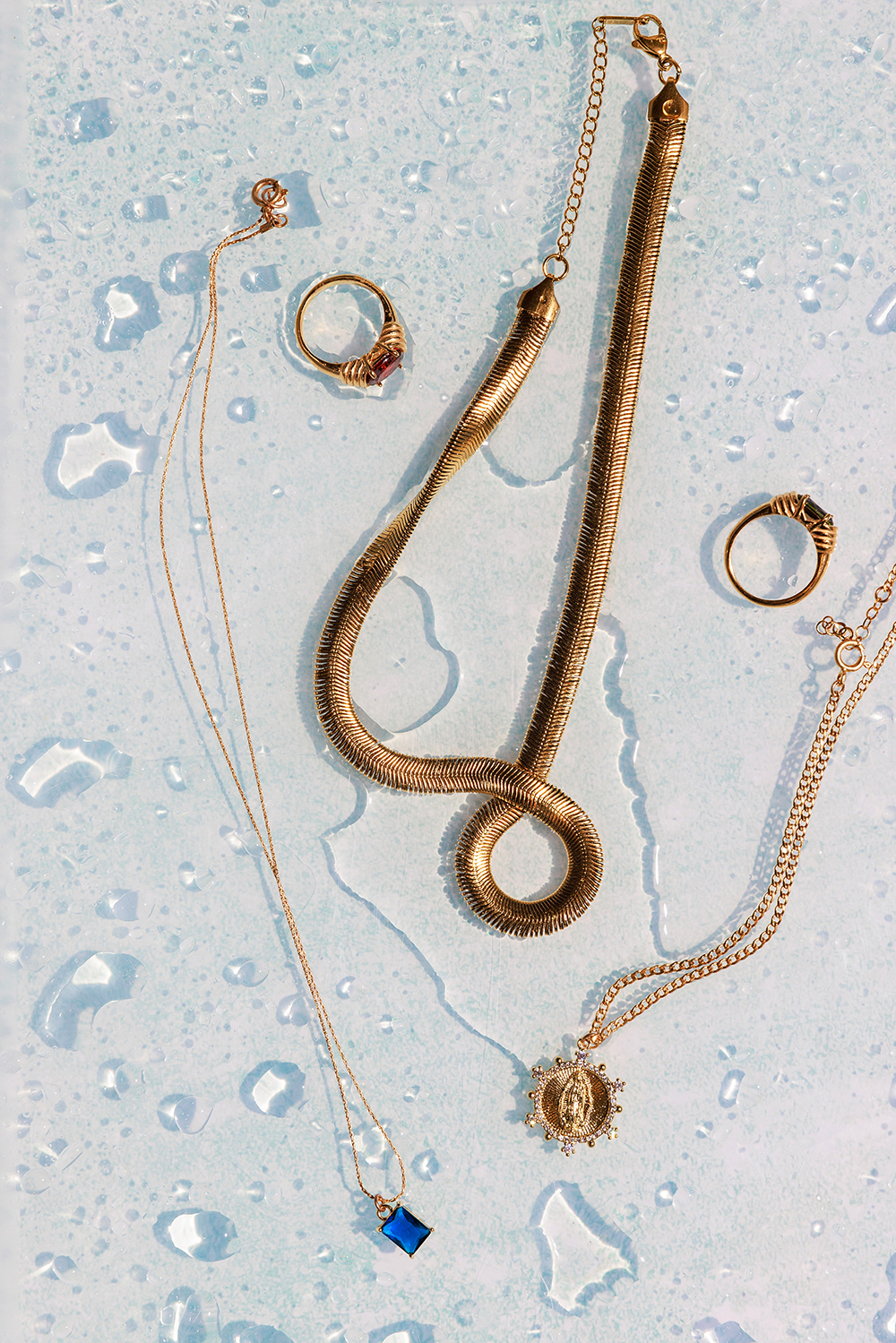 Make it last
Tips for preserving the life of gold-filled or -plated jewelry
• Pool and beach days are OK, but avoid long exposure to chemicals. Regarding wearing jewelry in chlorine-filled pools, Robichaux says, "If you wear it once, fine, but I wouldn't make it continuous. … You don't want to lather it in sunscreen, either. But if you put your sunscreen on first and put the chain on once it dries, you should be fine. I wear all of this to the beach. I wear all of this to the pool, and I work out in all this stuff."
• Know that gold-plated or -filled jewelry wears differently depending on the person. "Everyone's pH levels are different," Voorhies explains. "So I can't really say 'Oh this will last you X amount of time.' … But for me, I can wear things for months. I've been wearing my anklets for over a year. I usually get bored of things before I can make it last that long."

"I wear all the jewelry," she says. "It's super long lasting. Everything is stainless steel or titanium steel, which makes it water- and tarnish-resistant. You can swim in it. You can sweat in it. You literally don't have to take it off. It lasts for years and years without tarnishing, and you're able to wear it a lot longer than most jewelry."
Drip Jewelry by AK was also birthed in Baton Rouge over two years ago by owner Alana Voorhies. Similarly, she has built up her business by participating in pop-up shopping experiences and introducing patrons to more affordable gold-filled and gold-plated jewelry.
Though she's now living in North Carolina, Voorhies still calls the Capital City home and often comes back to town to participate in pop-ups. If you can't catch her while she's visiting, her pieces are usually stocked at Eloise Market and Cakery and can also be purchased online. Voorhies promises each piece has been tested to withstand wear.
Both companies offer jewelry that's made to withstand sweat and water, and Voorhies and Robichaux have put their items to the test by wearing them daily and experimenting to see how the jewelry wears. Though jewelry from either company is made to last, both owners give customers care instructions and disclose that the jewelry may wear differently on different people.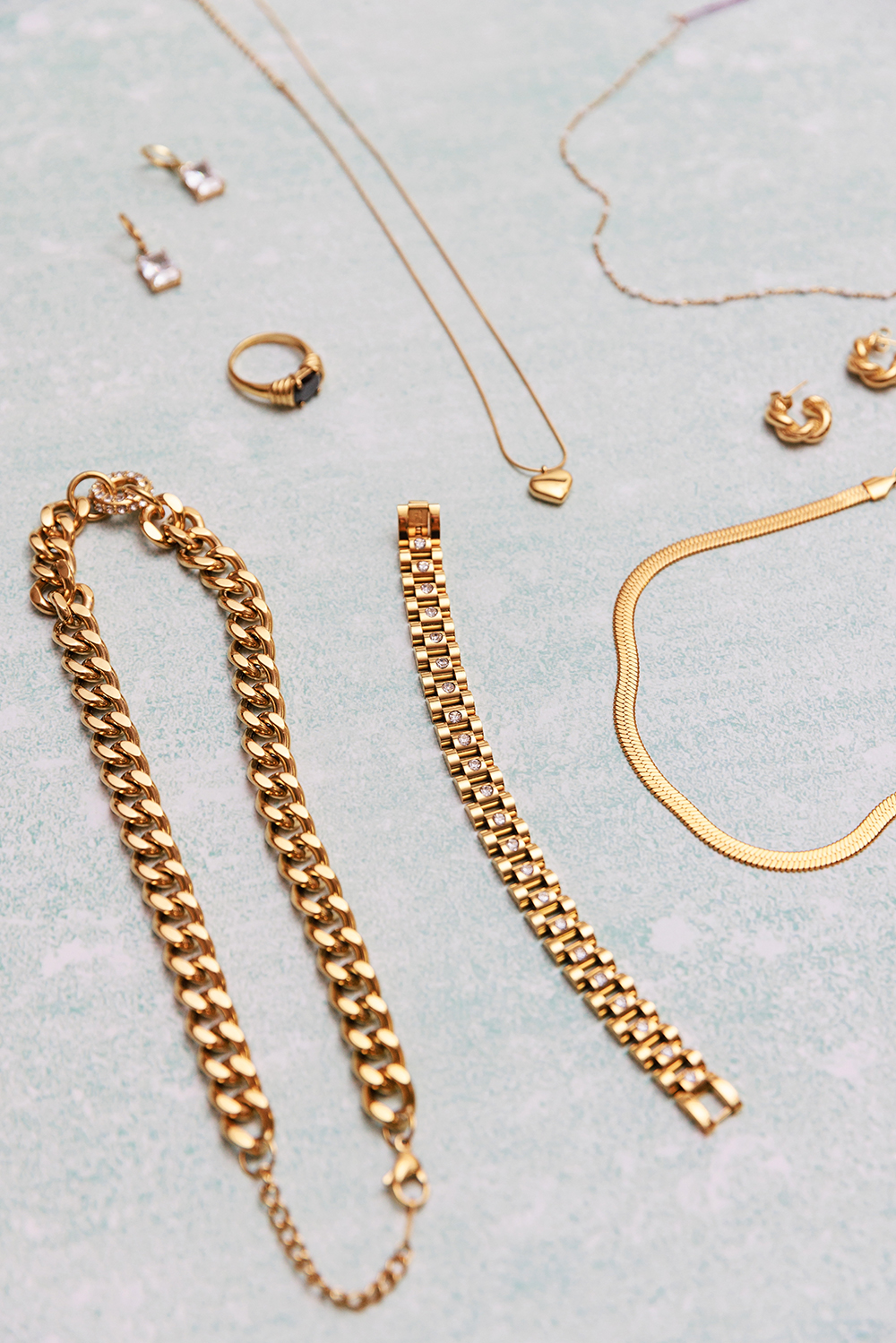 The egg test
Drip Jewelry by AK owner Alana Voorhies has developed the ultimate test for her jewelry to ensure customers get a reliable product. The secret ingredient to this experiment? Boiled eggs. Yes, that's right. Voorhies crushes boiled eggs in a plastic bag, inserts jewelry samples and leaves them outside for almost a month. Grab a mask—this can get smelly. But it's effective. The eggs release sulfuric acid, which Voorhies says can tarnish jewelry. She also does saltwater tests and wears pieces for months to further challenge her pieces' reliability.
---
This article was originally published in the June 2023 issue of 225 magazine.