---
Fashion is the armor to survive the reality of everyday life."
Legendary New York Times street style photographer Bill Cunningham once spoke these words.
And while our wardrobes look quite different here in the South than the trendsetting looks Cunningham hunted down daily with his camera in the Big Apple, we think the mantra is just as applicable here in the Baton Rouge.
From school-spirited outfits for tailgating to elaborate costumes for Carnival season to reliable staples we return to each morning for work, we all use our clothing to express ourselves.
We sat down with six locals for discussions about their armor. And while we could wax philosophical all day on what the power of style is, we'll let them tell you in their own words.
Styling by: Elle Marie
Photos by: Jordan Hefler
Interviews by: Cynthea Corfah
Hair by: CeKeisha Williams
Makeup by: Katrina Liza
---
SHANNON FORD
AMELIE by Saba Italia orange suede chair, $4,142
From Monochrome Furniture + Design
Tory Burch "Reese" satin colorblock blouse, $348
Derek Lam 10 Crosby checked flared trousers, $395
Nicole Romano earrings, $100
From NK Boutique
Kristin Cavallari Chinese Laundry booties, $175
From Hemline
Bug brooch
Orange beret
Stylist's own
---
When art director Shannon Ford isn't working, taking photos or traveling, she can be found browsing vintage clothing at local thrift shops. Ford has been interested in fashion since childhood. Today, the 35-year-old's bold, patterned and textured wardrobe ranges from '70s dresses to plaid sweater vests. Ford's passion to create extends past graphic design—it's just as much on display in her personal style.
Your style is: Anything that makes me happy and makes me feel good. In my closet you may find a dashiki [a loose, bright colored West African shirt or tunic], vintage clothing, and you'll also find a rainbow dress with cat faces all over it.
One clothing item you couldn't live without: I have a thing for heels. After the flood, I lost about 200 pairs of high heels. I used to wear them every day. When I wear a high heel, I feel as if I have a commanding presence, almost as if there's a shift in energy.
Local shops you keep going back to: Time Warp Boutique. I am also starting to become more of a thrift store shopper.
A typical Shannon Ford outfit is: Something that you can look at and tell it was well put-together and thought-out from head to toe.
Your style inspirations: I like Zoë Kravitz, Janelle Monáe, Kerry Washington and the eclectic looks of Cree Summer.
Fashion rule you live by: My outfit always has to be pressed and neat. Growing up, my parents would not let me leave the house without having my clothes ironed. It's ingrained in me.
The power of style is … An extension of who you are as an individual. Some people will go with trends and what's in, and I'm not that person. Style is wearing something that is authentic and purely you.
---
RYAN CLARK
GUAVA by MIDJ black leather lounge chair, $1,500
From Monochrome Furniture + Design
Eight Field of Freedom denim jackets, $370
Osklen printed hoodie, $250
From Champs Élysées boutique
Golden jeans, $120
From Imagez Apparel Bar
Shoes, bracelet and watch
Model's own
---
Ryan Clark's appreciation for clothing began in college. When he played football for LSU—and later the Pittsburgh Steelers—the players were often asked to wear suits. Ever since, he's expanded his wardrobe with custom suits, accessories and designer shoes and sneakers. At 38, the ESPN analyst's outfits are always carefully crafted, whether he's wearing joggers and an athletic top or an emerald green tux jacket and slim black slacks.
You style is: All or nothing. It's about being comfortable, and I want to look good, too.
Your go-to pair of sneakers: Air Jordan 1s, without a question. For the Baton Rouge Best Dressed Ball, I got a custom bowtie made specifically to pair with my Air Jordan sneakers that are black and gold.
Fashion rule you live by: If it's not me, I'm not rocking it.
Your style icon: Michael Jordan. He made it cool to dress up and go to sporting events. When I got to play in the NFL, I thought, anytime I get to wear a suit, I'm wearing one.
Describe your outfit planning process: I work Sunday, Monday and Tuesday on TV. When I get home on Tuesday, I pick out my suits for the next week. I want to be different every day I'm on air. I put each piece of clothing on a separate hanger. It starts from the underclothes on. That way when you get to the shoes, it's time to roll.
One item in your closet you're most proud to own: The things that I will never get to wear: my rack of game-worn NFL jerseys. All of the people I played against that I really admired, I asked for a jersey. We basically jersey swapped after the game. My wife is going to frame them for me and put them on a wall in the house.
The power of style is … It's a getaway for who we feel like we normally are. When you put something on, you walk out the house and it doesn't matter what anyone else tells you, 'cause you know you love it. I'm wearing what I'm comfortable in. Not what other people like.
---
EMILY DIXON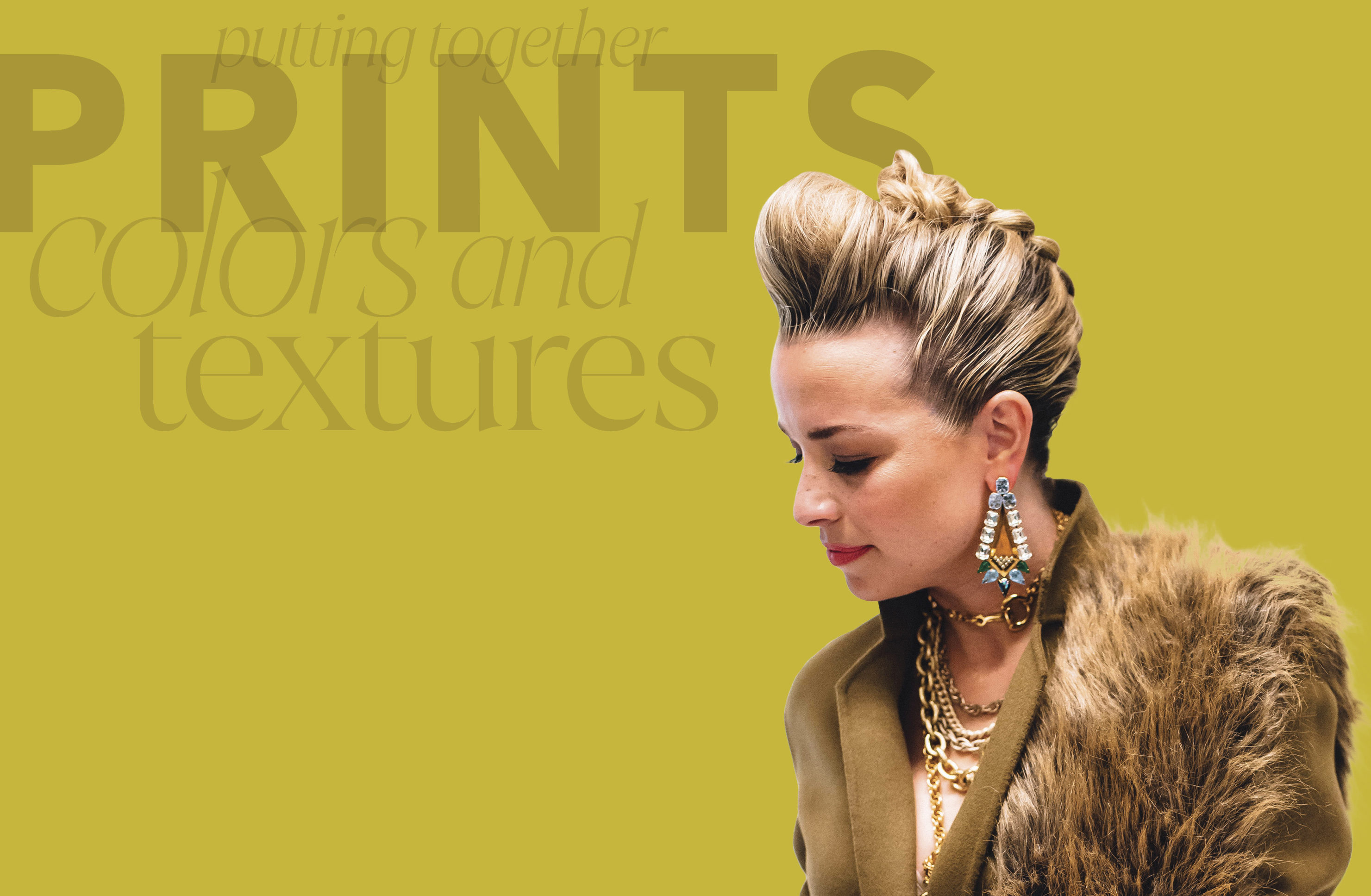 Cane and chrome Breuer chair, $150
From Denicola's Furniture & Upholstery
Ulla Johnson coat, $795
Mother Superior boyfriend jeans, $249
B-low the Belt pony-hair belt, $135
Made in the Deep South vintage chain necklace, $228
Made in the Deep South 1970s tassel estate chain necklace, $228
From Eros
Nicole Romano earrings, $220
From NK Boutique
Kristin Cavallari Chinese Laundry booties, $175
From Hemline
Faux fur
Bracelets
Stylist's own
---
One of Emily Dixon's favorite pastimes is putting together LSU game-day outfits. As the coordinator of offensive operations for the LSU football team and a reporter for LSUsports.net, Dixon has to get a bit more dressed up than most of us inside the stadium. Her game-day wardrobe consists of assorted blazers, purple and gold Kendra Scott accessories and the most comfortable shoes she can find. Whether the 31-year-old is interviewing an athlete or assisting the offensive position coaches, Dixon uses her style as an outlet for her bubbly and colorful personality.
Your style is: Classic girly meets tomboy. Easy, attainable, colorful, fun and surprising.
Your go-to game-day outfit: Something that's comfortable but a little more dressy. Skinny black pants and tennis shoes. I wear Nike tennis shoes with everything. Depending on the weather, I'll pair pants with a sleeveless top and blazer. I always have to have a crossbody bag for my notebook, sunglasses and chapstick.
If you had to wear one brand for the rest of your life, it would be: Probably 90% of my closet is from J.Crew. I have been shopping there since I was 21. They have this classic but effortless look. Kind of like a messy bun that looks really nice—that's J.Crew.
You are not TV-ready until you have on your … Tall shoes. I'm 5'3, and all of the players and coaches tower over me. Sometimes it makes it hard for the videographer to shoot such a big height difference. I try to remember to wear a few extra inches on my feet when I know it's an interview day.
Your fashion inspirations: Iris Apfel. She's this awesome old lady who wears statement jewelry, fur and jewel tone prints. Also Jenna Lyons, the former creative director of J.Crew. She's kind of the one who taught me how to mix prints, think outside the box and pair elements together that nobody thought would go together.
One item in your closet you're embarrassed to say you have: A way-oversized brown leather bomber jacket that I bought on Poshmark from Real Housewives of New York's Carole Radziwill's closet. It was part of one of her Halloween costumes on the show, and she wore it during an epic scene. It's equal parts embarrassing and amazing because I am a Bravo-holic! It's basically a piece of TV history.
The power of style is … Putting together prints, colors and textures and spending time to finalize and pinpoint details—clothing and style are just another art form. Your style is another way you express yourself as a person.
---
LAURA PATTERSON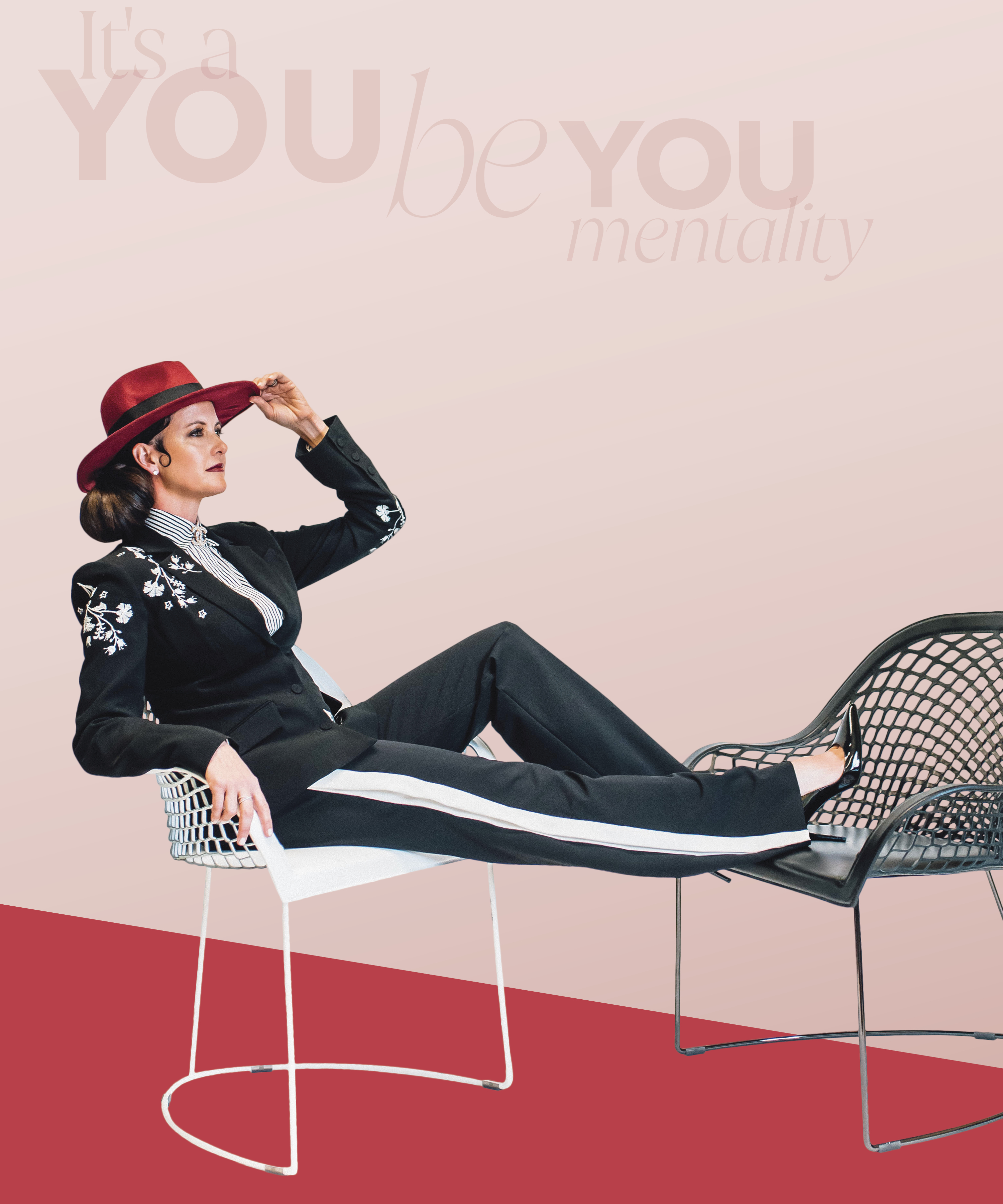 GUAVA by MIDJ white leather dining chair, $1,099
GUAVA by MIDJ black leather lounge chair, $1,500
From Monochrome Furniture + Design
Cinq a Sept blazer, $585
Bailey 44 top, $198
Stuart Weitzman shoes, $375
From NK Boutique
Theory pants, $345
From Eros
Vintage earrings, rings, hat and Chanel brooch
Model's and stylist's own
---
Laura Patterson's daily uniform is athletic wear and tennis shoes. As a full-time mother and Louisiana Heart Gallery advocate for adoption and foster care, the 49-year-old is always on the go. Comfortable clothes that cater to her active lifestyle are a must. Whether she's sporting a pair of Athleta leggings or an airy top with jeans, she keeps it simple. But she's not afraid to step out of her comfort zone and dress up for a special occasion, either—she was just as confident in the fashion-forward pantsuits and stilettos at our 225 shoot. There's only one thing the Texas native won't step foot out of the house without: her lip gloss.
Your style is: Casual and simple. I don't really follow trends. If I like it and feel good in it, I wear it.
Local shops you keep going back to: Love Boutique, the Gap and Nordstrom Rack. Online, I shop at Neiman Marcus Last Call.
One thing in your closet that you're embarrassed to own: I still have a lot of jewelry I wore in the '80s. I'm not embarrassed by that—I just laugh at why I can't seem to get rid of it. Good memories, I guess.
Your style icon: Cindy Crawford. She's had the same great style for decades: jeans with a white T-shirt, blouse and a cool belt, blazers, knee-high boots, fabulous dresses and always a little leather in there somewhere. She's proof that age is just a number.
Favorite item in your closet: My most favorite thing that I wear is my diamond-drop necklace that I got from my great grandmother when she passed away.
One clothing item or accessory you could not live without: A great pair of sunglasses. That's one thing I'll spurge on.
Your outfit planning process: I usually wait until the last minute and try on different things until it feels right. For me, 'less is more' works best.
The power of style is … Being confident in what you like and not caring about others' opinions. It's a 'you be you' mentality.
---
HENRY GALINDO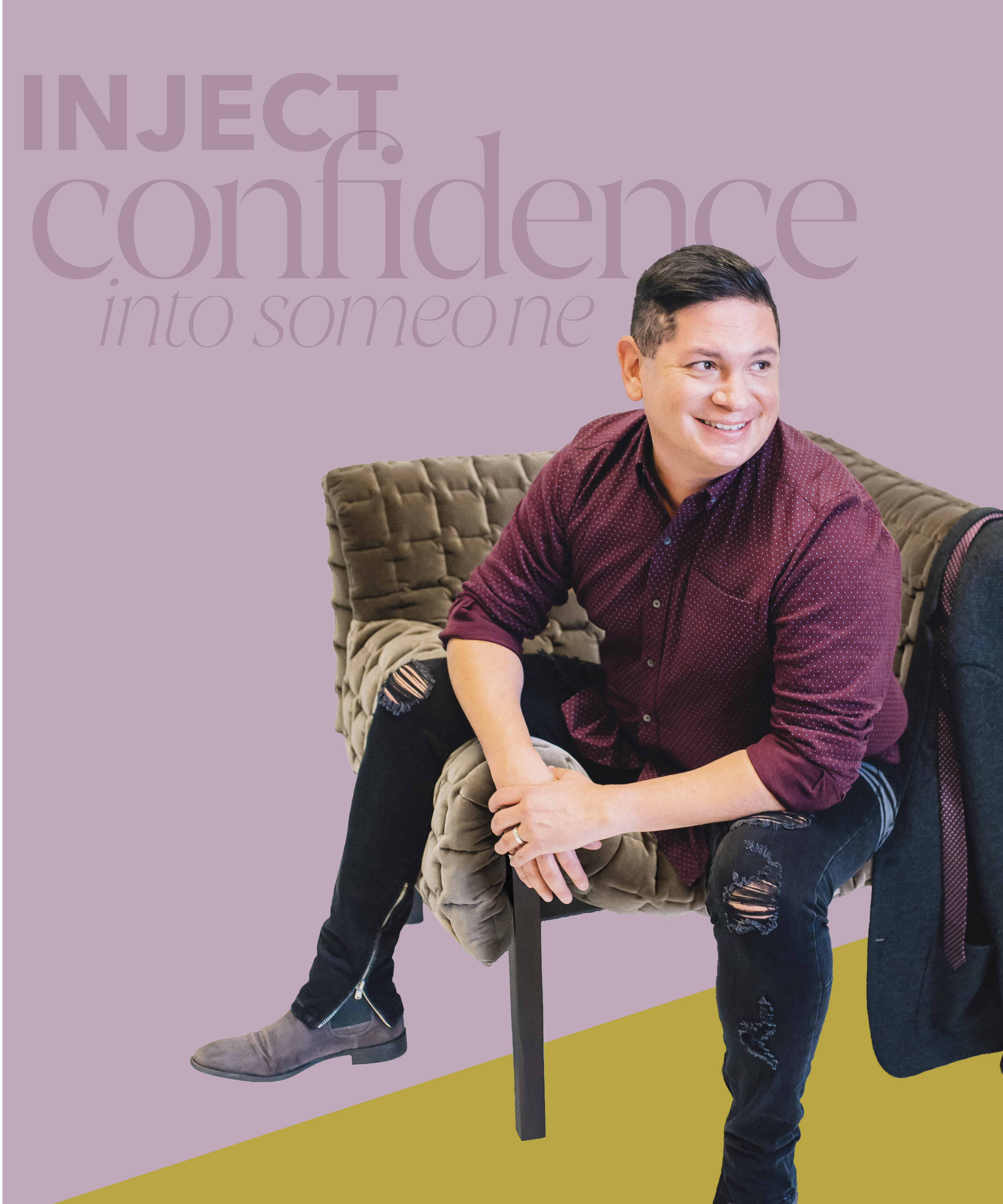 RUCHE by Ligne Roset (France) velvet chair, $4,465
From Monochrome Furniture + Design
Work Rest Karma knit blazer, $348
Work Rest Karma shirt, $98
Clericci tie, $35
From Champs Élysées boutique
Crysp Denim jeans, $70
From Imagez Apparel Bar
Robert Wayne "Oklahoma" Chelsea boots
Kenneth Cole briefcase
Model's and stylist's own
---
Henry Galindo knows a thing or two about style. As the director of operations at Beau Box Real Estate, the 46-year-old rocks tailored and professional pieces for his meetings. He also enjoys traveling to places like Paris and New York, where he'll often pick up staple pieces to add to his wardrobe. While he usually keeps his outfits streamlined, he pays special attention to detail, using jewelry and accessories to add pops of color and flair.
Your style is: Relaxed casual. I'm a jeans and T-shirt type of guy. I love a great blazer. If I'm going to an event, I like something that's business casual. I'm just more comfortable in a relaxed casual look.
Local shops you keep going back to: Dillard's. I shop for athletic and casual clothes at Lululemon. There's some fun shirts at Tim's Garage. Mainly, I do most of my shopping for fashionable clothing when I travel. I'll travel with half my suitcase full so I can bring back what I want.
Your favorite statement piece: I love a leather bomber jacket. In Louisiana, I don't get to wear it much, but when I travel I do. It's that piece that just keeps getting better with age.
One style trick you wish you knew earlier: A pocket square is a fun way to kind of do something colorful and unexpected. I'll go on YouTube and look up a fun fold—there's a million ways to fold them.
One clothing item or accessory you won't leave the house without: Jewelry. I wear rings, bracelets and cuffs. A lot of the time, when I'm going out, I won't wear a watch because I'd rather wear a bracelet. I think women get to have all the fun, so guys have to get a little creative with it.
Your go-to look for a local festival or outdoor event: I'm probably going to throw on Lululemon shorts and a T-shirt. I wear a lot of ball caps and sunglasses. I can never have too many sunglasses.
The power of style is … The feeling when you walk with your head held a little higher and your shoulders a little further back, when you're not only comfortable in your own skin but in the clothes that cover it. The ability to inject confidence into someone—where it otherwise might be lacking—is the power of style.
---
MICHELLE LANOIX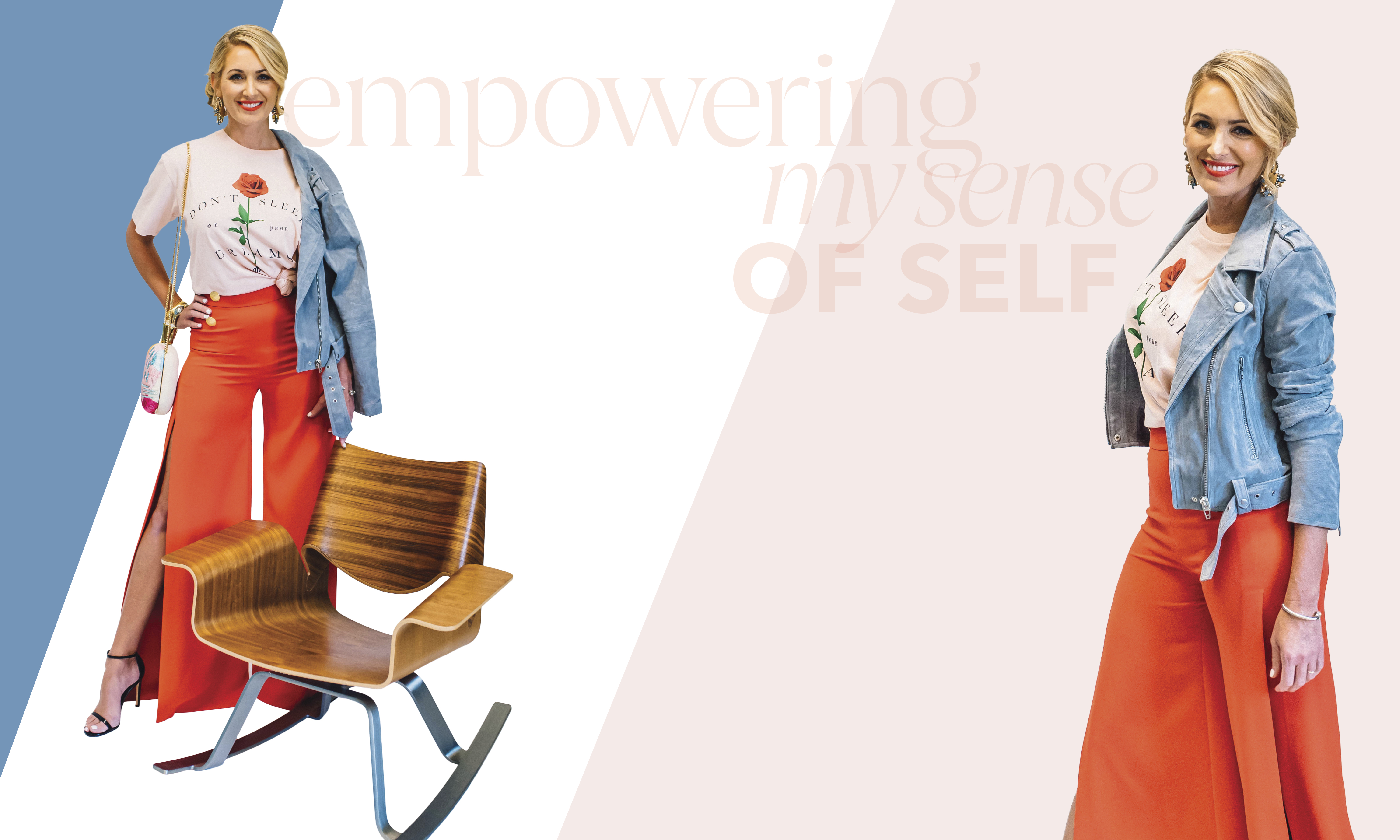 Buttercup by Bludot chair, $899
From Monochrome Furniture + Design
Blank NYC suede moto jacket, $198
Gold bracelet, $45
From Hemline
Muerte men's T-shirt, $40
From Imagez Apparel Bar
Stuart Weitzman shoes, $398
Nicole Romano earrings, $200
From NK Boutique
Alice + Olivia by Stacey Bendet pants, $350
Pina Rama pineapple purse, $413
From Eros
---
At the end of her workday, Michelle Lanoix swaps her scrubs for her favorite Articles of Society jeans. Throughout the week, the 38-year-old works as a medical device sales executive. On the weekends, she unwinds at local festivals, football games and concerts. The Baton Rouge native's simple and chic wardrobe offers just a small glimpse at her eventful lifestyle.
Your style is: Sexy casual.
If you could swap closets with one person, it would be: Style blogger Krystal Faircloth. She always has the perfect outfit for the perfect occasion, and we share the same body type.
Item in your closet you are most proud to own: My great grandmother's fur. It is a white fox fur with light brown tips. It's so old, but it's in such good condition.
Fashion rule you live by: I was raised by my great grandmother, who said, 'You'd rather be the most overdressed person in the room than the most underdressed.'
Local shops you keep going back to: Lukka, Simply Chic and Chatta Box Boutique.
One clothing item or accessory you won't leave the house without: My watch. For work, it's my Apple Watch. Outside of work, it's my gold wrist watch. I feel naked without something on my wrist.
The power of style is … One word: empowerment. The power style has for me is empowering my sense of self.
---
This article was originally published in the September 2018 issue of 225 Magazine.