Sponsored by Studyville
Owner: Studyville founder Amanda Vincent and her husband Benn, who helped start the Fur Ball—a fundraiser for Companion Animal Alliance
Breed: Abby is a King Charles Cavalier Spaniel; Elizabeth, a toy Australian Shepherd
Age: Abby is 4; Elizabeth is 10
In just one word: Abby: Spoiled. Elizabeth: Sporty
Most recent costumes for the Fur Ball: Abby wore her fake pearls; Elizabeth wore a pink tutu.
Unique skill set: Abby: Gazing longingly into Amanda's eyes and following her wherever she goes. Elizabeth: Frisbee, swimming, running, camping and all things outdoors with Benn

Performance bonuses: Abby: Food; Elizabeth: Get the Frisbee!
Obsessions: Abby: Amanda is her obsession. Elizabeth: If she had to save one thing in a fire, it would be her Frisbee.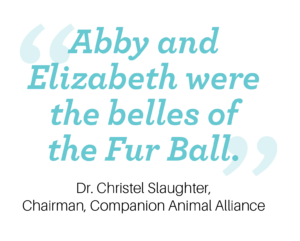 Favorite getaway: Abby: Wherever Amanda goes. Elizabeth: A walk or run around the LSU Lakes.
Forgivable flaw: Like a goat, Abby will eat almost anything—trash, laundry, cat litter. Elizabeth is afraid of rainstorms.
Company bio: Nearly a decade ago, Baton Rouge Area Foundation President & CEO John Davies and Companion Animal Alliance Chairwoman Christel Slaughter asked Studyville founder Amanda Vincent to chair the original Fur Ball to benefit the nonprofit shelter. She said she would think about it, until they said this: "Just one thing: "The ball will be dog-friendly. People will come in tuxedos and gowns with their dogs." To which Amanda responded, "I'm in." She and her husband were very involved for five years.
---