---
Quite a few names come to mind when we think of who represents different industries around Baton Rouge. We have local grocery stores owned by the same family for decades and creative minds who have become icons for their work in art or media. And there always comes a time to pass on the torch to a new generation. "Nepo babies" have been a constant talk lately, especially in Hollywood. But the children of these local celebrities aren't just riding the coattails of their parents' careers. They have been mentored by the pros and are now bringing in fresh ideas, carrying on the family legacy while making names of their own.


Drue Alexander
Floral Department Manager and Florist at Alexander's Markets
Drue Alexander grew up roaming grocery store aisles. From a young age, she was stocking shelves and learning the ins and outs of each department in her father's and uncles' stores, Alexander's Markets.
With the longtime family business now working to open its fourth location, Alexander today works full-time for the brand. And at only 21, she's already making it bloom.
Alexander started working in the floral departments of her family's stores in 2020 and now tends to all the buds in the business by creating bouquets, boutonnieres and more. In that time, she has transformed the department and provided florals for small weddings and even this year's Flower Fest.
"I've found my passion through our family business," she says. "I never knew I liked flowers so much until I worked in floral, so it's helped me figure out what I like and what I'm passionate about."
---
Adrienne Connelly Adams
Stylist at Eggie Salon Studio and Art Curator at Studio Annex 
Fine art has always surrounded Adrienne Connelly Adams. With an art gallerist as a mother, it was hard for it not to. Some of Adams' earliest childhood memories even took place inside her mother's famed local gallery Ann Connelly Fine Art.
Adams went on to study studio art, where she became more and more interested in artist critiques. She loved hearing why creative minds thought the way they did and what processes fellow artists used in their work, and she loved questioning her peers during class critiques.
But after interning with an art consultant and appraiser in Washington, D.C., Adams decided the careful coordination side of the art industry wasn't for her. Instead, she chose to pursue a different creative medium: hairstyling. Years of art school taught her many things she still employs as a stylist, like using color theory knowledge to formulate hair color.
"I was so extroverted that I didn't even know how to express myself with my art unless I was doing hair," she says. "So hair, to me, is my art form."
While starting her beautician career in Shreveport, she dubbed herself the "balayage queen" after mastering the painted hair-dying technique. Now, she's a stylist at Eggie Salon Studio where she still hand paints hair color.
The 32-year-old works part-time at the salon and helps out Studio Annex, an extension of her mother's gallery, where she hosts artists and helps plan events—it's her way of carving her own path in her family's industry. She also loves spending quality time with her infant son, Ellis—and she says he has made her appreciate life even more.
---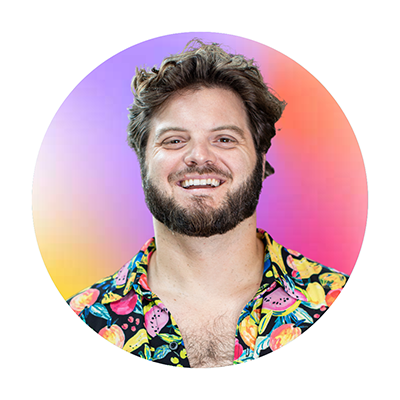 T-Bob Hebert
Host of Off the Bench and self-proclaimed "Radio Boy"
Fans of local sports talk radio have probably heard the voice of T-Bob Hebert play through their speakers in the mornings.
The 34-year-old is no stranger to sports media. T-Bob followed in the footsteps of his father, famed NFL quarterback and longtime sports radio commentator Bobby Hebert: first as an offensive lineman for LSU and then joining the Guaranty Media team where T-Bob co-hosts the morning radio show titled Off the Bench and a twice-weekly podcast called Scone and T. T-Bob also co-hosts national football college podcast SNAPS, which he records daily.
He credits a lot of his success to his father.
"I've always tried to be very cognizant of the fact that I was very privileged and undeserving of that opportunity, and since I've just tried to make the most (it)," he says.
While T-Bob acknowledges his career is similar to his father's, he says his content is "packaged differently."
In the age of the internet and social media, all of T-Bob's talk segments are recorded for video, even his radio show. And he's not just providing stats and facts, he's also infusing his segments with humor and wit.
---
This article was originally published in the June 2023 issue of 225 magazine.