---
Jeremy Beyt has house-shopped in many different cities. His appetite for innovation has often made him feel pulled toward the coastal hubs that are typically seen as the exclusive epicenters of the cutting edge–places like New York City or the Bay Area in California.
He calls it a kind of FOMO.
"I always want to be everywhere," he says. "I've had one foot out the door many times."
But sometime around the end of the pandemic, Beyt says a conversation with a friend helped change his thinking. He was talking to Kenny Nguyen, who he cofounded the local creative and tech agency ThreeSixtyEight and its Assembly Required speaker series with. The pair got on the topic of native retention in Louisiana, and how many of the people who grow up here and choose to stay here tend to do so because it's where their families are.
"The conversation went to a place where we said: 'What's wrong with that? Why is that something we're ashamed of? Why do we feel like we have to trade family for opportunity?'"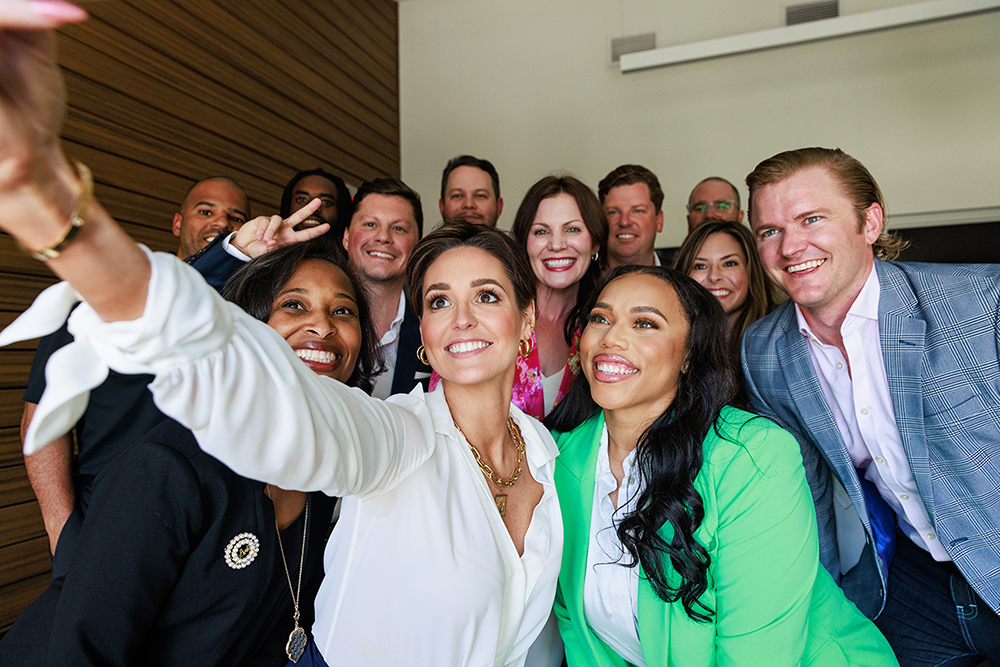 The 'boomerang' effect
Beyt believes that, in order for Baton Rouge to thrive, its denizens must break from the idea that exciting work is limited to certain loci. While those coastal meccas will never lose their mythic status, he says they have a problem you won't find in Baton Rouge, one that may even make this city a more "fertile" environment for the innovation-minded: Those coastal hubs have been the hubs for a long time, and they're getting saturated.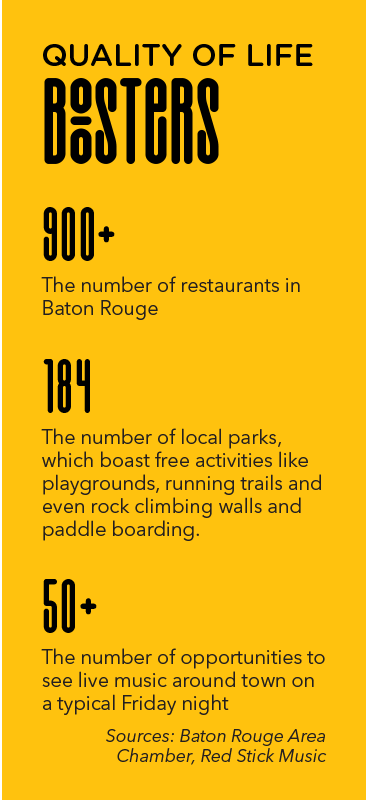 "You can go over there and enjoy it—enjoy the riches, the abundance," he says. "Or you can come here and create it."
Through his work in design and brand consultation, Beyt sees bright horizons for the industry in Baton Rouge. But the technological ether is not the only realm in which there is a future for exciting work in the Capital City.
Rachel Eggie owns Eggie Salon Studio, which splashed onto the local hair scene in 2020 with its first brick-and-mortar on Goodwood Boulevard. Eggie had a vision to bring a hair experience the city hadn't seen before, and its stylish interior—with arched entryways and Italian marble floors—isn't the only reason she hopes clients return. Her brand rests on two main pillars: rigorous technical training for her onboarding staff, and a continuous intonation with the latest methods and trends in hairstyling.
"Continuing education is so important in this industry," she says. "When clients walk through our door, they trust us to know what the trends are, what would look best with their skin tone, face shape, etc. When we as stylists stop learning and stop investing in classes to learn more, we are no longer providing the best service we can to our clients."
Eggie herself is a good example of the pull Baton Rouge exerts on its natives. After graduating from LSU, she studied cosmetology at the Aveda Institute of Houston and then found employment in that city at the renowned Therapy Hair Studio.
"I learned so much and quickly built a clientele. But I was aware that if I continued growing, it would be difficult to come home," she says. "I felt called to build a community in Baton Rouge where people not only wanted to come and enjoy, but also to work and grow."
This idea of community has a significant power in Baton Rouge. It's often cited as a chief reason for coming home by the "boomerangs" who begin their careers elsewhere and return to Baton Rouge. Eggie interrupting what showed every sign of being a bountiful career just to feel that community again and bring her talents home is a prime example.
She says the urge to return to her hometown was so strong and sure it felt like divine intervention.

Building quality of life
Tyler Litt believes we should broaden our idea of what is meant by "community."
"I really want us to be a bit less myopic around the way we describe community," Litt says. "Community could be any place, any person, and so I think the more we're able to expand our definition of what it means to be in community with people, the better stewards we can be of one another, and the better stewards we can be of the actual place that we live, as well."
As president of Forum 225, Litt directs a variety of programs meant to support and educate young professionals in Baton Rouge and steward those connections that will help them succeed. The organization's message is that it welcomes natives and newcomers alike—and that local young professionals should be united in both pride for the city and a push to help it prosper. The organization hosts socials, monthly luncheons, leadership training programs and service projects.
Through all of it, Litt has developed a strong finger on the pulse of where the new generation's aspirations lie and what they're looking for in the city where they might stake their futures.
But in order for these aspiring professionals to fully understand all that Baton Rouge has to offer, Litt says they must be proactive in exploring and engaging with the city beyond their comfort zones.
"Your education and your job are things that in some ways tie you to a community," Litt says, "but your experience outside of that space is what really makes you want to live here and build a family here and build a life here."
Part of that is engaging with the community, whether that's through local nonprofits or causes you believe in. Litt sees a simple solution to forging connections: Just ask questions. When people are more outspoken about what they want to learn and do—whether it's starting a new club or reducing litter or crime—she says they can both make more concrete progress to achieving those goals and attract others with similar values.
But the coin of meaningful connections has two sides. In order for people to want to engage with Baton Rouge and seek out a sense of belonging, they need to first see some indication that living here will be worthwhile, something to pique their interest and spark the search for a passion within the city.
One way to do that, according to Chase Lyons, is with food.
"Young people, especially out of college, want to be somewhere that's vibrant," he says. He believes the city's food culture could, with the right effort, be that thing that sparks people's interest.
Lyons has left his own mark on the restaurant and hospitality scene in Baton Rouge. He was one of the original founders of City Pork and is the founder and owner of Soji. He also helms a hospitality consulting firm, CML-Consulting, through which he provides guidance for restaurants and budding restaurateurs.
Lyons still remembers the moment he was inspired to get into the industry. It was over dinner at Cochon Butcher in New Orleans, where the cutting-edge flavors and atmosphere electrified what was then his somewhat wayward professional life.
He'd recently finished nursing school and planned on a medical career, but that night opened his eyes to what would become his life's mission: to bring those unique and memorable dining experiences to Baton Rouge.
"Baton Rouge, particularly, has a very sophisticated palate and expects to be entertained by food," he says. "The bar is set very high. However, if you get it right, they will support a new culinary experience and keep coming back."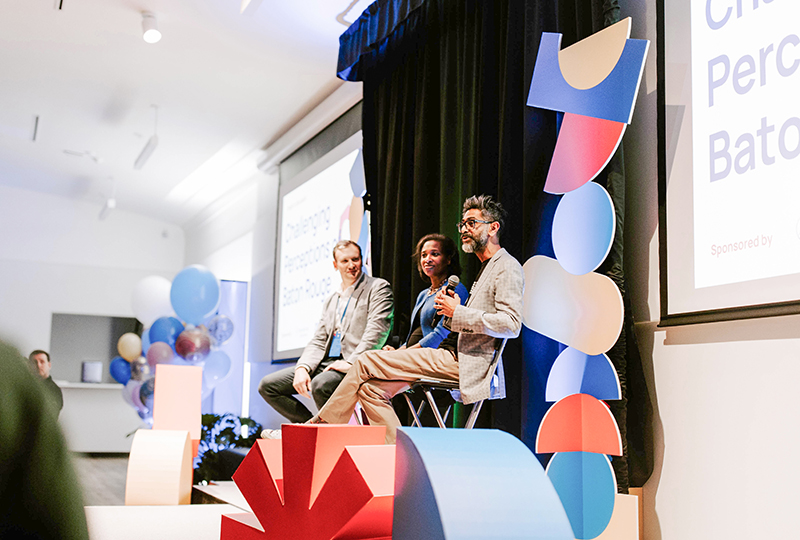 Stuck in our ways?
While the city's ever-growing culture may excite and entice young professionals, many believe there is still difficult work that needs to be done in order for Baton Rouge to truly thrive.
NRK Construction founder Norisha Kirts Glover is a Black woman owning and operating a business in the construction industry—a field where women comprised only 10.9% of the national workforce in 2022. Her firm specializes in commercial construction, buildouts and renovations throughout the Southeast. Locals might recognize its modern projects, like Gov't Taco, Counterspace BR bakery, Kaleidoscope salon and TWINkling Smiles pediatric dentist.
Glover has accomplished much, but has also come right up against the heads of the many regressive beasts that need slaying to clear the path for progress—one of which, she says, is a generally stagnant and insular attitude about how things should be done in a Louisiana town. For instance, she says, she has seen people resist outside consultation on projects, favoring local networks, and offer as justification for their insularity some variation on this phrase: "Louisiana is different."
To her, those words powerfully illustrate the attitudes standing in the way of progress. She feels the construction industry can represent a microcosm of some of the larger barriers to positive change.
"We're at the bottom of all the lists," she says "We're at the bottom of health, we're at the bottom of education, we're like top of crime. How can we hold so tightly to wanting to do it our way and also be on the bottom of lists? That just doesn't make sense to me."
She does, however, know of at least one reason for this regressive school of thought. "People become comfortable in what works for them," she says, "not recognizing that it's not working for others."
As a speaker during this spring's Assembly Required speaker series, Glover called out Baton Rouge for tolerating mediocrity.
Doing something different, she added, will require energy. Recognizing that is the first step in the path toward realizing the city's greatness.
But by no means, she says, does this limit the possibilities of the future—so long as the new generations of Baton Rouge's stewards keep their minds open and focused on progress and equity.
"Diversity of thought and diversity of experiences provide a breeding ground for opportunities and change," she says.
And as advice for the younger generations who will pick up the torch in this work, she is encouraging. "Feel comfortable," she says, "in creating (your) own path."

Speak up
Conferences and speaker series are great tools to inspire the city's younger generations. Here are three new events on the calendar:
June 22
Assembly Required: "The Future of Talent"
Remote work and AI are the tip of the iceberg when it comes to the changing workforce. The next event for this quarterly series will feature speakers from organizations like Tulsa Remote, Opportunity@Work, SkyHive Technologies and City Year Baton Rouge. assemblyrequiredla.com
---
June 28-29
YP Summit
The second annual conference hosted by the Baton Rouge Area Chamber and Forum 225 aims to help young workers network and expand their careers. Attendees can pick and choose their breakouts from four tracks containing personal, professional, leadership and community development sessions. brac.org/ypsummit
---
Sept. 14
TEDxBatonRouge
Baton Rouge is getting its own set of TED Talks, with the "Think Again"-themed event to be held downtown at the Manship Theatre. Speakers will be asked to create thought-provoking discussions that "challenge assumptions, consider possibilities and cultivate curiosity." tedxbatonrouge.com
---

Show your BR pride
Baton Rouge's maker scene has really flourished in the past five years, providing local artists stronger income and shoppers with chances to buy homegrown art and T-shirts. As a result, several boutiques and brands focusing on Capital City-made or -themed art have popped up in recent years. Here are a few to check out.
Brass by Circa 1857 | 327 North Blvd., Suite 100 | brassbr.com/brassbr
Hey Penelope | 7317 Jefferson Highway | heypenelope.com
Local Supply | 1509 Government St. | localsupplybr.com
Local Leaf Gallery | 555 Caddo St. | localleafgallery.com
Sweet Baton Rouge | 1509 Government St., Suite D  sweetbatonrouge.com
Tim's Garage | timsgaragebr.com
---
This article was originally published in the June 2023 issue of 225 magazine.