---
Stopped at a red light in January 2021, Jennifer Richardson glanced out her car window and grew disgusted. The long median traversing Essen Lane at Jefferson Highway, as well as the grassy rights of way on both sides of the street, were, as usual, full of trash. 
"The weeds were tall, and it was full of beer cans, bottles and cigarette butts," says Richardson, a realtor who uses the thoroughfare regularly. "Every time I'd go to that red light, I would just get white-knuckled. I was so angry, and so I posted on Facebook, 'Does anybody want to meet me at 6:30 in the morning on Saturday to clean this up?'" 
A few replied that they would. The day arrived and Richardson, who showed up first, started pulling weeds and bagging trash. As she worked, she recalls feeling a bit self-conscious and wondered if anyone else would actually join her.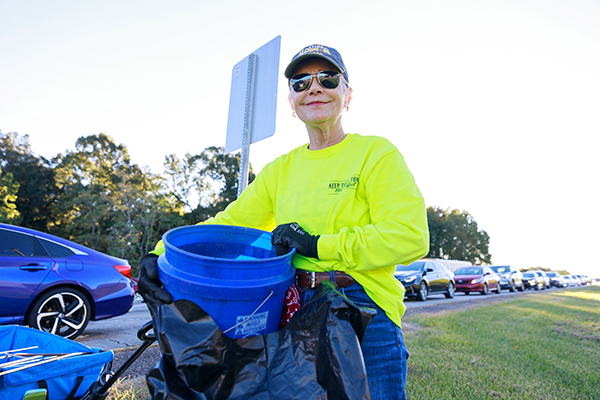 "Then, all of a sudden, I looked up and people were coming over to help," Richardson, 63, says. "They showed up. We cleaned it up in about three hours and picked up 43 contractor bags full of trash."
The cleanup was so successful, Richardson formed the Facebook group Keep Tiger Town Beautiful and planned subsequent volunteer events in other areas. Nearly two years later, the grassroots organization has more than 3,100 Facebook members and hundreds of consistent "litter warriors" who participate in regular trash removal events around the city. 
"Regular" is the operative word since the cleanups take place six days a week, Monday through Saturday from 6:45 to 8:45 a.m., rain or shine. Richardson posts location details on the Facebook group, and volunteers arrive wearing rubber boots and gloves. Some bring portable garden carts for loading and pulling bags, making it easier for them to maneuver heavy loads.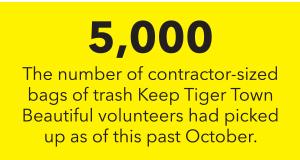 By early October, Keep Tiger Town Beautiful had picked up 5,000 contractor bags of trash, and that didn't include the scads of discarded tires, other car parts, and "buckets and buckets of buckets of drug needles," the group has also retrieved, Richardson says. Volunteer Debbie Corbo says she once recovered a loaded pink handgun. The group turned it over to police, she says.  
The movement is growing. More volunteers are joining or supporting the organization weekly, with some donating contractor bags and other equipment.
The group has also inspired other citizen groups in Denham Springs, Brusly and New Orleans to model similar programs, Richardson says. 
---

A worsening problem 
Richardson believes the litter problem in Baton Rouge has grown so much that people simply don't notice it anymore. 
It's a mood that's in direct contrast to the anti-litter sentiment of the late '70s to early '90s, when public service campaigns affirmed littering as socially abhorrent. There was Keep America Beautiful's powerful "Crying Indian" PSA, which showed polluted roads and waterways from the viewpoint of a distraught Native American who sheds a single tear at the ad's close. There was the U.S. Forest Service's "Give a hoot! Don't pollute," children's campaign featuring Woodsy the Owl. 
And in the late '80s, the Texas Department of Transportation and Development rolled out its on-brand anti-litter campaign "Don't Mess with Texas," which significantly reduced trash during that period on Texas roadways. 
The impact of such campaigns seems to have waned, at least in some parts of the country. Litter in Baton Rouge is worse than ever, says Department of Public Works director of transportation and drainage Fred Raiford—and its sources are many. 
"It didn't happen overnight. This problem has existed for probably about the last 10 years, in my opinion," Raiford says. "I think you've got people doing illegal dumping. You've got people who don't know that they're (littering). Trash may be flying out of the back of their truck. You've got people and businesses that don't put covers on (cans), and you have people who blatantly don't care. When I see people dump their ashtrays and cigarette butts on the curb, there's nothing more frustrating to me than that. But that happens all the time." 
Raiford says that DPW sends from five to 12 or so workers to pick up litter daily, often in areas that are scheduled for grass cutting. DPW intentionally leaves bags out for a day or two to show the public the area has been cleaned. But within a couple more days, Raiford says those areas are covered in litter again. 
Raiford applauds Keep Tiger Town Beautiful's efforts, saying that the public sector can't keep up and needs local partners. 
Illustrating the city's new desire to engage volunteer groups in the litter fight, Mayor President Sharon Weston Broome announced the launch of the Brighten Up Baton Rouge Litter Initiative in early October, a 20-person task force whose first phase includes a public awareness campaign and a website, brightenupbatonrouge.com, which will include opportunities to register for clean-ups and to borrow tools for clean-ups from the City Parish. No volunteers from Keep Tiger Town Beautiful were asked to serve on the task force.
---

Desensitized to trash 
Gathered on a crisp fall day near the Perkins Road I-10 on-ramp, Richardson and volunteers Corbo, Sue Abshire, Ray Juno and Su King say they believe residents have become numb to high levels of litter. 
That morning, the group collected nine bags of trash from a wooded swath along the I-10 on-ramp and behind local businesses like Parrain's. As they normally do, the group reported the location of the trash bags to DPW for pick-up, which usually happens within the week, Richardson says. 
Few areas in Baton Rouge are immune to loose trash and debris, from trendy areas like this one, to countless intersections around town trafficked by panhandlers, and to the University and City Park Lakes. 
"Our children grew up here, and they're used to living in filth," Richardson says. "They don't notice it until they go on vacation and say, 'Mom, it's so beautiful there; I want to live there.' And I say, 'Yeah, it's because there's no litter.'" 
Richardson continues, "And it's so sad because we have one of the most beautiful states. Mark Twain said that Baton Rouge was like a bride covered in flowers. Now, it's covered in litter."
And there are stats to back up their view. A recent $500,000 EPA grant, following years of activism by Burden Museum and Gardens Director Jeff Kuehny and activist Marie Constantin, removed an astounding 81 tons of litter from the forested area behind Burden, trash that had collected over many years by way of stormwater runoff. Aluminum cans and plastic bottles that never made it into recycling bins or garbage cans were swept into the stormwater system and into Ward Creek. When the creek occasionally backed up, its litter load was beached in the area behind Burden. 
The litter has been removed, but it will take catchment devices installed in drainage canals, as well as a change in the public's behavior, to prevent it from happening again.  
A quick glance at the Keep Tiger Town Beautiful Facebook group shows anecdotes of watching drivers dump trash out of their windows at red lights or in grocery parking lots. But the group is hoping to shake people out of their complacency by example. 
It's beginning to catch on. As they work each morning, retrieving Styrofoam to-go boxes, plastic bottles and fast-food wrappers, some motorists honk and wave, yelling encouraging words or expressing thanks. 
Richardson recounts one story of a woman who spontaneously pulled her car over to help. Others have made donations for bag and equipment purchases. Corbo says a man at a bus stop, watching her pick up litter, thanked her and reached into his pocket and handed her $5.
"I bought bags with it," she says. 
And multiple donors, including Benny's Car Wash, Mockler Beverage, Cajun Electric and SOLA Pharmaceuticals, donated a total of 64 trash cans for intersections and public rights of way, areas that have been trash magnets. Anchored with concrete and lined with bags, they're regularly emptied by Keep Tiger Town Beautiful. 
As for the locations where clean-ups take place, Richardson says they're generally in high trafficked areas in Baton Rouge where she and her core volunteers "live, work and play," so that they can monitor the removal of the bags and clean areas up again if they become re-polluted.
 It's hard for observers not to get inspired when they see a group of volunteers taking it upon themselves to remove litter with such determination—and that's exactly what Keep Tiger Town Beautiful hopes. 
"If everybody and every business would take care of their own property, it would make a world of difference," King says. 
Richardson agrees. 
"Just do it for five minutes a day, five minutes or less," she says. "Even one minute a day, you would not believe the trash you could get off the street."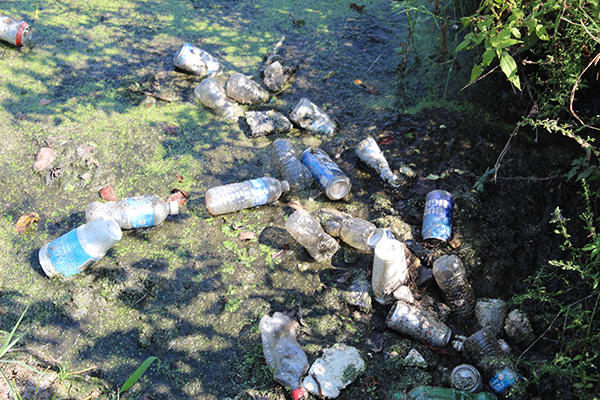 Who's responsible for removing LSU lakes litter? 
While the EBR Department of Public Works and BREC provide various forms of maintenance for the University Lakes system and its current parks and pathways, neither entity claims responsibility for removing trash from the lakes themselves. 
Thus, Styrofoam cups and plastic bottles often bob in the water alongside the lakes' migratory birds and other wildlife. They can collect in large quantities, as seen here in October on Lake Erie.
City Park Lake and Lake Erie, owned by the City-Parish, are particularly susceptible to litter. The two are part of a large watershed and receive runoff from surrounding areas. Plus, Interstate-10 crosses City Park Lake's north end—a likely source of litter from motorists. Corporation Canal, a drainage canal for stormwater alongside University Lake, has also been a spot where large amounts of litter collects. 
With Phase I of the University Lakes Project expected to kick off in the next few weeks, changes to how litter is addressed could be underway. 
The project calls for an independent entity to handle maintenance of the entire system, says project manager Mark Goodson. 
Whether or not that entity will remove litter from the bodies of water remains to be seen, but the project also calls for the installation of riprap, or netting to help block larger litter from entering the lakes as water from the surrounding areas drains into them. The devices will need to be emptied regularly, Goodson says. 
A $15 million FEMA grant, announced in August, is intended to improve drainage along Corporation Canal, and will include devices that help catch litter there, Goodson says. Neither of those advancements address the litter in the lakes currently. 
---
This article was originally published in the November 2022 issue of 225 magazine.