---
It's no secret LSU has had an embarrassment of riches come through the program in the defensive secondary.
From Heisman Trophy finalist Tyrann Mathieu to top-10 picks like Patrick Peterson and Jamal Adams, the list of talent from Defensive Back University is quite extensive.
So it carries some substantial weight when the question is already being asked: Can Derek Stingley Jr. become the best defensive back to ever play for LSU?
Keep in mind, he is barely 19 years old. He's only gone through one season of collegiate football, but he's already beginning to turn heads around the college and professional football worlds.
In fact, the first word out of the mouth of defensive coordinator Bo Pelini when asked about Stingley—whom he has only been officially coaching since late January—was a fitting one: exceptional.
"[He has] not just good, but exceptional ball skills," Pelini tells 225. "And I think he'll get better. As good of a year as he had, he's going to improve. He's a hard worker, and he's got all the tools. I think his best football is out in front of him; there's no question."
That's a scary thought for opposing offenses.
Stingley already grades out as not only the highest rated returning player in the SEC, according to Pro Football Focus, but he's also the top returning non-quarterback in the entire country.
The Dunham School alum produced a 91.9 coverage grade, which led all FBS cornerbacks. On contested balls, Stingley allowed just nine of 33 passes to be caught, picking off five and forcing 19 incompletions. On the season as a whole, Stingley allowed just a 38% catch rate on 96 targets.
All these numbers are simply to say that last year, Stingley played at an elite level that far exceeded the expectations of any freshman.
The even better news? He's already consistently praised for his work ethic and levelheadedness.
He has far bigger goals than a successful rookie campaign, and he's willing to put in the hours to get there.
"I've been mainly working on my footwork and press techniques and ball skills," Stingley tells 225 when asked what he hopes to improve upon in his sophomore season. "I lacked in that a little bit last year, so I just want to make sure I get back on board with that."
It's a harsh self-assessment for a guy who was arguably the best cornerback in the country. But it speaks again to Stingley's mentality.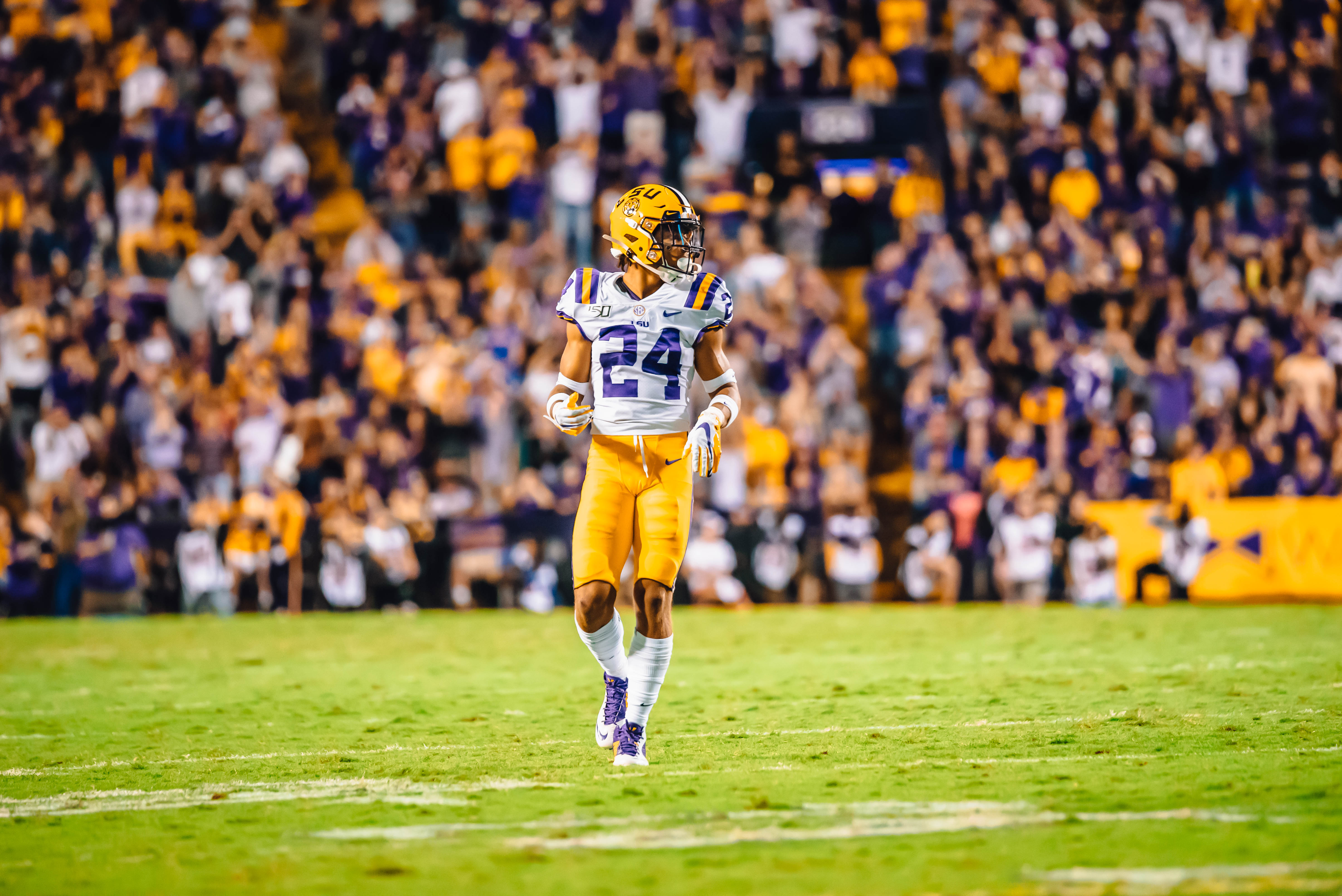 The 6-foot-1, 195-pound corner finished with a team-high six interceptions and 15 breakups, while also being employed as the Tigers' first-team punt returner—a position that had been  consistently inconsistent back in 2018.
Unsurprisingly, Ed Orgeron and the coaching staff have already begun crafting even more ways to try and get Stingley involved.
During a WWL radio interview earlier this offseason, Orgeron gave a sneak peek into some of the things Stingley may be asked to do this fall, like getting more involved in blitzes and unique defensive coverages.
But Orgeron also dropped this little nugget in the process.
"During recruiting, I promised him two years on defense and then the next year—the third year—I think you're going to see Derek play both ways for us."
That means we may soon be seeing the star on defense and offense. It's a feat rarely seen at the college level.
Stingley, who many recruiting analysts believed would have been the top-rated wide receiver out of high school had he chosen that position over cornerback, would have a chance to further secure his legacy in Baton Rouge.
Orgeron did make the caveat that this won't happen before Stingley's third year on campus. But when asked directly, Stingley wisely toes the company line.
"Whatever the coaches want me to do," he says behind an audible smile, "that's what I'll do."
Regardless of whether we see Stingley running routes this fall or not, Tiger fans should take advantage of every snap he takes in purple and gold. He's going to be one to remember for a long, long time.
---
Check out more LSU-related stories in our full Tiger Pride special section.
This article was originally published in the August 2020 issue of 225 magazine.