---
Roughly a decade and a half ago, a group of artists and art lovers gathered in a dim, cramped room on the grounds of Baton Rouge Gallery for a largely improvised art party they called the Surrealist Ball.
Recollections of the event are hazy. What is remembered is that, shortly after, the organizers received a cease-and-desist letter from a group in Seattle who claimed they owned the rights to the name "Surrealist Ball."
Today, the name remains with its litigious owners up in Washington. But down here in Baton Rouge, people are gearing up for something even better: the 15th iteration of the annual Surreal Salon. Today, the exhibition displays scores of works from artists throughout the country—and a handful from around the globe. It returns at Baton Rouge Gallery Jan. 3-26.
"It is a strange thing given where it started," says Baton Rouge Gallery President and CEO Jason Andreasen. "There was no game plan for a year two, there was no expectation that it was something that would become an annual thing—let alone what it has ended up becoming."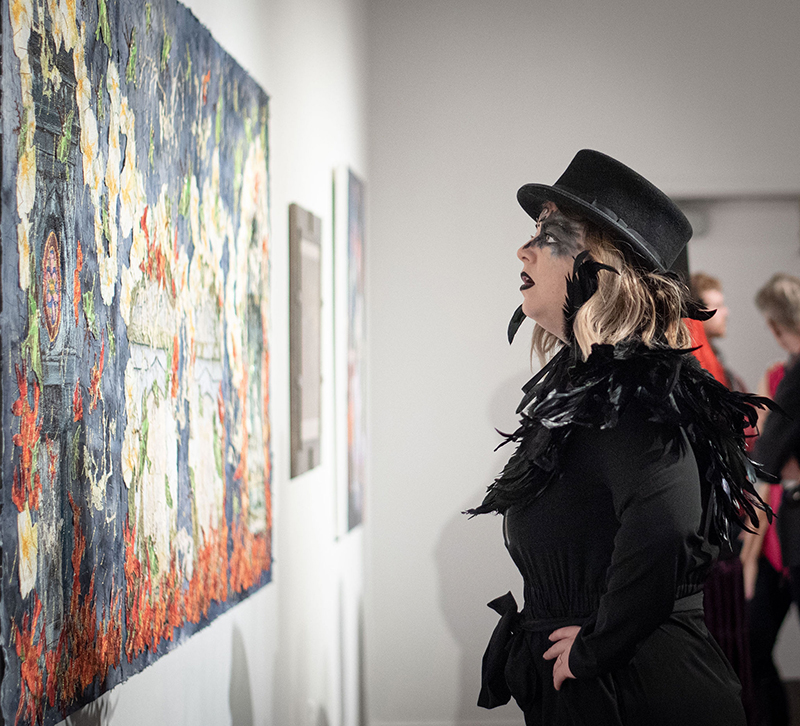 Perhaps by the sheer nature of surrealist art, it has become a great many things: an eclectic mixed-media exhibition; a coveted opportunity for artists around the globe; and a bombastic party flocked with costumed figures, musicians, acts and at least a few animals.
Andreasen called this year's selection the "widest net" they've yet pitched. The 2023 edition will feature 80 works from 62 artists hailing from 21 U.S. states and 8 countries. 
And it's not only the works on display that come from abroad. BRG enlists a renowned artist to guest-curate the show and help determine prize winners. This year, the role belongs to Milan artist Marco Mazzoni, who will also display four of his own works at the exhibition, including the exhibit's new graphic he created.
"It is a bit strange—but a bit wonderful—for me to give an opinion on everything," Mazzoni says, adding that the blind judging process (he's only seen the submitted works and their titles, no other info) has presented a unique challenge to him. 
Mazzoni's selections, pulled from a daunting pool of over 500 submitted works, will hang on the gallery's walls for the bulk of January—they will be free for anyone to view during normal gallery hours. But if any of those days is the day to see them, it is Jan. 21, when the Surreal Salon Soiree returns for the first time in three years.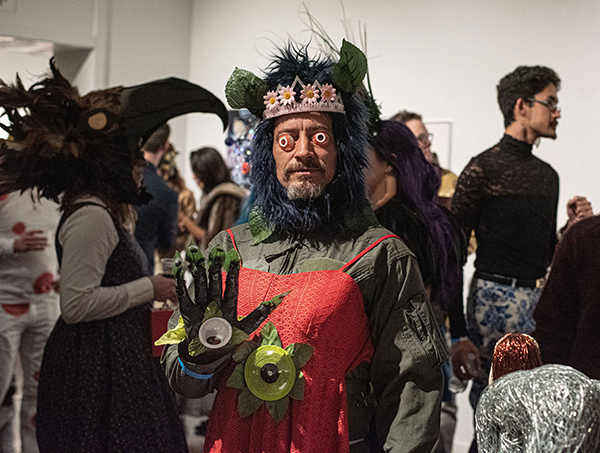 The Soiree will have a grand return, complete with old favorite oddities and new ones, like the exuberant sonic shamanism of musical guest, Austin-based Golden Dawn Arkestra. 
And you'd better show up in costume.
"One of the great things about the event is just the interaction between attendees, and watching the costumes end up being a natural icebreaker for a lot of people," Andreasen says. That, and the fact that "the show is going from 70 pieces to 700 just by virtue of everybody having their own costumes. They're kind of part of the show for that night."
But what's most impressive is the attendees' enthusiasm for the art.
"Surreal Salon isn't just Surreal Salon because of the costumes and a big blowout party," he says. "It is as much about the artwork that is being exhibited. And that was the original goal … to get people excited about art in our city." 
He's confident they've succeeded. batonrougegallery.org 
---
This article was originally published in the January 2023 issue of 225 magazine.