---
The little tea table is laden with a mid-afternoon spread: rich basbousa cake made with coconut and olive oil, fatir bread baked with cheese and topped with parsley and nigella seeds, dark Arabic coffee that clings thickly to the sides of the tiny, delicate cups.
"Don't drink it all the way down," says Omaya Jazairli, our Syrian-American translator, gesturing to the coffee. "When you finish, I'll read your cup."
We're sitting in the living room of Beth, a textile artist and mother of five who also happens to be a Syrian refugee.
It took three years and three months for Beth and her family to reach the United States from their hometown of Daraa, Syria. Known as "the cradle of the revolution," the very first protests of the Syrian Civil War sparked in Daraa in 2011, and it's been a hotbed of conflict and violence ever since. By mid 2017, reports claimed the city was mostly destroyed.
But Beth was already in Baton Rouge before that. She fled with her husband and children under the specter of bombings and firing squads, and spent time in a refugee camp in Jerash, Jordan, that she says was "like hell." With the help of the United Nations, they were finally placed in Louisiana by the U.S. Refugee Admissions Program in June 2016.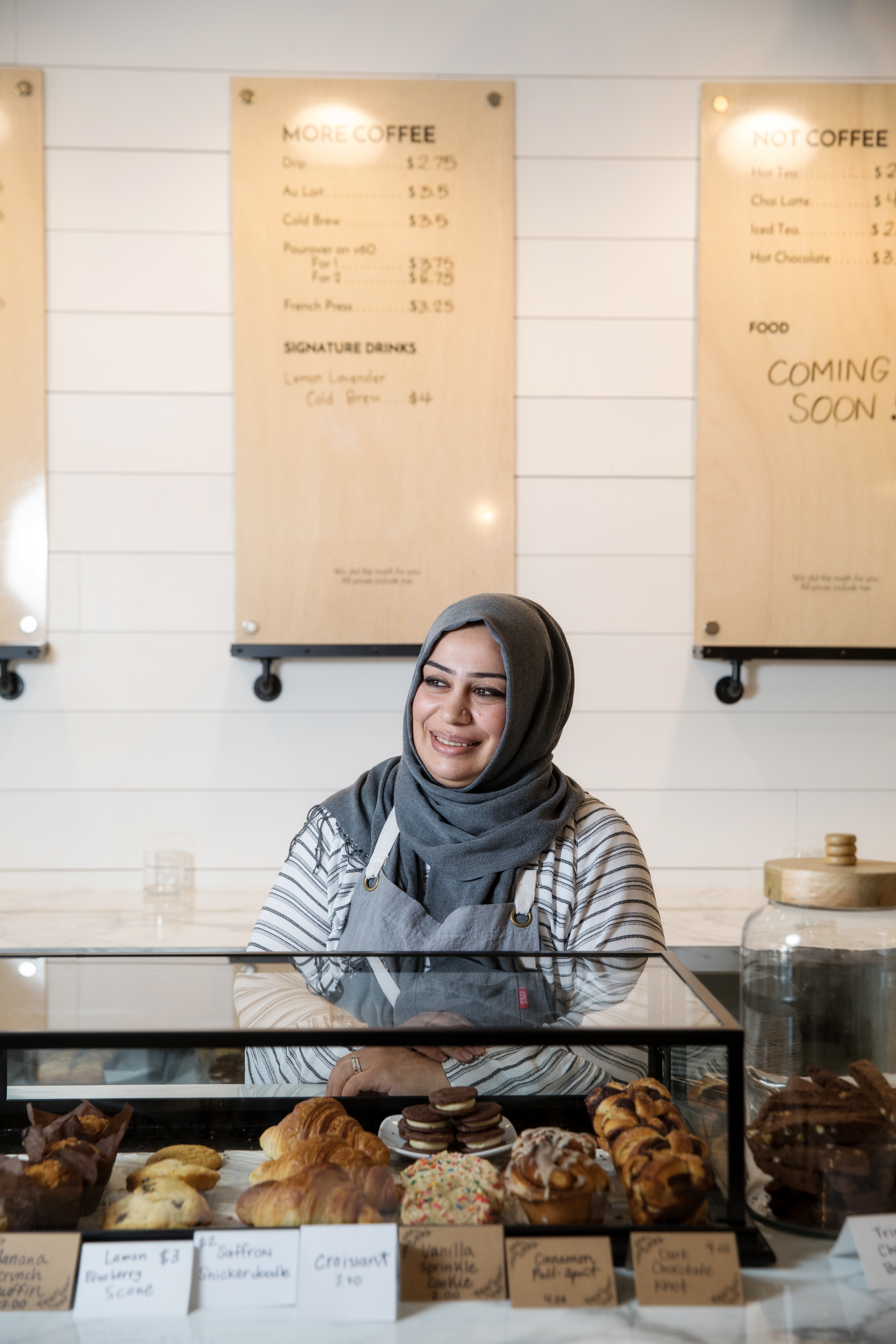 That year, the U.S. State Department Refugee Processing Center reported that 1,377 refugees had settled in East Baton Rouge Parish since 2002, with 19 hailing from Syria. The number has dropped in the past year due to federal policies, with 15 total refugees placed in Louisiana from October 2017 to February 2018, none of them Syrian.
Beth's family's apartment is small, but the seating is plentiful, and the spread is delicious. This isn't their first home in the city—the duplex they first lived in survived the flood of 2016, but the surrounding neighborhood didn't. Less than two months into their new life in America, the family found themselves back in another refugee camp—this one the makeshift shelter of the Celtic Media Centre—without a translator.
Then a volunteer offered them a temporary place in her home, a Facebook post connected them with a local who spoke Arabic, and that local turned out to be the man who would offer Beth's husband the job he still holds at Haghighi's Persian Rug Gallery. In the eye of a literal storm, Beth found something that's proven true time and again since resettling in Baton Rouge: Help will come.
"Louisiana people are very giving and very generous and willing to help, from the beginning until today," Beth explains through Jazairli's translation. "Even our downstairs neighbor—five kids in an apartment over her head, she was angry with [us] at some point, because she works and at night the kids are active. But we met her, and when she learned that [we] are from Syria, she was so loving and giving and cooperative, and she talks to the kids all the time."
Another one of those people willing to help is Rebecca Gardner. She's the founder of Hands Producing Hope, a local company that partners with women in Rwanda and Costa Rica to sell their handmade accessories and home goods. After years working with women internationally, Gardner wanted to work with Baton Rouge refugees, too.
To make ends meet, Beth's husband was working two full-time jobs until recently. But he lost one job after the restaurant where he pulled night shifts shuttered. Beth has children to watch at home and no car to get to a job. Even with food stamps, they struggled.
But thanks to weaving lessons and materials provided by Gardner and company, Beth can now work for Hands Producing Hope from home, making woven wall hangings.
It was Amber Elworth, a former English teacher with the Catholic Diocese of Baton Rouge's refugee resettlement program, who introduced Gardner to Beth. The state-funded program helps refugees and asylees become self-sufficient and integrated in their new city with everything from health care to finding employment and enrolling kids in local schools to English classes like Elworth's.
Elworth now manages Light House Coffee with her husband, Steve, and co-owner, Cindy Barker. The coffee shop opened in April and aims to fill half its staff positions with refugees. Elworth retails goods from Hands Producing Hope in the shop and uses its private meeting room to offer local refugee women classes on everything from social customs to computer skills. Not only does she help these refugees hold down a job, she wants to normalize the presence of refugees in Baton Rouge simply with friendly service.
"A huge goal of mine is to teach the public what it means to be a refugee. It just has such a negative connotation because of the media, but it's a legal status," Elworth says. "I'm a citizen. Some people are residents. It's just how they got here. And they're people just like us. I just hope that people can come in here, see a lady in a headscarf, and see her sweet smile and know that."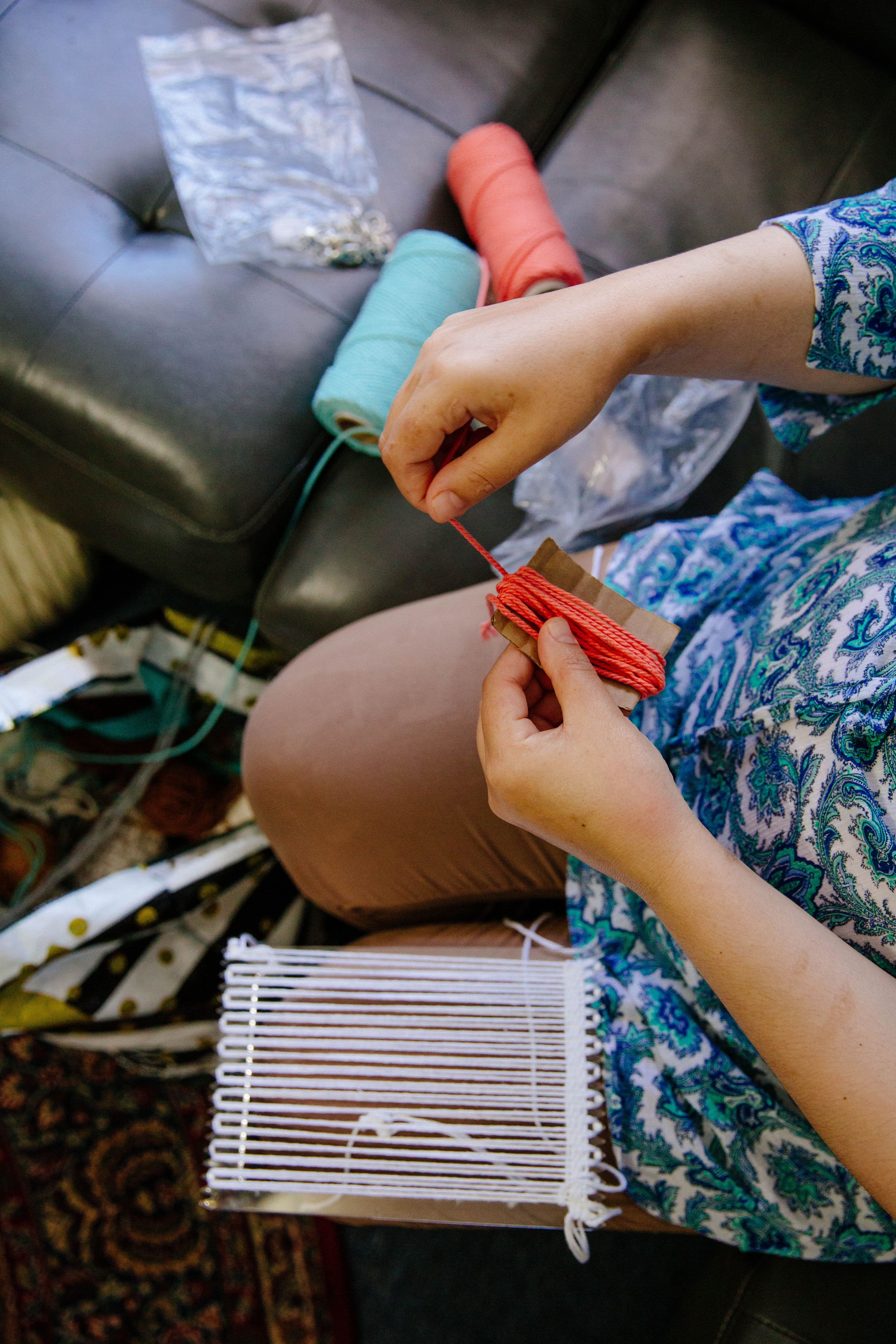 One of Elworth's Light House employees is Shaymaa, a refugee from Iraq who loves to cook and bake. She and her husband came to America after years of conflict back home, and she met Elworth through the resettlement program's required English classes. She's a hard worker—when Gardner finds her in the kitchen, she's mopping the floor unasked. She says she's grateful not just for the job but for the close relationships she's formed.
"When I get here, I don't have anybody," Shaymaa says in English, her eyes wet with emotion. "But Amber helps me. I love Amber."
Through the Diocese, Elworth has taught English to refugees from Sudan, Congo, Afghanistan, Syria, Iraq and Burma. People who spent anywhere from five to 20 years in refugee camps before making it to America, who were forced to turn to sex work to survive, who have fled from warlords and terrorism from their own governments.
One of Elworth's employees lost all of her family to ethnic cleansing in her home country. She met a man in a refugee camp, and they got married there only for him to be blocked from entering America due to a minor technicality in paperwork. Until he can find a way to join her, she's working on starting a life here with her own job, new sets of skills and friends within the refugee community made through connections like Elworth.
It all branches out from the Catholic Diocese's refugee resettlement program. Director Jean Dresley oversees it all, including connecting refugees with external resources.
The program has been endangered lately due to recent federal regulations that have reduced the flow of refugees into the country. Without enough refugees to qualify for state funding, the program could shut down.
Even if funding dries up, though, there's still a support system in place: the Baton Rouge Refugee Advisory Council. Complementary to the resettlement program, the board of more than a dozen local business owners, politicians, leaders and volunteers meets regularly to discuss how to provide as much assistance as possible to local refugees.
"There are a lot of great people here with a heart for refugees," Dresley says. "No matter what happens, they will always be there."
And there's a balance, Gardner says, to helping people without viewing yourself as their savior or centering yourself in their stories. It's all about creating that personal relationship with the person you're helping.
"I view them as friends first, then a partner second, and then maybe a mentee third," she says. "If I say I don't want other people to view them as lesser than, then I have to be the first one to do that. I have resources to offer them that they might not have. That has nothing to do with their intrinsic value or how much they have to offer the world."
People can help just by giving their time, she says. Even if you're not a translator or a social worker—though those are needed—some of the resettlement program's key volunteer roles are "conversation partners" who simply visit the home of a refugee family and talk with them. Gardner first met Beth that way, and the two sat between the Google Translate app on Gardner's iPhone, laughing about miscommunications.
Today, Gardner sits in Beth's living room, just as she did on that first day. Gardner is holding her own 4-month-old daughter, Juniper, and comparing calendars with Jazairli while Beth putters around the kitchen. Beth's sixth child, a son, is due this summer, and they want to throw Beth her very first American baby shower.
It's a new life, a new future for the family.
When asked what she would want people to know about refugees like her and her family, Beth speaks for a long time. Jazairli translates:
"I want them to know that we are loving and sincere and grateful that we are in America. And I want them to know that we are like everybody else—we wanted to raise our children to be successful and good citizens and happy, and this is the place to raise them. I want them to know, please, even though I don't speak good English, not yet, try to be in my place and consider yourself in a foreign country. How would you feel? Even though we don't speak each other's languages yet, we connect on so many levels."
---
EDITOR'S NOTE: To protect the privacy of the refugees featured in this story, they requested that only their first names (in Beth's case, her romanized first name) be used.
This article was originally published in the June 2018 issue of 225 Magazine.