---
Outside Starbucks it's a dreary, rainy day. The rain doesn't seem to be letting up, and it casts a gray light on the weekend studiers and coffee drinkers.
But when singer Quiana Lynell walks in and begins gushing about her music, everything somehow seems sunnier.
"I do love to sing, and I love making memories and having a moment with people that they remember forever," Lynell says.
It's clear music is a deep passion for the singer. She is the principal soprano for the Baton Rouge Symphony Orchestra and recently delivered a jazzy, R&B-flecked set with her band the Lush Life at New Orleans Jazz and Heritage Festival. She also writes from the heart, penning a song for Baton Rouge flood victims and performing it at the televised benefit concert at the River Center last year. On top of that, she was a featured speaker at TEDxLSU in March.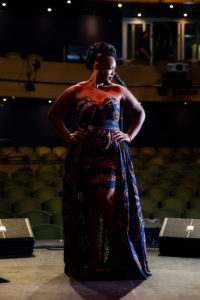 Clearly, Lynell is having a moment. But the confidence she radiates now in these high-profile settings is something that's grown in the past few years.
Lynell can't remember a time she didn't sing, so it was a given that she would study major vocal performance at LSU's School of Music. During college, she says, her confidence and talent weren't as strong. She thought if she were talented, someone would discover her. But over time, she learned a music career takes more than talent.
"I realized that you have to be collectively working toward those goals and dreams, or else it will just stay that—a dream. You have to have an action or a plan to make it happen," Lynell, 36, says.
After college, the singer became a wife and mother. She says she didn't see a musician's lifestyle fitting with her life at the time.
She started working at an AT&T call center and relegated music to just a side job. Then, she met Janelle Brown, the lead singer of now-retired R&B and blues band 2 Da T. Brown asked Lynell to come sing with the band.
This, Lynell says, is when the fire started inside her, and she learned real stage presence.
Lynell's primary experience was with opera and choral singing, so performing blues music in small clubs was a whole new adventure. Years later, Lynell formed her own band, the Lush Life, which she still performs with today.
She eventually reached a point where she could afford to leave her AT&T job, and today she makes most of her income as a musician. She's also a part-time teacher at Loyola University in New Orleans, where she works in the pop and commercial music department teaching young vocalists how to train their voices for a variety of musical genres and be savvy business people, too.
"There's so much that goes into being a popular musician and attaining your audience—and keeping your audience," she says.
Lynell is no stranger to developing that loyal audience. She performs regularly in Baton Rouge and New Orleans and offers concert guests a little bit of everything. She calls herself a chameleon and typically performs a mix of jazz, blues, spiritual and pop in her shows. Her hashtag of choice is #ITrainedForThis, because she can do whatever the job calls for and collaborate with many different musicians.
"A lot of the music I create has a jazz influence, but it's very soulful," she says.
She put that soulful spirit on display last month at New Orleans Jazz Fest with Lush Life, and Gambit magazine listed her show as one to watch during the festival. She is also currently recording new music in the studio.
For Lynell, music is the underpinning of life, and being able to touch so many people's lives is what makes it all worth it.
"That means a lot to me," she says, "to be able to share moments of time with so many people." lynellmusic.com
---
This article was originally published in the June 2017 issue of 225 Magazine.