---
Ruth Riner Stuart likes to sleep in. It's something she never got to do during her years as a registered psychiatric nurse. But her home's primary bedroom isn't used for sleep—it's for art.
Now in her retirement at age 83, Stuart uses the converted space in her new job as "an artist for others."
Over the past two years, the painter has completed about 250 commissions. She says she has truly connected with others by painting anything they want, from personal portraits to pet photos. She tries to make her prices affordable, with each 16-by-20-inch painting starting at $90.
"My desire is to paint for other people and to paint what they want," she stresses. "Because I can make it beautiful. … And they'll want it because it's theirs—and not just mine because I painted it."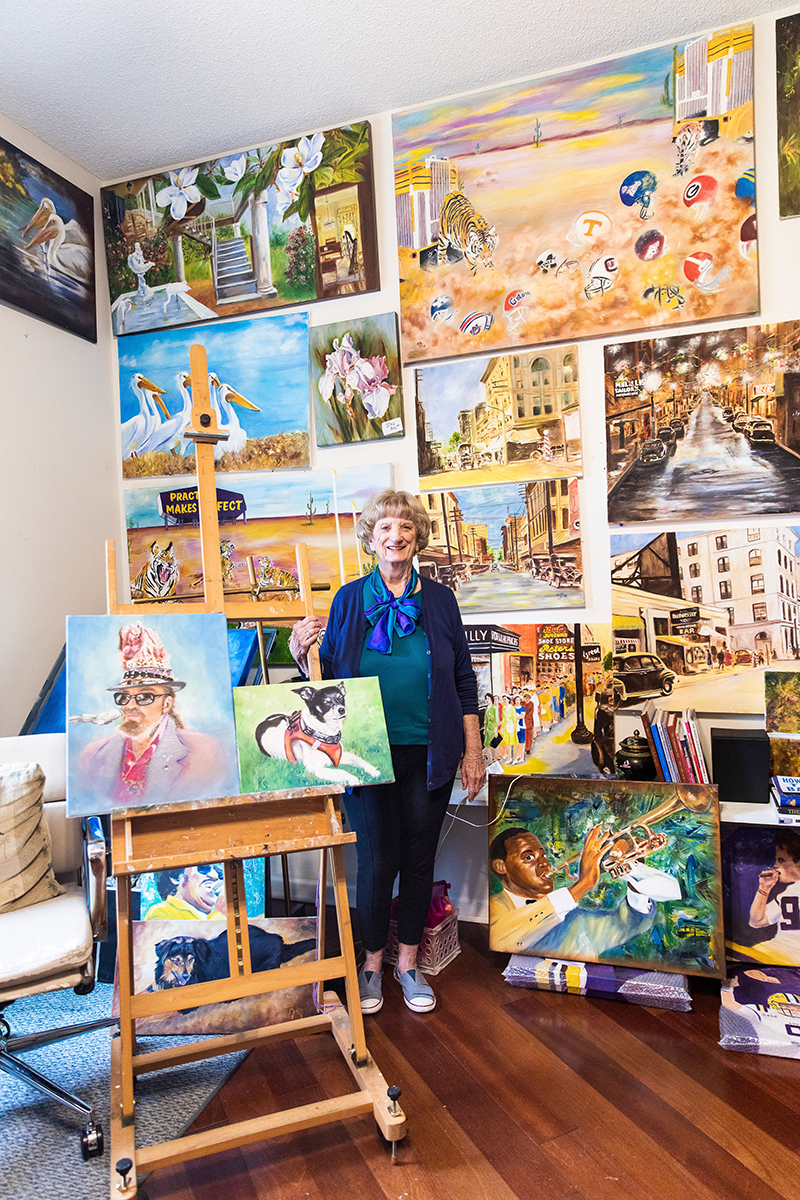 Stuart was in her early 40s by the time she took her first art class. She was invited by a friend to an event at a YMCA, where she remembers being tasked with painting a pile of mushrooms.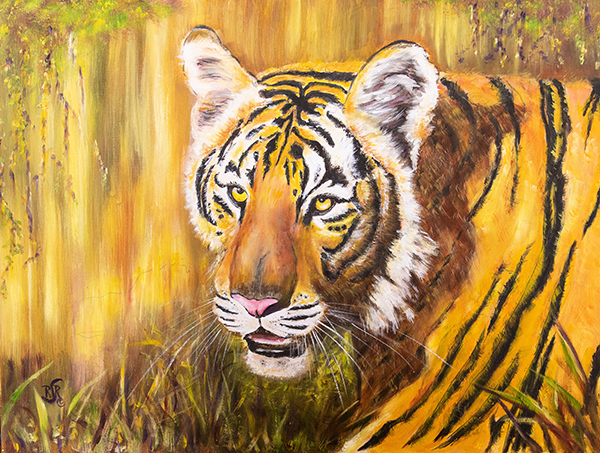 Soon, she started reading Walter Foster art books and took a few workshops here and there to get better at her craft. Back then, she says she didn't know that she was good at painting and thought of art as nothing more than her hobby.
It wasn't until many years later when she met her late husband, George, that she discovered she truly had artistic talent. George was her best friend and biggest cheerleader, and he was the one who suggested turning their bedroom into her art studio. He even made sure all of her originals were hung up along the high walls of the room.
George died after he and Stuart were diagnosed with cancer within three weeks of each other. Ruth had colon cancer, and George had brain cancer. Ruth was later also diagnosed with kidney cancer.
Ruth was fortunate to find out she was free of both cancers after a recent biannual doctor visit.
"I'm kind of on a high about (being) free of cancer," she exclaims. "And (art) is what I'm supposed to do. This is what I'm devoting the rest of my life to. … I'm going to paint my life away."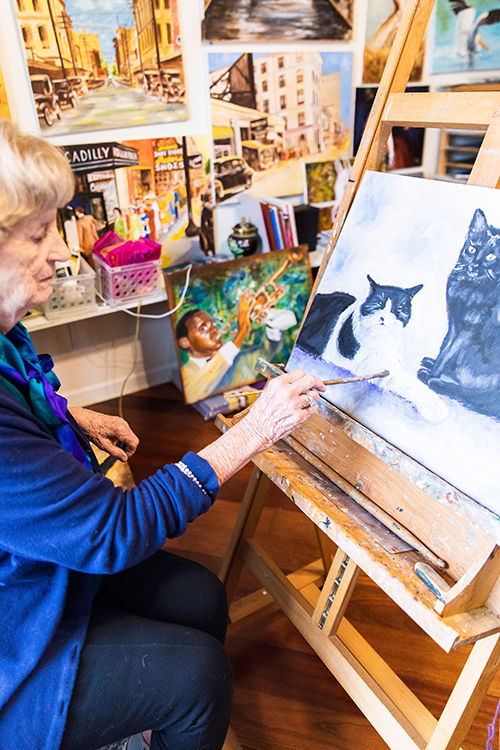 Stuart's technique starts with first making a sketch on a blank canvas. From there, she uses either pastel chalk, watercolors or oil paints to transform the white space into a beautiful depiction of an animal, still life or city scene.
Today, she has recognized her worth as an artist, but she acknowledges her skills didn't develop overnight. In her long life, she says she has learned an artist has to be open to learning all the time in order to get better at their craft.
"I learned from trial and error," she says. "And the more you paint, the more you learn."
She has participated in shows at LSU and local restaurants and even has her art hanging in the Lod Cook Alumni Center and Mid-City Artisans.
Though she's proud to have her work in these public places, her favorite place to display her art is in the homes of her customers. She says it gives her great joy to paint for others.
She hopes to paint more pet photos, children's portraits and even wants to illustrate people's front doors and gardens.
"A painting must have heart, or it cannot reach yours," she says. "I want to be your artist. I know that people want things that they can't do themselves. They have an idea of what they want, and if they could do it themselves, they'd do it. But, they might not be inclined to do it, so I'll do it for them. And I'll do it just how they want it."