---
The president of the newly rebranded Baton Rouge distillery has big visions

In March 2020, Olivia Stewart found herself often on the porch of her family home in Pointe Coupee. She had just fled New York with her fiancé in hopes of waiting out lockdown somewhere with fewer people and fresher air. 
That land was where she'd grown up, and where her family had cultivated sugarcane since 1859. 
But as she sat on the porch, she overheard her father on the phone, talking about debts, layoffs and trifles imperiling the family rum distillery, known then as Three Roll Estate. 
"I could just see the toil and stress it was causing him," she says now. "That's how it started." 
Until then, she'd only intended to wait out a hot moment in the pandemic before returning to her promising career in New York's art galleries. But the more she heard from her father, the more she thought it might be right to stay and lend a hand. She started off "slinging sanitizer"— a pandemic-induced pivot for the distillery–and then moved on to overseeing its tasting room and social media.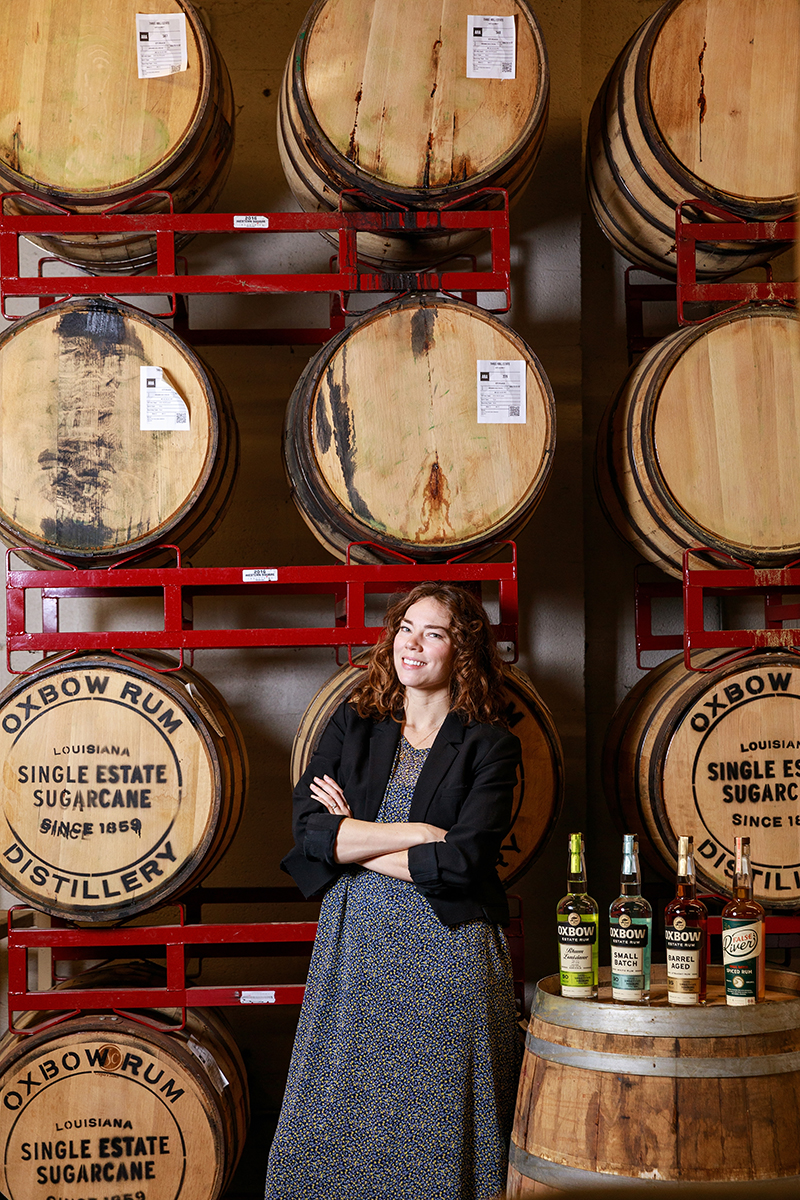 Now, almost three years later, Stewart is the president of the freshly rebranded Oxbow Rum Distillery. Stewart was instrumental in that rebrand, which aims to push the distillery's heritage to the forefront. The goal is to tell the story of the centuries-old family cane fields that lie on the fertile banks of the Mississippi River oxbow known as False River. 
Stewart says she wanted to rename the company something more personal, easier to explain and "frankly a bit sexier." 
The rebrand runs deeper than aesthetics. She says one of her first moves as president was bringing to light a dark historical fact: The family's sugarcane plantation once relied on slave labor. A stain like that cannot be expunged, she says, but she wants to ensure Oxbow helps mitigate some ancestral suffering. This means contributing to nonprofits, reviewing hiring practices and sourcing supplies from people of color.
"While showcasing our longevity and history, it has also been important to acknowledge all aspects of our history," she says, "and play an active role in the community, (focusing) on a progressive way forward." 
She hopes that progress will contribute to the bright horizons she sees ahead of Oxbow. The rum is currently available across Louisiana. Its next target: national distribution.
"There really isn't a brand that has claimed the authority in American rum yet," she says. "I envision Oxbow as being that." 
Today, Stewart speaks of her plans for the company with a fervor that makes it hard to envision the high-browed gallerist she might have been. She recalls her sister once asking if she'd ever consider coming home to work in the family distillery. 
"I was like, 'No way, absolutely not. I've worked too hard and too long in my art world career,'" she says now, with no small dose of irony. "But the universe, or God, or whoever, had other plans." oxbowrumdistillery.com
---
This article was originally published in the January 2023 issue of 225 magazine.