---
When Kristen Downing exhibited her first piece in an art show on Government Street in 2014, she never imagined the same building would house her own gallery just four years later.
Downing, a New Orleans native, opened KAWD Art Gallery in June in the former Bible & Book Center building that's recently been redeveloped. She says she aims to provide an artistic space for young creatives with the gallery—something she felt was lacking in Baton Rouge.
Inside, upbeat hip-hop music vibrates from the speakers. Downing's large, bright paintings of Biggie Smalls, Tupac and Jean-Paul Basquiat are mounted along a white wall. Atop a platform, a pair of colorful, painted Nike sneakers—that first piece Downing ever displayed—are preserved in a glass case.
The gallery comprises four spacious rooms showcasing digital art, collages, drawings and paintings by Downing and other local artists. While each room is unique, a common thread emerges throughout: African-American history.
"I want to tell our stories," Downing says. "I don't feel like the classrooms are teaching enough. I want to be the voice for my people and open up doors for my people. I feel like this is my shot to do that."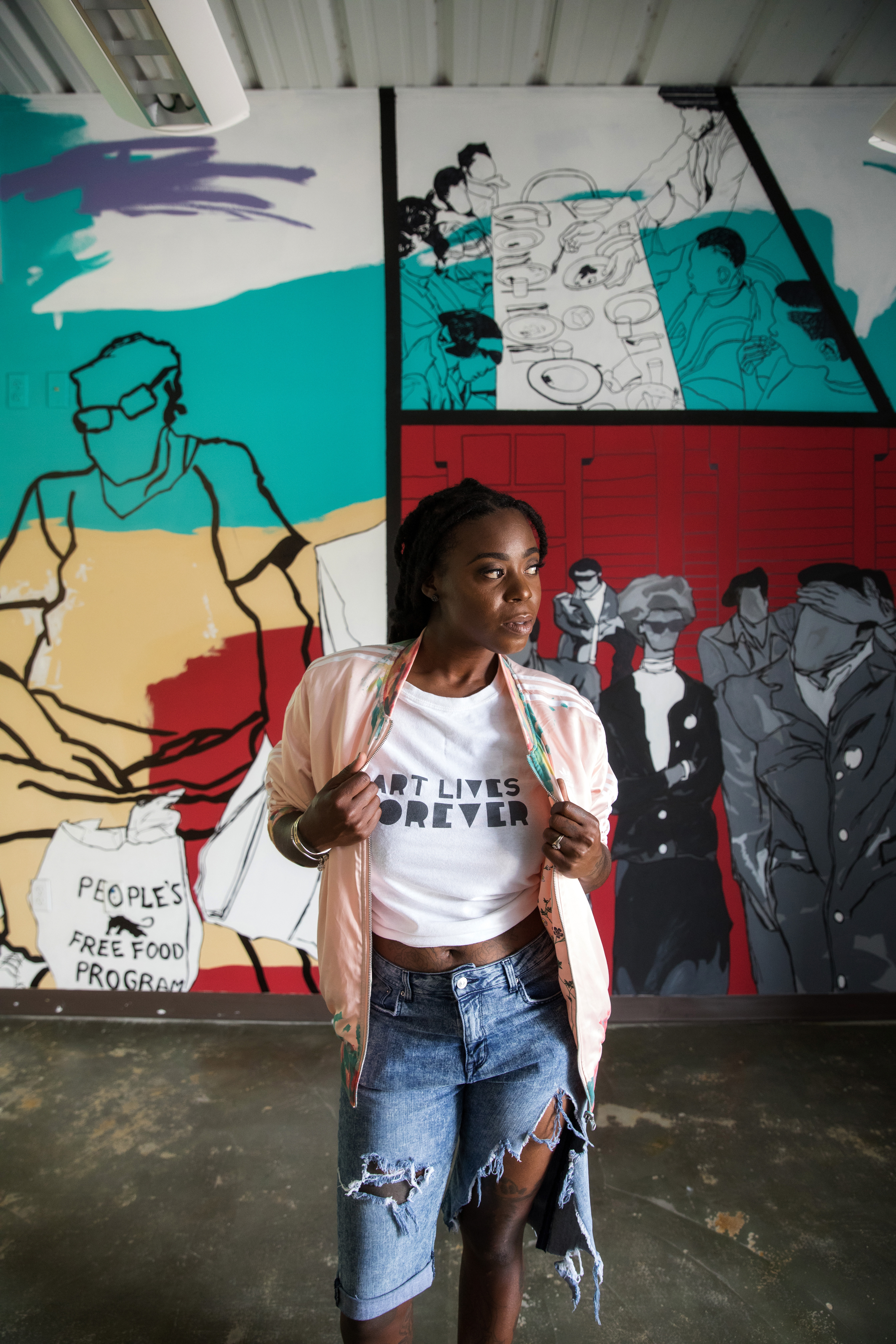 Downing started drawing at the age of 10. As a child in New Orleans, she often stayed indoors to draw cartoon characters in her notebook with colored pencils while her friends played outside.
"Growing up in the hood, we didn't go to museums and art galleries," she says. "I saw things like the Froot Loops box, [and I thought] I'm going to draw Toucan Sam. That was my gallery right there."
When she was 14, one of Downing's older cousins asked her to draw a tattoo design. She was instantly fascinated with the art form and eventually became a self-taught tattoo artist, working at different shops around New Orleans.
Although she enjoyed the work, Downing's creativity led her down another path in 2013. She was inspired after meeting Atlanta artist Miya Bailey, who encouraged her to turn her drawings into paintings. She jumped at the challenge.
"I was a hot tattoo artist," Downing says. "So I knew when I picked up the paintbrush I had to make noise with that, too."
In 2017, her painting, "Baby Dolls," won first place at the annual exhibition Louisiana Contemporary at Ogden Museum of Southern Art. It depicts three prancing "Baby Dolls"— New Orleans dancers known for their childlike costumes—performing in a second line. The women, painted with expressive detail in acrylic, stand out against a crowd of revelers rendered as outlines in black paint marker and a backdrop of her signature teal.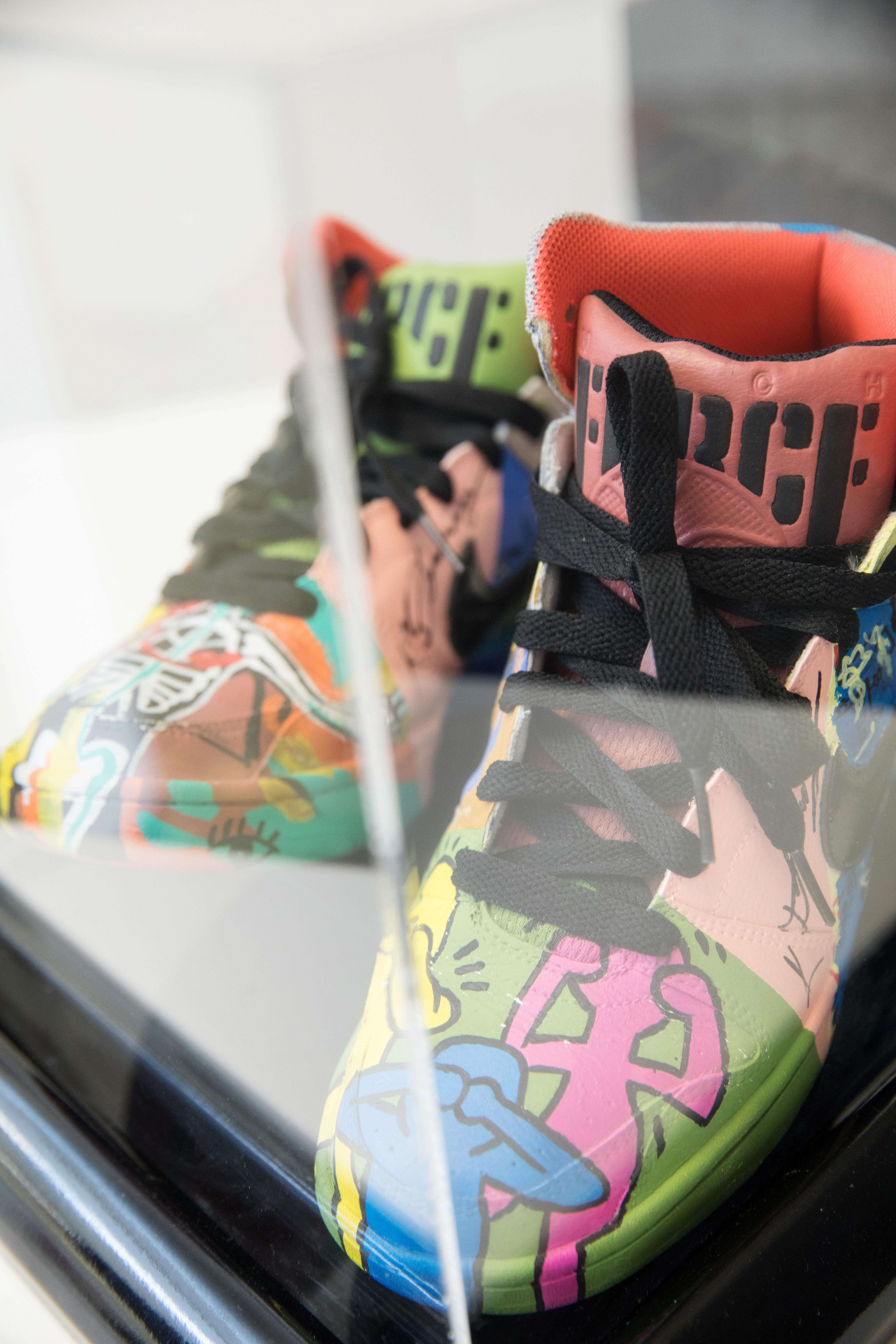 Downing has since gone on to paint everything from educational murals to custom sneakers, and even screen-printed clothing in her garage.
After discovering a former office space in the Government Street building was available for rent, she decided to focus her efforts on improving the art scene in Baton Rouge, she says. By that November, she began transforming the vacant space into her gallery. She envisioned an art house for creatives to host events, display their work and find inspiration and education.
Now, her love for art, clothing and African-American history is all under one roof at the gallery, too. Downing's custom print company, De La Prints & Customs, is also housed in the space.
She offers prints of some of her paintings; clothing from her Louisiana-influenced clothing brand, MagNOLA; and custom screen-printing services.
In the future, KAWD will alternate between hosting solo art shows and group exhibitions. Downing plans to open her space for open-mic events, film screenings and other creative events for the community.
Her next exhibit, "The Second Line is Coming," will open in November, just in time for White Light Night. In the exhibit, she plans to display personal paintings that provide a look into some of her favorite parts of New Orleans culture, such as Mardi Gras Indians and legendary New Orleans pianist Fats Domino.
"I have artists [in my gallery] who have never showed in a gallery before," Downing says. "To hear and see how good they feel now … that's honestly more important than the money to me."
Find KAWD Art Gallery on Facebook.
---
This article was originally published in the September 2018 issue of 225 Magazine.