The halls of Baton Rouge General are getting a whole lot more colorful. Last month, the Baton Rouge General Foundation received a donation of 351 works from the estate of late artist Mari Lyons. The bright works, which feature everything from cityscapes to self-portraits to abstractions, were chosen for the medical facility by the hospital's Arts in Medicine program, which aims to enrich patients' lives through creativity.
Charlie Lyons, Mari Lyons' son, says the decision to donate to Baton Rouge General stemmed from contacting the National Organization for Arts in Health after discovering a deep body of Mari's work still sitting in her studio and thinking hospitals would make a great place for it to be displayed.
"We thought that hospitals would be a great venue for her work because she always wanted people to enter and hopefully get some joy from it," Lyons says.
After contacting NOAH, Lyons says the next day they agreed to put out a notice about his mother and that they had a considerable body of her work they were interested in placing in hospitals. That's how he was put in contact with Kimberly Henderson, supervisor of the Arts in Medicine program at Baton Rouge General.
"Kimberly's pitch was that they had practically no art," Lyons explains. "They had lots of bare walls."
By placing his mother's art in hospitals, Lyons hopes to bring an opportunity for people to engage with art and develop an appreciation for it.
"There's a potentially incredible capacity of art to heal people," Lyons says. "With all the time that people spend in hospitals, they have ample opportunity to take away those positive things from a work."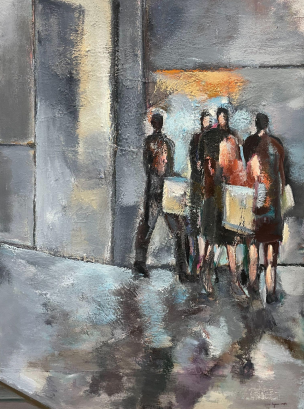 In addition to Baton Rouge, Lyons says Mari's work has been donated to hospitals in Colorado, Wisconsin and New York. "The idea that my mom's paintings are like touring the country in a way is pretty cool," Lyons says.
A lot of the work is framed work or work that needs to be framed and it should take a few years to get everything framed and placed on the walls of the hospital, Lyons says, noting that his father, a writer, is extremely excited about the breadth of work that was donated to BRG.
"I actually did some video interviews with her where she talked about her work. I had never, as her son, heard her talk about her work that way. She said something that I'll always remember," Lyons recalls. "When she's painting alone in her studio, she has a dialogue. She has an internal dialogue with the history of art."
This story originally appeared in inRegister. To keep up with inRegister, subscribe to the free [email protected] e-newsletter here.