---
Nicollette Davis has loved libraries since she was a child.
"My mom always brought us to the Main Library at Goodwood, so I grew up reading a whole lot," Davis says.
She worked at East Baton Rouge Parish Libraries' Greenwell Springs Road Regional Branch Library as a page in high school and college. Though Davis was studying to be a doctor, her mother once mentioned how Davis' face lit up when she talked about her job at the library.
While Davis was in undergraduate school, both of her parents passed away. That loss inspired her to pursue the passion for libraries her mother had seen in her. She became a librarian in the reference department for EBRPL in 2019, a month after she earned her master's in information science at LSU.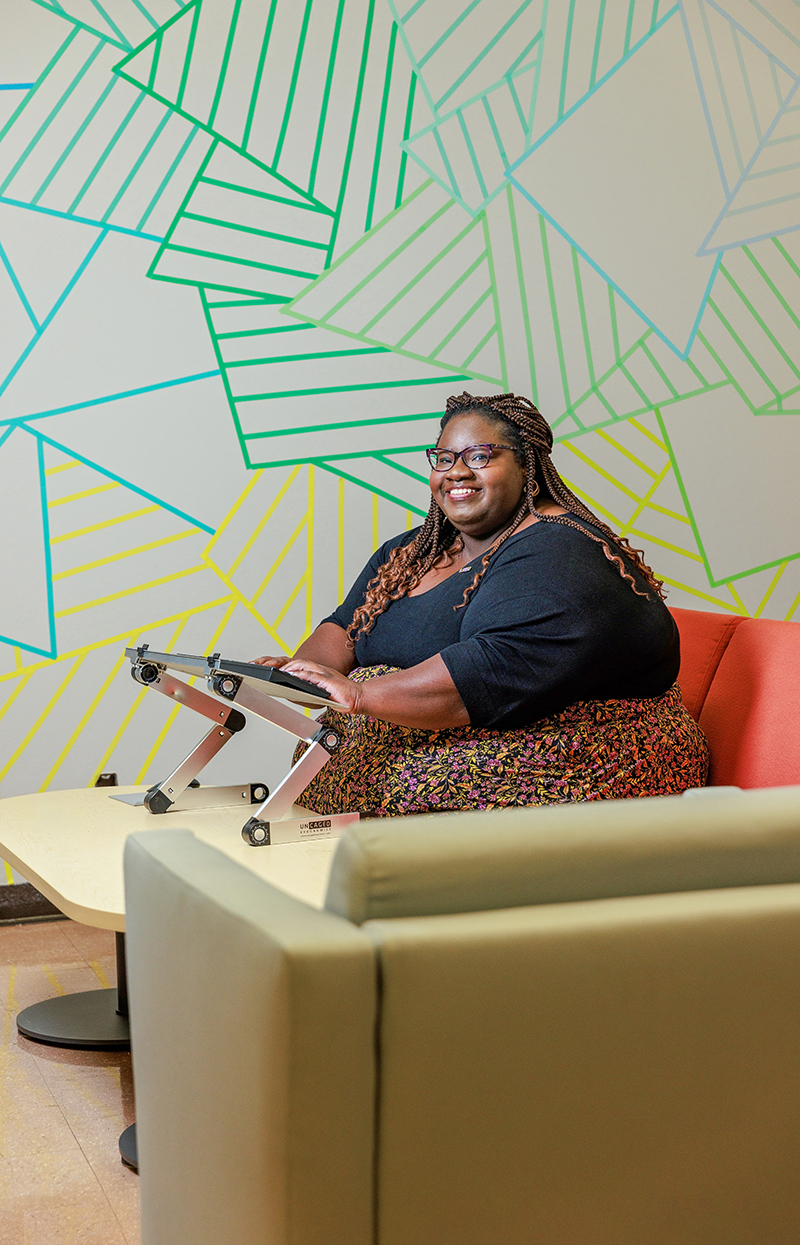 "My mom said, 'You're already in library work, and you really enjoy it,'" Davis says. "I came back to it when I realized I didn't want to do medicine or pre med. … I wish that she could see me now."
In 2022, Davis made the jump to LSU Libraries and is already making an impact. Earlier this year she was named a 2023 Emerging Leader by the American Library Association.
Through the program, she and about 50 other young librarians get to participate in problem-solving work groups, network with peers, gain an inside look into ALA structure and have an opportunity to advance their leadership skills.
"Through the Emerging Leader conferences, I've learned a lot about myself as a librarian and a leader," Davis says. "You don't have to be a leader in title, you can lead from where you are."
As an assistant librarian at LSU Library, she spends much of her time researching and helping students and faculty use LSU resources to do the same. She's like Google, but a real person: She directs librarygoers to the most relevant resources, databases and online materials in her areas of focus—kinesiology, social work and health sciences. She also conducts guest lectures and meets one-on-one with students to help them utilize the library's plentiful resources.
She's committed to making librarianship more inclusive, too. She is on the editorial board of the Library Diversity and Residency Studies journal, a member of the Black Caucus of the American Library Association and a founding member of the LSU School of Library and Information Science's Diversity Council.
It turns out Davis didn't have to go to medical school to help people, after all. lib.lsu.edu
---
This article was originally published in the April 2023 issue of 225 magazine.