---
FROM THE FOUNDING TEAM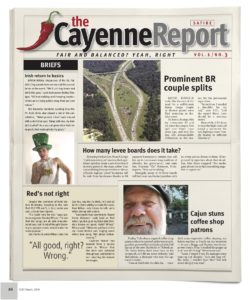 Reflections from some of the people who made '225' what it is today from the early years
"Tucked in the back of each issue was a page of humor called 'The Cayenne Report.' A source of wicked laughs for satire devotees, more practical-minded readers were frequently bewildered, and occasionally annoyed—even though the word SATIRE was atop the page in all caps. We published this punchy little item that riffed on the well-known slang name of 'the 10-12 split.' The article claimed that, after nearly four decades of being split, I-10 and I-12 were finally getting divorced. A panicked Livingston Parish reader called wanting to know how the hell he'd be able to commute to work without the split. Pure gold."
—Tom Guarisco, editor, 2005-2011
"Over the years, the most rewarding story I've covered is animal welfare. In August 2010, 'Please Save Me' introduced readers to the horrid conditions at the city's dilapidated shelter and advocates' desperate efforts to improve the lives of homeless animals. By the time we published 'Gimme Shelter' in our February 2019 cover story, Baton Rouge had just opened a $12 million, state-of-the-art shelter on LSU's campus. Shelter staff's ambitious goal was to reduce the number of animals needing rescue through programs designed to keep pets in their homes and promote spay/neuter to avoid unwanted litters. This year, local shelters and rescues are reporting record breaking adoption rates, which are—remarkably—due to the pandemic. In only a decade, what was unimaginable is now reality. Through 225, it has been my privilege to shine a light on the status quo and on the people and organizations saving lives and leading the charge for change."
—Adrian E. Hirsch, contributing writer, 2005-now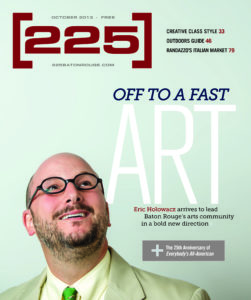 "I was fortunate enough to be a staff writer from the inception of the magazine in 2005, and then later to serve as editor. Back then, this city was just beginning to search for itself in new ways, exploring identities old and new and deciding to build up its culture and its people, rather than tear down—or leave town. It was a search long overdue. At its heart, a publication's veins run hot with hope. Hope in a city's progress. Hope that its stories are worth remembering and its people are worth honoring. Looking at your city in a deeper way is a look inside yourself, too, and for that I'm always grateful, both for Baton Rouge and this voice of it we call 225."
—Jeff Roedel, staff writer, 2005-2007; assistant editor, 2008-2010; editor, 2011-2014; contributing writer, 2015-now
"What I loved best about writing for 225 was that the editors let me follow my gut and tell stories I thought people would find interesting, whether it was uncovering drug dealing and violence at the post-Katrina FEMA trailer park near Baker, investigating the possibility that Baton Rouge had a third active serial killer, checking in for the night at the creepy Alamo Plaza, riding with two bounty hunters, getting sprayed by a crop duster, or blasting zero to 100 in less than 6 seconds in the shotgun seat of a dragster. I loved it all."
—Chuck Hustmyre, contributing writer, 2005-2010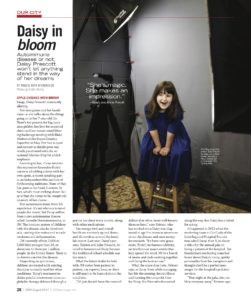 "One of my favorite features to write was on Daisy Prescott, then 7, who suffers from a rare and at times painful autoimmune disease called juvenile dermatomyositis. Somehow this plucky kid had found a way to develop a legit film career with an agent and everything. In our interview, she told me she loved sour pickles, anything sequined and that she had a big crush on Blake Shelton. When I finished interviewing her, she drew me a picture. Revealing interesting people like Daisy in our pages is what this magazine has always been about."
—Maggie Heyn Richardson, contributing writer, 2005-now
"One of the photo assignments that stands out in my mind from my time at 225 was a seemingly simple one, when I drove up to St. Francisville to photograph Madeline Wright in her home. Mrs. Wright invented the now-famous Southern staple, Spinach Madeline. On this assignment, I chatted with her about its creation while making her portrait. As someone who loves hearing about how things came to be—and as someone who now develops recipes like Mrs. Wright—I love that I got to help share her story. Sharing the lives and stories of the people of the community is something 225 does so well, and I am honored that I got to be a part of it."
—Erin Parker, photo intern, 2007-2008; staff photographer, 2011-2012
---
FROM TODAY'S TEAM
The people who conceptualize '225' each month on the assignments they'll always treasure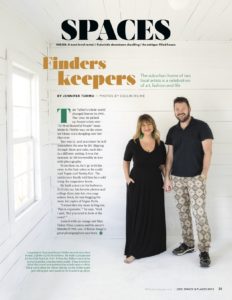 "One of the first 225 style shoots I ever did was at contributing photographer Tate Tullier's house. I immediately fell for its rusty Louisiana-shaped signs, worn-in wood floors, and the eclectic fashion magazines Tate had piled higher than my head. I had just moved to Baton Rouge, and that space will forever represent what I think of as a quintessential Louisiana artist's home. So it was truly a dream come true to profile Tate and his wife, Sarah, from their home for our 2018 Spaces & Places edition. The Tulliers are deaf, and they had an American Sign Language interpreter come to the interview because they were so excited to be interviewed and wanted to make sure I got every detail right. We spent hours talking that day, dissecting every painting they owned, and digging through every drawer in their closet. It's an interview that will always be in my heart—the kind that continually reminds me why I wanted to be a journalist in the first place."
—Jennifer Tormo, editor, 2015-now
"Working at 225 has opened doors to all kinds of unique opportunities. I've had the chance to meet some amazing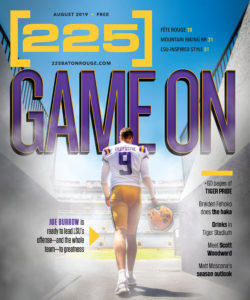 individuals, eat plenty of fantastic food and take a deeper dive into the city I love so much. There are several memories that will stay with me forever, but none bigger than having the chance to cover the historic 2019 LSU football season. It feels like a Hollywood script when I think back to our first summer interviews with Joe Burrow, Ja'Marr Chase and Grant Delpit, among others. Then having the chance to follow them week-in and week-out as they set record after record on their way to an undefeated season, Heisman trophy and national championship is something I'll never forget. We've always strived to show off the best Baton Rouge has to offer at 225. And there was none better than LSU that year."
—Mark Clements, digital content editor, 2016-now
"My favorite memory at 225 (although I have many) has to be the September 2020 style shoot I directed on real skin representation. After a long battle with severe full-body eczema, I was able to articulate in words the struggles I went through and the negative feelings I thought about myself during that dark time. Deep down, I knew I wasn't the only one silently suffering. So, when I got to share space with three other women with unique skin conditions, make them feel beautiful, and give them a moment to shine, it was truly a full-circle moment. What makes it even better was receiving the sweetest, thoughtful messages from other eczema warriors across the world (even New Zealand!) about their struggles and how empowered they felt by the story in 225. From conceptualization to seeing it printed in the magazine, it will forever be one of my favorite experiences at 225."
—Cynthea Corfah, staff writer, 2018-now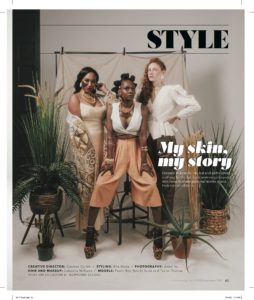 "My favorite shoot to style was this year's 'My Skin, My Story' feature. I loved the diversity of it all and how it celebrated different women's skin—no airbrushing, no filters. The story gave the looks more life, and the clothing told its own story. Outfits in shades of golds and muted colors represented each lady's own strong, powerful style perspective, but the photos still all came together as one."
—Elle Marie, contributing stylist, 2015-now
"One of my favorite sessions was with Joe Burrow (before he was Joe Burreaux) for the August 2019 cover. He had already shown a presence on the field against UCF, but you could sense something special was coming. I use small talk to help get my subjects comfortable, but he was a young, confident man of quick answers that left me trying to draw deep on my knowledge of both football and LSU lore. I remember asking him what would be different this year. He kind of smirked and said something along the lines of 'Just wait. I think you will be surprised.' Truthfully, I was but I wasn't, because he had the same poise in front of the camera as he did with the pass rush. I have been a lifelong fan of LSU football; I am a fourth-generation LSU graduate with longstanding family and personal ties to the university, so this photo shoot in hindsight is something I will speak of for years to come."
—Collin Richie, staff photographer, 2012-now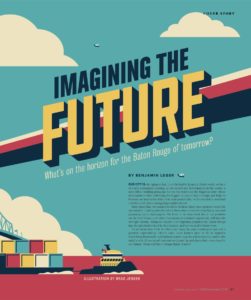 "When I started working at 225 full time, I told then-editor Jeff Roedel that one of my interests was smart growth and urban development. He suggested I start a blog on the 225 website, and not long after that, I found myself standing on the side of Government Street in a makeshift, temporary park, interviewing residents about what they wanted to see in the Mid City corridor. It was the inaugural Better Block event in 2013 to help locals reimagine what Government Street could look like, and seeing so many people engaged in the process had me hopeful for the city's future. From there, I covered the years of community meetings and workshops and talked to business owners as the street was torn up. Now, seeing the project come to fruition today, I'm reminded of how much work goes into making big changes like this—and how important it is for 225 to keep sharing the progress and all the ups and downs with the community."
—Benjamin Leger, managing editor, 2012-now
---
FROM THE INTERN DESK
What a lot of people don't realize is how integral our interns are to producing 225's content. Here, two former interns share their experience.
"In my time at 225, I've had the pleasure of working with wonderful, dedicated editors, and the great honor of exploring Baton Rouge and its captivating people. One of my favorite experiences came courtesy of my enduring love for the holiday season: a photo shoot celebrating Christmas tree ornaments made by local artists. I went to The Foyer, which allowed me to borrow lovely ornaments, and then I got a tree and decorations. For one afternoon, a 225 office space became the site of a tree-decorating session. I couldn't have been happier. And four years later, I still have that tree."
—Kayla Randall, writing intern, 2016; contributing writer, 2017-now
"The photo internship at 225 was invaluable. In my role, I was consistently challenged to step into situations that were out of my comfort zone, and in turn I became a stronger, more competent photographer. Nothing could have prepared me for the summer of 2016. After Alton Sterling's death, I was charged with capturing the pain of a city. My lens was a thin mesh between myself and the tremendous grief and disbelief of the community. The impact of the events surrounding Alton Sterling have left me forever changed and certainly more enlightened to the chasms of inequality in our justice system. Alton's death was a tragedy, as were the deaths of the police officers the following week."
—Allie Idrac, photo intern, 2015; contributing photographer, 2016-2018
---
This article was originally published in the November 2020 issue of 225 Magazine.
Click here to read through the full 15-year anniversary issue.