---
Mad scientists usually get a bad reputation.
They're often portrayed as an "evil genius," crafting some diabolical plan to cause chaos for their enemies.
So it's understandable how Dave Aranda acquired this nickname from his own players shortly after being hired at LSU.
The schemes, blitzes and mismatches he created were brilliant. The plays he drew up were so technical and precise that players likened them to science projects. And those players couldn't be happier to have this mad man on their sideline.
"He is the best in the game," says junior linebacker Devin White. "His love for the game and what he shows us is just off the charts. He can confuse an offense, and nobody in the country can stop [us]. If we keep it up on the pace we're on now, Coach Aranda is going to take this thing through the roof."
Aranda is entering his third season as LSU's defensive coordinator, but it didn't take long for him to win the hearts of Tiger Nation.
In 2016, he managed to improve LSU from No. 41 in scoring defense and No. 25 in total defense to Nos. 5 and 10, respectively—and it was only his first year in Baton Rouge. He also did so during one of the most tumultuous times in program history.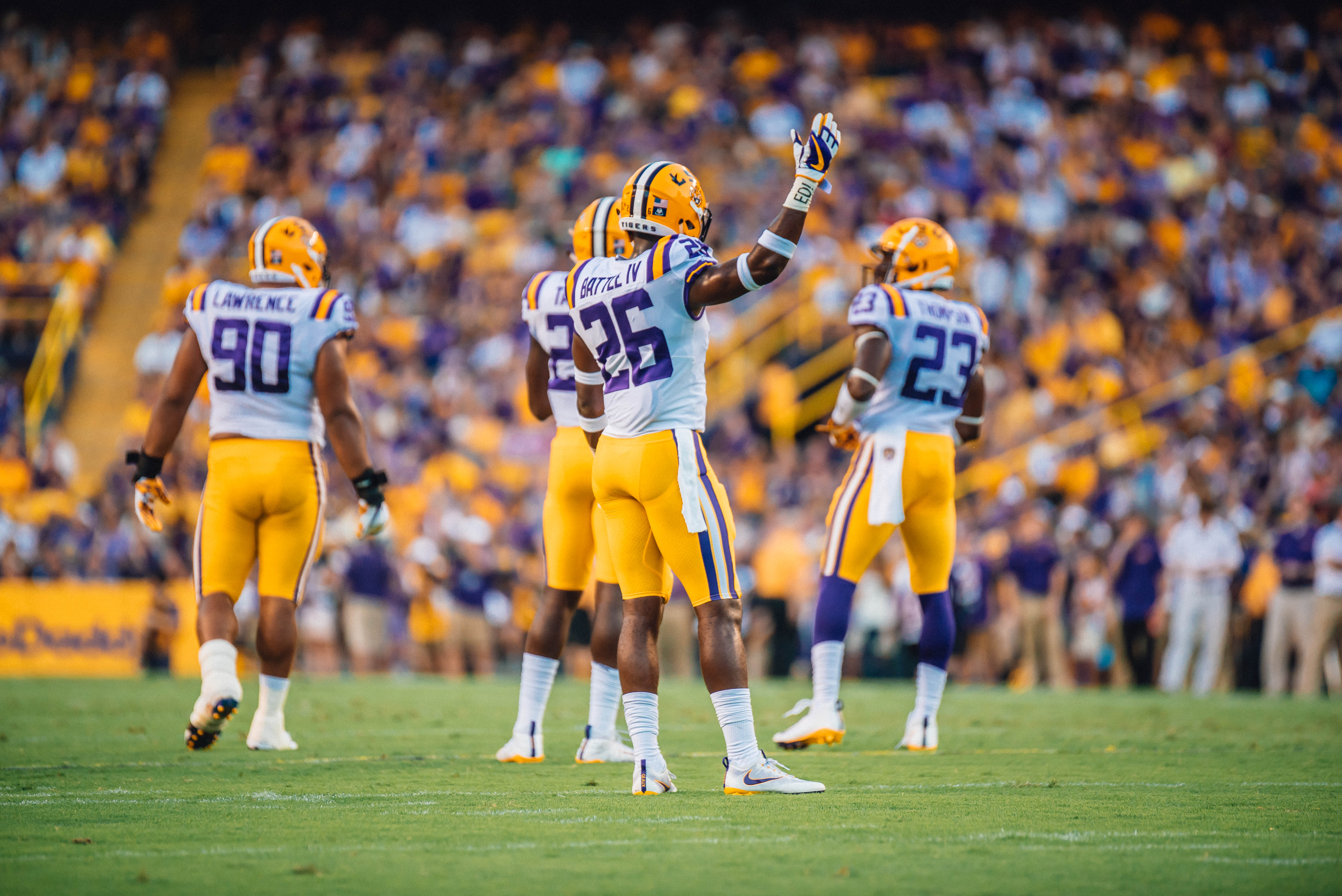 Les Miles, who had hired Aranda earlier that year, was fired four games into the season. Offensive coordinator Cam Cameron was out, too.
Ed Orgeron was promoted to interim head coach with no guarantee that he'd stick around until the next season. LSU was actively pursuing other coaches to take over, many of whom could have cleaned house had they been hired.
But all the while, Aranda continued to be a steadying force to fall back on. The defense gave up 20 or more points just three times all year and capped the season off by holding Heisman Trophy winner Lamar Jackson to a mere 153 yards passing and 33 yards rushing in LSU's 29-9 Citrus Bowl win against Louisville. And, for the first in 17 straight games, they held Jackson to no touchdowns.
LSU and its fans knew they had something special. Orgeron made it his first order of business as full-time head coach to lock Aranda in long-term, and he eventually made the now-41-year-old coach the highest paid coordinator in the country.
The respect Aranda has earned from both his players and fellow coaches is made abundantly clear any time they're questioned about him.
"Without [Aranda], I probably wouldn't be where I'm at today," White says. "That's what sets him apart from other coaches: He wants you to be the best. He's going to criticize you … but he's only going to criticize you to make you better. He knows what you should do to be on the level that you want to be as a player."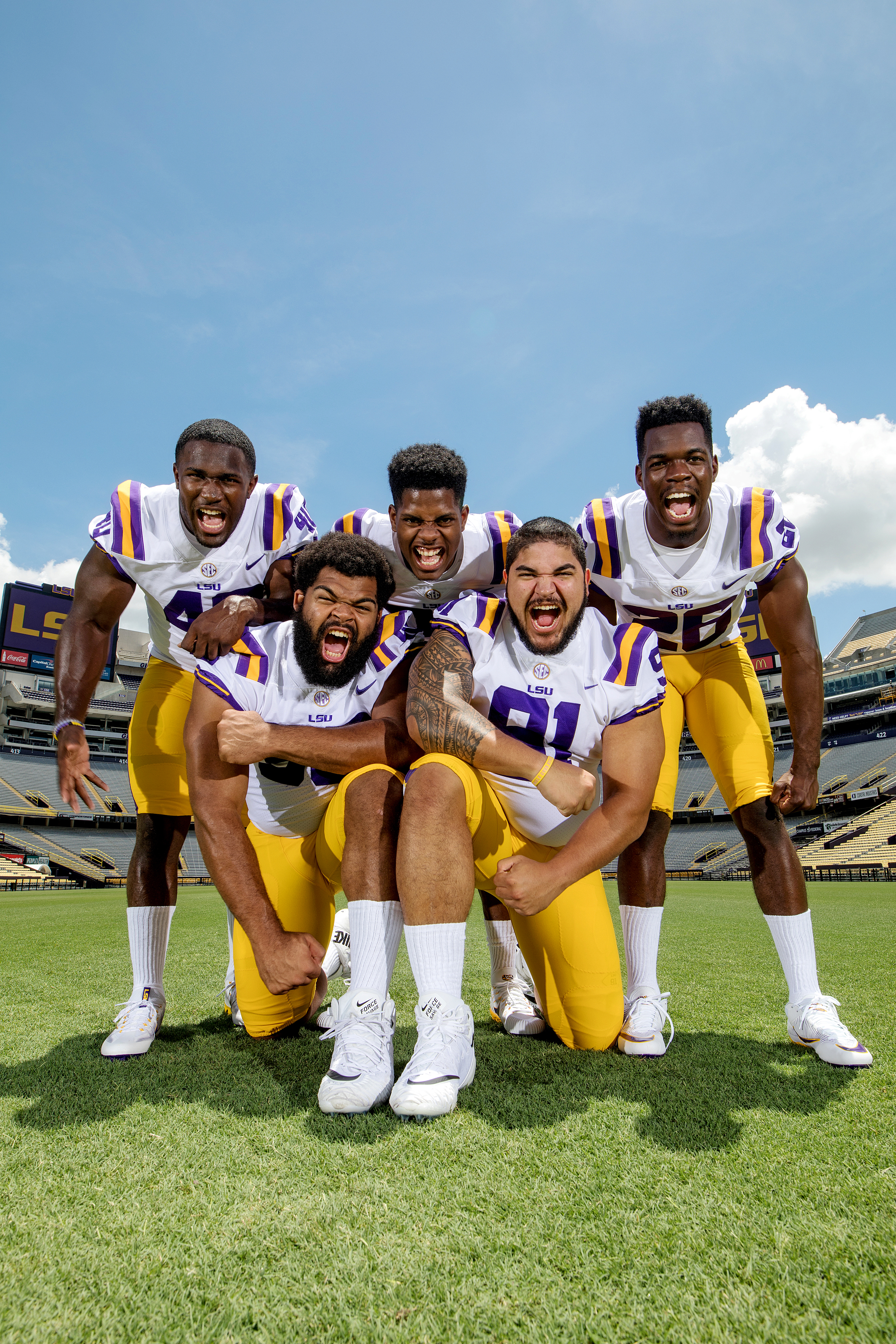 Fast-forward two years to present day, and Aranda's defense is still one of the best in the country, finishing top 15 in both scoring and total defense last season.
And yet again as the Tiger offense undergoes its third facelift in as many years, what's the one thing LSU fans can hang their hat on? Dave Aranda and the Tiger defense.
Except whatever the Mad Scientist is cooking up this time could be extra special.
Despite losing key contributors to the NFL Draft, LSU returns several anchors at all three levels of the defense. Put the pieces together, and many think the 2018 defense has the potential to be the best Aranda has fielded—and maybe one of the best in LSU history.
---
BEEFING UP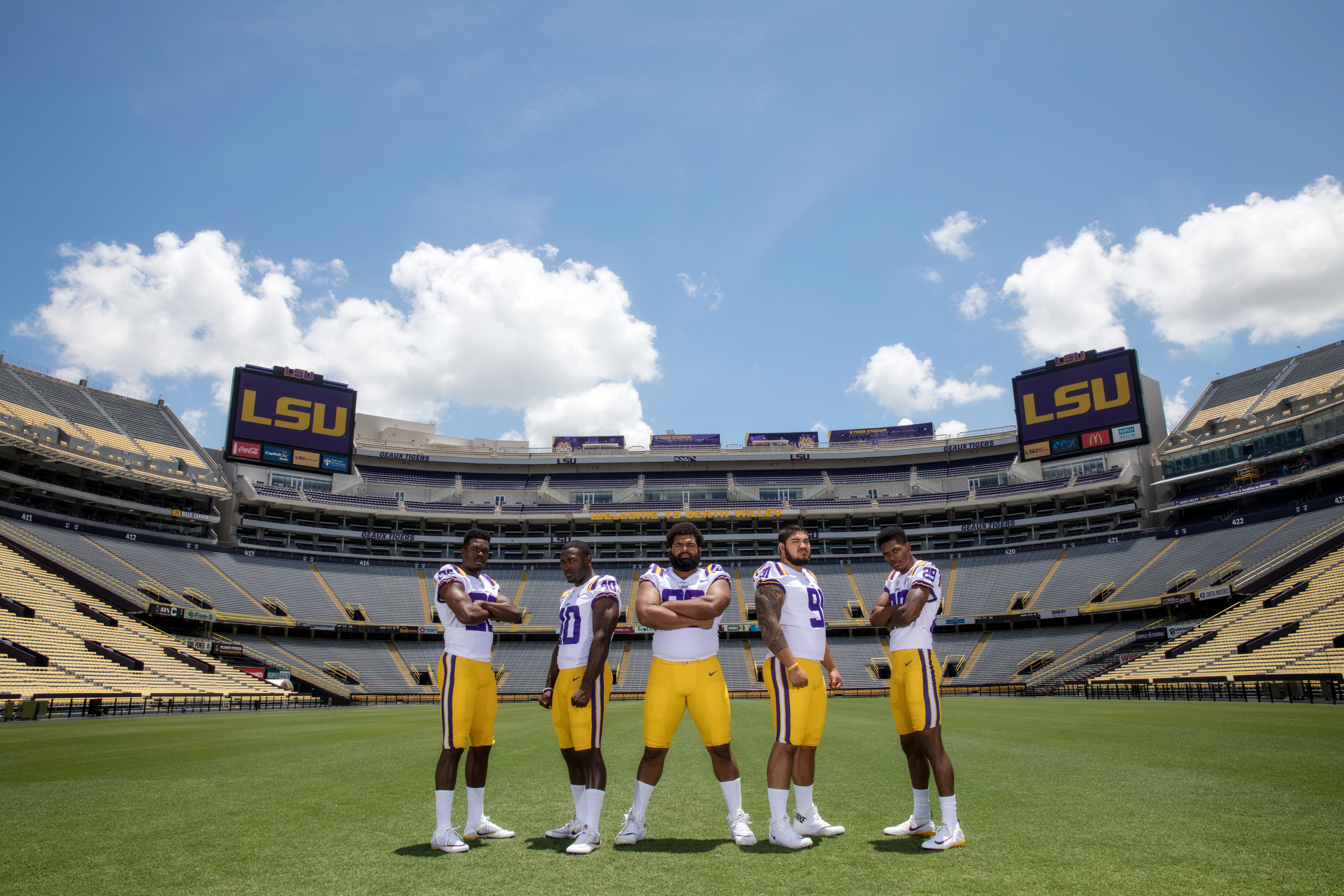 Ask any coach, and they'll tell you it all starts with the big guys up front. And luckily for the Tigers, their group of defensive linemen is as large, talented and deep as they've been in years.
At the head of the pack is junior defensive end Rashard Lawrence—a former five-star prospect who has shined so far in his two years in Baton Rouge.
The 6-foot-3, 300-pound Monroe native has been a well-known leader both on and off the field at LSU. He's appeared in 19 games in two seasons, amassing 38 tackles, 2.5 sacks and countless disruptions to the opposing offensive line.
"I want guys on the defensive line to look up to me," Lawrence says. "It's a good group, and I'm [one of] the lone guys with some experience, so I want to show them how it's done and just be there for them every day."
It's not only a talented group, but a tight-knit one.
During today's 225 photo shoot, the players are cracking jokes with each other, showing off their "good sides" and discussing which guys have the best (and worst) tattoos on the team.
They're having fun again—something that some say had gotten lost in previous years.
And they'll have even more fun should the successes they hope for come to fruition.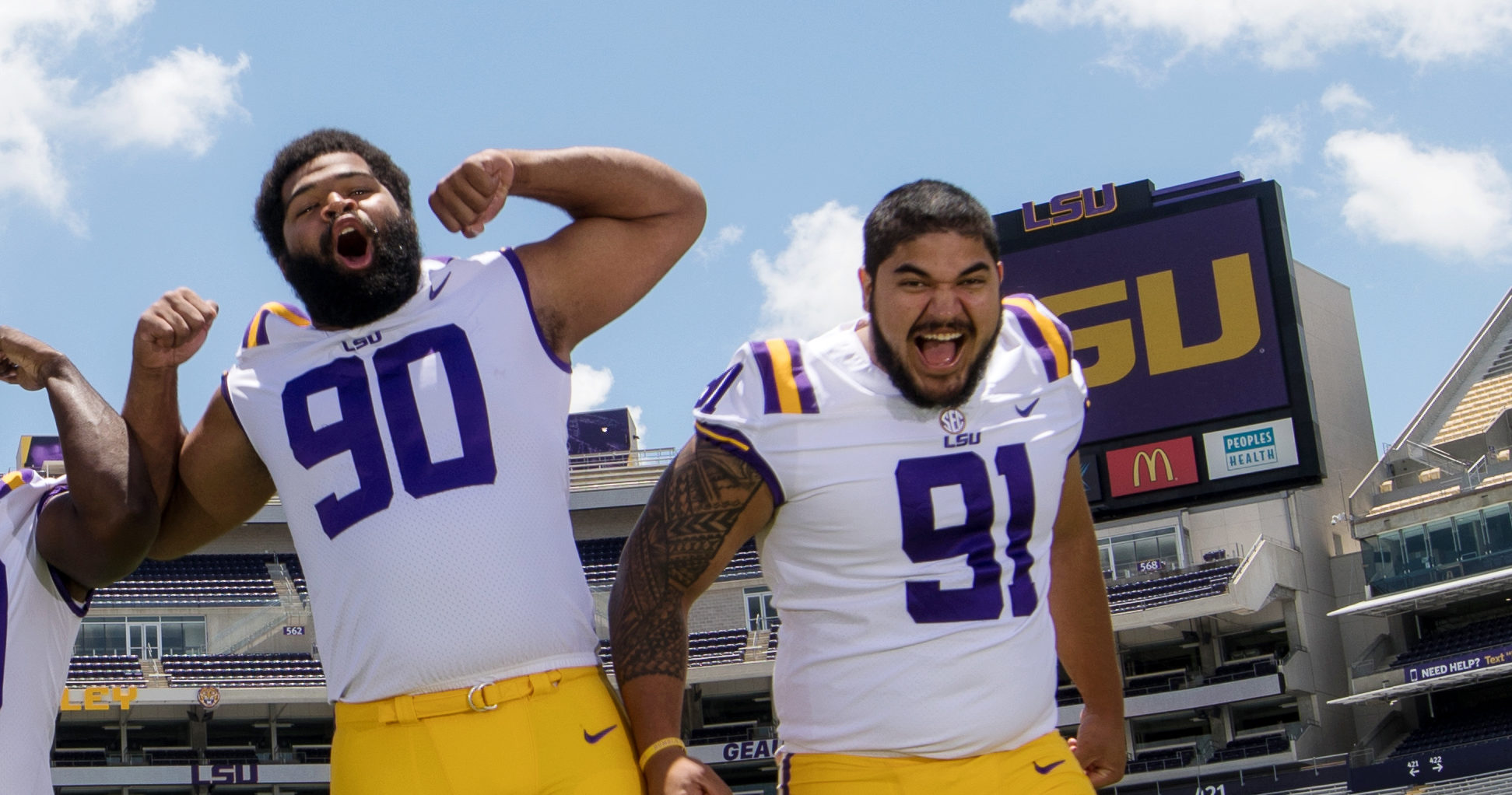 A big piece to that success is Lawrence, who will likely draw constant double teams this fall, leaving more opportunities for his fellow linemen. The most highly anticipated is junior Breiden Fehoko.
The Texas Tech transfer, who matches Lawrence's 6-foot-3, 300-pound frame, has been the talk of the town since making it on campus last summer. Fehoko had started every game in his career as a Red Raider, registering 38 tackles (7.5 for a loss), a pair of sacks and six quarterback hurries.
He was forced to sit out last season due to the NCAA's transfer policy, but several players noted that he was one of the toughest matchups to go against in practice. Now he's more ready than ever to take the field for the first time in Tiger Stadium.
"[Coming to LSU] was a no-brainer," Fehoko says. "For a team like LSU with the history they had and just the level of competition they play in the SEC West, it's something that drew my attention. It was a no-brainer for me at first with Coach O, Coach Pete [Jenkins], Coach [Dennis] Johnson and Coach Aranda and those guys. I wanted to be around those guys and I wanted to learn from those guys."
As Fehoko is answering the question, White shouts to him from across the field.
"Tell him you were excited to play with Devin White and Greedy Williams! Tell him!"
Despite having his interview face on, Fehoko can't hold back his chuckle.
"Yes, I'm excited to play with Devin White and Greedy Williams, too," he says shaking his head.
It's another sign of the camaraderie this team has built through all the ups and down of the past year together. Each position group works hand-in-hand with each other, echoing Orgeron's go-to motto: One team. One heartbeat.
The defensive end duo of Lawrence and Fehoko will bookend a three-man D-line centered by a trio of nose tackles weighing in at an average of 356 pounds.
"I don't think [nose tackle] has been this deep and talented in years," says Fehoko, referencing junior Ed Alexander, redshirt freshman Tyler Shelvin and true freshman Dominic Livingston. "That's three big bodies over 330/340. I think a lot of people take it for granted. Ed and Tyler, for their size—and even Dominic—they can move really well. I think they're still trying to cut a little weight, but as for how they are in the spring and summer workouts, they look really good."
Since taking over full time at LSU, Orgeron has made a concerted effort to beef up his defensive line both in size and in numbers. And it seems to be paying off.
Factoring in injuries, redshirts and suspensions, the Tigers fielded 13 scholarship linemen in 2016, with an average weight of 282.5 pounds.
A year later, just nine scholarship linemen were available, weighing 299.78 pounds.
We've yet to see which (if any) players take a redshirt year, sustain an injury or get suspended, but heading into fall camp, LSU has 14 defensive linemen on scholarship at its disposal. And for the first time since Aranda's arrival, the line's average weight broke the 300-pound mark, coming in at 304.71 pounds.
Maybe size does matter.
---
THE WHITE WALKER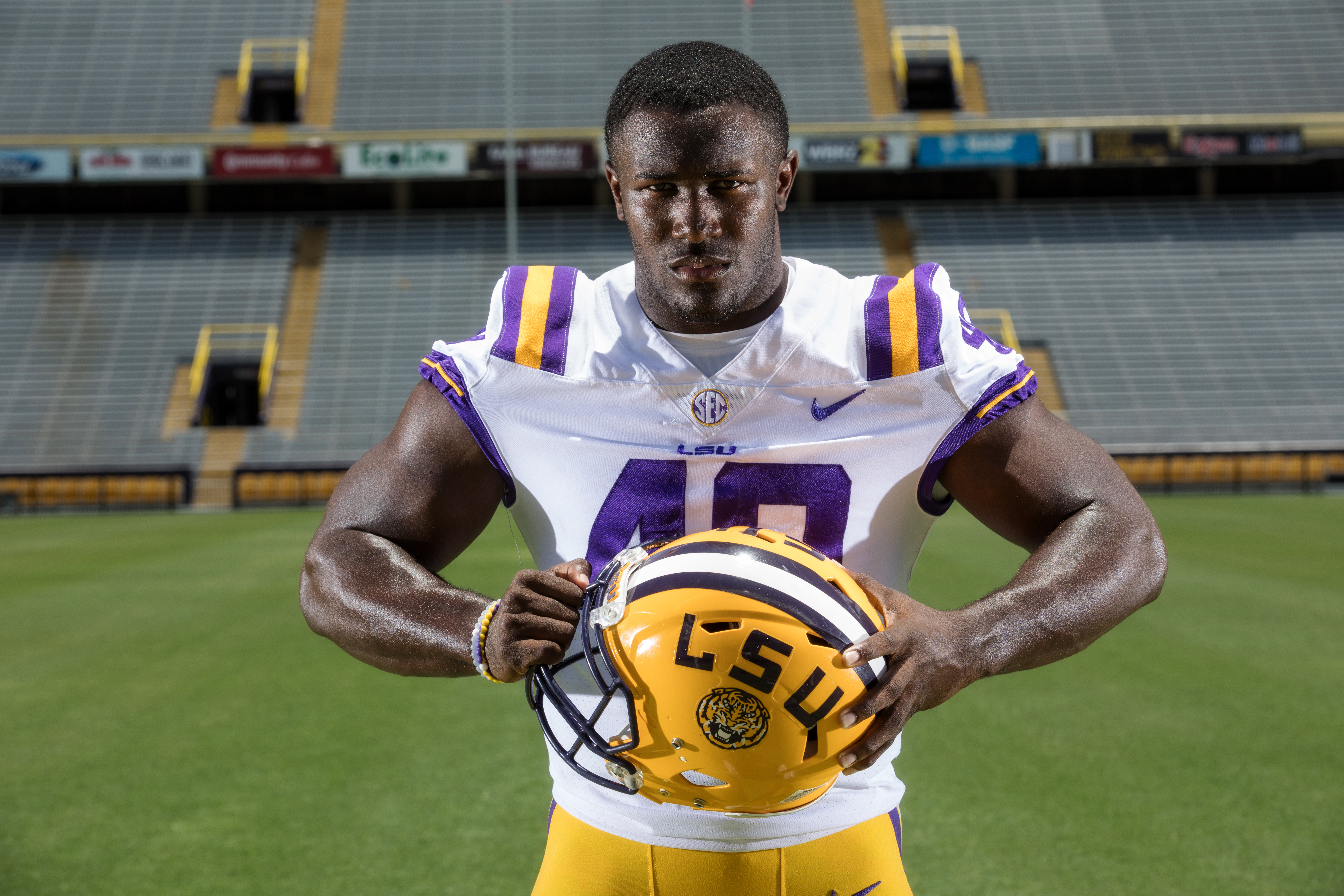 LSU may dub itself as Defensive Back University or "DBU," but the Tigers have sneakily turned themselves into a linebacker powerhouse in recent years.
Currently, seven former LSU linebackers are on NFL rosters, including recent successes like Duke Riley, Kendall Beckwith and Kwon Alexander—all of whom have openly praised Aranda for helping their development at the position.
Next in line is Devin White.
The 6-foot-1, 240-pound rock has been a force in the middle of the LSU defense since his breakout game in the Tigers' previously mentioned bowl win against Louisville.
He led the SEC with a whopping 127 regular-season tackles in his sophomore campaign, and it was only his second season playing linebacker full time.
"I expected to have a dominant year," says White, who split his time as a linebacker and running back in high school. "I put in a lot of hard work to get those type of results. I'm a firm believer that you get out what you put in. … During the summer and spring, I put in countless hours of watching film and working on my game. So I expected it, but I still feel like I can do more."
If that's the case, LSU could be in for a special season.
White is now a year older, a year wiser and a year stronger, and he's finally being surrounded by experienced talent beside him.
In 2016, LSU fielded just eight linebackers, including a young White. Orgeron and Aranda pushed to recruit some of the nation's top linebackers to LSU the past two seasons, and the results are showing.
Last year the Tigers had 12 linebackers to work with, and the numbers look about the same this fall. Except all those green freshmen now have experienced a full year in Aranda's system.
"Each one of them are unique in their own way," says White, referring to guys like Jacob Phillips, Tyler Taylor, Patrick Queen and others. "Our room is like a brotherhood. We strive to push each other and make each other better, whether it's the weight room, classroom or on the field. At the end of the day, everybody is going to [play] different on the field. Everybody is built different. It's mainly just a mental thing. Who is mentally ready to be on this stage?"
If LSU can answer that question, the Tigers' front seven will be locked and loaded, leaving the rest up to DBU.
---
GETTIN' GREEDY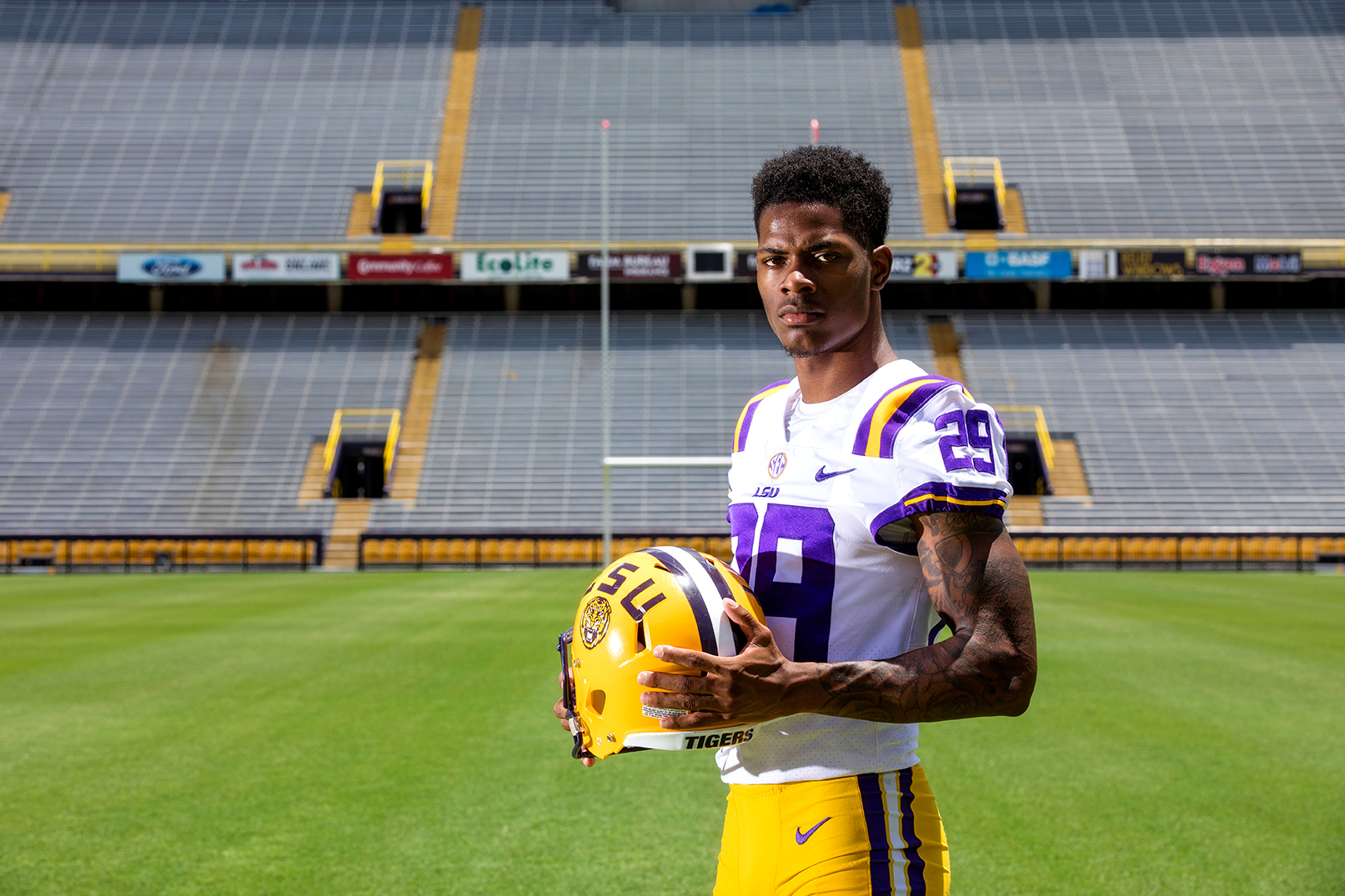 It's hard to come up with a better moniker for Andraez Williams than "Greedy." He wants the ball in his hands.
And after redshirting his freshman year and sitting behind future first-round NFL Draft pick Tre'Davious White and second rounder Donte Jackson, Williams finally got his chance and stormed onto the scene last season.
The rangy 6-foot-2 cornerback snagged an interception against BYU on LSU's second defensive drive of the year and carried that momentum throughout the season. He ultimately led the conference with six interceptions in 2017, even though many teams purposely avoided throwing in his direction.
For last year's season opener, the defenders made a friendly bet about who would catch the first interception.
"I won that," Williams says with a smile. "But there's a lot of competition in that defensive back room."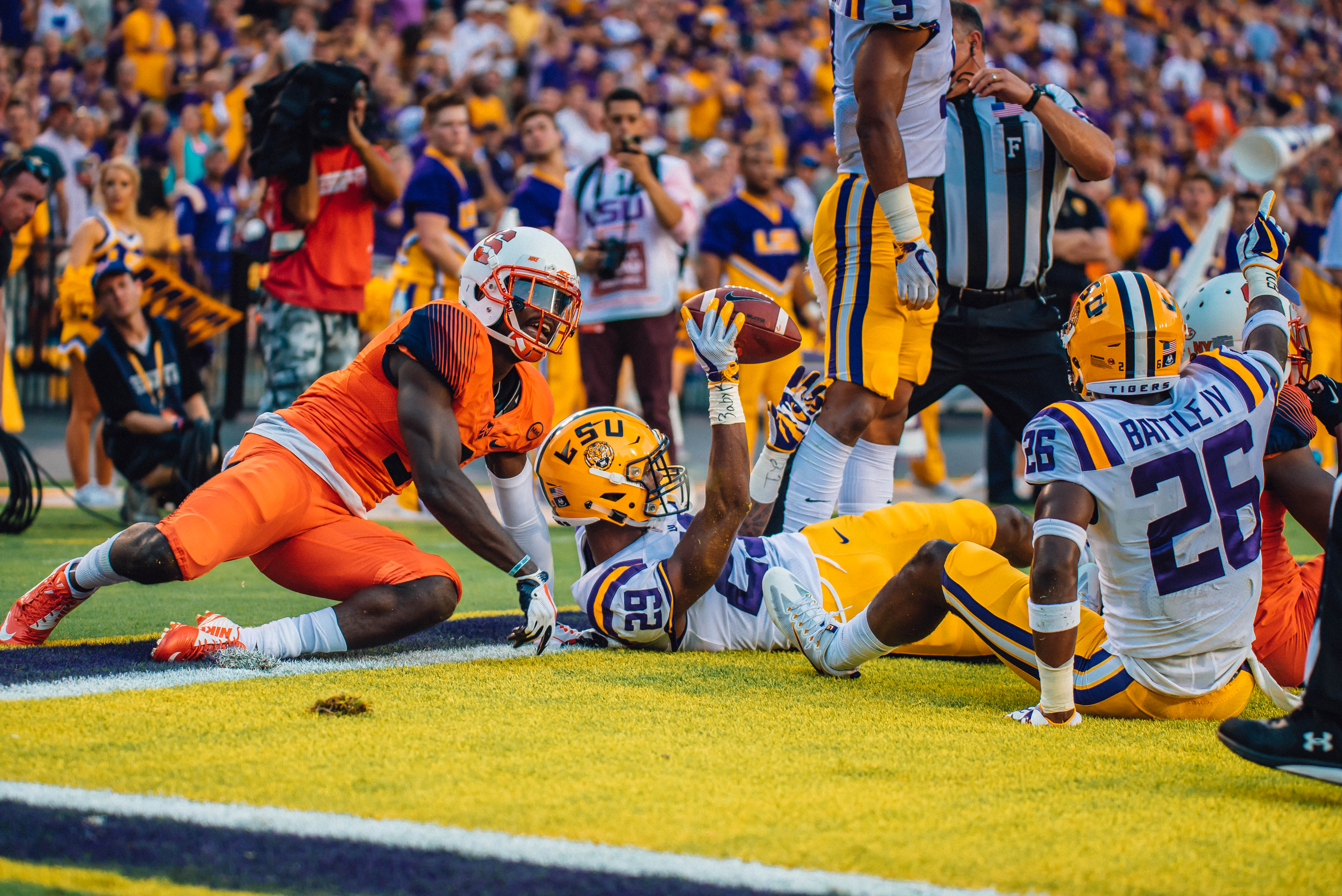 It's been a long time since Tiger fans had to worry about the team's secondary. For years, LSU has lived up to its self-proclaimed DBU title, constantly churning out some of the best cornerbacks and safeties in the country.
This fall may be a little different. It's not for a lack of talent, but simply a lack of depth and experience.
Williams is the only proven cornerback on the roster, and he'll be able to lock down one side of the field. What happens across from him is the big question mark.
We saw flashes of greatness from young corners like Kary Vincent Jr., a sophomore with track-team level speed whose diving interception was one of the plays of the year for the Tiger defense.
But the rest of the unit has yet to put in many minutes on the field.
Williams started every game last season. Vincent played in 11 contests, but started just three. And fellow sophomore Jontre Kirklin saw action in 12 games but didn't earn a start.
Not a single other cornerback on the roster has any in-game experience for LSU.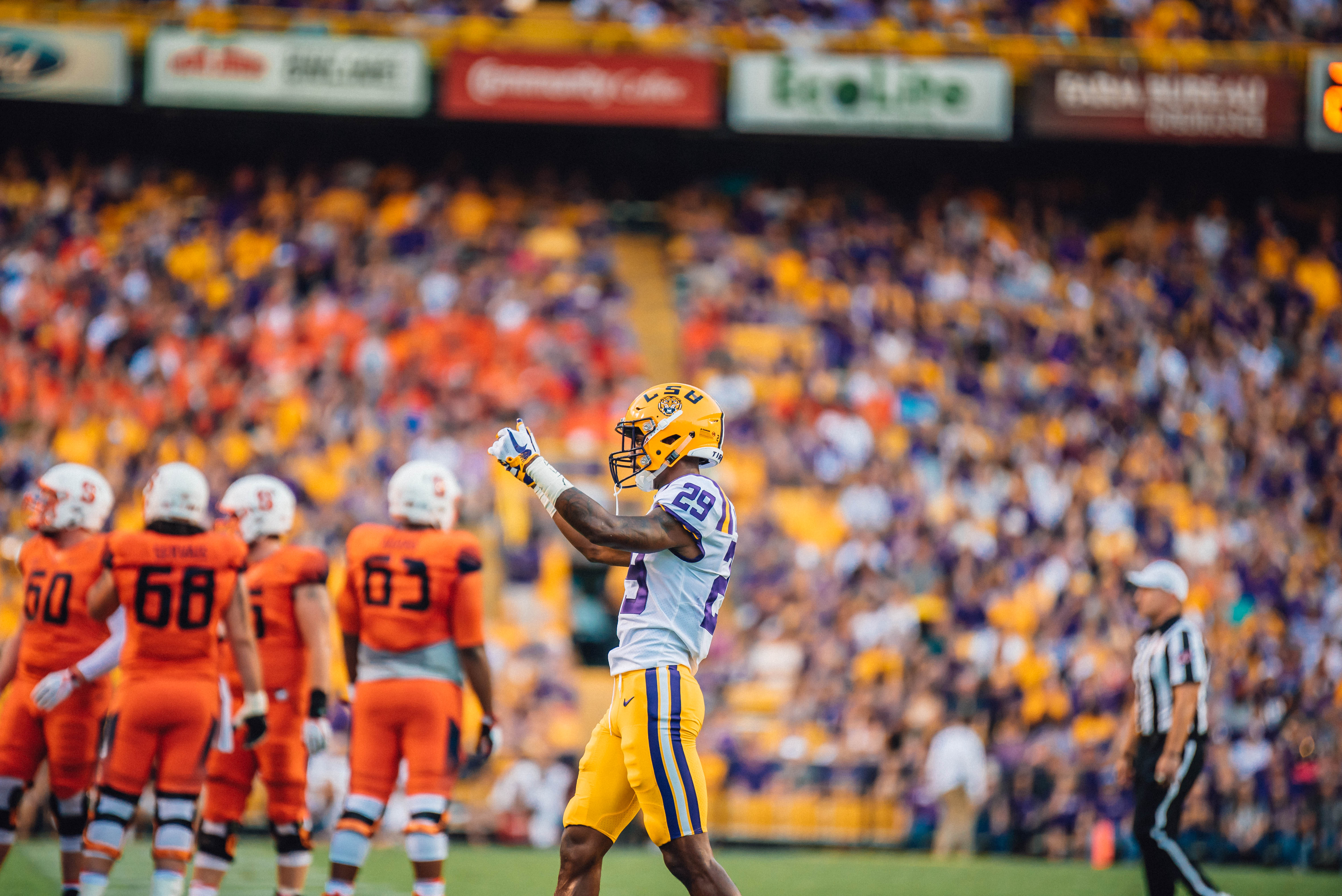 It's an eye-opening revelation—but one that doesn't seem to worry Williams too much.
"We're DBU at the end of the day," he says. "We put a guy in, and we know he's going to excel at a high level. We're not really worried about the depth. We've got guys that can come in and play like a Tiger, just like me."
Two potential saviors for the Tiger secondary could be graduate transfer Terrence Alexander and wide receiver convert Mannie Netherly.
Alexander, a New Orleans native who is making the move to LSU from Stanford, appeared in 41 games for the Cardinal. He accounted for 57 tackles with one interception and eight passes defensed in his career before his senior season was cut short because of an injury in the season-opener.
Netherly, on the other hand, was recruited as a wide receiver out of high school but is making the transition over to cornerback. It's not an uncommon move at the college level, but it's one that takes time, patience and practice to perfect.
"His transition is going great," Williams says. "He's working with a guy over in Houston in the summertime who gave him an extra push at defensive back. He's ready to rock and roll now."
Incoming freshman Kelvin Joseph, who predominantly played safety in high school, could also be called upon early to step up at cornerback this fall.
The good news for LSU: Despite the uncertainty at cornerback, the safety net behind them appears to be full of added depth and experience.
Last year's starters John Battle and Grant Delpit are both returning this fall, with talented guys like Todd Harris Jr., JaCoby Stevens, Ed Paris and Eric Monroe all fighting for playing time as well.
Aranda is known for playing to his team's strengths and scheming around his players' weaknesses. With so few questions left unanswered on this defense, the Mad Scientist seems to have all the pieces in play to make history.
Could this be the best defense LSU has seen under Aranda?
"No doubt," Williams says. "We're in and out every day. It's an everyday grind for us. It's all about everybody coming together and learning new things about the defense. We've been here for three years since Coach Aranda has been here, so we've got the defense down pat. He's just adding a few new things to it. We're doing a lot of things that other teams haven't seen yet."
That's got to be a scary thought for opposing offensive coordinators.
---
Read up on all thing LSU football in our special Tiger Pride section and follow our Tiger Pride podcast on iTunes and Soundcloud for season-long updates, interviews and analysis.
This article was originally published in the August 2018 issue of 225 Magazine.