---
LSU's president and chancellor says the university's world-class programs are essential to Louisiana—and beyond

It only takes a quick glance at headlines to see the importance of investing in LSU's assets, says William F. Tate IV, named president of the LSU System and chancellor of its flagship campus in Baton Rouge in 2021. 
An accomplished scientist and researcher who was recently elected to the prestigious American Academy of Arts & Sciences, Tate points to the war in Ukraine to demonstrate the importance of agriculture, fuel and other areas impacted by destabilization. Situated in a port-rich state that is pivotal to America's energy infrastructure, LSU's programs have the potential to make vast contributions to the greater good, he says.
That belief is infused in Tate's Scholarship First Agenda, a five-point plan that promotes investment in programs across the LSU System that focus on agriculture, biotechnology, coastal studies, defense and energy. 
"I keep telling people this is our Sputnik moment," Tate says. "The Ukraine situation makes clear that those five areas, which we want to be world class in, are vital, not just to the people of Louisiana, but to the people of the United States." 
In this year's legislative session, LSU received more than $110 million in one-time funding for 2023, as part of the largest state funding increase ever for Louisiana higher education, according to Tate's office. The funds will be used  for new projects related to each of the plan's five points, including funding to support faculty pay raises—a key component in keeping talent, he says. LSU also received funding for new cancer-related jobs at the LSU Health Sciences campuses in New Orleans and Shreveport, part of a push to expand the system's participation in cancer research. In another project, the university now has funding to establish a system-wide computational infrastructure intended to support higher levels of collaboration and research.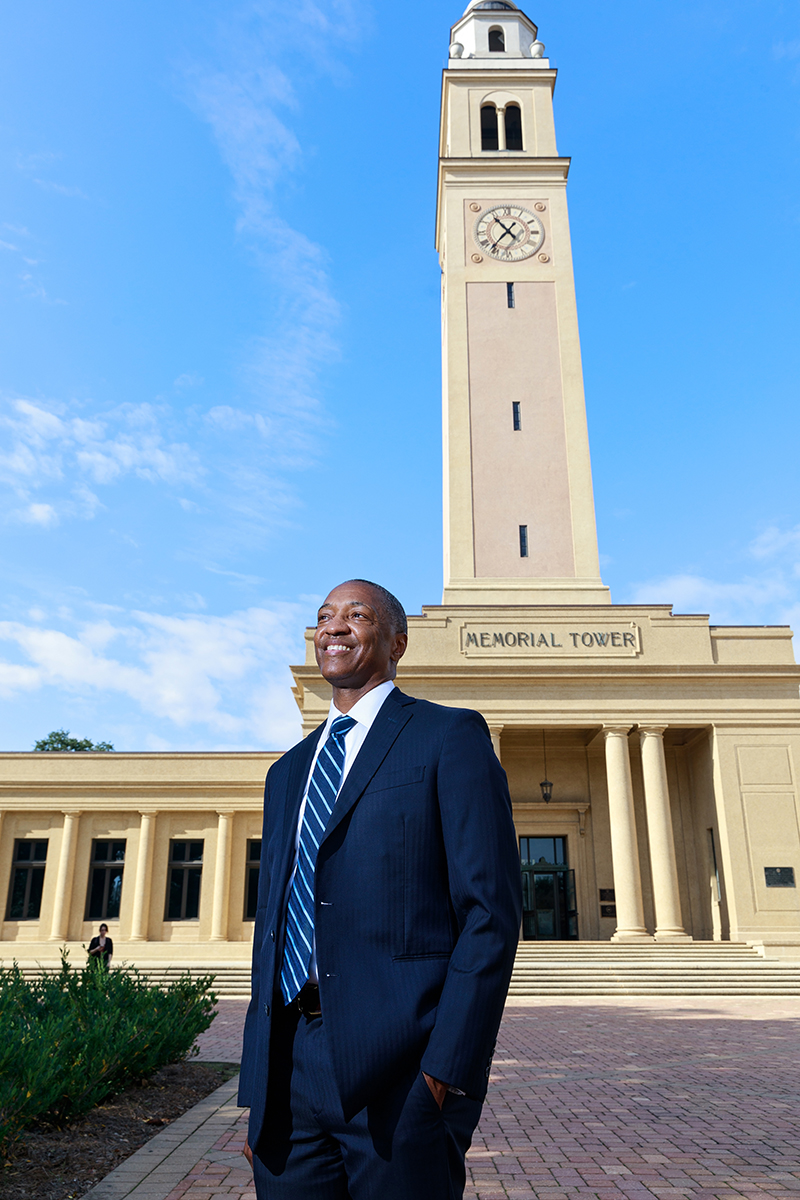 Tate, the former provost at the University of South Carolina, holds degrees in economics and mathematics. With a passion for science that began in childhood, he says he appreciates the certainty of STEM fields, but adds the culture of LSU extends beyond them. 
"We have world-class music and opera. We have great people who write in the humanities," he says. "And we want to make sure those flourish, because understanding the human condition through the lens of the humanities might get us out of some of the problems we're in right now." 
Sports are essential too, he says, acknowledging the power of the LSU Athletics brand. 
Few jobs in greater Baton Rouge are more high-profile than leading LSU, an institution that touches the lives of nearly every local resident, whether they're alumni, employees, faculty or fans. Tate distills his role into three targets: strategy, resource development and communication. And he relies on two factors to get the job done. 
"Passion and point guards," he says, referring to his lifelong zeal for scholarship and his reliance on LSU's deans and top administrators. "Point guards can score, rebound and shoot, and they can do what they need to do to make sure we're progressing." lsu.edu
---
This article was originally published in the January 2023 issue of 225 magazine.