The rising-star LSU basketball freshman also caught the attention of Jay-Z's record label

In her college commitment video announcing she would be signing with LSU, Flau'jae Johnson showed her high school basketball clips set to the background music of her newest single, "All Falls Down."
The video itself encompasses just how unique a talent the 19-year-old truly is. 
Not only was Johnson rated as a four-star prospect out of Sprayberry High School in Savannah, Georgia, but she's also a rapper signed to Jay-Z's Roc Nation record label. 
Johnson—known in the music scene as simply "Flau'jae"—starts the video with the opening line "My journey's different; I can't snooze." 
The lyric may be an accurate one, but the more you come to learn about Johnson, the more you realize that "different" may be selling it quite short.
She's the daughter of the late Jason Johnson, who was an up-and-coming rapper well-known in the South as "Camoflauge" before he was murdered. His death fell days before he was set to sign a contract with Universal Records and just months before the birth of his daughter.
"(My childhood) definitely made me tough," Johnson tells 225. "I had to become a dog. … Sometimes where you come from, you've got to do something different in order to (succeed). You've got to be tougher. You've got to be stronger."
Johnson calls her father the inspiration behind her budding music career, which has already made its way into the mainstream.
She appeared in season three of Lifetime's The Rap Game at age 13, and a year later was featured on season 13 of America's Got Talent, making it all the way to the quarterfinal round.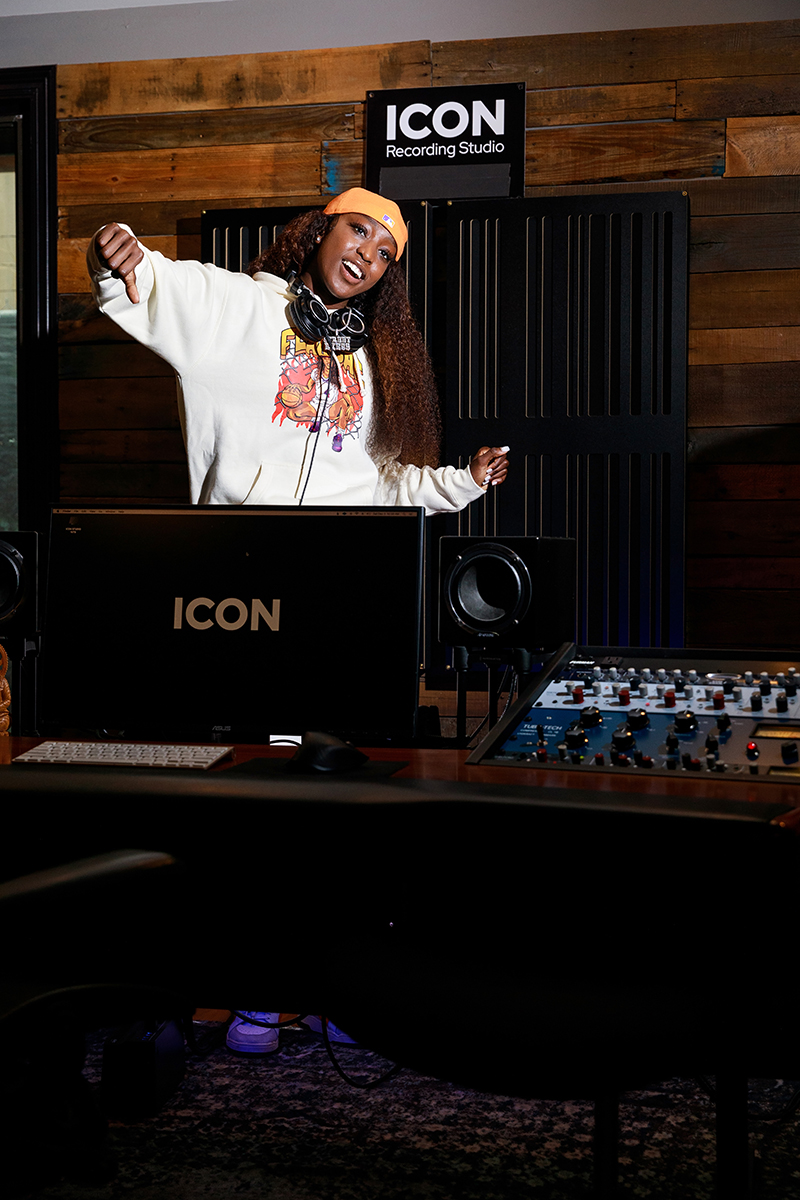 "I started rapping at like 7 years old," Johnson says. "As I got older, I really fell in love with making music and coming up with different sounds and playing with different types of lyrics and instruments."
Around that time she was also cutting her teeth on the hardwood.All the kids in her neighborhood—mostly boys—would meet at the local court for pickup games. That's where the younger, smaller Johnson developed her thick skin and hard-nosed style of play.
"I knew since I was playing against the boys at the YMCA that I was going to be great," Johnson says. "They never used to let me play because I was a girl and I was little. I've known (I was special) since I was little. As I got older, it's just the confidence that I have in myself."
That confidence led Johnson to become the No. 26-ranked high school prospect, according to ESPN, and earned her the prestigious title of McDonald's All-American. She played in numerous high school all-star games and has already had her No. 4 jersey retired by Sprayberry after scoring a school-record 1,615 career points.
Johnson's success has quickly carried over at LSU. At the time of publication, the true freshman had started all nine games for the undefeated Tigers, averaging 13.4 points, 6.4 rebounds, 2.4 assist and 1.7 steals per game.
"I feel like we can be great this year," Johnson says. 
On top of her regular academic obligations, Johnson plans on continuing to balance both basketball and music at LSU.
She doesn't yet know where exactly her career path lies, but whether it's in the studio or on the court, it's hard to imagine a future where Johnson isn't making it big.
It's like Flau'jae said in her "Ready or Not" freestyle: "You keep shooting for the moon, you'll have a seat with the stars." lsusports.net/sports/wbball
---
This article was originally published in the January 2023 issue of 225 magazine.