A new ride-sharing company has rolled into Baton Rouge with an aim to make multiple-passenger travel easier than ever. In late January, group ride-sharing company Fetii launched in the city, utilizing 15-passenger vans that you may have seen bustling around town. 
"Up until Fetii, groups had two options," co-founder and CEO Matthew Iommi says. "Either reserve a charter vehicle weeks in advance and pay an arm and a leg, or split up the group and take multiple cars. I decided to take these high-capacity vehicles and incorporate rideshare tech to create the first 'group ride-share' platform."
The Austin-based company started in 2020 after Iommi bussed his friends around town. He found that Austin and other college cities had a need for a service that utilized safe and affordable travel that could accommodate larger groups. 
"When Fetii started, it was a single shuttle bus being driven by me on the weekends during college," Iommi says. "Fetii now operates in seven cities and has transported over a million passengers." 
Fetii utilizes Ford Transit and Mercedes Sprinter vans to service Baton Rouge. By using the Fetii app, riders can get an on-demand vehicle or schedule them ahead of time. When boarding the van, riders simply scan the QR code located by the door and pay for themselves or multiple passengers. 
"This QR check-in system prevents the issue of one person being forced to pay the entire fare and hope they get their money back from everyone," Iommi says.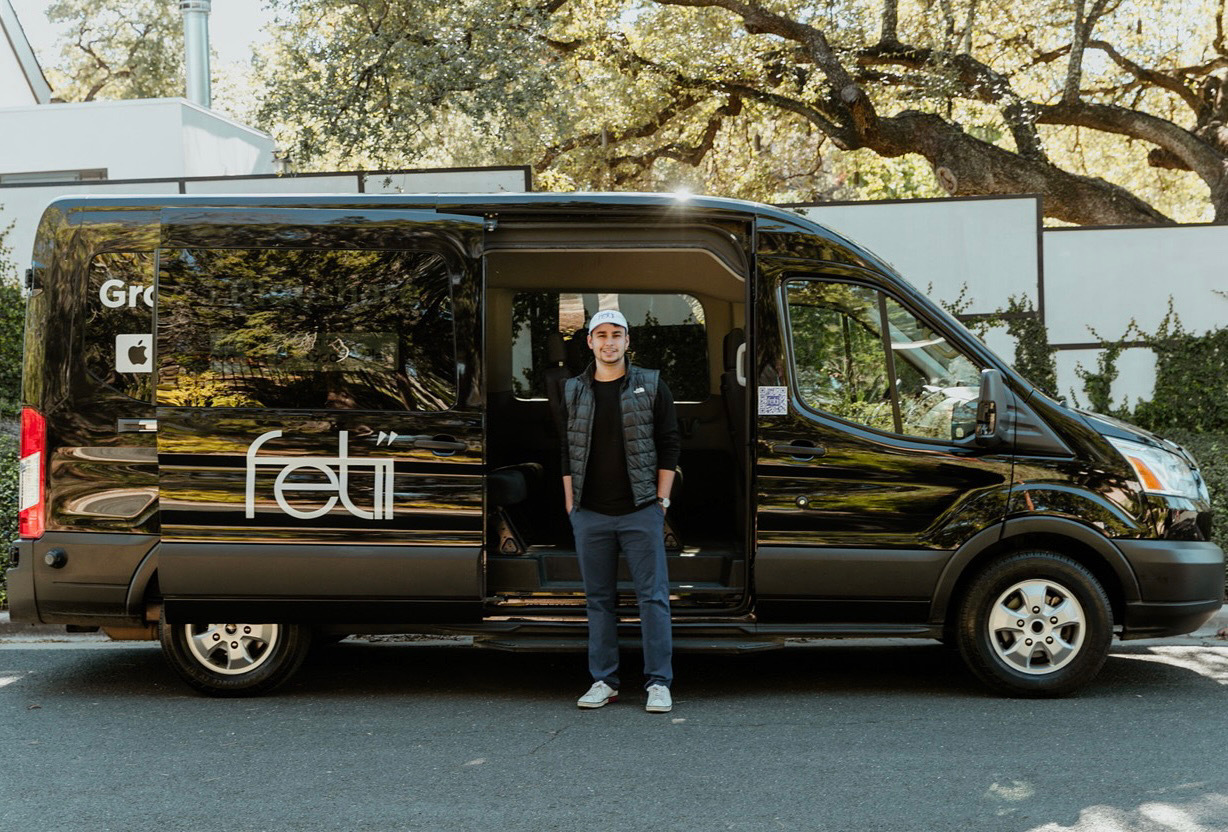 Iommi believes that Fetii is the safest option for college students when it comes to ride-sharing and is also more affordable. 
"We understand that safety is a top concern for college students and their families," he says. "Our 15-passenger vehicles are operated by experienced drivers who have undergone thorough background checks and vehicle inspections. Additionally, our group transportation model means that students are less likely to be alone in a car with a stranger, which can provide peace of mind for both students and their families."
Iommi says Fetii also helps cut down on carbon emissions from vehicles on the road, making an impact on the environment. By having a group take one vehicle instead of multiple cars, it can also help curb traffic issues in cities like Baton Rouge, he adds.
Iommi says Fetii is also a better option for drivers. Unlike Uber and Lyft, Fetii allows drivers to earn "up to twice as much per ride" because the vans can fit more passengers. The user-friendly app also gives passengers the opportunity to send tips to their drivers, which in return encourages drivers to give even better service to riders. 
"At Fetii, we understand that our drivers are the backbone of our service, and we believe in compensating them fairly for their work," Iommi says. 
Since debuting in Baton Rouge, Iommi says Fetii has been receiving a lot of positive feedback from local riders. He says a Fetii ride is available anywhere in the city with a typical wait time of around five minutes. Each Fetii van is equipped with an aux cord and fun lights.
Going forward, Iommi hopes Fetii can continue to grow and make its way into more cities across the country. 
"Ultimately, our goal is to become the preferred transportation option for groups of all sizes, from college students and sports teams to corporate events and weddings," he says. "We are excited about the future of Fetii and the role we can play in transforming the transportation industry."