---
It seems natural that the plans to revitalize the historic Entergy site on Government Street would come from none other than the design firm sitting in its shadow.
DNA Workshop founder and architect Dyke Nelson and developer David Weinstein gave the public a peek at their plans for the six-acre Electric Depot project in May. They were tapped to develop the project by the East Baton Rouge Redevelopment Authority—which owns the property—last year.
Nelson's design firm had converted an old warehouse across the railroad tracks from the Entergy site into its hip office space back in 2012, and he says he had his eyes on the nearby derelict power plant buildings long before that.
"Ultimately, it was a part of our decision to move to this location—knowing there was an opportunity there and being familiar with the neighborhood, but also being excited for the infrastructure that already exists," Nelson says.
The developers are subleasing two smaller buildings on the site to a microbrewery and a healthy living center with a yoga studio. The names of those tenants had not been released as of press time.
The two main buildings, visible from Government Street with their brick facades and tall warehouse windows, will provide the first phase's biggest draws.
An entertainment center with the working title Red Stick Social will take the larger building, providing multiple levels with attractions such as a concert space, two floors of bowling alleys, a sports bar, restaurant and a rooftop deck and adjoining cocktail bar.
The second large building will have 16 apartments on its second floor, while the ground floor has about 12,000 square feet of retail space up for grabs.
Future phases will expand Electric Depot's footprint to the edges of Spain and 17th streets with 100-plus more residential units and more retail and office space, according to Nelson. The grounds for the project will be pedestrian only, with parking around the exterior and a promenade called "Power Alley" that will face west toward the railroad tracks—where we might one day see a train station.
The full project includes several investors, many with ties to this Mid City neighborhood, including Garrett Temple, Anthony Kimble, Helena Cunningham, the Shiloh Baptist Foundation, Todd Stevens and Matt Saurage.
Nelson says it was important for neighborhood groups to guide the project and help the team "carefully insert ourselves in the neighborhood" and make a significant improvement while still being respectful.
"It's been very organic," he says. "We benefit a lot more from responding to opportunities quickly than necessarily trying to create something that maybe shouldn't be here and shoehorn something in inappropriately. … By having neighborhood investors, it puts the benefit of the project back in the neighborhood. They are sharing both in the risks but also in the benefits, and hopefully that will provide opportunities for additional investments in the community."
The first phase is expected to wrap up at the end of 2018.
---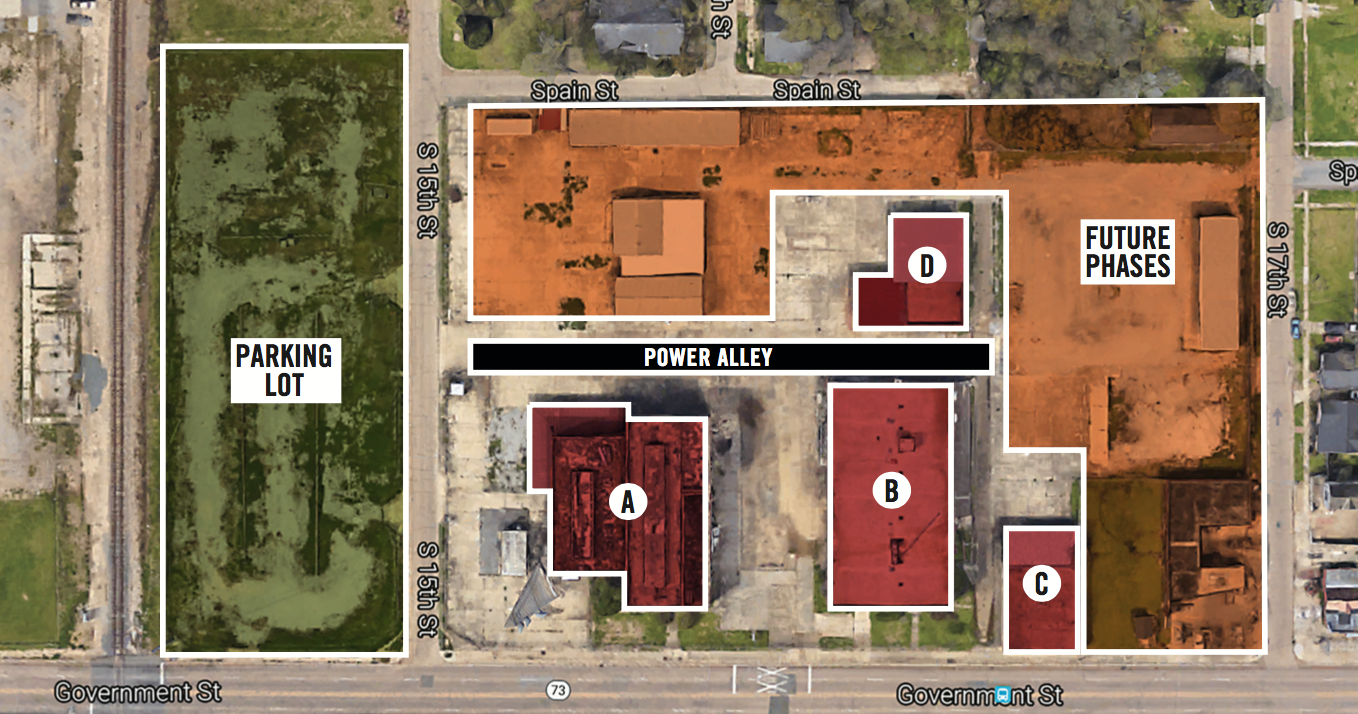 Building A
The main attraction is an entertainment venue tentatively called Red Stick Social. The building will include a performance space, sports bar and restaurant on the ground floor, with a bowling alley, pizza parlor, cocktail lounge, party rooms and a rooftop deck on the above floors.
Building B
The ground floor hasn't been leased as of press time, but it includes space for a possible restaurant and multiple shops with 16-foot ceilings and an "industrial feel," Nelson says. The second floor will feature 16 one-bedroom apartments.
Building C
The tenant in this building will be a "healthy lifestyle" concept with a yoga studio, cycling studio, fitness-focused retail space and a small cafe preparing fresh salads.
Building D
A microbrewery will go into this building, along with a tap room, pizza kitchen and plenty of indoor and outdoor seating with roll-up garage-style door.
Future phases
This will include more apartments, office and retail space, as well as additional parking.
Future train station
The development team is a big supporter of efforts to put a train station next to the site eventually, and Nelson says their design plan aligns strategically with the city's long-term goal of passenger rail from Baton Rouge to New Orleans. "If it were to happen, we've got a very clear connection with the [Power Alley] promenade so we can provide that infrastructure for it now and it can be accommodated very easily."
---
This article was originally published in the July 2017 issue of 225 Magazine.