---
It could have been a teacher, mentor, tutor, family member or family friend—we all remember that one person in our childhood who encouraged us to follow our dreams and helped us see our potential. Even if they only dropped in our lives fleetingly, it's those moments that can make or break a child.
That's why some Baton Rouge professionals and entrepreneurs are reaching a hand down to the next generation of changemakers to lift them up and give them the tools to succeed.
Education impacts everyone
Amanda Vincent wanted to build an academic workspace where children and teens can go to complete homework, projects, test prep, and study for tests with a trained tutor. She opened Studyville in Perkins Rowe during the pandemic with a goal of giving students a space outside of home to study and do homework, while also alleviating the pressure off of already busy parents.
"If we could fix education, you can fix so many things," Vincent says. "You can fix infrastructure problems, keeping talent in our state, crime, drug problems, workforce issues. Education is not just going to school from 7:30 a.m. to 2:30 p.m. It's a mindset in how we raise our children as a community."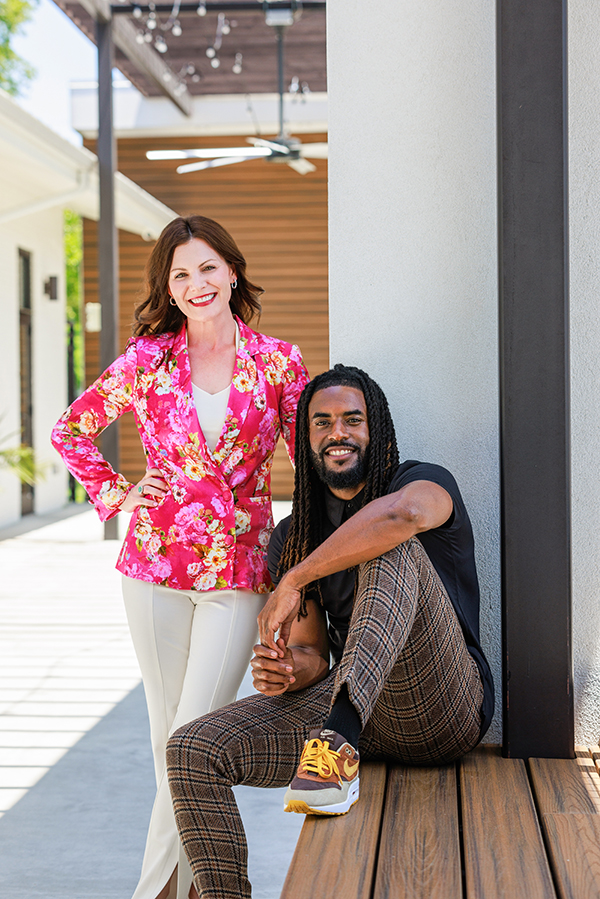 Marcus Williams, founder and owner of Williams Architecture, has a passion for designing functional educational spaces with community, students and staff in mind.
"The school is where it starts," Williams says. "If you're in school and you're excited about being educated and it's not so difficult for you to learn, that increases the amount of folks being more willing to pursue additional training or become more integral parts of society in a positive way."
Outside of building educational spaces like Park Elementary School, he also visits schools and community centers whenever he can. He's a South Louisiana Teach For America board member, was a youth sports coach at the YMCA, has read books to students at school, and mentors aspiring architects and engineers.
He doesn't work alone. Williams Architecture  has previously partnered with collegiate athletes to promote careers in the STEAM field to children.
Under a NIL agreement, Williams hired athletes like LSU football player Emery Jones Jr. to volunteer at schools or talk with children at Boys and Girls Club about the opportunities a job in science can bring. By showing how popular athletes appreciate STEAM careers, Williams hopes to inspire the youth (especially underserved communities) to dream bigger and remind them that they can be anything they want to be.
Today's youth are the leaders of tomorrow
As entrepreneur and philanthropist Sabrina Galloway grew her professional platform, she felt called to give back. In 2018, she co-founded the Langston Galloway Foundation with her husband, Langston Galloway, a nine-year NBA veteran. Through their organization, the Galloways work with student athletes to improve their wellbeing and prep them for life off the court.
The organization has offered free basketball summer camps, hosted a healthy meals program at Thrive Academy and partnered with BREC to refurbish aging basketball courts.
The Galloways also have a footwear brand, Ethics, through which they carve symbolism into each sneaker design. The basketball shoes are made of vegan materials and aim to provide an inclusive experience with shoes tailored to fit all kinds of feet. The couple hosted a free clinic for the students at the Business of Sports School in New York City, aiming to encourage the next generation of sports entrepreneurs.
"It's our responsibility to leave our city and the world better than how we found it," Sabrina says. "What better way than to pour into the next generation that's coming behind us?"

Consistency is key
Jacquise Terry's passion for empowering at-risk youth oozes through his words and actions. He gets fired up when talking about the programs he leads with Healing Place Church Dream Center, where he is the campus pastor.
After the former pro football and basketball player for the Detroit Lions and the San Diego Kings hung up his jersey, he says he used the culmination of his skills and background to "be a bridge that meets people where they're at and helps them get to where God wants them to be."
"The more that we are diligent, doing the small things for a long time and consistent in these young kids' lives … I believe that they start to trust in us and our words carry more weight," Terry says. "We really want to be a part of the holistic growth of their whole entire lives."
Terry and his team work with underserved youth, student athletes and families. They partner with other organizations and businesses to provide families with clothes, leadership training, violence prevention lessons, education and resources for locals' body, soul and spirit.
"I want to encourage all leaders to truly invest in the youth and to be those change catalysts," Terry says. "We are all called here to do different things, but if we work together just like the body, with unity, we can help our people grow, flourish and thrive."
---
This article was originally published in the June 2023 issue of 225 magazine.