---
If you're at the Burbank Dog Park on a certain Saturday, you may hear a stampede of tiny paws. The little thumps of stumpy legs, a chorus of barks from just inches off the ground. They've arrived: the corgi horde.
Three years ago, Megan Simon had just moved to Baton Rouge to start class at the LSU Veterinary School. She made her first visit to BREC's dog park on Burbank Drive with her corgi, Chuck. She watched as Chuck instinctively found a fellow corgi to play with, and they began chasing each other through the grass led by their inbred herding instinct.
"Any time there's more than one corgi in one place, they'll seek each other out," Simon says. Chuck wasn't a very social dog back then, but he clicked with other corgis. "They recognize each other. They just know."
Not only had Chuck made a new friend, but Simon and the other dog's owner had, too.
Surely, she thought, there must be other corgi owners in need of friends and corgis with energy to work out at the park. So she made a Facebook page: the Burbank Corgi Club.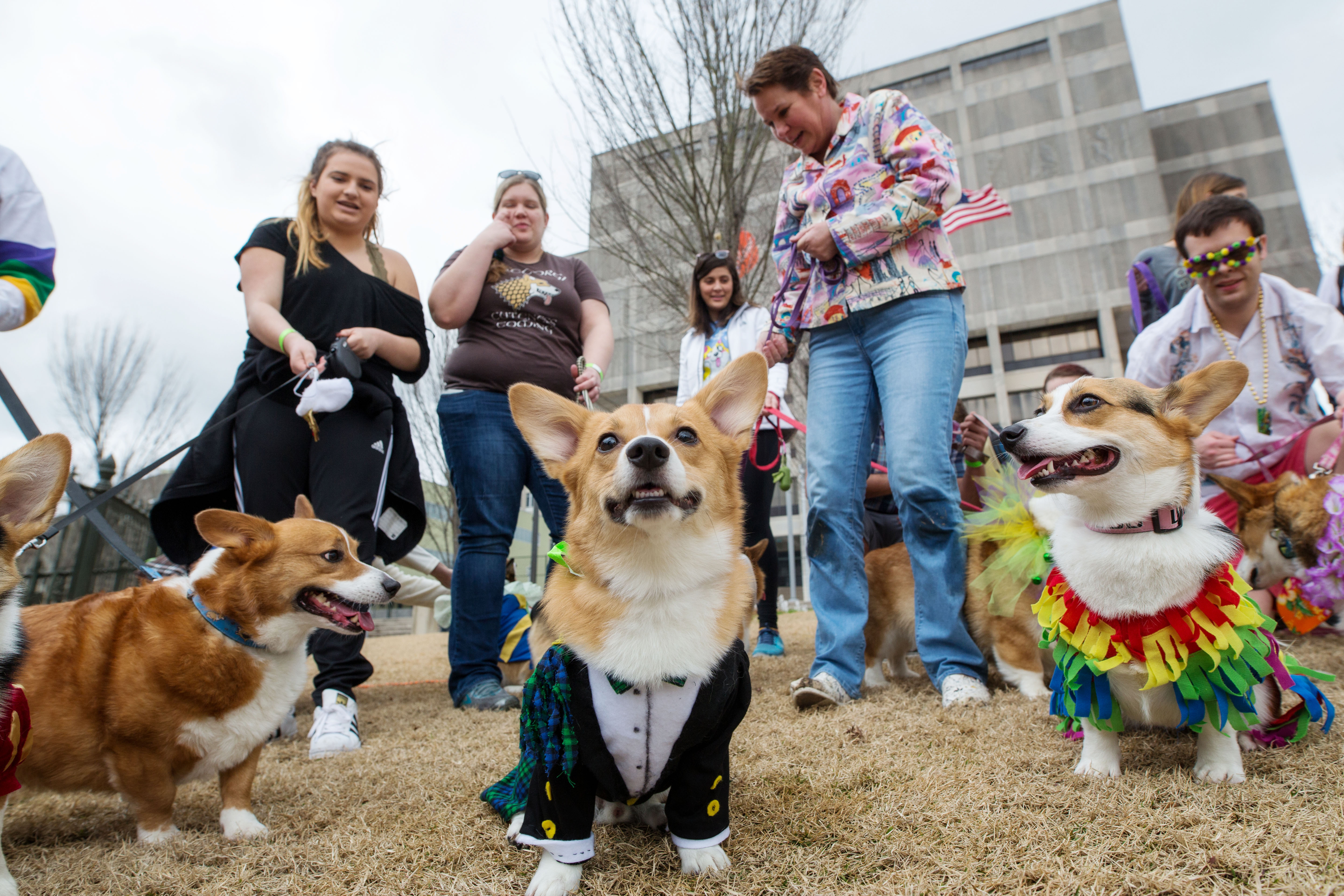 Now with more than 300 people tracking the page, Simon and page co-runner Daniel Garza—who owns a year-and-a-half-old Pembroke corgi named Celeste—use posts to bring together capital area corgi owners every other weekend. They host tailgates during football season, don costumes for the Krewe of Mutts Mardi Gras parade and keep the group active with biweekly dog meetups at the park with themes like "Day of Corgs" and "End of the Year Corg Bash."
Garza and Simon say many of their friends now are friends from the club, and they're always actively trying to recruit more. It's a unique bond, they say—not just the love of canines that all dog owners share, but a specific sense of humor that comes from sharing a life with one of these squat, bouncy, viral-sensation-level cute pups. The members are all the type of people to snap photos when their dog plops on the floor, squatty legs stuck out behind them like a Thanksgiving turkey.
It's the corgi mentality. The corgi life. The corgi culture.
---
HOW TO JOIN
Corgi owners can find and follow Burbank Corgi Club on Facebook and bring their pup to the club's next meetup at the Burbank Dog Park.
---
Click here to head back to our club headquarters.
This article was originally published in the March 2018 issue of 225 Magazine.