---
Keith Cooper and Mark Wallace enjoy Marvel and DC Comics as much as any other comic book fan, but their real passion is helping to expose less-known Black comic book writers and artists.
Five years ago, the Baton Rouge friends launched their Blerd-ish! podcast, a romp through what's happening in the world of independently published comics and other genres with a focus on Black talent. The brand has grown to also include merchandise, an online bookstore and participation in regional comic conventions and local pop-ups.
"I grew up watching Bill Bixby as The Incredible Hulk on television and reading comic books with my older brothers. We would go to flea markets to buy them," Cooper says. "With Blerd-ish!, we wanted to do a podcast not on the usual nerd takes, but on independent Black writers and artists who don't have big distribution."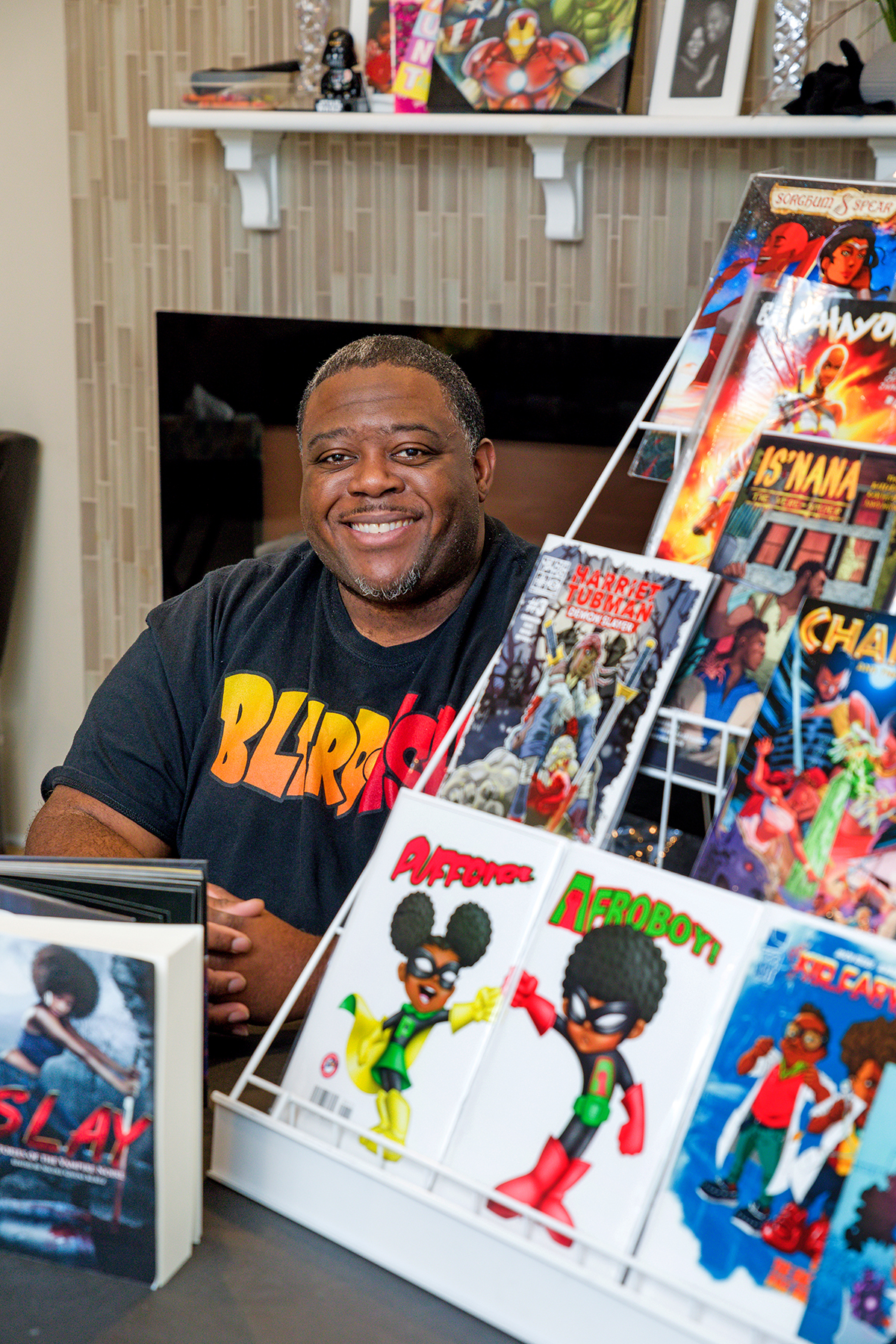 There's no shortage of material. Blerd-ish! podcast episodes have featured numerous interviews with writers, authors and fellow blerds–short for Black nerds, Cooper says. Guests have included Infinitum author and Mississippi Delta native Tim Fielder; New Orleans native and Los Angeles-based author and illustrator Jason Reeves; NASA rocket scientist and children's book author K. Renee Horton; and Lafayette-based Eisner Award-winning artist Rob Guillory, who co-created the comic book series Chew.
When they don't have a guest, Cooper and Wallace banter about new and emerging material, including books, TV shows, movies and video games. Cooper says the podcast isn't boxed into the comic genre. The duo is also interested in animé, science fiction, graphic novels, young adult fiction, Afrofuturism and other forms of literature and entertainment. They meet to tape the show after hours at the Uppercuts Barber Shop on Staring Lane, a business owned by a friend.
The Blerd-ish! website includes an online bookstore run in partnership with bookshop.org, a virtual retail space for independent titles. Cooper and Wallace also sell merchandise, and a variety of books, including comics and graphic novels, at regional fairs and festivals, and at the MidCity Makers Market. They've held pop-ups at French Truck Coffee, Vegan Friendly Foods, Red Stick Reads and Simple Joe Café.
"We're multi-faceted," Cooper says. "These are things we feel passionate about, and we want to help get the word out." blerd-ish.com
---
This article was originally published in the August 2021 issue of 225 magazine.