---
On a recent Thursday evening at the Youth and Family Service Center on Government Street, Levar Robinson rolls out a rack of neatly hanging suits and ties. On thin tables lining the wall, he and his staff place free diapers, children's undergarments and other items alongside Triplet's Blue Store chicken wings and potato logs—tonight's complimentary dinner. He wheels a brand-new lawnmower to the front of the room and leans a hedge trimmer, still in the box, beside it. They're donations from Walmart that will serve as tonight's door prizes.
Soon, a handful of men stroll in. The session is put on by Robinson's nonprofit, Fathers on a Mission (FOAM). Tonight's discussion explores what it's like to navigate relationships in which the person you're dating already has kids. It's one of many weekly topics FOAM addresses on fatherhood, part of its overall mission to encourage local dads to be more involved in their children's lives.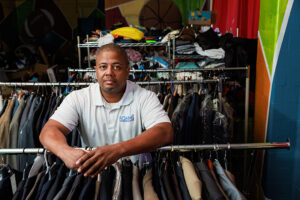 Robinson starts by inviting the attendees to grab some chicken and enter the drawing for the lawn equipment. He also tells them to take home a free suit or two from the rack to help them look their best for job interviews. Then volunteer speaker Daniel Domingue, begins his talk, disarming the group by speaking candidly about his experiences.
"When I was dating, everyone I met had kids," Domingue says. "And when I met the woman who became my wife, I made a conscious effort to include her daughter in the things we did."
The next speaker, Sonny Diolulu, a FOAM volunteer, offers his own experience of having to be patient while developing a relationship with his wife's two sons, one of whom didn't like him at first. Participants ask questions and comment on their own experiences. Domingue and Diolulu listen and respond without judgment.
"It's all about creating space for fathers and supporting them to become more involved in their children's lives," Robinson says later. "I think about my own situation. If my dad had been in my life, a lot of mistakes I made would not have been made or would not have been as big."
---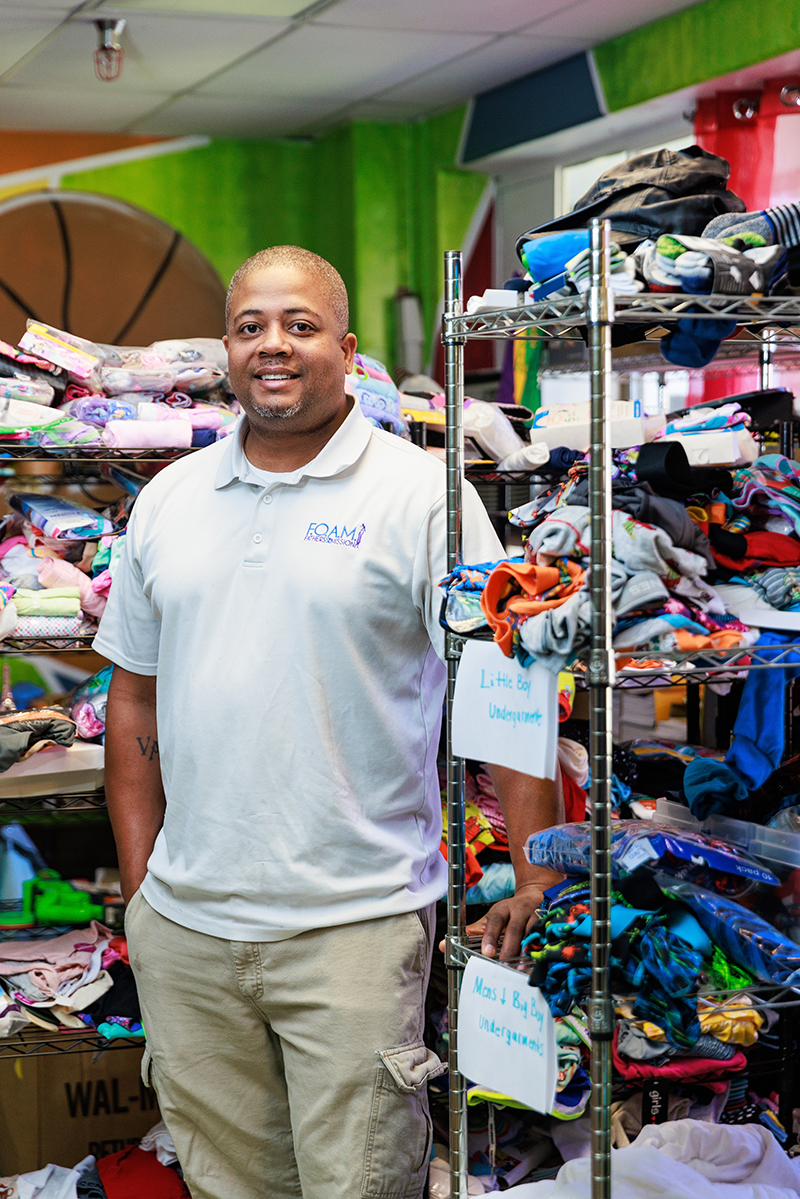 'You're not listening.'
In March, Robinson was named the Baton Rouge Area Foundation's 2023 Rising Star, part of its John W. Barton Sr. Excellence in Nonprofit Awards. The distinction reflects the program's impressive trajectory and long list of partners.
Along with weekly fatherhood classes, FOAM hosts special events like Easter egg dying, an annual father-daughter dance, a Father's Day festival and healthy cooking classes. The program also offers wraparound services for fathers in need of job training, drug abuse rehabilitation or mental health counseling.
About 30 to 50 fathers are currently receiving case management from the program, Robinson says. Additional dads attend the program's free events.
Aaron Banks is a FOAM participant. He says the program has helped him be a better father to his two children, ages 15 and 9. A talk on how many fathers have experienced childhood trauma made a big impression on him.
"I had never thought about how you can pass that down to your children," Banks says. "This program really gives something to men who just don't know where to go."
FOAM's progress notwithstanding, Robinson says he at first resisted starting his own nonprofit.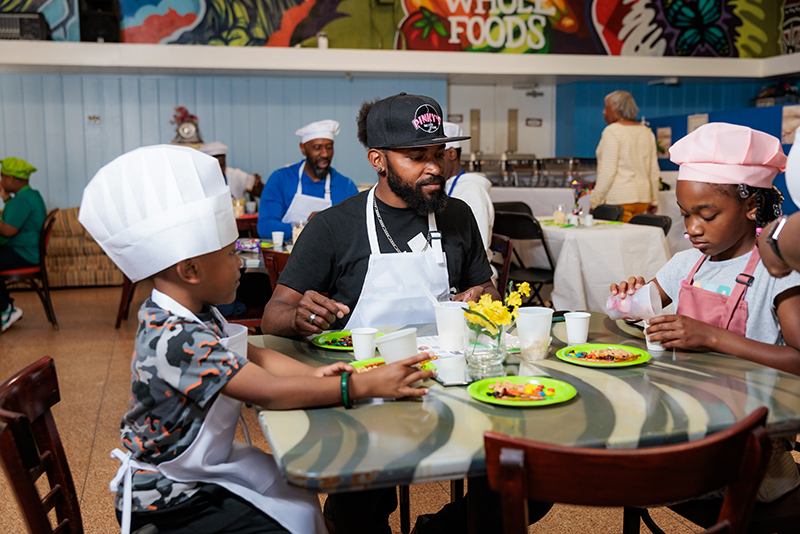 Seven years ago, he had been a regular mentor to young people through his church and with organizations including Big Buddy, 100 Black Men and Volunteers in Public Schools. But as he watched the kids he spent time with continue to struggle, it occurred to him that more needed to be done at home. He thought of what a difference it would make if these children had fathers who were more involved.
Still, Robinson doesn't judge. As a father of six kids from ages 9 to 22, he says he recognizes the impediments some unmarried fathers face, including poverty, a lack of job skills and discord with their children's mothers. Many low-income fathers, he's observed, also regard public institutions like child support enforcement as adversarial; they worry they will be held accountable for a level of support they could not pay. Many also believe they have no rights concerning visitation. Others don't have a relationship with their own father to model.
"Talking about fatherhood is not something a lot of guys do," Robinson says. "Mothers talk about motherhood all the time, but guys don't really know how. And there's a lot of pieces to the puzzle about why they're not involved."
So, Robinson approached established nonprofits about adding fatherhood services. But he was told none had the bandwidth to add a new division.
"I'm a man of faith, and I continued to pray about it," Robison recalls. "And God told me, 'No, you're not listening. You do it. I'm telling you to do it.'"
So he did.
---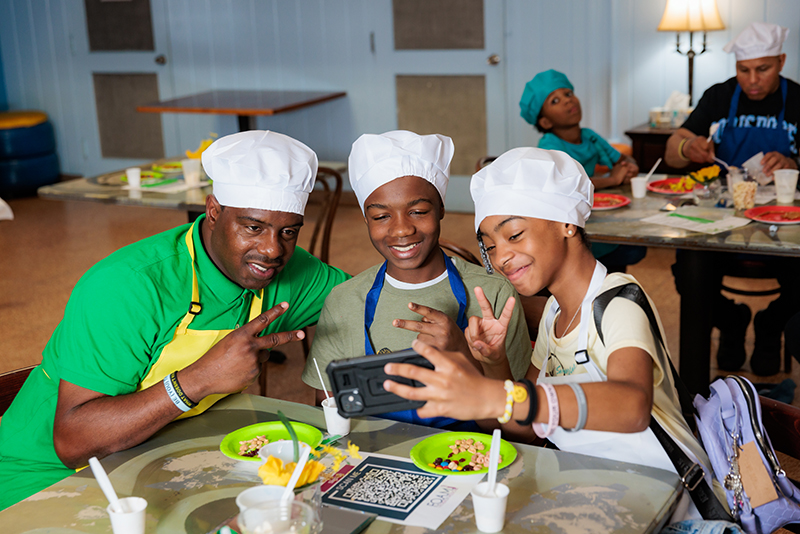 A forgotten role
Robinson filed paperwork to establish a nonprofit entity with the IRS in 2016. He received approval in 30 days, a rapid turnaround suggestive of the program's need.
Statistics show Louisiana is filled with single-parent households, and the vast majority are led by low-income women. In fiscal year 2022, the Louisiana Department of Health's vital records reported that of the 56,243 births in the state, 30,546 were to single mothers.
Mother-only households are more likely to suffer from poverty, and children who live in poverty are more likely to have physical, mental and behavioral problems, reports show.
Engaging fathers, Robinson believed, would go a long way in stabilizing families.
Juggling a full-time job at the time at a chemical plant, Robinson began by renting space in a former convenience store near Southern University. There, he gave fatherhood talks, later adding free dinners and recruiting speakers to attract more participants.
Gradually, Robinson added more FOAM programs, classes and events that brought kids and dads together. His list of partners and supporters grew. About three years ago, he developed a relationship with the Zachary WalMart, which continues to donate school supplies and other items. He also began receiving diaper donations from the Junior League of Baton Rouge's Diaper Bank.
In January 2022, Robinson began working closely with the Department of Children and Family Services. The state agency is now partially funding FOAM, which enables Robinson to pay himself and two others part-time salaries. He's been able to move operations into the Family and Youth Service Center on Government Street, and he partners regularly with DCFS on strategies to better engage fathers, particularly when it comes to paying child support.
Robinson quit his job a year ago to focus exclusively on FOAM, taking a significant pay cut in the process, he says. Earlier this spring, he and three volunteers became certified as "responsible fatherhood" facilitators through a training held by the National Partnership for Community Leadership. FOAM now offers the program's 10-week curriculum.
"FOAM is about the family, and the father is a very, very important part of the family that has kind of been lost and forgotten," says volunteer facilitator Jeff Williams, one of FOAM's certified trainers. "You don't have to be married for 50 years if that's not your choice, but fathers need to be involved and engaged in their children's lives."
Robinson hopes to make the program's classes a requirement for fathers who have been in the court system for abuse and neglect.
"I see stories about fathers abusing on TV and I think, 'They need to be here,'" Robinson says. "We can help them." fathersonamission.com 

DIGIT
Father Figures
---
54
Percentage of total births in the state that were to single mothers in 2022, according to the Louisiana Department of Health's vital records
---
467,000
Children living in single-parent families in Louisiana, according to the most recent data in the Annie E. Casey Foundation's annual KIDS COUNT data book of child welfare statistics
---
45
Louisiana's percentage of kids in single-parent families. Louisiana is tied with New Mexico as the state with the third highest rate in the U.S., falling behind only Mississippi and Washington, D.C.
---
31
Percentage of single-parent families in the country that fall below the poverty line
---
This article was originally published in the June 2023 issue of 225 magazine.