---
Jonas Fontenot takes the reigns as Mary Bird Perkins Cancer Center's CEO this month

When Jonas Fontenot was hired by Mary Bird Perkins Cancer Center in 2008, he didn't envision a career trajectory that would one day land him in the health care institution's top spot. 
But Fontenot, a Ph.D. medical radiation physicist recruited from the University of Texas Graduate School of Biomedical Sciences/MD Anderson Cancer Center in Houston, quickly ascended through Mary Bird's ranks. He amassed research dollars, developed new technologies used in radiation therapy and helped to expand the community cancer center's status as a hub for both research and treatment. 
A native of Crowley, Louisiana, Fontenot became chief of physics at Mary Bird Perkins in 2015, leading the cancer center's well-regarded Medical Physics Program. Two years later, he was also tapped to simultaneously serve as chief operating officer. Just for kicks in 2020, Fontenot earned an MBA from LSU. 
This month, Fontenot takes over as Mary Bird Perkins Cancer Center's CEO, the final step in a multi-year succession plan that identified him as outgoing CEO Todd Stevens' heir apparent.
"I'm really excited about the future of the organization and where we're headed," Fontenot says. 
Under Stevens, Mary Bird Perkins Cancer Center saw significant growth and big changes, notably the dissolution of a relationship with Our Lady of Lake Regional Medical Center and the establishment of a partnership with OneOncology, a national collaborative among other community cancer centers. Continuing to expand Mary Bird's geographic and programmatic reach is a big priority for Fontenot. It's a timely objective as cancer rates rise among aging Baby Boomers (and also younger generations worldwide), and the disease disproportionately impacts minority communities in Louisiana, Fontenot says. 
"What I'm really looking forward to is expansion," Fontenot says, "and having the resources, tools, people, technology, experience and expertise that we've developed over the last 52 years to be in a position to touch more patients and caregivers, and more communities."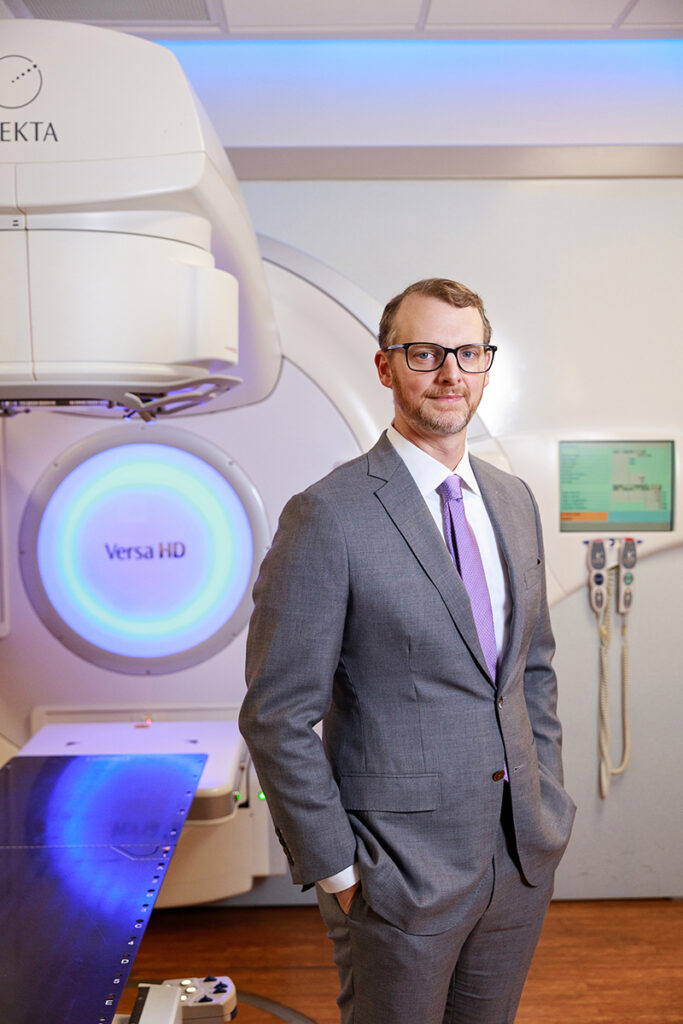 As chief of physics, Fontenot helped sharpen Mary Bird's Medical Physics Program, which collaborates with LSU to train medical physicists, or specialists who develop new technologies and methods to ensure radiation is delivered as precisely as possible, maximizing impact on tumors while minimizing damage to healthy tissues. Fontenot attracted more than $4 million in research funding and has authored more than 50 peer-reviewed research papers.  
Fontenot says one of Mary Bird's strengths is its ability to combine a thirst for research, like the kind found in academic cancer centers, with the culture of a community center dedicated to helping regional residents best undergo the cancer journey. 
"I've had the opportunity to travel quite a bit over the years to visit other programs," Fontenot says, "and there's nothing out there that's quite like this organization."
Similarly, he comes into the new role with the ability to fuse a science background with business acumen, giving him a valuable skill set as he leads Louisiana's largest organization focused solely on cancer care. 
"If you come from science," he says, "you're not afraid to fail." marybird.org
---
This article was originally published in the January 2023 issue of 225 magazine.