---
"[It's] this idea of water as a cleansing mechanism but also such a destructive force. I was already considering the landscape of Louisiana and the depletion of the coastal area, so that just clicked. It's a direct metaphor for this idea of complacency and also trading the promise of safety for some more tangible rights … I just find that as a governing state, we're pretty receptive to people who have a negative environmental impact. Build a canal. Bring 'em in, you know. The money is there. Environmental impact is kind of seen as an afterthought.
"A lot of the figures in my work are a bit complacent. Like she's floating, and I've actually swam in that bayou before. But the tank is just so clearly rusted out with old crude oil. And it was just abandoned there … and there are a lot of those.
"There are just no checks. And that's the thing—it's so commonplace."
---
About the artist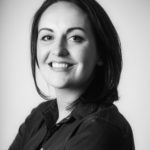 Danielle Burns is a Louisiana artist who works primarily with print and digital print media. Her interest in protecting the local landscape inspired this piece, which depicts Hermitage Bayou near Port Sulphur.
Burns' work has been exhibited nationally and at venues in Ireland, Japan and Canada. Some of her pieces are featured in permanent collections at the Savannah College of Art and Design, California State University, Concordia University in Montreal and Old Dominion University in Norfolk, Virginia. Since 2015, Burns has served as an instructor of printmaking and graphic design at Baton Rouge Community College. She is a member of Baton Rouge Gallery and is preparing for an exhibit there in September.
---
Editor's note: Quotes have been edited for clarity and brevity.
This article was originally published in the June 2019 issue of 225 Magazine.