---
THE RECURRING STORIES
BEST OF 225
2006-now
It's probably the issue you know us best for: our yearly reader-chosen awards, crowning the best restaurants, bars, shops, events, people and more. The point of the awards has always been to engage readers, who determine the results from start to finish. They decide who appears on the ballot through nominations. Then they vote on those nominees to determine the final awards—shining the light on local businesses. Our team changes the categories each year in an effort to improve the process and better reflect the landscape in Baton Rouge. Over the last 15 years, the results have sometimes made us laugh and cry, but mostly they've made us beam with pride at all the talent in our region—and how passionately our readers speak up about that talent. The changing winners each year are also a reminder of the ever-growing competition and innovation in Baton Rouge.
---
DIGIT – 68: Number of awards readers voted on in 2020. That's17 more awards than the first edition in 2006.
---
ALL THINGS LSU
2006-now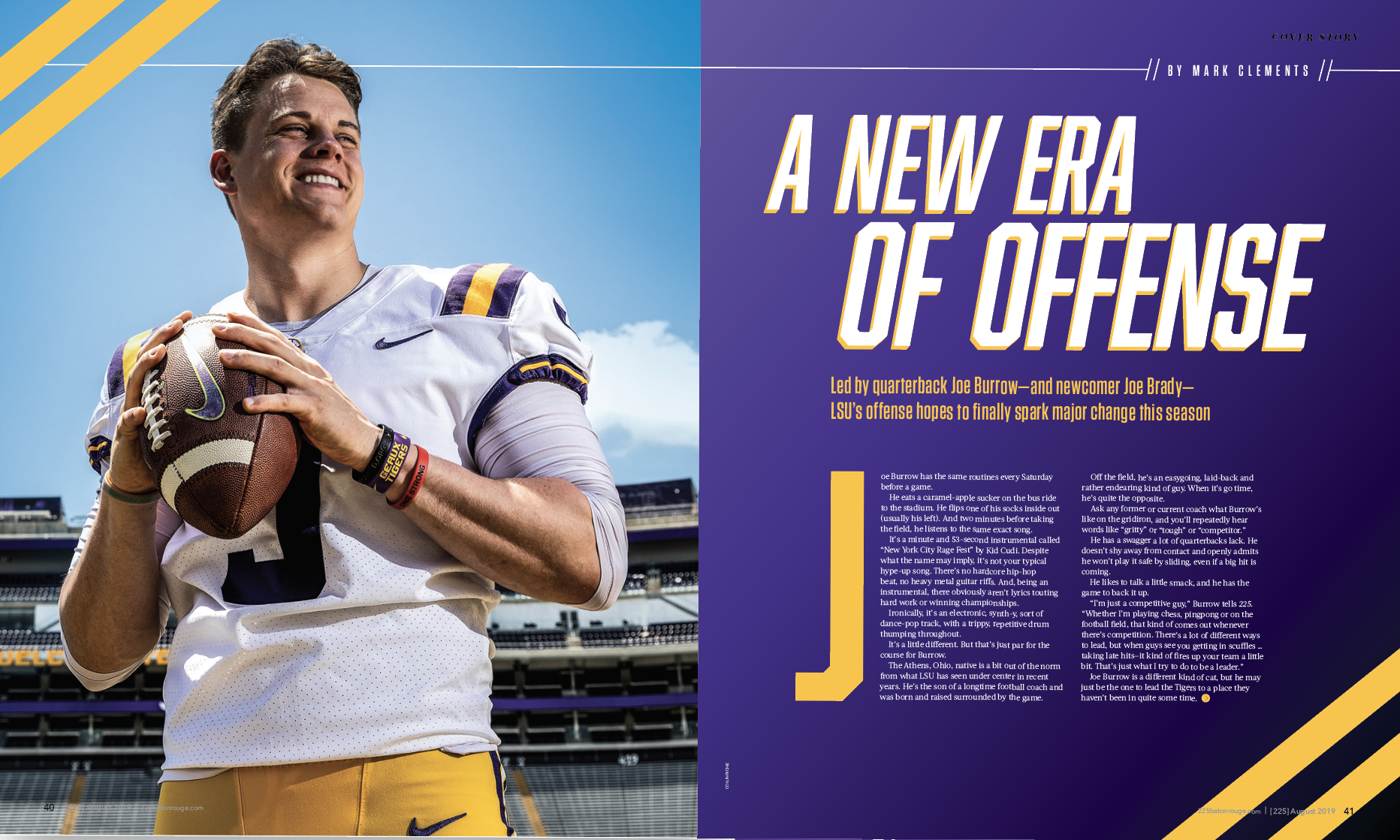 We've published an LSU sports-themed cover story almost every year since our launch, and the first version of our annual Tiger Pride edition appeared in 2011. It's a little funny trying to cover fall football in a print publication. We often start working on our stories five months in advance of when LSU takes the field for its first game of the season. That's part of why our approach has always leaned more toward the human side of the sport and less toward analysis. For our 2008 cover on LSU football's then-head coach Les Miles, we spent an afternoon with him and his family at home. Another 2008 story about LSU's former baseball coach and athletic director Skip Bertman aimed to find out who he was "outside the Box." And in 2019, we found out Heisman winner Joe Burrow's pregame routine included a caramel-apple sucker and flipping one of his socks inside out.
---
QUOTE: "I think there's a lot of things that are more important in the development of your home and your children's lives than whether or not it's exactly spick and span and whether the food is square on the table." — Les Miles, in an August 2008 profile
---
PEOPLE TO WATCH
2006-now
Who is redefining Baton Rouge? It's the question we ask every year as we determine who to feature in our "People to Watch" edition, released each January. Alumni include political figures like Steve Carter, Gary Chambers and Garret Graves; athletes like Glen Davis, Aaron Nola and Kennedi Edney; and yep, local celebs like Jay Ducote, Andi Eaton, Kenneth Brown and Brooks Nader. An important distinction: We select candidates based on who we think will make waves and grab headlines—locally or nationally—but we leave it up to readers to decide whether that impact will be positive or negative.
---
DIGIT – 180: Number of monthly issues of 225 that have hit print newsstands since 2005. If you count our Extra publications and special editions like Tiger Pride, the total jumps to 213.
---
'EXTRA' ISSUES
2008-2019
Because 12 issues per year just didn't seem like enough, we produced special standalone publications including The Playlist; Health, Wellness & Beauty; Menu Guide; Eats & Entertaining and Spaces & Places.
---
THE STORIES THAT WENT VIRAL
'FEMA'S DIRTY LITTLE SECRET'
February 2006
To this day, people ask us about Chuck Hustmyre's investigation of FEMA's Renaissance Village trailer park in Baker. 225 set out to uncover what life was like for its 1,600 displaced New Orleanians. But officials barred our access. Instead, Hustmyre found other ways to connect with residents, who confirmed rumors of the crime and poor living conditions. It resulted in the arrest of three convicted sex offenders who lived there. "Your article is what stirred it up," East Baton Rouge Parish Sheriff 's Office spokesman Fred Raiford told 225 afterward.
---
QUOTE: "If we can have drug dealers coming in here, why can't we talk to a reporter? I don't need no chaperone to have a conversation with you. I'm 42 years old." — FEMA trailer park resident Michael Whins
---
'CAYENNE REPORT'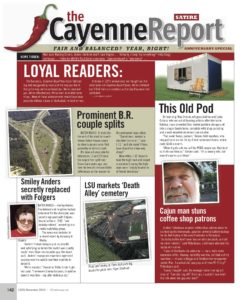 2006-2012
It. Is. Satire. That was the chant 225 repeated through the years, in an attempt to remind angry readers they shouldn't take our "Cayenne Report" so seriously. The tabloid-style column included stories like: reality shows that should be made about Baton Rouge; LSU's plans to add "Death Alley" cemetery next to Tiger Stadium; and a Louisiana Crawfish Boil-flavored Kleinpeter ice cream. It was fake news before there was fake news. "'Cayenne Report' has been fabricating and exaggerating news just the way you like it," wrote editor Tom Guarisco in 2010. "Along the way, we've confused you. We've deceived you. We've offended you. We've even alienated some of you."
---
QUOTE: "Organizers of the St. Patrick's Day parade have announced the cancellation of the event. 'We'll just stay home and drink this year,' said chairperson Bobby Flanigan. "All that walking and throwing beads—I think we've really gotten away from our core values.'" — A 2006 'Cayenne Report' (although it hits a little too close to home in 2020)
---
A '225' CD
July 2010
In collaboration with the Arts Council and the Baton Rouge Convention and Visitors Bureau, 225 released Red Stick Sounds. It had 13 songs from the likes of Henry Gray, Chris Thomas King and other local bands and songwriters.
---
'225 THINGS TO DO'
2008, 2018, 2020
If we wanted to roast ourselves, we'd tell you that through 2017, the most-read story on our website every year was an article published in 2008. Yes, people were flocking to '225 things to do,' a decade-old story that had some great suggestions for discovering hidden gems. But as it aged, it also became full of defunct attractions and now-closed restaurants. To celebrate its 10-year anniversary, we revamped it as a 2018 cover story. When the 2020 shutdown arrived, much of the list again became irrelevant. We introduced '225 things to do in a pandemic' this fall on 225batonrouge.com. And because our lives have gone virtual, that edition is—you guessed it—digital-only.
---
'FIRST LOOKS'
2015-now
With 225 Dine's coverage ramping up, we began our "First Look" tours inside new restaurants and bars. We have a few rules about what's worth a "First Look." We must be able to publish the story before or by opening date. And there must be a story our writers can really dig into as they introduce the restaurant to readers. Fun fact: The vast majority of photos for our "First Looks" are taken by interns. We're convinced our youngest photographers are some of the best and brightest.
---
DIGIT – 71: Estimated number of "First Look" restaurant tours we've published
---
LSU VIDEOS
2016-now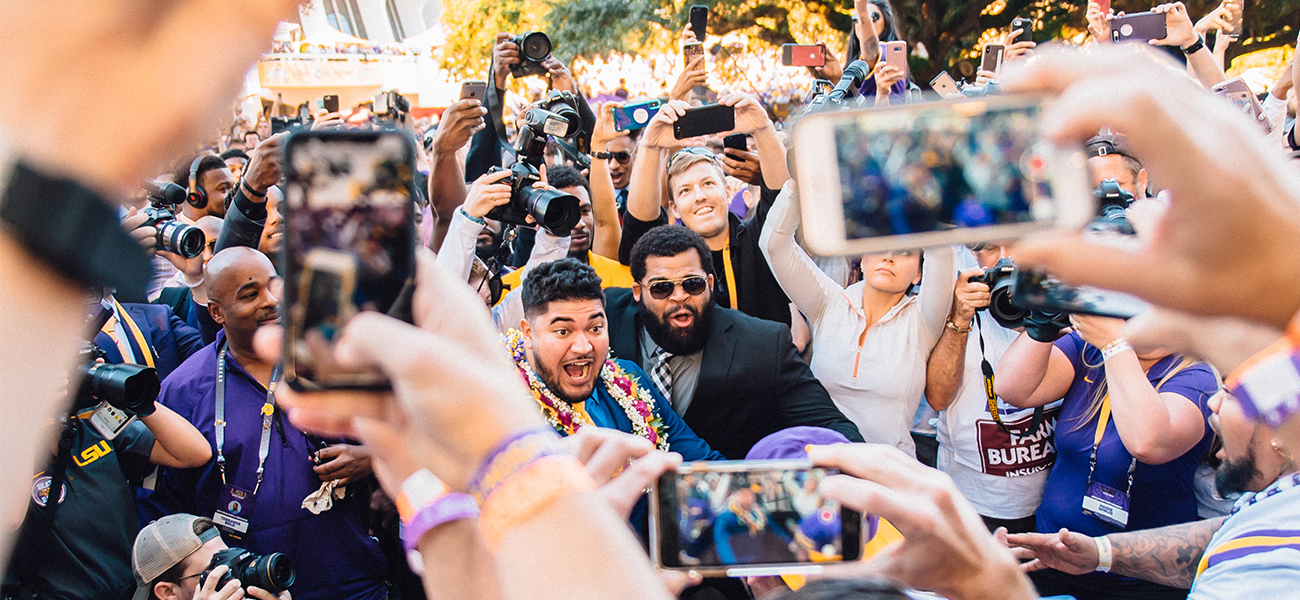 This is the part where we give a shout-out to Mark Clements, our digital content editor. He's also the host of our Tiger Pride Podcast, and during non-pandemic times is at every LSU game on behalf of 225. There's one video in particular that will forever be part of 225 lore: footage of Breiden Fehoko and his father, Vili Fehoko, sharing the haka ritual during the Tiger Walk down Victory Hill. The video attracted more than a million views, and was reposted by national media outlets.
---
DIGIT – 51,000: The number of shares our Oct. 13, 2018, Breiden Fehoko haka video garnered on Facebook
---
THE STORIES THAT LOOKED DEEPER
Two things have always been at the heart of our coverage: people and community. When you read our profile stories, we hope you feel like you're getting to know a friend. When you read our narratives, we hope you feel like you're there with us. In journalism school, we learn to take notes on the details—the name of someone's dog, what kind of car they drive. It's how we bring people and places to life, whether we're talking about a politician or a parade. And at the end of the day, it's how we give Baton Rouge—and its people—a voice. Here's a small sampling of some of those features through the years.
ON PEOPLE
May 2016
"What I found out is that there's so much shame connected to a drug overdose, and people were not talking about it."
—Gwen Knox, a mother whose raw obituary for her son Brian went viral after he died of a heroin overdose
August 2015
"Sometimes people don't want anything from you. They just want you to hear them out. They just want to know that you care about them."
—Sister Dulce Maria, who is visited at Cypress Springs Mercedarian Prayer Center every week by those who hope her hands will heal them
September 2013
"He's a great example that you don't become a different person once you're diagnosed with cancer. Ryan's still an open book, and he's not slowing down."
—The Wellness Studio founder Dr. Mary Kathryn Rodrigue on Project Runway All Stars winner Anthony Ryan Auld
February 2007
"Sometimes, I'll be at a funeral and wonder if this many people will come to mine."
—Arthur Reed, a rapper and activist known as "Silky Slim," who was then working on a documentary about violence impacting Black youth
October 2016
"She would celebrate the meal you put in front of her, and she'd say, 'Oh my Lord. How in the world can a 94-year-old woman be so blessed?'"
—David Day on Eulalia Bonneville, a woman who lost everything in the August 2016 flood. Day and his wife, Sue, welcomed Bonneville—and her four cats—to say at their home in the storm's aftermath.
September 2009
"There are millions of people as talented as me, but … if you love what you do, then you're going to be good at it."
—Rigsby Frederick, hair stylist, sculptor and owner of Rigsby Frederick Salon Gallery Spa
October 2019
"I'm no Elvis at all. I'm Laine, doing my own thing."
—American Idol winner and Livingston Parish native Laine Hardy
October 2007
"Your kids only grow up once, and I want to make sure they look back on this time and realize they were the most important thing to me."
—Bobby Jindal, then-candidate for governor
March 2017
"I'm surprised, actually, about just how much I enjoy it. I've enjoyed meeting people who tell me about something we have done that has really helped them."
—Gov. John Bel Edwards, on how he was taking to his elected post
---
ON THE COMMUNITY
October 2017
"There's a romantic story being told by television that is a completely different reality from what's really going on in the [restaurant] industry."
—Charlie Ruffolo, LCI's director of public affairs and a BRQ partner, on the increasing challenges of running a restaurant
October 2011
"Local animal lovers were no longer content to accept high euthanasia rates, poor shelter conditions or old excuses blaming the problems on too many unwanted animals, too few homes and too few dollars in municipal budgets."
—From a 225 story profiling 10 advocates for Baton Rouge pets and animals
September, October and November 2016
"A warm welcome at the door. A couple with their hands interlocked. A mother scolding her child for not paying attention during service. Though the religions observed and celebrated in our city range wider than many of us may expect, the common threads of reverence, humanity and love link them all."
—From a 225 three-part series highlighting the diversity of Baton Rouge's houses of worship
February 2020
"If you judge someone by their worst mistake, you're not going to like anyone. So in prison, you learn to judge people by how they treat you."
—Louisiana Parole Project Executive Director Andrew Hundley. After 19 years in prison for murder, Hundley was the first juvenile lifer paroled in the state.
April 2010
"Once we started teaching them how to walk, the spirit of the whole camp changed. It went from suffering and darkness to light and hope. It was a transformation like I've never seen. That was the most fulfilling day of my career."
—Physical therapist Jason Greene, one of several local medical professionals who traveled to Haiti to help those devastated by the January 2010 earthquake
February 2006
"It was hijacked by people who don't even live in the neighborhood—aging alcoholics from the suburbs who think they're being edgy and perverted, when in fact they are the squares, and they're just trying to outrage the sense of middle class decency that they live out in their everyday lives … It's an establishment thing now, not edgy at all."
—Michael Beck, the first grand marshal of the Spanish Town parade, on the history of the parade—and how it had changed since its inception
March 2007
"I think there was another serial killer in south Baton Rouge that's gone, that got away."
—Retired Baton Rouge Police Capt. Ben Odom, who suspected possibly two unaccounted serial killers operating in north and south Baton Rouge in the late '90s and early 2000s
---
This article was originally published in the November 2020 issue of 225 Magazine.
Click here to read through the full 15-year anniversary issue.