Come January, droves of us will clean up our fridges and diets in the name of New Year's resolutions. But with each new year comes new reasons to overhaul our eating habits. We're talking food trends. We chatted with three local chefs and surveyed national predictions to compile a list of the food trends to watch for in Baton Rouge. Here are eight reasons to look forward to 2018.
---
Signed, sealed, delivered
Forbes nods to food delivery services on its list of 10 food trends that will shape 2018. Local celebrity chef Jay Ducote says services like Waitr will be even more popular in 2018. "Meal kits, like those available through IndiePlate, will also remain a viable solution to grocery delivery, though we'll also see a shift of big grocery-to-home delivery," he says. "The convenience economy is at an all-time high."
---
Tongue makes the cut
The National Restaurant Association polled 700 chefs to inform its 2018 food trend forecast. New cuts of meat topped the list. Chef Jourdan Fulbright of Cocha agrees. "Especially with the great butchers we have in Baton Rouge, I think new and interesting cuts of meat will start to happen," she says. "I can't wait to put tongue on Cocha's menu."
---
Multicultural goes mainstream
Fulbright says global flavors will shape the food world in 2018. "From what I've been reading and seeing, it seems like multicultural cuisine is going to ramp up even more, especially from places we haven't seen a lot of yet, like different African countries. It would be amazing to see a Korean barbecue joint in Baton Rouge," she says.
---
The butcher, the baker
Chef Kelley McCann of Kalurah Street Grill believes 2018 will mark a return to artisanal food. "Whether it be desserts, bread or meat, we're going back to that know-your-butcher lifestyle that we kind of got away from," he says, citing Iverstine Butcher, Twine Meat Market and Deli, French Truck Coffee and his own Cane & Fig Artisan Bakery, set to open this spring.
---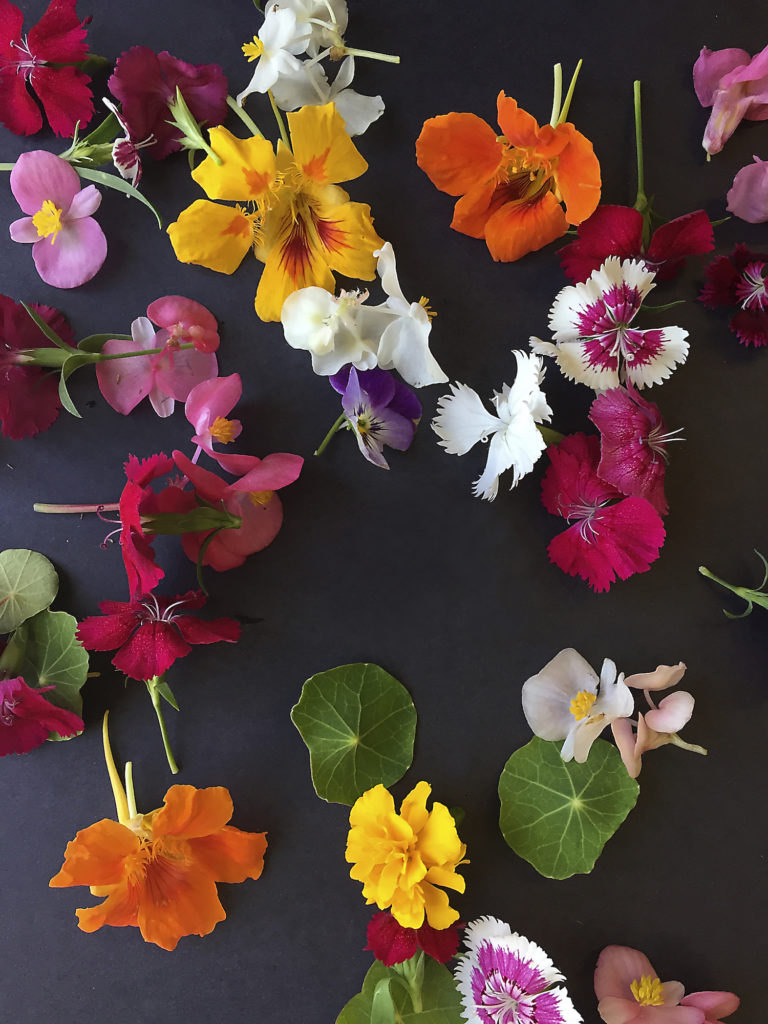 Flower power
Whole Foods says floral flavors will really blossom in 2018. Expect to see more edible flowers as garnishes as well as botanical flavors infused in food and drinks. We've seen some of this trend in the form of syrups derived from rose and thyme on City Pork's cocktail menu, Fullness Organic's edible flowers for sale at the farmers markets or lavender-infused olive oil from Red Stick Spice Co.
---
Sharing spaces
Like Forbes, Ducote expects setups like the food hall to be everywhere in 2018. White Star Market, the Government Street food hall where Ducote's own Gov't Taco will be housed, will open early in the year. "Not only that, but other concepts from pop-ups to shared kitchens to collaborations between chefs—such as Barbosa's Barbecue teaming up with The Overpass Merchant—will continue to bring variety and excitement to our food scene," he says. Food & Wine agrees.
---
Zoodles > pasta salad
The National Restaurant Association predicts we'll be trading carb-loaded sides for veggie substitutes in 2018. Zucchini noodles, sweet potato noodles and butternut squash noodles are already showing up in packages at grocery stores like Whole Foods. Fulbright adds that we can look forward to "more interesting vegetable replacements" next year.
---
Street eats
Street food-inspired dishes rank third on The National Restaurant Association's list of food trend predictions. Ethnic restaurants around town have served street food (think pad thai and gyros) for decades, but we can look forward to street food-centric eateries like Chow Yum Phat and Gov't Taco opening in 2018 in White Star Market.