About 225's food critic: Benjamin Leger previously served as managing editor for 225 and was the editor of its Taste section from 2012 to 2021, editing, writing and steering the direction of its food coverage in print and online. He is passionate about all things food and food journalism, and has written about the greater Baton Rouge area's cuisine and culture for nearly two decades.

THE BASICS: The Mississippi favorite opened a Baton Rouge location in June 2022 in the space that formerly housed The Oasis. The owners brought in new smokers and their own competition-trained pit master to recreate their popular pecan-smoked meat. The sprawling location includes indoor seating and a massive garage-style patio with a bar and a stage overlooking sand volleyball courts.
WHAT'S A MUST: The Debris Eggrolls are a satisfying and crunchy starter. The 16-hour brisket and baby back ribs are highlights, and you can't go wrong with the hush puppies and peppery potato salad from the sides menu.

If you've visited The Shed in Ocean Springs, Mississippi, you probably have memories of the ramshackle shacks that form this famed barbecue joint, decorated with all manner of trinkets, taxidermy, dad joke signs and license plates.
You might not think of a sleek, modern metal building with giant garage doors that open up to an expanse of sand volleyball courts.
But that's what diners will find at The Shed's Baton Rouge outpost, which was recently voted Best New Restaurant in the 2023 Best of 225 Awards. Housed in the former site of The Oasis just south of LSU, the team behind The Shed worked overtime to imbue the space with some of their hodgepodge antiques and memorabilia while also keeping the existing college-friendly vibe.
Having stopped off at the Mississippi location once or twice on the way home from the beach, I was excited to see what was in store for the Baton Rouge version.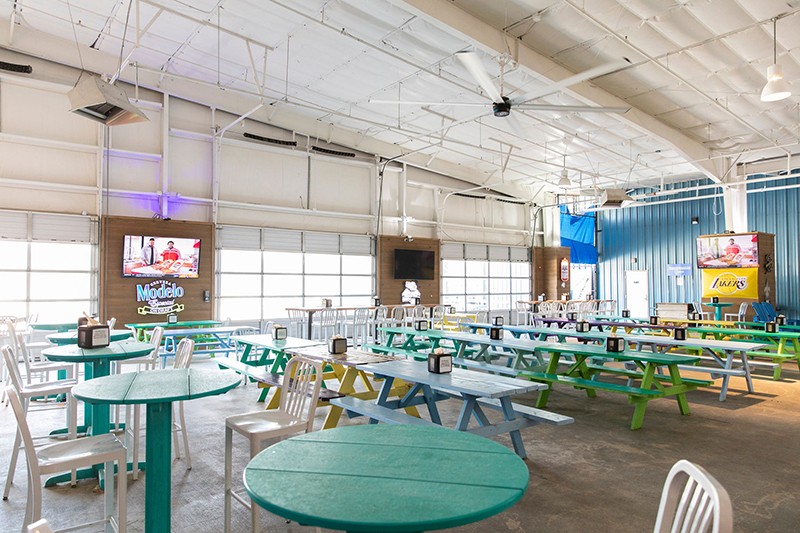 With a stage for live music on the massive covered patio, and full bars inside and out, I can imagine it gets pretty lively on weekends. But when we went one hot Wednesday evening this summer, the restaurant itself was relatively quiet despite busy volleyball courts.
There's quick counter service as well as plenty of seating in the air-conditioned interior. After placing our orders, we opted to sit on the covered patio. Industrial ceiling fans kept us cool while also requiring us to weigh down anything lightweight at our picnic table.
Heaping plates of barbecue were on the way, but one of The Shed's specials seemed too enticing: Debris Eggrolls.
The eggrolls arrived hot and perfectly crunchy on the outside with plenty of sweet, shredded pork filling on the inside. I might have liked a sweet or spicy sauce on the side, though they were still tasty.
For our barbecue entrees, we ordered a Combo Plate of baby back ribs and 16-hour brisket as well as a Barbecue Sandwich Plate with pulled pork. The meat is obviously meant to be the star of the show at any barbecue restaurant, so let's get into that first.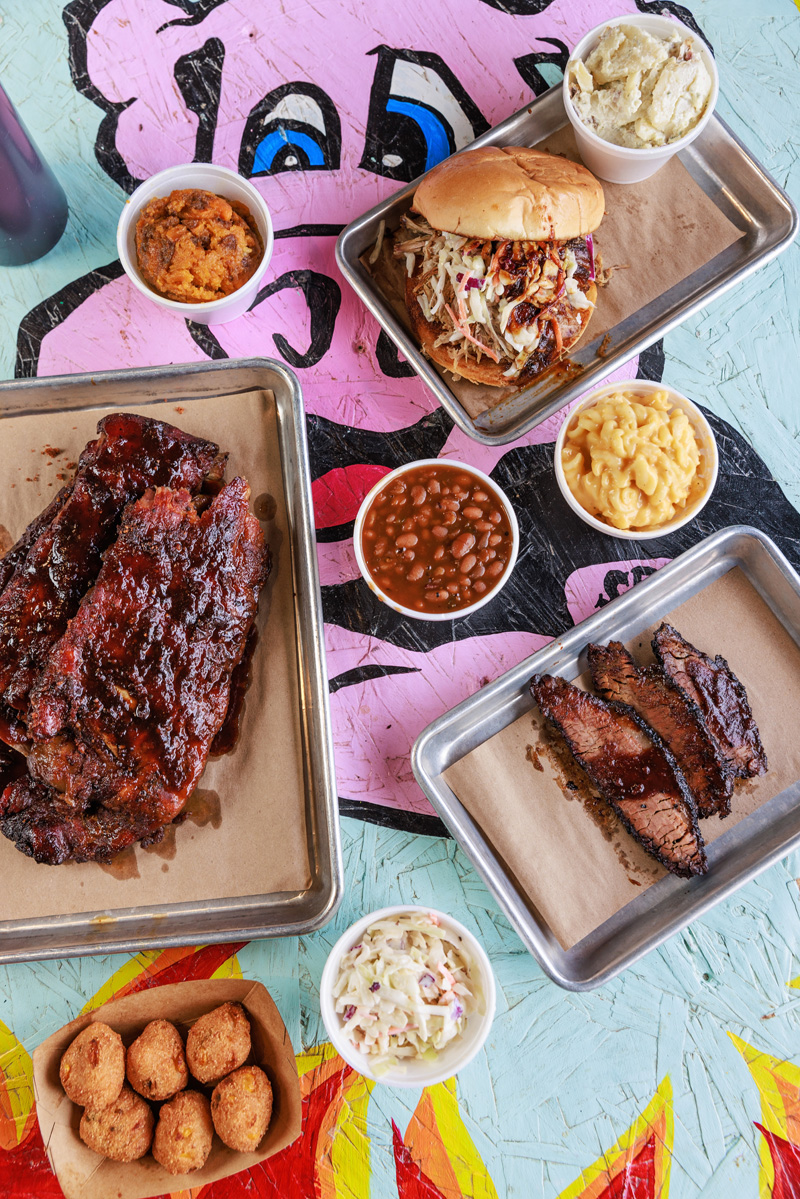 The rib meat was plentiful and tender. It came off the bone easily when I bit into it, though it was not fall-off-the-bone. I've heard this is how pitmasters prefer their ribs. Fall-off-the-bone meat is in fact a tell-tale sign that ribs have been pre-cooked before going into the pit—a no-no for barbecue traditionalists.
The brisket had a visible smoke-charred exterior and pulled apart easily between the hands, which is usually a sign of being too tender. But I didn't mind—I thought the flavor was great and it wasn't mushy or too fatty.
---
The pulled pork sandwich came on a toasted, buttery bun, and the meat was slathered with barbecue sauce and a small heap of coleslaw. The pork was flavorful, but I'm not sure I could say it stands out against similar dishes in Baton Rouge.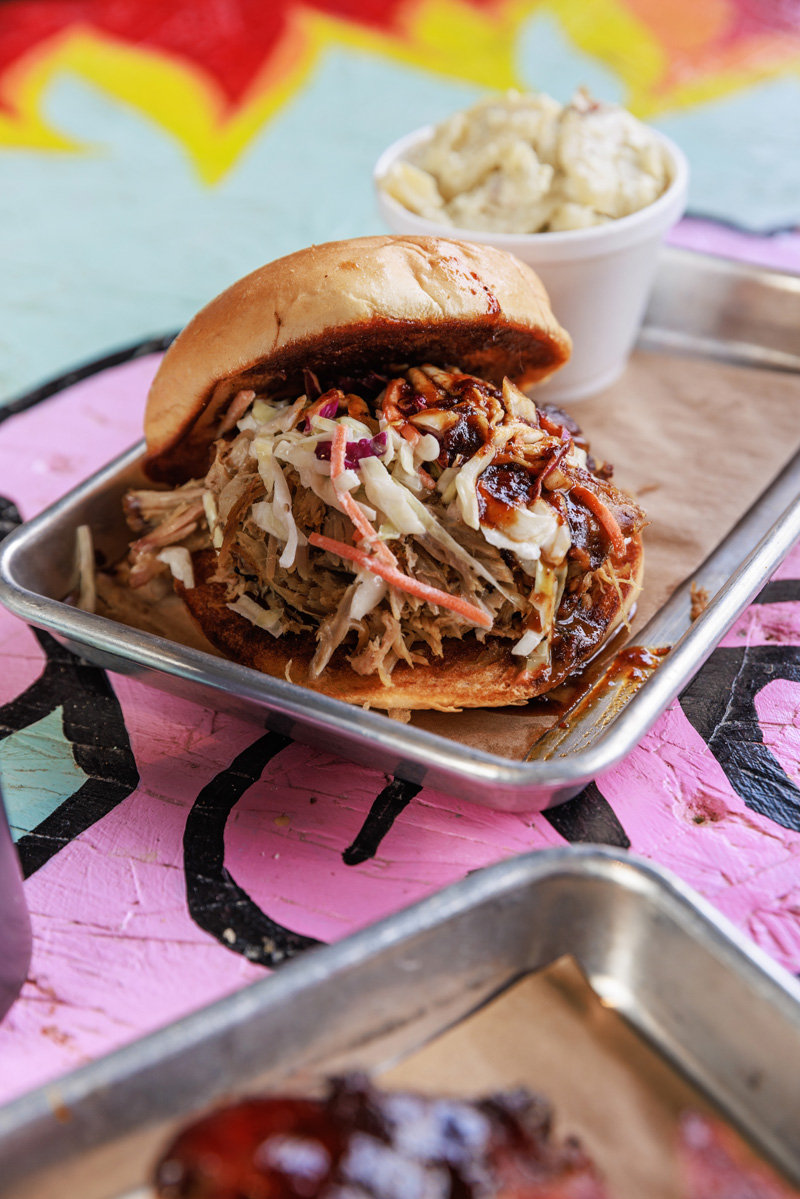 In general, though, the barbecue was clearly prepared with care and flavored with rubs The Shed brand has become so known for that it sells and ships them nationwide.
The plates came with two sides each, so we opted for potato salad, macaroni and cheese, Daddy-O's Cole Slaw and hush puppies.
I will confess that sides are usually my biggest draw to a barbecue spot. And hush puppies, while a mainstay on Louisiana seafood restaurant menus, are not something I've seen other local barbecue joints do. But maybe they should? These were crisp and satisfying, with visible bits of corn in the filling.
---
As for the rest: The potato salad was a highlight, cold and drenched in a peppery mayo dressing. The mac was actually rotini, but it held all the cheesy goodness well. The coleslaw, though, was run-of-the-mill.
My biggest complaint would be about my other biggest draw to a barbecue restaurant: the sauce.
I want a variety. Give me something vinegary, something spicy, something sweet. The Shed only had one sauce at each table, as far as I could see. It was sweet and molasses-y, but I would have liked more options—perhaps something like the Mississippi Gold and Sweet & Tangy sauces The Shed sells online.
I've yet to determine if I would put The Shed among my top barbecue finds in the city. But I also have similar feelings about the Ocean Springs location. You go as much for the quirky atmosphere as for the food.
I think this is more a spot I'd gravitate to on a cool fall day when I want to hang out with friends, grab a drink and eat some decent barbecue in a fun atmosphere. And sometimes, that's all you need.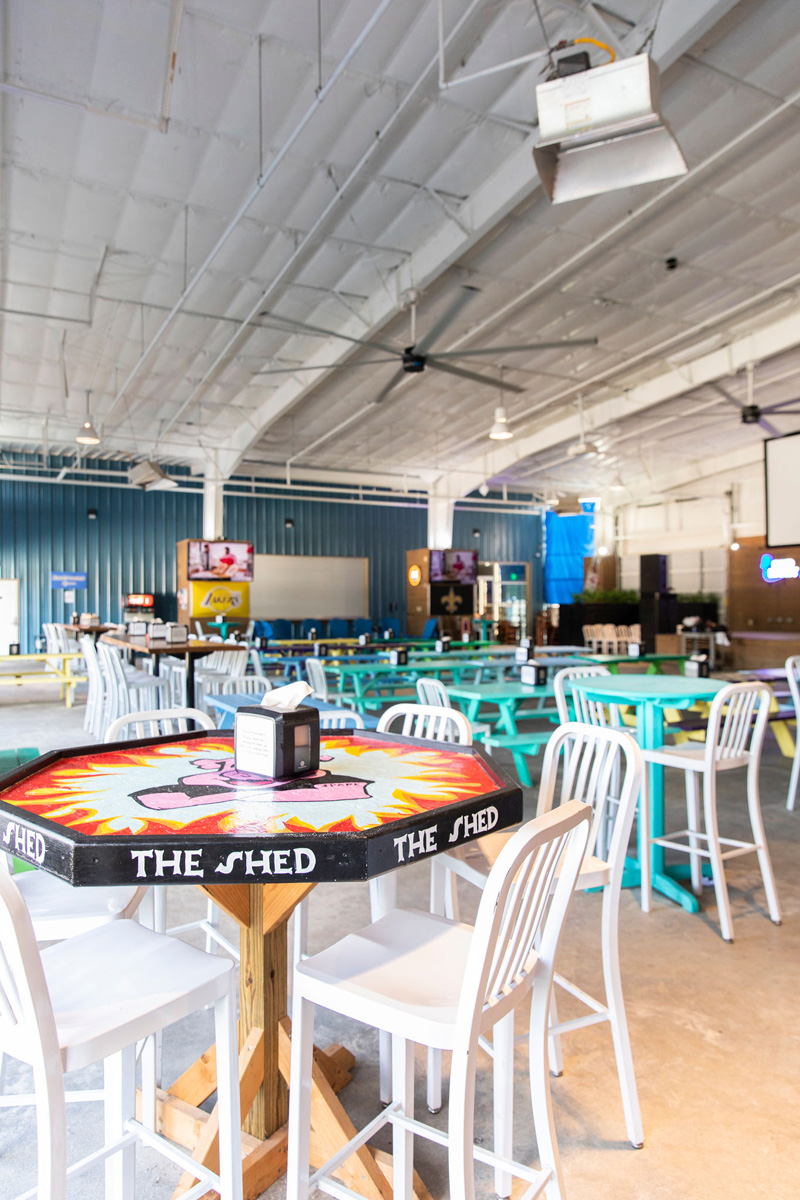 Monday-Thursday, 10:30 a.m.-9 p.m.
Friday-Saturday, 10:30 a.m.-11 p.m.
Sunday, 11 a.m.-7 p.m.
---
This article was originally published in the September 2023 issue of 225 magazine.