---
The modern cocktail movement is defined by fresh ingredients, small-batch mixers and precisely balanced flavors rather than reckless potency. But our interest in well-crafted cocktails is simply a return to the way drinks used to be, says the team at vintage whiskey bar Hayride Scandal.
Their latest project, the Parlour, was unveiled in December. It's a side room that goes back in time even further than the main bar's pre-war setting. Bedecked in Belle Epoque style, it's a lush spot serving drinks with roots in the mid- to late-19th century.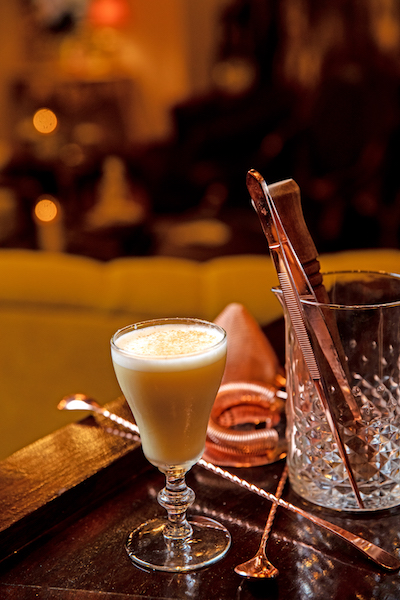 "We're all about finding the historic relevance of cocktails anyway, so this room was a chance to go deeper," says operating partner Lance Paddock.
The Parlour includes a separate bar menu with drinks that sound familiar but aren't explained. There's a martini, but it's only referred to as a "fitty-fitty." There are a couple of sours, a collins, a fizz and a flip. And there's a "whiskey cocktail," parenthetically referenced as The Old Fashioned.
"We didn't include descriptions on purpose," says general manager and bartender Brea Frederick. "That way, it invites conversation."
A basic primer for patrons includes the difference between a flip and a sour—two classics of the American cocktail heyday from around 1850 to 1910. A flip blends a spirit and an entire egg in a shaker. The bartender removes the coil from a Hawthorne strainer and places it in the shaker to better emulsify the egg. It's double shaken, meaning ice is added after an initial shake, then strained and served up like a martini. The Parlour's sours, on the other hand, only add an egg white.
Another key offering is punch, but not the kind you remember from college parties. Classic punch is a mainstay of the Victorian-era, when drinks were often made in batches rather than mixed one by one. The Parlour's punch is a nuanced concoction of whisky, brandy, citrus and bitters ladled into elegant copper cups with a grating of fresh nutmeg. Warm and cozy, it's perfect for sipping amid the gilded decor.
Speaking of which: Paddock worked with designer Sharae Hand to achieve the sexy, overboard look of upper crust, turn-of-the-century America and Europe.
One of Paddock's partners, Remi DeMatteo, found a vintage hotel bar in New Orleans and had it reassembled on site. They deliberately passed on adding taps behind it, instead relying only on old-school mixing and serving. The barware is all copper; the stemware, trim and elegant. Creamy silk draperies define one seating space, while much of the room is set off by wallpaper with romantic, baby-pink flowers on a black background.
The Parlour is open Thursday to Saturday and is also available for private party rentals. In March, Hayride Scandal also began offering a menu of snacks, available Tuesday to Saturday, including chicken pâté deviled eggs, fig and goat cheese toast, spiced nuts and boozy cakes. hayridescandal.com
---
This article was originally published in the May 2019 issue of 225 Magazine.