---
Few sandwiches have surged in popularity across the country in recent years like the banh mi, the punchy Vietnamese po-boy with French Colonial roots. What makes this sandwich so hard to resist is its alluring medley of savory, tangy and fresh flavors. Crusty French bread, brought to Vietnam by 19th century colonists, is the vessel for a mélange of meats, pickled vegetables, fresh cilantro and, if you like, slices of jalapeño.
Around Baton Rouge, a growing number of diners are finding homey comfort in this East-meets-West po-boy. Preparation and starring proteins can vary widely. Here, we take a look at two: the banh mi made by the longstanding Vietnamese eatery, Dang's, and a newcomer to the market, the vegan banh mi now on the menu at MJ's Café.
---
THE TRADITIONAL STYLE
FROM DANG'S VIETNAMESE RESTAURANT
dangsbr.com
Keep it toasty
The flaky French bread comes from Dong Phuong Oriental Bakery in New Orleans. "We toast it lightly, and dress it with our house soy sauce and homemade mayo," says Dang's General Manager Tina Le Truong.
For meat lovers
Order Dang's bánh mì with grilled pork (what we've got here), chicken, crispy duck, lemongrass tofu or the combination featuring barbecued pork shoulder, meatballs and slices of "Vietnamese ham"—a pressed loaf of ground pork and chicken.
Accessorize
The sandwich is dressed with pickled carrots and daikon, and raw cucumber and cilantro. For a spicy version, add slices of jalapeño.
Try it with
Truong says many diners order the banh mi with a steaming bowl of pho, another of Dang's specialties. "It's a great pairing," she says. "Especially when you dip the sandwich in the soup."
---
THE VEGAN ALTERNATIVE
FROM MJ'S CAFÉ
Find MJ's on Facebook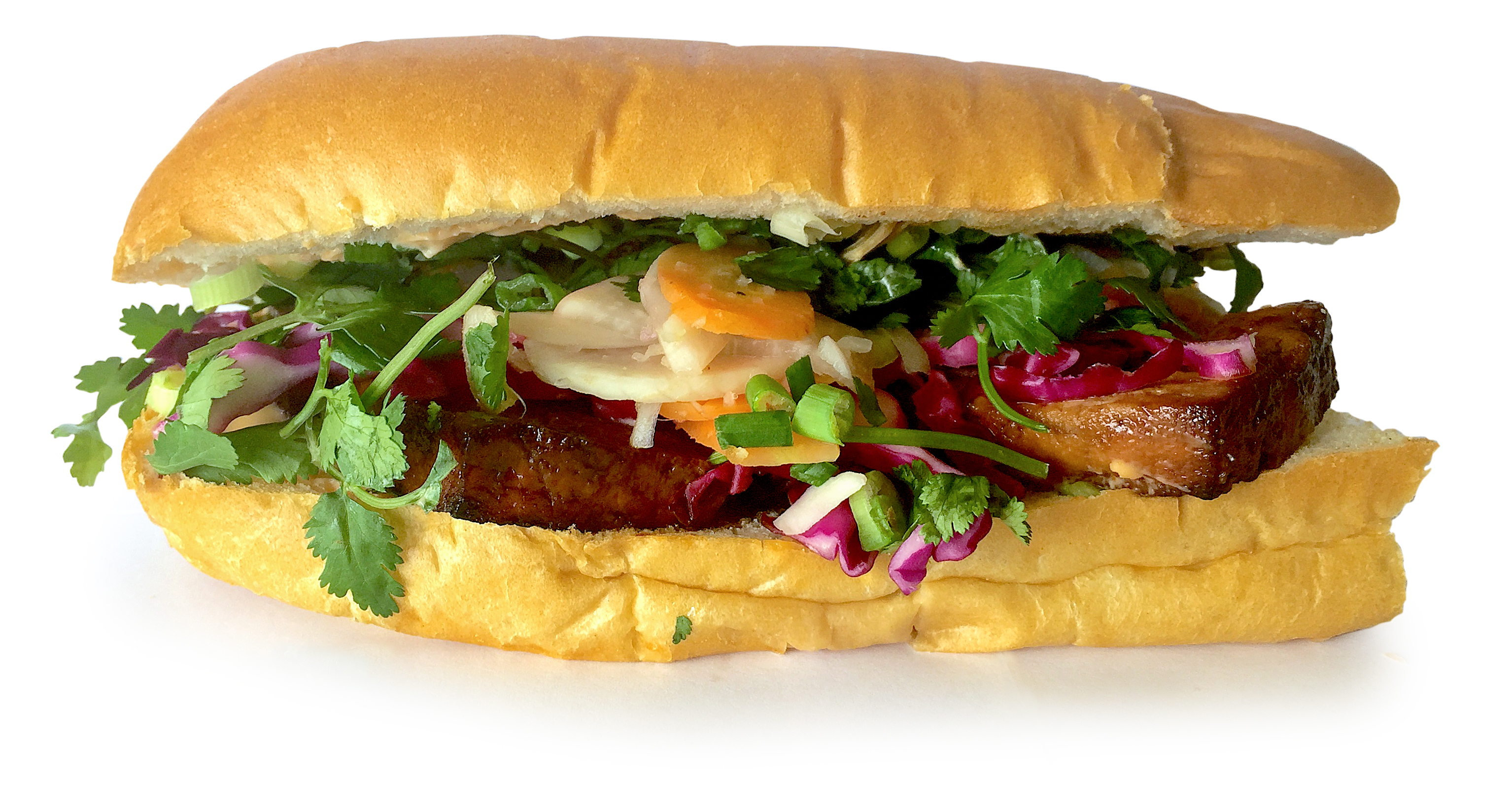 Vegan all the way
MJ's chef-owner Mary-Brennan Faucheaux slathers homemade eggless mayo spiked with Sriracha on po-boy bread for this vegan bánh mì, which became a Friday special in January.
Local veggies
MJ's relies heavily on produce from local farms for its plant-centric menu. Carrots and radishes, sourced from Fullness Organics and Inglewood Farms, are pickled for the banh mi. The sandwich also gets a smattering of red cabbage, green onion, cilantro and pickled jalapeño.
Opt for tofu
Faucheaux marinates slices of tofu in soy sauce, sesame oil, garlic and cayenne for three to four hours, and then bakes them.
Try it with
Diverting from the traditional duo of banh mi and beefy pho, Faucheaux pairs hers with vegan tom kha, a hot and sour Thai soup made with lemongrass, coconut milk, cabbage, galangal, carrots and Kaffir lime leaves.
---
This article was originally published in the March 2018 issue of 225 Magazine.