In most countries, the cuisine and cooking style change from region to region. The same is true in India. Chutneys are a popular condiment in Indian cooking, and depending on the location, they can range from pureed herbs or simmered fruits to ground nuts and yogurt and spices. They can be pureed into a smooth paste or simmered down into a flavorful sauce or condiment. This mango- and peach-based chutney is a delicious complement to many types of grilled or roasted meats. It's also a wonderful condiment to serve on a charcuterie tray along with cheese, cured meats and nuts.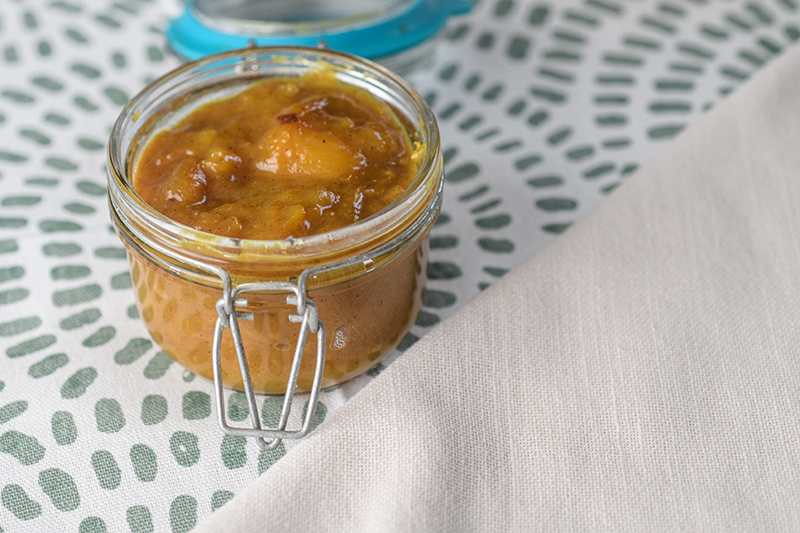 2 tablespoons grapeseed oil (or vegetable oil)
¼ cup chopped sweet onion
2 cloves minced garlic
1 tablespoon fresh minced ginger
¼ teaspoon red pepper flakes
1 teaspoon cumin
½ teaspoon cardamom
½ teaspoon cinnamon
¼ teaspoon ground cloves
1 teaspoon turmeric
¼ teaspoon kosher salt
3 cups fresh or frozen mangos, chopped
3 cups fresh or frozen peaches, chopped
1 cup light brown sugar
½ cup apple cider vinegar
½ cup apple juice
In a heavy saucepan, heat the oil and sauté the onion, garlic, ginger and red pepper flakes together for 2 to 3 minutes or until the onions are soft and translucent.
Add in the spices and continue sautéing for another 20 to 30 seconds. Then, add in the salt, mangos and peaches.
Pour in the sugar, apple cider vinegar and juice. Stir until well combined. Reduce the heat to medium low and cover.
Simmer the chutney for 45 minutes, stirring occasionally to prevent it from sticking.
Turn off the heat and allow the chutney to cool. Transfer the chutney to an airtight container and chill until you are ready to serve. This chutney will last in the fridge for up to 2 weeks.
---
This article was originally published in the August 2023 issue of 225 magazine.