I love infusing herbs and spices into my rice to totally change the flavor profile. This simple basmati rice is infused with spices that can easily be found in the grocery store, giving it the aromas and delicious flavors found in Indian cuisine that complement any grilled or roasted meat, seafood and curries.
Serves 6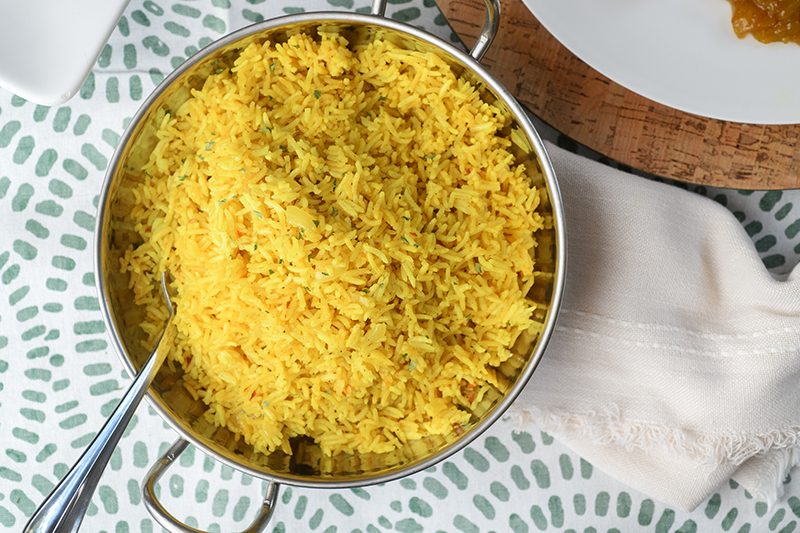 2 tablespoons butter, ghee or vegan coconut oil
½ cup chopped onion
2 cloves minced garlic
1 teaspoon minced ginger
¼ teaspoon crushed red pepper flakes
¼ teaspoon cumin seeds
¼ teaspoon ground cardamom
¼ teaspoon ground turmeric
½ teaspoon kosher salt
1 cup basmati rice
1 ½ cup water
Heat the butter in a large 4-quart saucepot.
Add in the onion and sauté for 3 to 4 minutes or until it becomes translucent.
Add in the minced garlic, ginger and red pepper flakes and sauté for another 20 seconds.
Stir in the remaining spices, salt and basmati rice until the rice is completely coated.
Pour in the water and reduce the heat to low. Cover and simmer the rice for 10 to 15 minutes or until all of the liquid is absorbed. Turn off the heat and keep the lid on the pot to allow the rice to steam for another 5 minutes. Use a fork to fluff the rice and serve.
---
This article was originally published in the August 2023 issue of 225 magazine.