This article has been updated to correct the spelling of Thomas Soltau's name. 225 Magazine regrets this error.
Just outside of Baton Rouge is the Capital Region's newest distillery: Sugarfield Spirits. The quaint family-owned Gonzales distillery opened in early January, boasting bottles of vodka, rum and bourbon and a bar with a craft cocktail menu.
Walking around the facility, visitors can view totes of black molasses, bags of raw sugar, barrels of bourbon and Louisiana artists' artwork. 
Neonatologist and principal owner Thomas Soltau is from South Carolina, but he found something so special about Louisiana: its locally grown fruits. He now sources items like grapefruits, oranges, tangerines, tangelo, mandarins, lemons, lime to make liqueurs. 
Soltau's inspiration began on a trip to Portland, Oregon, in 2012 and a visit to Clear Creek Distillery—a standby for local, fruit-based spirits.
"That's what really got me started: What can I do in Louisiana? What fruits are there that we're known for?" Soltau says. "I would say most people don't know how many citrus fruits grow in Louisiana."
Sugarfield Spirits found its home in Gonzales with the help of the mayor, chief administrator, city engineer, city council and legal council, who Soltau says welcomed the idea of a distillery arriving in the city. 
He is hopeful to begin distributing to bars and grocery and liquor stores around March or April. He's also plotting seasonal items on the menu as fruits and herbs become more available throughout the year. He's working on developing an orange liqueur and dreaming up spirits with peppermint or rosemary.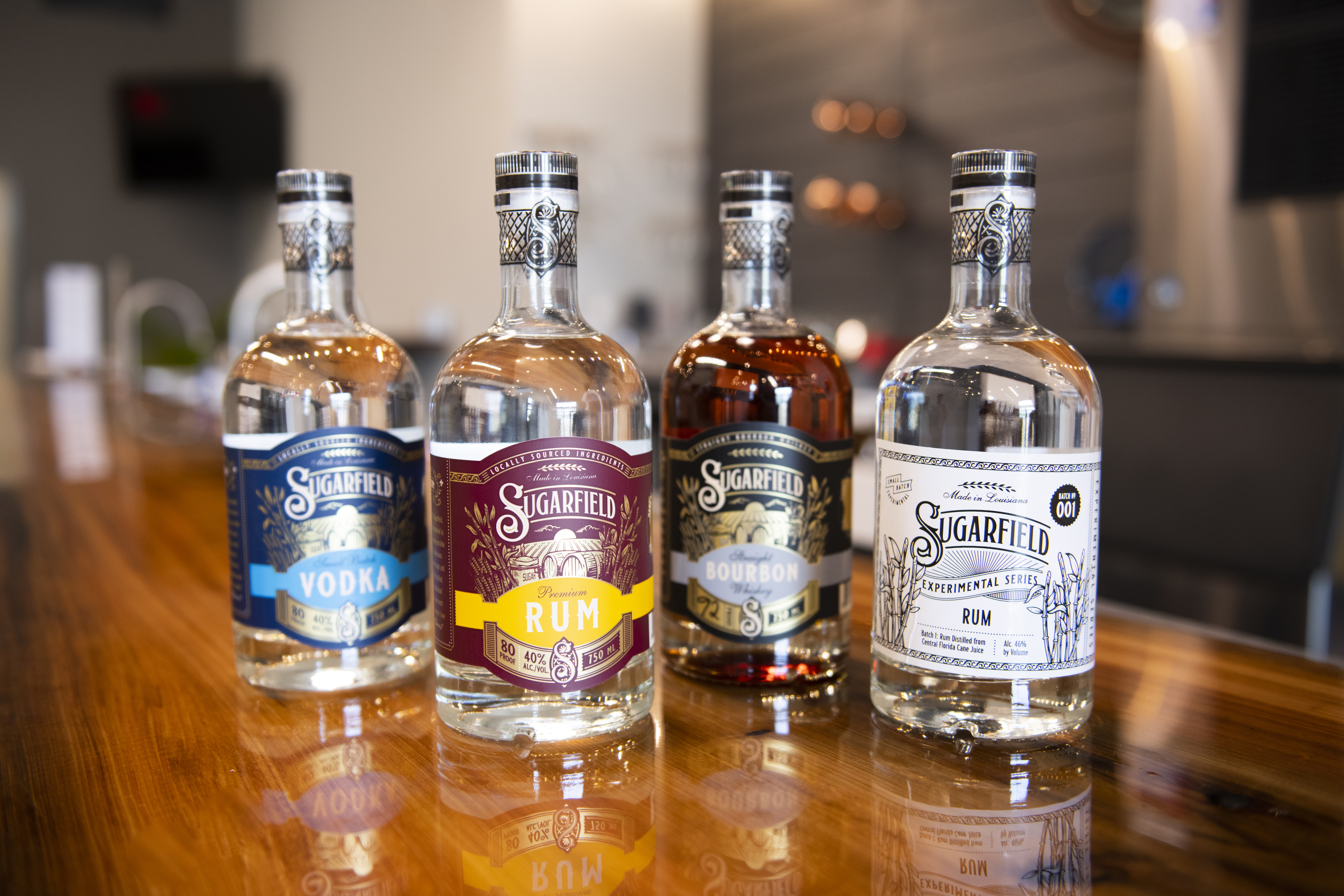 Wherever possible, Sugarfield is keeping it local. It sources raw cane sugar for its vodka and rums from Lula Sugar Refinery in Lafayette. In 2018, Louisiana was second overall—behind Florida—for sugarcane production, producing 15,968 tons. 
"That was part of the whole genesis of this whole idea. I've tasted rum in Colorado; I've tasted rum in Seattle; I've tasted rum from Brooklyn," Soltau says. "They were all made from sugar from Louisiana." 
He is hoping to start producing the company's bourbon in-house in the coming years. Bourbon production can take years, so Sugarfield's 1-year-old and 4-year-old bourbon will be sourced from Virginia in the meantime.
Sugarfield's specialty cocktails are Louisiana-inspired, too, with options like the Fleur de Libre (agricole, oke and lime garnish) and the Gonzales mule (a play on the Moscow mule with vodka and a craft ginger beer from New Orleans). Soltau's personal favorite cocktail on the menu is the Reve-tini—a play on the classic martini—with vodka and coffee liqueur. He is currently working on creating his very own coffee liqueur in collaboration with Rêve Coffee Roasters. For those skipping alcohol, the bar serves mocktails.
Either way, Soltau hopes his drinks speak to what makes living here so unique.
"Cane is a large factor of the Louisiana economy," Soltau says. "Much like people immediately associate Kentucky and bourbon, I want people to associate Louisiana and rum."
Sugarfield Spirits is at 481 West Eastbank St.