Baton Rouge's biggest brewery has its first official CEO, and he's got big plans for Tin Roof Brewing Co. That includes guiding the brewery in its long-term growth—and maybe even transforming its outdoor space into a beer garden with permanent food options.
With five years of experience as a brand manager for Mockler Beverage, Jacob Talley knows the beer business inside and out, from suppliers and distribution to management and marketing. And with the craft beer market becoming increasingly crowded with new breweries and competition, Talley's task is to keep Tin Roof relevant.
225 Dine sat down with Talley to learn about his vision for expanding the brewery's brand strategy and local outreach.
What made you decide at this point in your career that you wanted to take on this challenge?
I spent the last five years at Mockler Beverage, and being involved with [Tin Roof] for that long, I saw they had the bones here that could use direction to get Tin Roof to the next stage. The day and age of craft brewing now is getting to be pretty cutthroat, so it was a great opportunity for me to try to get Tin Roof into this phase. Rather than doing sales and marketing for over 40 brands, to spend my time, energy and focus on one brand—the hometown brand—was very appealing.
Are there any specific ways you plan to work toward that long-term growth?
We need to do a few things: We need to streamline our offerings in the marketplace. If brands aren't working or they aren't cutting it anymore, we need to eliminate that or replace them with something people are actually chasing. We need to eliminate the clutter and go with what works.
That's part of my job: to identify those brands and trends that get people excited. We're going to do that through a lot of activity with the taproom, and build some momentum, so when we push new brands to distribution we know they'll do well and people will be excited for them. We'll continue that cycle: seeding things here, and watching them turn into retail sales.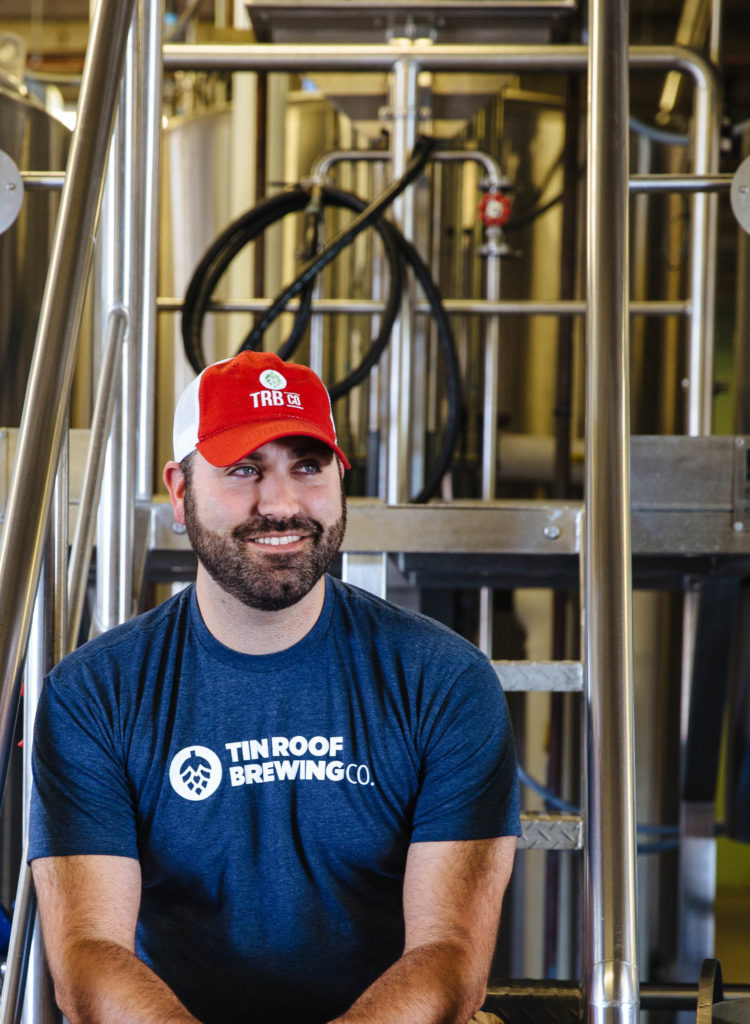 Are there any new brands or varieties of beer that Tin Roof is planning to launch soon?
We'll do a couple brand new things right off the bat. What we're looking at doing at the end of this year or very early next year: We've had the same seasonals for four or five years now. They work, but you see it decline every year a little bit because of new breweries coming in. We've got to change with the times too, so we want to revamp that a little bit and maybe pick three brands instead of four or five.
What do you think sets Tin Roof apart from other breweries?
Tin Roof has been around for seven years now, so we've gone through a lot of the growing pains that these other breweries are just now going through. … We have a lot of trusted and established relationships with wholesalers and retailers; we're not having to go out there and fight for all that space. We just have to make sure that the brands we put in that space are going to work.
Tin Roof regularly hosts events like Yoga on Tap and Trivia Thursdays. Is there anything you plan to do to expand on that front?
With me being a father of two and a husband, I feel like a lot of those consumers and beer drinkers are my age. To have a family-friendly event at a brewery—nobody's really doing it. We're looking at doing a "Family First Friday" event on the first Friday of every month.
Is there anything you're most excited about?
Me being on the supplier side, I get to be a little bit more creative and try to coax the brewing team into exploring some things they may not have explored before, so the creativity thing is the most appealing to me on this side.
Now that you're CEO, do Tin Roof's owners William McGehee and Charles Caldwell have plans for any other projects in the future?
The biggest thing is to see what we're going to do with this space out on the lawn. We want to make it more of a beer garden and hopefully get some permanent food options out there. We also want to take a look at what the brand looks like next year, in terms of a portfolio perspective.
Lastly, what's your favorite brew at Tin Roof?
Juke Joint IPA.
---
Editor's note: Quotes have been edited for clarity and brevity.