THE BASICS: Bart Waguespack and Ronnie George opened the Library in February at the entrance to the Conway development in Gonzales. They created a parlor-like hangout with a well-curated wine list and an upscale menu with the help of chef James Dickensauge, brother of local chef David Dickensauge. (Editor's note: The Library now has a new executive chef, Rey Atlas Bey.) Reservations are a must.
WHAT'S A MUST: The Wagyu Flatbread is a great shareable starter, and the Truffle Burrata salad offers sweet, salty and creamy contrasts. For entrees, the Coffee Rubbed Spiced Pork Tenderloin and Couscous Crusted Lamb pull in some worldly spices to great effect (although I'd suggest asking for the mint sauce on the side for the lamb). 

About 225's food critic: Benjamin Leger previously served as managing editor for 225 and was the editor of its Taste section from 2012 to 2021, editing, writing and steering the direction of its food coverage in print and online. He is passionate about all things food and food journalism, and has written about the greater Baton Rouge area's cuisine and culture for nearly two decades.
---
A bookish theme is everywhere at the Library Wine & Provisions, from the parlor-like feel to the wall of framed photos of literary greats nearby. It's in the book-sized drink menu, too, with a variety of wines and a list of signature cocktails all inspired by classics like The Great Gatsby and Don Quixote.
So if I were to review the dining experience at the Library like I were to review a book, I could say this: It's a modern tale spanning a variety of culinary settings with a medley of familiar and recurring characters—plus one confounding plot twist.
But that wouldn't give you the full story.
You know it's a good read when people you trust recommend it. And that's how I came to the Library one Wednesday evening. It's the first outpost to anchor the relatively new neighborhood development Conway, just outside Gonzales. And it's one of only a few fine-dining spots in the area.
That comes with a lot of pressure, as the owners and chef aim to create an upscale escape for the Ascension Parish crowd that doesn't require driving to Baton Rouge or New Orleans.
My group arrived one Wednesday evening ready to raise a glass and pore over the menu of small plates, salads and entrees.
Once wines were selected, we cracked the book on the food.
---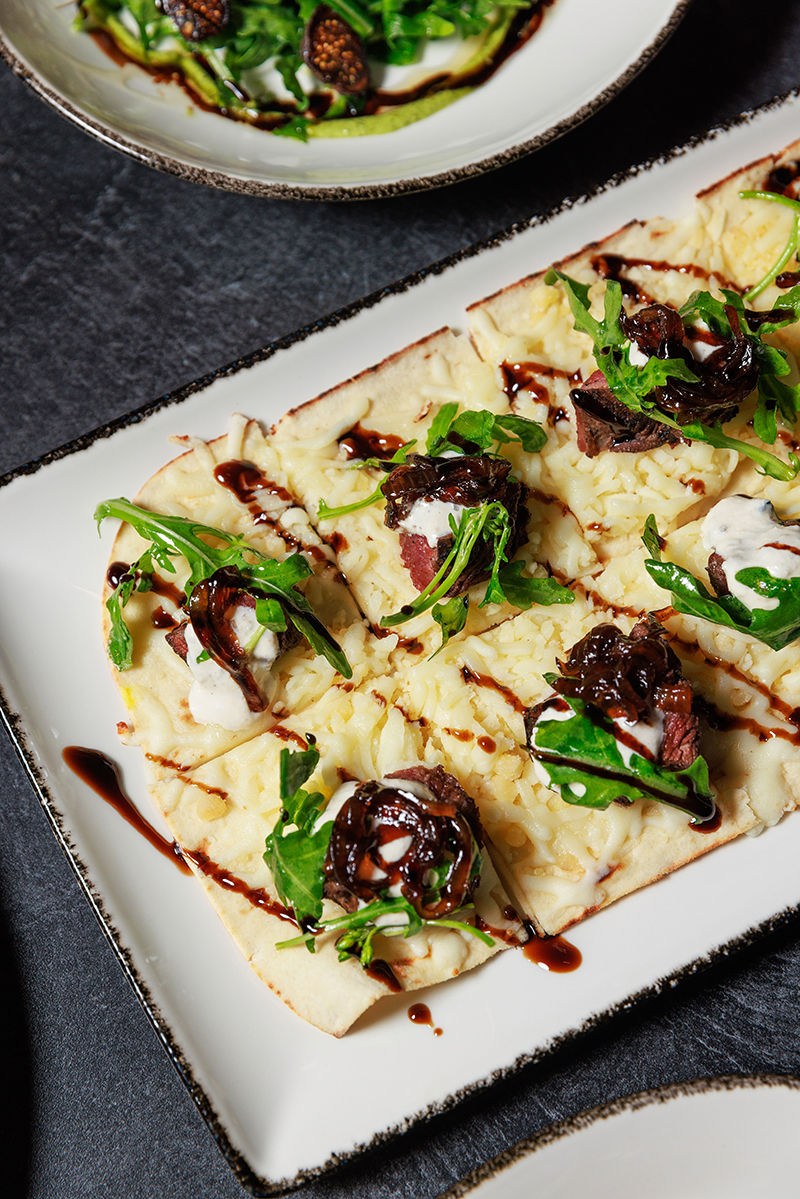 We started with the Wagyu Flatbread and Crawfish and Asparagus Arancini.
Wagyu, that savory and sought-after Japanese beef, shows up in three small plates at the Library, and truffle recurs in eight dishes on the menu, by my count.
For the flatbread, a smear of truffle cheese was broiled into the top of squares of crispy bread. Each section held a quarter-size morsel of tender wagyu layered with onion jam, a black garlic aioli, arugula and balsamic. It was a delicious bite of contrasting flavors and crunch, although the ratio of the large flatbread to the small portion of toppings made the ingredients seem almost rationed out.
The three breaded and fried arancini were stuffed with crawfish and asparagus. A dollop of black garlic remoulade and a base of nutty pesto offered bright notes, but the arancini filling was rather salty and overpowered the other flavors. Of the two, the flatbread was our table's favorite.
---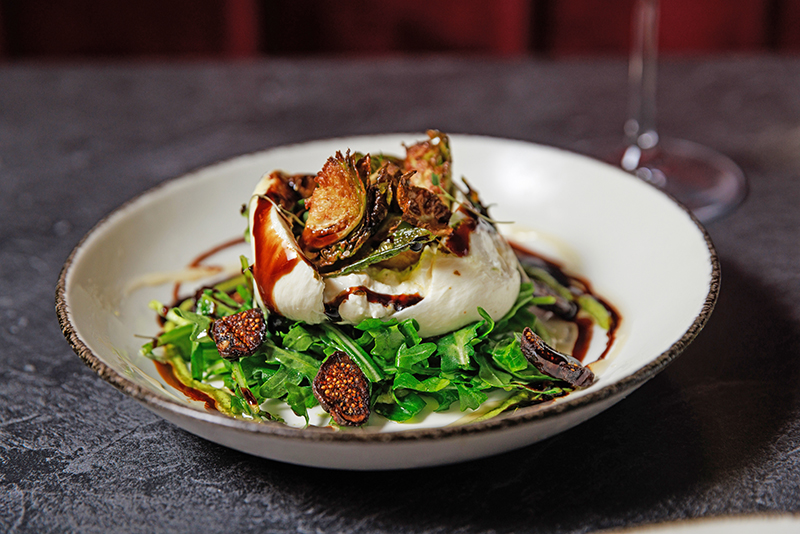 Before we turned the page to entrees, we did some light reading about the salad options. We selected the Truffle Burrata salad, with arugula, bits of dried fig, roasted Brussels sprouts and a drizzle of honey, truffle oil and balsamic around a mound of burrata.
The burrata was lovely, with its firm mozzarella casing holding a burst of creamy stracciatella. The toasty Brussels and sweet ingredients all worked beautifully with the cheese, while the truffle oil added a note of richness.
---
So far, we were enjoying the plot, but we were excited to get to a new chapter: the entrees of Coffee Rubbed Spiced Pork Tenderloin and Couscous Crusted Lamb.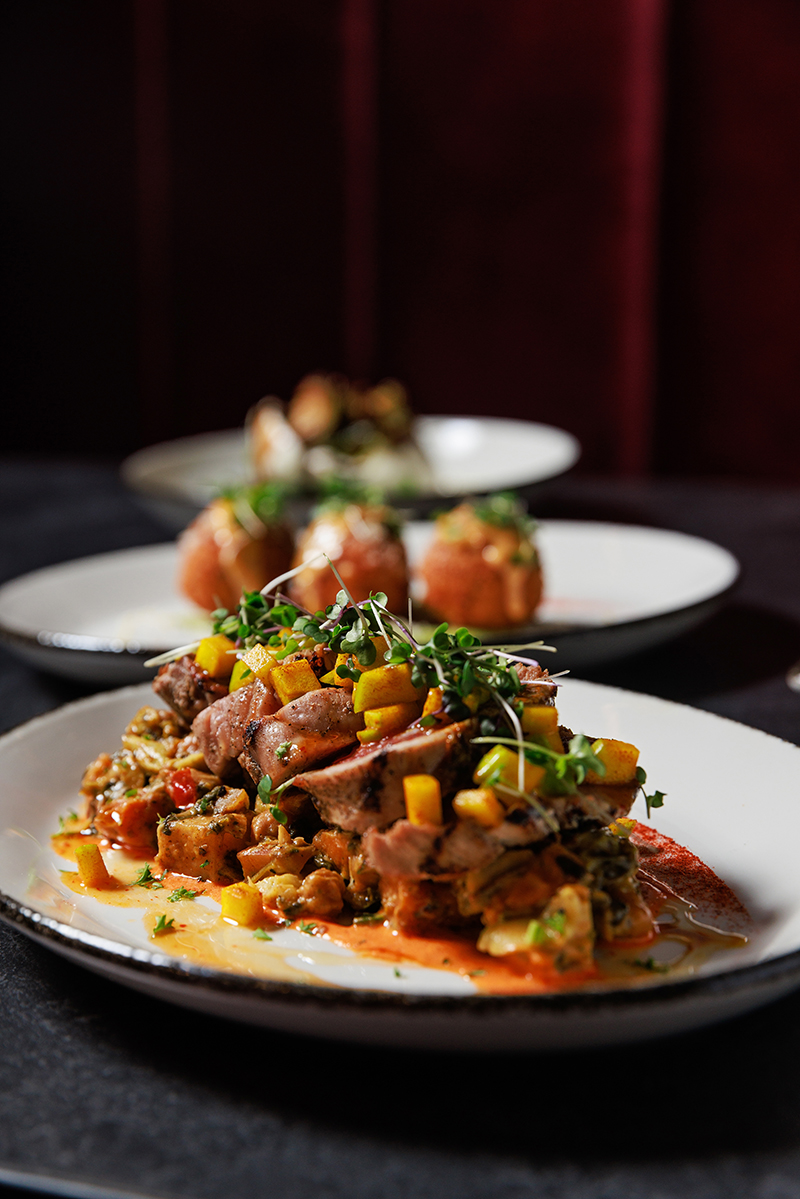 For the tenderloin, a hearty sweet potato hash with spinach and garbanzo beans formed the base for juicy slices of tender meat flavored with an interesting Indian-style spice blend. It was topped with a tart green apple relish and surrounded by a spicy red pepper oil that made this plate a comforting, fall-ready winner.
The lamb dish saw four lamb chops arranged over fluffy couscous with bits of dried fig and goat cheese. The menu referenced a mint sauce that had me excited for a fresh and herby component or something akin to a peppery mint chutney.
Instead, what was drizzled across the plate could only be described as a fluoride-like mint goo with an artificial green-blue hue. I was thankful the drizzle didn't make too much contact with the delicious, medium-rare lamb or the spicy couscous, because it tasted like a cloyingly minty toothpaste.
I know lamb chops might traditionally be served with mint jelly, a trick to mask the gaminess of lamb dating to the old days of farming. But today's lamb isn't the greasy, gamey meat it used to be. And we've left behind the food dye craze of the 1950s. If the intent here was a retro callback, it worked against the delicious components of this dish and stood in jarring contrast to everything we tasted before. Fortunately, it wasn't enough to make us forget the better scenes from earlier.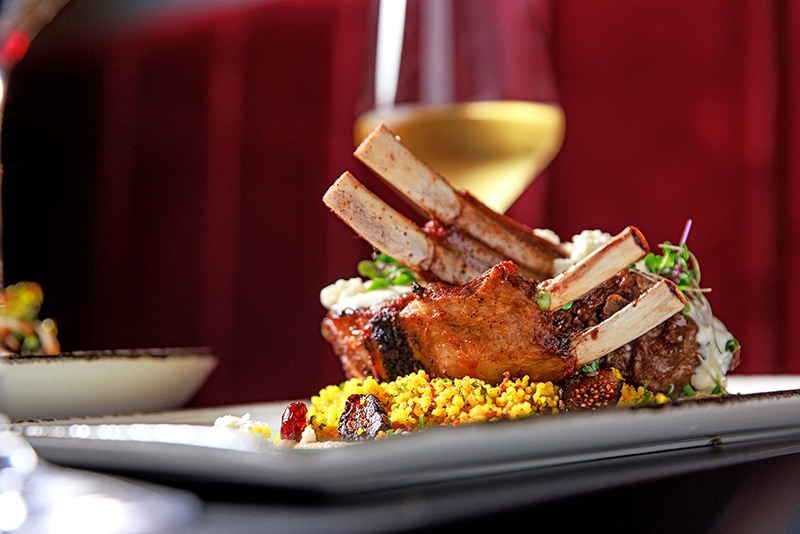 My dinner companions all had something nice to say about their meals while the wine and conversation flowed. The service was attentive and the manager came by to check on us, sharing news about other tenants planning to join this fledgling shopping center.
It seems like a dining experience much needed in this corner of the region, and residents nearby all appear excited to have a neighborhood spot for an upscale night.
Paired with a good glass of wine and a cozy setting, Library Wine & Provisions, like any good book, is worth revisiting.

Conway Village Center
Tuesday-Saturday, 4:30-10 p.m.
---
This article was originally published in the October 2023 issue of 225 magazine.