Despite their cringy name, so-called dump desserts are all the rage right now, thanks to their short ingredient list, ease of assembly and overall deliciousness. A cake-cobbler hybrid usually featuring fruit as the central ingredient, these simple meal-enders are baked in a 9-by-13 pan and topped with whipped cream or ice cream.
They're great for bringing to parties, and even better for preparing on the road. We thought they sounded like a winning dessert to test as we head into Memorial Day weekend and the summer travel season. Think of this as a mostly homemade dish you can pull off in a snap while at the beach or in the mountains.
Many traditional dump cake recipes feature canned fruit, but it seemed only fitting to make ours with plump fresh blueberries, soon to be peaking in Louisiana. We also threw in fresh blackberries for good measure, another local fruit. Of course, forthcoming north Louisiana peaches would be amazing in a dump cake, too.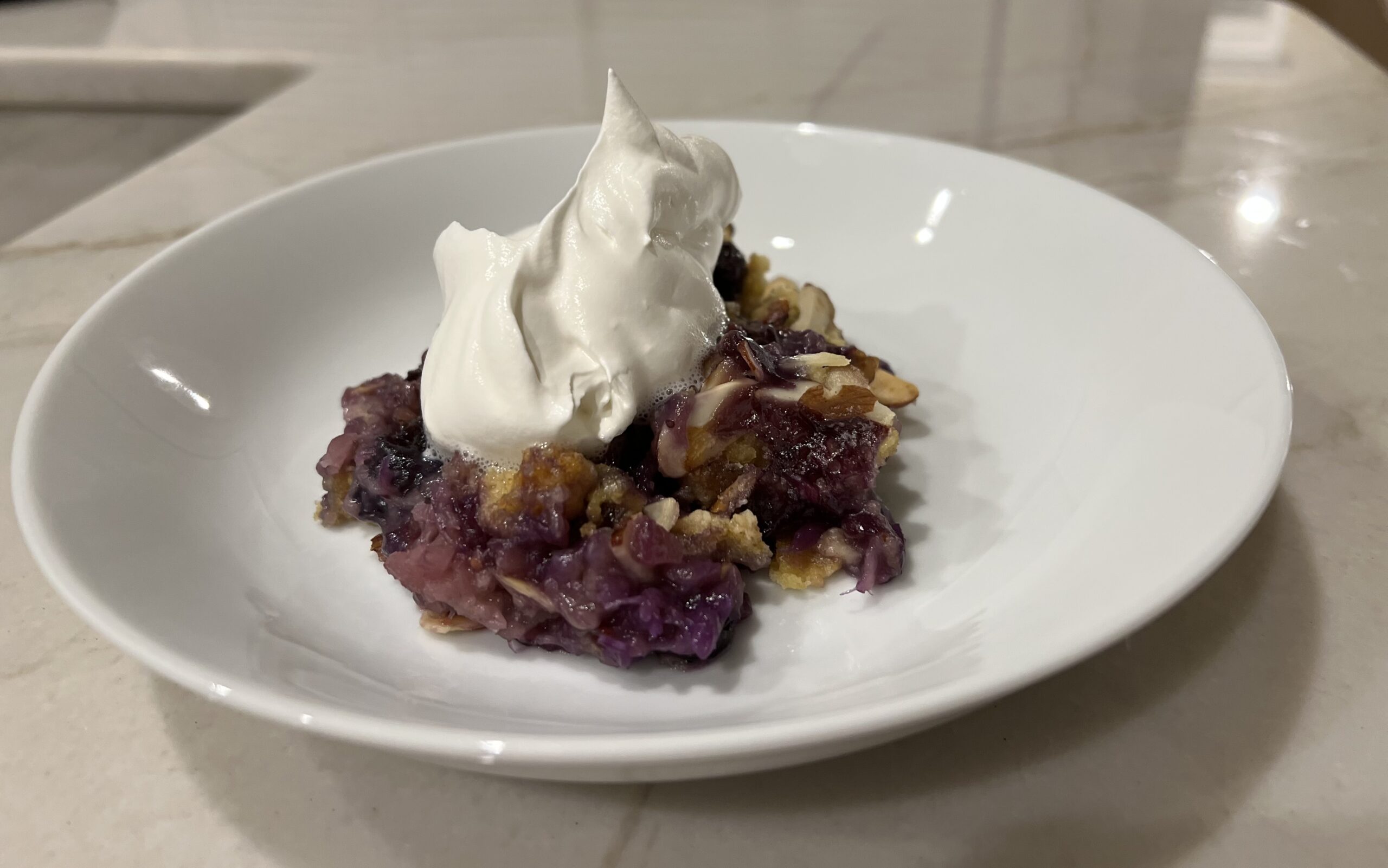 The result was a lip-smacking dessert that took minutes to prepare and was a real crowd pleaser. This is a definitely a recipe to keep in your back pocket as we turn to simple dishes that incorporate local, seasonal ingredients.
Here's the basic formula, but you can personalize it accordingly.
In our opinion, the fresh fruit needs no additional sugar, particularly since there's sugar in the cake mix, whipped cream or ice cream, and because the pineapple base is naturally sweet. However, most recipes combine ½ to 1 cup of sugar with the fruit, so feel free to add if you like your desserts extra sweet.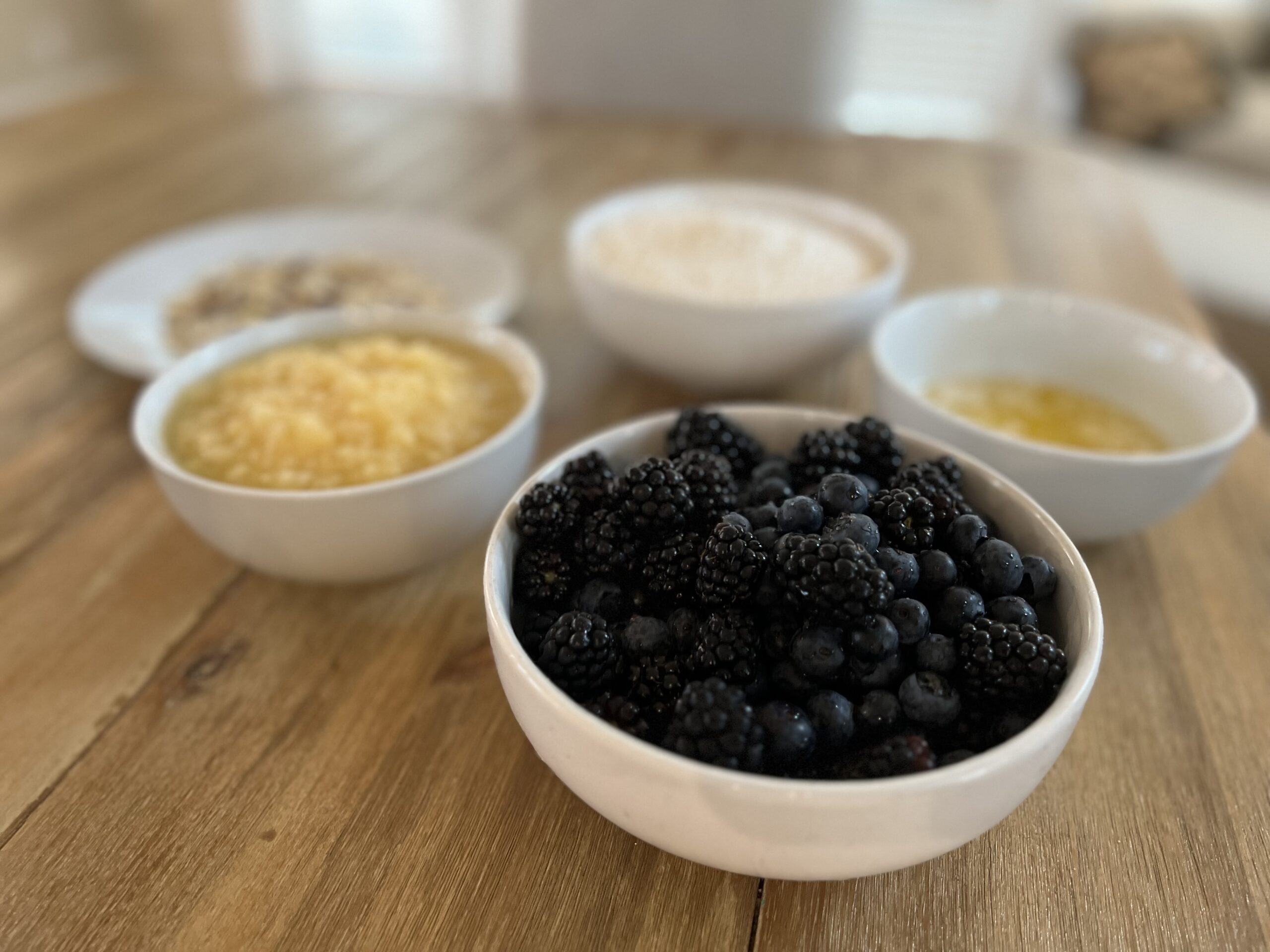 Purists might feel that the use of cake mix is a bridge too far, but you can ease your guilt by taking the extra step of adding a teaspoon of fresh lemon zest to the berries. Or, you can omit the cake mix altogether and go homemade with a combination of 1 ¼ cups all-purpose flour, 1 cup sugar, 1 teaspoon baking powder and ¼ teaspoon kosher salt.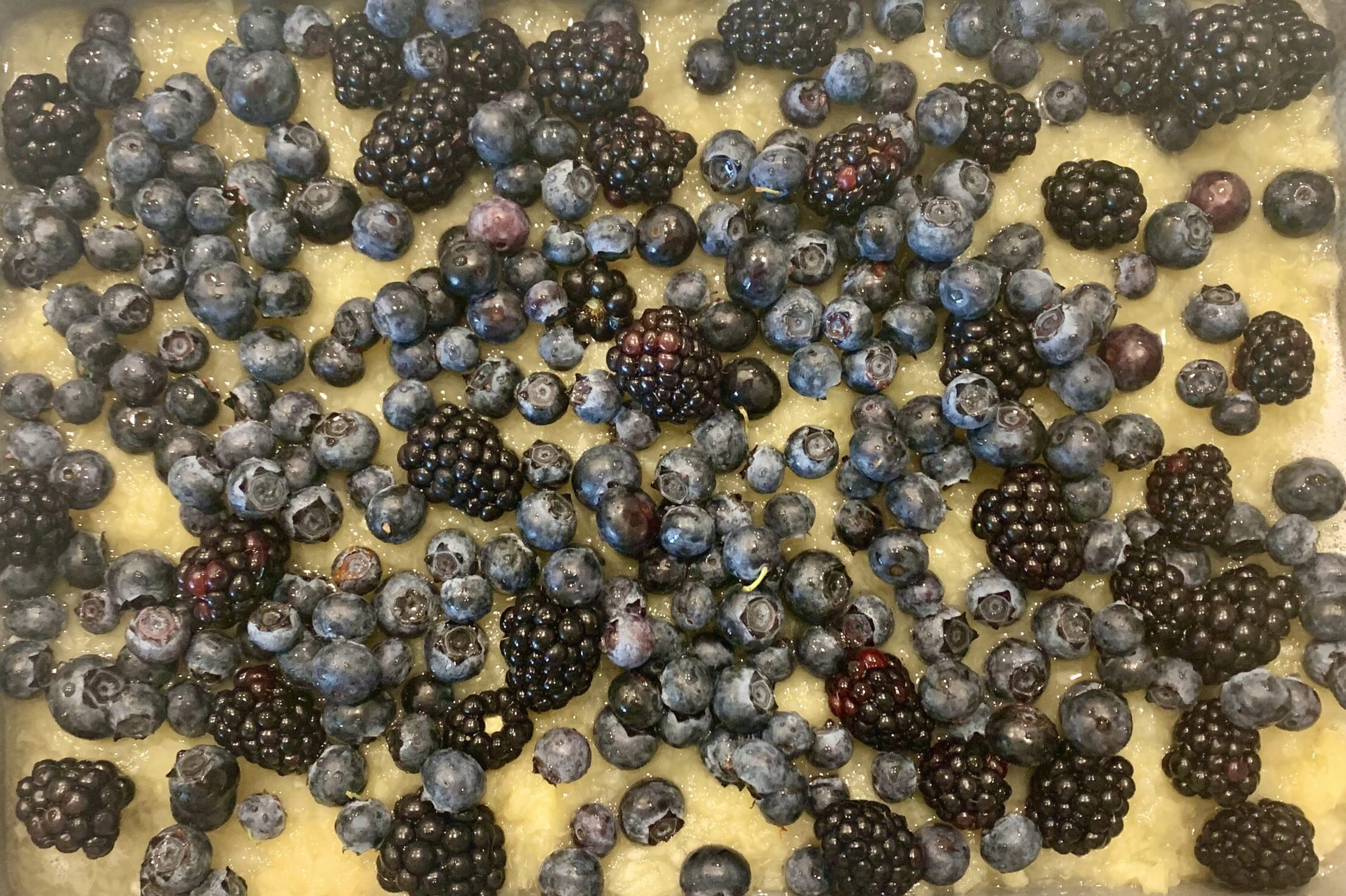 Berry Crunch Dump Cake
1 20-ounce can crushed pineapple
11 ounces fresh blueberries
6 ounces fresh blackberries
1 box white or yellow cake mix
1 ¼ stick butter, melted
1 cup sliced almonds or chopped pecans
Spray 9-by-13 pan with cooking spray. Pour crushed pineapple into bottom of pan and spread evenly. Add washed and dried blueberries and blackberries on top. Sprinkle cake mix evenly over berries. Pour melted butter over surface of cake mix, covering as much as possible. Top with an even coating of nuts. Bake for 45-55 minutes.  Let cool slightly before serving. Top with ice cream or whipped cream.