---
A night out at Supper Club is more than fine dining.
It's an experience.

THE BASICS: Brandon Landry, founder and former CEO of Walk-On's Sports Bistreaux, opened Supper Club in May 2022 just across from Perkins Rowe. The concept is a stylish, pricey, reservation-only, steak-centric restaurant with a strict dress code. The kitchen sources premium ingredients like wagyu, prawns and lobster from around the world.
WHAT'S A MUST: The Grilled Cheese Dumpling offers a cheesy, tomato-y first bite. The Filet Mignon and the Truffled Lobster Gnocchi are perfect examples of the restaurant's high-quality, expertly prepared proteins. Do yourself a favor and order the Parker House Rolls to share. And don't skip dessert—the tableside Creme Brulee and the luscious Butter Cake are popular ways to finish dinner here.

It's a phrase that can either spark intrigue or elicit an eyeroll. Many a Capital City restaurant has aimed to create the sense of being whisked away.  But the idea can be unintentionally condescending. It's like saying: Wouldn't you rather be anywhere else but here?
Supper Club wants to transport you somewhere else, yes. But it's to a glitzy, unique world all its own.
I remember hearing about this place from a few restaurant industry friends when it was under construction. There won't be any windows, they said. There will be a strict dress code. It's gonna be the priciest dinner in town!
This seemed like an experience, and for one special occasion this winter, I decided to give it a try.
---
Sandwiched between storage facilities and warehouses across from Perkins Rowe, it's easy to overlook this mostly unadorned brick building.
But the luxury sports cars out front and well-dressed doorman might give it away. He's there to check your name, since it's reservation only. (And probably that you meet the restaurant's "elegant casual" dress code, which is spelled out in detail on its website).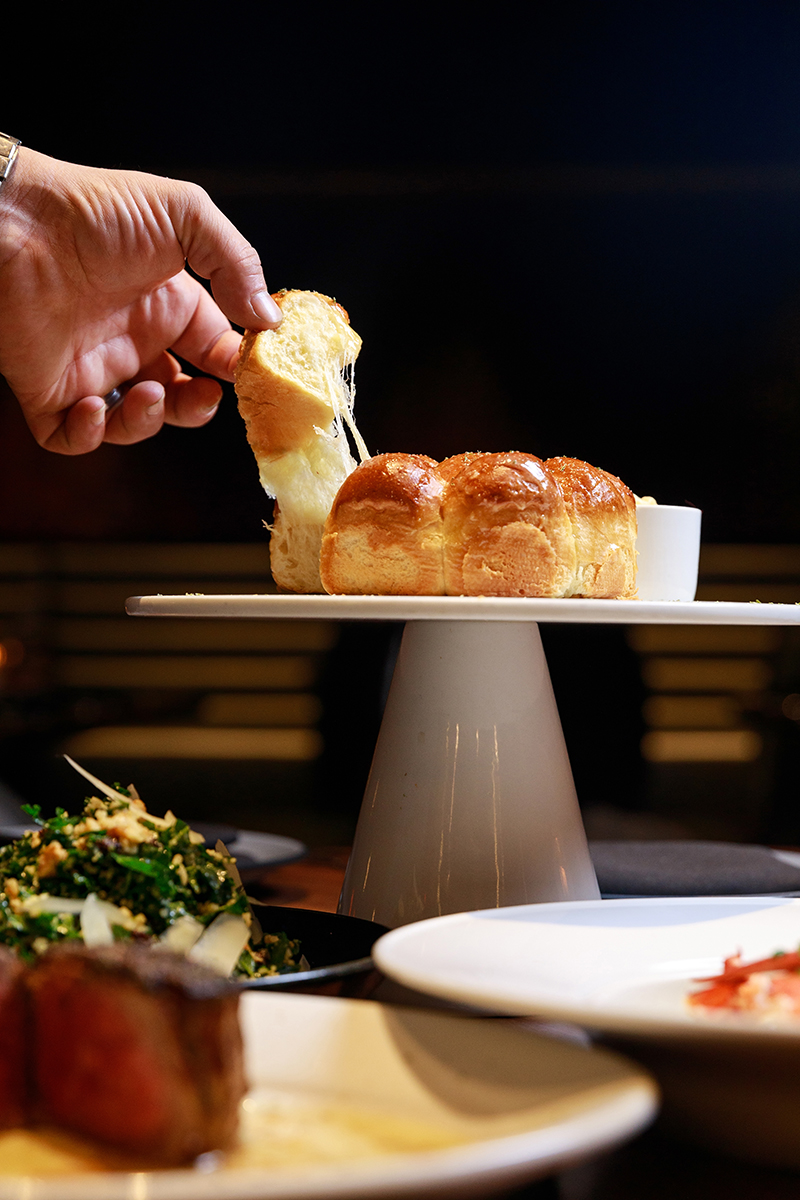 Once through a dark anteroom, you emerge into the main dining space of Supper Club like you've uncovered a high-class, modern speakeasy. The tall walls are moody and dark. Sparkling, sculptural chandeliers and iridescent chain curtains divide the large room into distinguished spaces. On one side is a bar clad in black marble, flanked by a crowd dressed in their Friday night best. Nearby is a DJ booth where dance music spins just loud enough to make you wonder if this place turns into a nightclub after hours.
Indeed, if you feel like you're somewhere other than Baton Rouge, you're probably thinking of Vegas. The whole vibe aims for the fanciest cocktail bar on the Strip, and the patrons dress the part.
---
Once we were done ogling, we found our seats. Immediately, we were swarmed by servers delivering water and dropping off complimentary samplings of crispy truffle fries while our main server took drink orders and walked us through the menu.
The appetizers are divided between hot and cold options, and there's even a small selection of high-end caviar if you're so inclined. I had already zeroed in on the Grilled Cheese Dumpling and the Short Rib Burnt End appetizers from the hot items.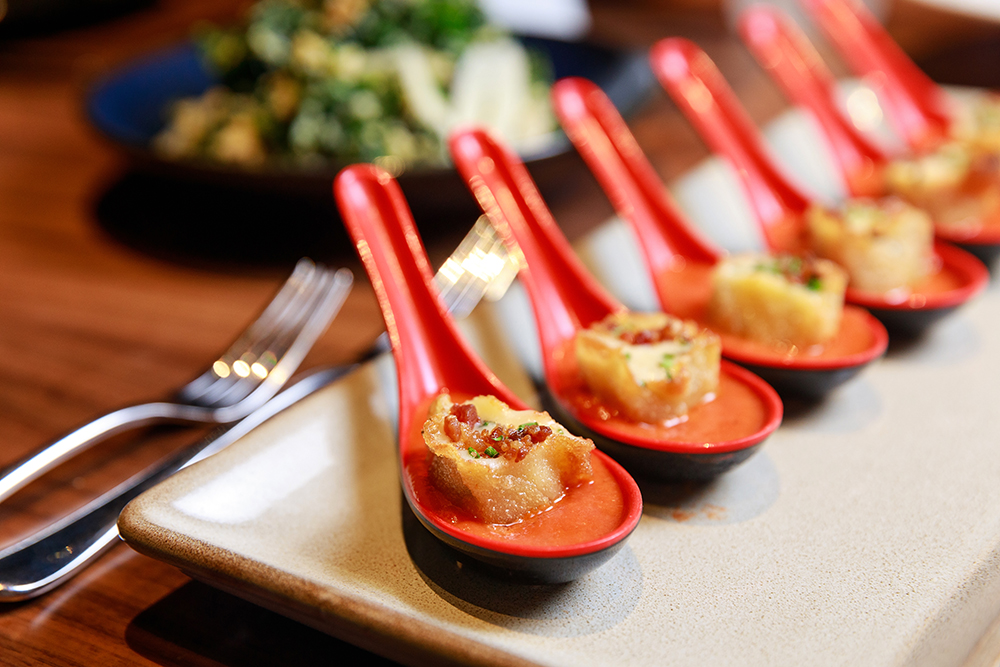 The dumplings came served amuse-bouche-style in soup spoons. Little rings of flaky pastry encasing gooey cheese sat on top of spoonfuls of warm tomato bisque. It was a crunchy and tasty bite—but literally just a bite. And the tomato bisque on its own didn't have much depth to it.
The short ribs arrived on a tree trunk platter under glass. When the server lifted the glass, a billow of smoke drifted up, revealing slices of perfectly cooked short rib arranged with bread and butter pickles. The meat was tender with a lovely, smokey crust, and the pickles added a nicely sour contrast.
---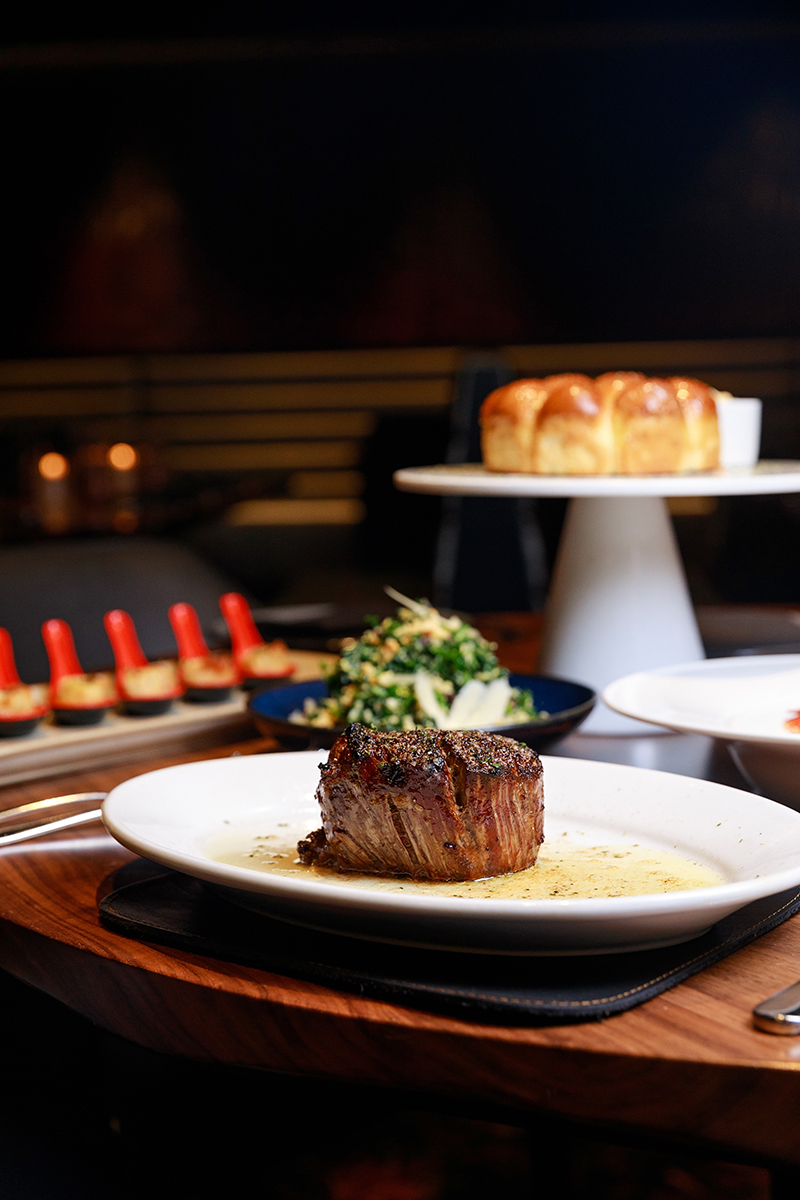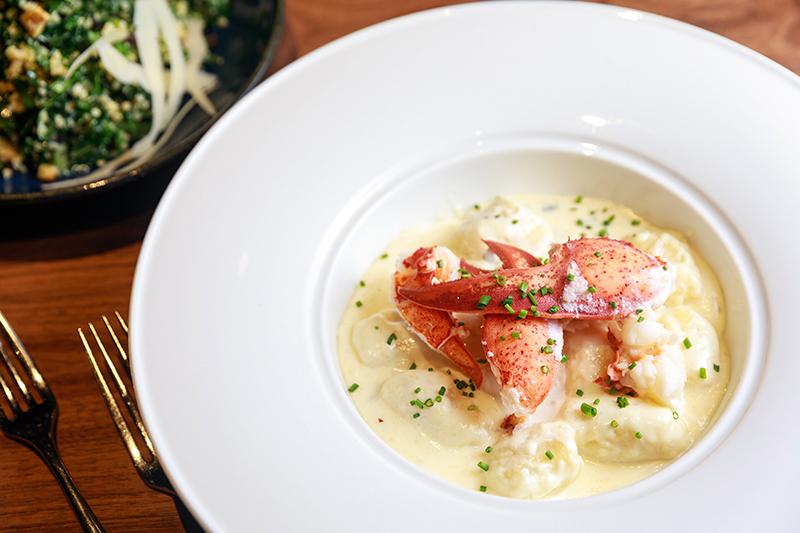 After our server gave us an overview of the entrees and the restaurant's focus on high-quality meats, we chose the 8-ounce Filet Mignon and the Truffled Lobster Gnocchi.      
First, though, we needed something green, so my partner and I split a Kale Salad.
I wasn't expecting to be so impressed. This one came chopped, with bits of leafy kale, walnuts, dried cranberries, quinoa and shaved Parmesan all tossed in a light lemon-thyme vinaigrette. Everything was crisp and fresh, and the super cold plates were a nice touch.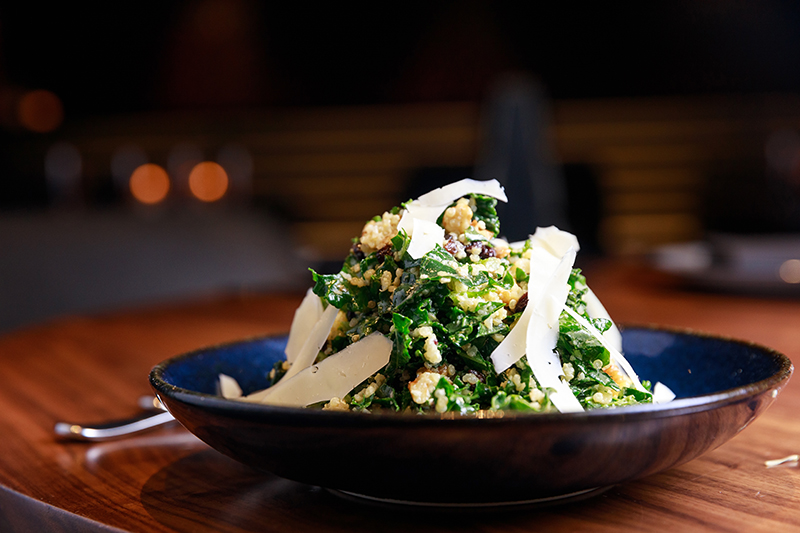 Similar to our appetizers, there was an element of flair and presentation to the entrees. For the filet, our server first brought out a wooden case with a display of knives for us to choose from. Next, the lobster arrived under a porcelain lid that was lifted to allow the dish's buttery scent to waft into our noses before diving in.
The filet was incredibly tender, cooked perfectly with a salty crust on top. The lobster meat was ample and juicy. The gnocchi, unfortunately, fell apart like mashed potato. I was expecting a little more bite to it. The dish was also lukewarm by the time it got to our table, though the flavor was still lovely.
I must mention we also ordered a side of Parker House Rolls with our meal—and I'm so glad we did. The bread arrived atop a cake stand and looked like enough to feed a whole family. The rolls are baked in a round pan so they become pull-apart morsels of sweet, salty and butter-glazed goodness. They were the first thing I asked to have boxed up at the end of the night.
---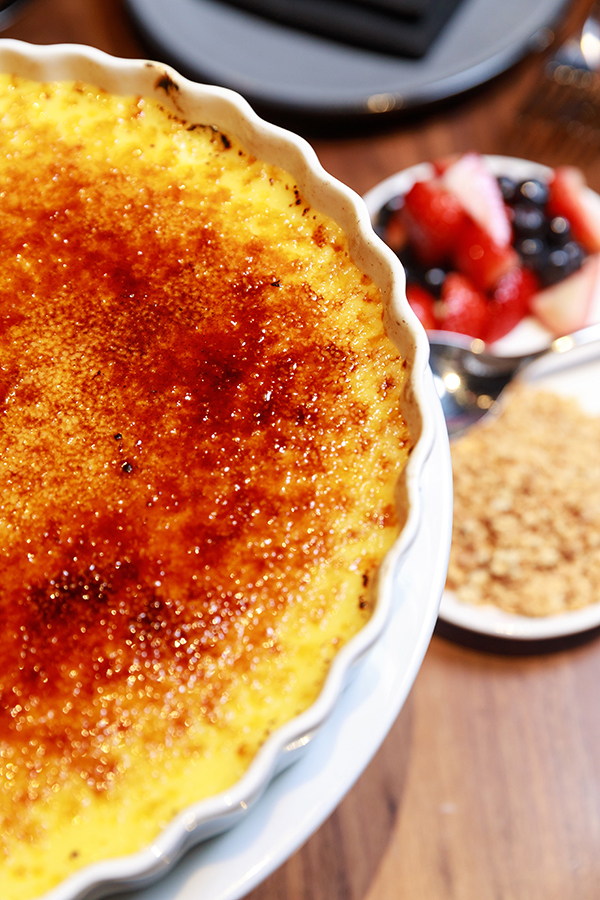 But the night wasn't over yet. Even though we were fully stuffed, this seemed like a place where dessert was a must. Earlier in the evening, we watched pyrotechnics take place at the table next to us as a server flambéed a giant creme brulee tableside. It was the size of a full pie, so at our server's suggestion, we went with the smaller Butter Cake instead.
The cake was a more manageable treat, with a scoop of vanilla ice cream on top and a mound of whipped cream. It was crumbly and buttery, and the whole dessert gave us a sweet note to end on.
---
The team behind Supper Club clearly aimed to create an experience here, and nearly every dish has some gimmick to it, if not in ill-advised naming alone—there's a section of the menu called "Side Pieces" and another called "Arm Candy." There's even a cocktail that's dispensed into your glass from an IV bag.
Strip away the stunts, though, and you are left with great flavors, quality meats and attentive service on par with a high-end steakhouse. It's a restaurant perfect for an indulgent special occasion.
The question is whether you're in the mood to go along with the rhythm (or is it dance beat?) of Supper Club's world for a night—and whether you'll be ready to return to Baton Rouge once it's over.

supperclubbtr.com
Tuesday-Saturday 5-10 p.m.
About 225's food critic:
Benjamin Leger previously served as managing editor for 225 and was the editor of its Taste section from 2012 to 2021, editing, writing and steering the direction of its food coverage in print and online. He is passionate about all things food and food journalism, and has written about the greater Baton Rouge area's cuisine and culture for nearly two decades.
---
This article was originally published in the February 2023 issue of 225 magazine.