Wanda Barras feeds goats on the farm at Belle Écorce Fromagerie in St. Martinville. Photos by Collin Richie
---
If you frequent the Saturday Red Stick Farmers Market in downtown Baton Rouge, you've no doubt noticed the line of patrons extending from the Belle Écorce farmstead cheese booth. You might have even stood among the patient faithful yourself, waiting for an edible flower-topped log of chèvre while the effusive cheesemaker, Wanda Barras, takes time to answer every question. Unruffled by the building crowd, Barras delights in hearing feedback from regulars, who are quick to share how they put her award-winning cheese to use.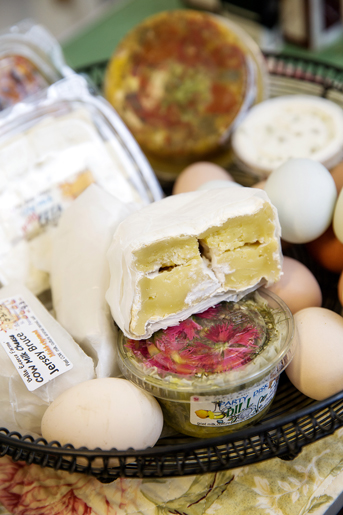 Barras, known as the Goat Lady, has been making and selling farmstead cheese from her St. Martinville home since 2003. It is legally deemed "farmstead" because Barras produces her line of cheeses with milk from a resident herd of Nubian and LaMancha goats.
Most cheesemakers around the country purchase milk rather than go to the trouble of also running a dairy farm, but not Barras, who has elevated cheesemaking—rare in the hot, humid Deep South—to a high art.
Barras was initially drawn to cheesemaking because of her love for animals. In 1999, she bought a couple of LaMancha goats and brought them home to her farm, where she was also raising exotic birds and hairless cats. Today, Barras keeps a herd of about 100 LaMancha and Nubian goats, 40 of which are actively milked to produce the creamy, tangy collection of chèvres she is known for.
Recently, Barras also added a few Jersey cows to the operation, and she has expanded her board of fare to include cow's milk cheeses. She makes three different aged blue cheeses, camembert and an aged gouda that is sometimes made with both cow's and goat's milk and flavored with beer.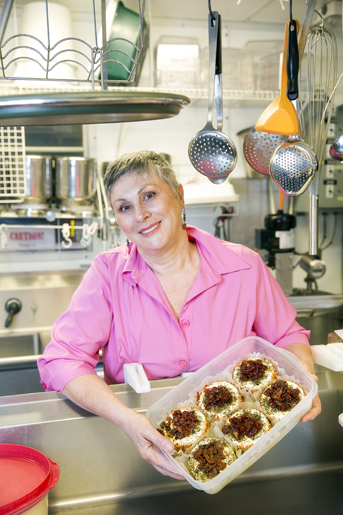 Belle Écorce's line of beautifully adorned chèvres includes the popular Italian, studded with hand-dried Roma tomatoes, fresh herbs and olive oil. Barras flavors other logs with roasted garlic and red bell pepper or dill with lemon and garlic. Her "Lil' Gracies" are 3-ounce "bloomy rind" goat cheese medallions. Bloomy rind cheeses, the best known of which are brie and camembert, have soft, white, edible rinds.
Barras has built a loyal following at the Red Stick Farmers Market and through the retail counter she keeps at her farm. Lately, she's also become a favorite among farm-to-table chefs. Her cheese is on the menus of Houmas House in Darrow, Dark Roux, Bread and Circus Provisions and Jolie's Louisiana Bistro in Lafayette and several other eateries.
"I'm doing a lot more in restaurants," she says.
Formerly, Barras sold pre-packed logs and containers of spreadable chèvre exclusively, but with her expanded variety of aged cheeses, she now offers cut-to-order services at the market as well.
Barras says that while business has grown steadily over the last 12 years, she has no plans to expand further. The demand of milking a substantial herd and producing hand-crafted cheeses is at capacity, and it requires additional employees to help her get the job done.
"It's where I want it to be," she says.
---

For more information:
Belle Écorce Fromagerie in St. Martinville
(337) 394-6683
belleecorcefarms.com
Find Wanda Barras and her Belle Écorce cheeses Saturdays at the Red Stick Farmers Market, Fifth and Main streets, in downtown Baton Rouge. redstickfarmersmarket.org
---
Know your goat:
Barras raises two types of goats on her farm. LaMancha goats originated in the United States, and though they vary in size, they are known for a steady production of milk with a high fat content. Nubian goats have a mixed origin of Indian, African and English, are relatively large and are prized for their high-quality, high-butterfat milk.