Wanda Barras feeds goats on the farm at Belle Écorce Fromagerie in St. Martinville. Photos by Collin Richie
---
If you frequent the Saturday Red Stick Farmers Market in downtown Baton Rouge, you've no doubt noticed the line of patrons extending from the Belle Écorce farmstead cheese booth. You might have even stood among the patient faithful yourself, waiting for an edible flower-topped log of chèvre while the effusive cheesemaker, Wanda Barras, takes time to answer every question. Unruffled by the building crowd, Barras delights in hearing feedback from regulars, who are quick to share how they put her award-winning cheese to use.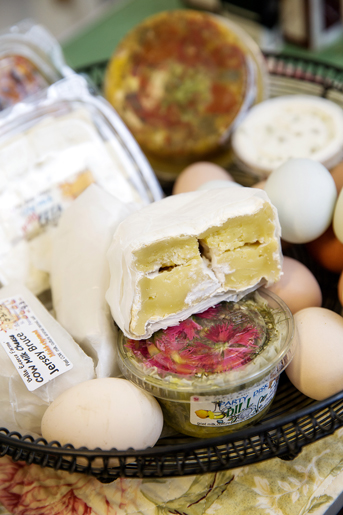 Barras, known as the Goat Lady, has been making and selling farmstead cheese from her St. Martinville home since 2003. It is legally deemed "farmstead" because Barras produces her line of cheeses with milk from a resident herd of Nubian and LaMancha goats.
Most cheesemakers around the country purchase milk rather than go to the trouble of also running a dairy farm, but not Barras, who has elevated cheesemaking—rare in the hot, humid Deep South—to a high art.