Local white shrimp from the Gulf have been fabulous lately, and they make a great menu item for New Year's Eve.
I'm in the camp that likes to stay home for New Year's. I avoid crowds and nosh on fancy apps, great wines and tapas-style nibbles. You may feel the same way. If so, one thing that's easy and elegant is grilled shrimp with gremolata, served either on a big platter or in a martini glass with cocktail sauce (as pictured below).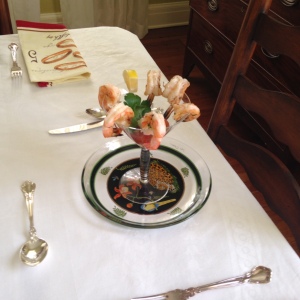 The martini glass has certainly been road-tested, but who cares? It's New Year's Eve—a time to enjoy one last bit of indulgence before the nasty reality and restraints creep in.
Gremolata is a wet rub that includes lemon peel, fresh parsley, minced garlic, salt, pepper and olive oil. Prep it, then paint or spoon it on the skewered shrimp before grilling. Serve immediately.
Enjoy, and Happy New Year!
For more of Maggie's food posts, visit hungryforlouisiana.com and follow her on Twitter at @mhrwriter.