Editor's note: Soulshine Kitchen & Bar announced its closure this week in a Facebook post. The below review was written earlier this fall, before news broke of the closure.
---
THE BASICS: Owners Danny Wilson, Joe Martin and Bryan Rogers opened Soulshine Kitchen & Bar in July 2022 in the Chimes Street neighborhood. The team began by offering plenty of soul food favorites, but have since culled down their menu to bar snacks and late-night eats that make it primed for the college crowd.
WHAT'S A MUST: The thick-cut fries are nice and crispy, the Joy Burger will quell any after-hours burger craving without being too mushy or greasy, and the Smokin' Wings with strawberry pepper-jelly sauce are great for sharing.
---
About 225's food critic: Benjamin Leger previously served as managing editor for 225 and was the editor of its Taste section from 2012 to 2021, editing, writing and steering the direction of its food coverage in print and online. He is passionate about all things food and food journalism, and has written about the greater Baton Rouge area's cuisine and culture for nearly two decades.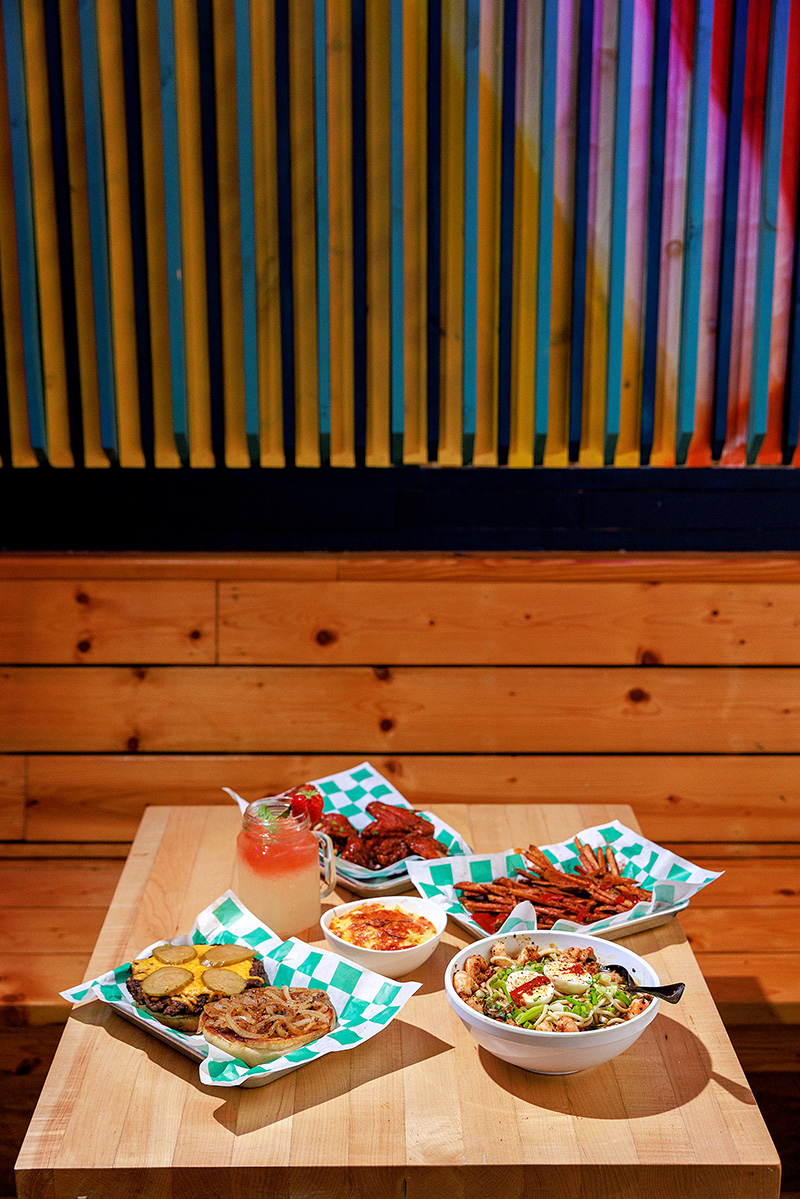 I don't think I know a better corridor for late-night eats in Baton Rouge than the Chimes Street area outside LSU's North Gates. You've got legendary hangouts like Louie's Cafe and The Chimes, the original Raising Cane's, Highland Coffees for a caffeinated study space and Insomnia Cookies for an after-hours sweet tooth fix—just to name a few. The owners of Soulshine Kitchen & Bar staked out a spot in the coveted neighborhood in summer 2022, initially aiming to share some Southern comfort dishes with the college crowd. The menu leaned on soul food plates like smothered chicken, fried catfish and cornbread dressing. The restaurant soon began hosting its Trust Pop-Up dinners and brunches—a chance for co-owner and chef Danny Wilson to show off his much broader culinary tricks. The menus prompted guests to choose a word, which corresponded to a mystery dish Wilson would whip up in the kitchen. These pop-up events became a must-try for local foodies. But they have since become less frequent, and the regular menu has narrowed its focus to bar food and late-night staples that might be familiar to folks who have tried Wilson's cooking at downtown's Brickyard South. Think: cheese fries, wings, burgers and other greasy goodies. One midweek evening, my partner and I decided to give that regular menu a try before any hard-partying college crowds arrived. Besides the alt-rock music coming from the speakers, the restaurant was relatively quiet. Wilson was hanging out on the porch with friends, but he readily got the kitchen going for our orders. From the chalkboard menu near the walkup bar, we chose the Joy Burger with a side of fries, Yakamein and an order of the Smokin' Wings to share.
The wings starter essentially came with three drumettes and three wings. Ours were slathered with a strawberry pepper-jelly sauce, per Wilson's emphatic suggestion. Paired with a side of fries, this was practically a meal in itself. The wings were crispy and juicy, and the sauce was savory-sweet without being too peppery. The fries were thick cut and a roasty golden-brown color—the kind of fries that taste more like comfort food than fast food.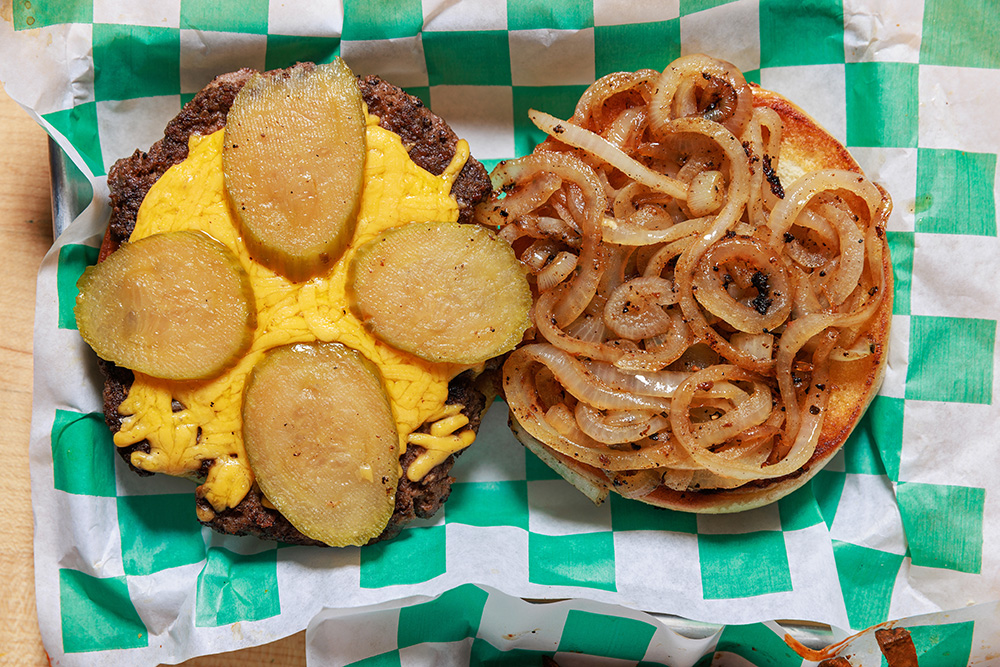 The Joy Burger featured a half-pound of beef, grilled onions, mustard, pickles and American cheese on a toasted bun. The meat was well seasoned and expertly cooked, and the pickles stood out among the condiments for their homemade crunch. Mushy burger buns can be a dealbreaker for me, so I was thankful for Soulshine's substantial, toasted bun that held its own against the hefty ingredients. My partner remarked that this was the kind of burger you would crave after a night out, and I very much agreed.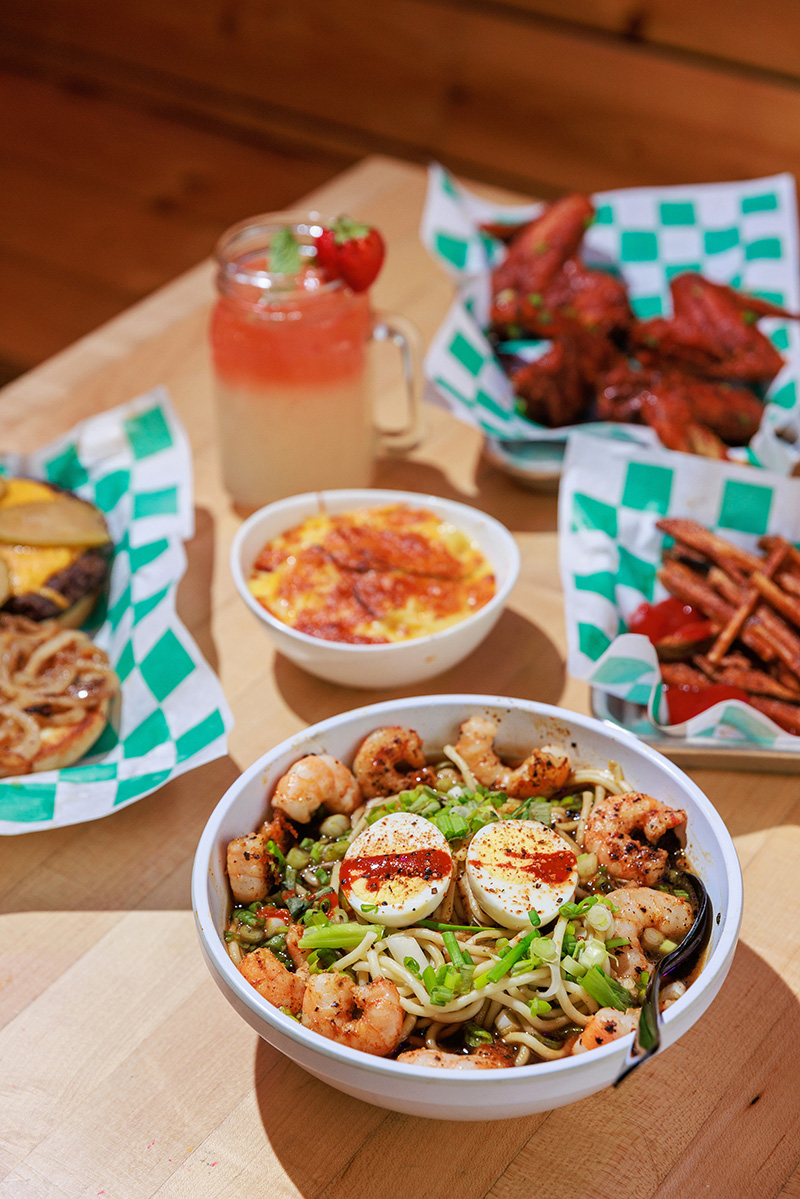 Our other entree, though, didn't get the same praise. Yakamein, the New Orleans-born noodle dish, is often called the "Old Sober" for being a good hangover cure. It's a fusion of Asian and Creole cooking, with sauteed shrimp and beef, boiled egg, green onions and spaghetti noodles in a savory beef broth. You might find it in Styrofoam cups from a New Orleans street vendor or at events like Jazz Fest, but I'm not sure I've seen it in Baton Rouge until now. Soulshine's version didn't have meat, but plenty of spicy seasoned shrimp. The menu board said its base was a "secret broth," and I fear that secret might just be salt—tons and tons of salt. I can typically handle salty flavors, but this was so salty, in fact, that two slurps of the dark brown broth were all I could handle. A good hangover soup should be restorative, not make you worried of a stomach ache later. I ended up fishing out the tasty shrimp, egg and noodles and left the bowl of broth behind. Despite that disappointment, I still left feeling like Soulshine got something right. The burger, wings and fries were all spot on. The vibe proudly reps the '90s era of grunge and neo-hippie rock in a way that's inviting, casual and nostalgic. It's clear the restaurant has found a sweet spot, catering to what North Gates' visitors want from a Chimes Street dive. And in late October, the Trust Pop-Up dinners resumed—giving those of us who are past our late-night days another opportunity to savor Wilson's straight-from-the-soul cooking.

Wednesday, 11 a.m.-9 p.m., Thursday-Saturday,
11 a.m.-3 a.m.
Closed Sunday-Tuesday
---
This article was originally published in the November 2023 issue of 225 magazine.