---
Our food critic's name may be false, but the credentials are not. This gastronome has studied the history, cultivation, preparation, science and technology of food for more than 30 years.
---
THE BASICS: Newcomer SoLou debuted last spring in the former Rum House space on Perkins Road. "There's no place like south Louisiana," declares a neon sign on the patio wall—and that's exactly what the restaurant's menu seems to convey. The concept, created by restaurateurs Peter Sclafani, Kiva Guidroz and Michael Boudreaux, reimagines Louisiana classics in playful, inventive ways.
WHAT'S A MUST: Dishes like the LA Alligator Hot Dog and Shrimp Corn Dogs are just plain fun to eat (and snap photos of). The Chicken & Waffles dish is a standout, marrying juicy, flavorful chicken with a crisp waffle. Though the dessert menu is full of shareables like the Tableside S'mores, the creamy Creole Cheesecake might be one of the tastiest of its kind in Baton Rouge—not to mention the best our reviewer has had, period.
Having heard talk of SoLou and its interesting menu, I recently took the opportunity to try it when dining out with some old friends.
A basket full of surprises arrived at the table before we even ordered in the form of complimentary pork rinds. Uber crisp with a light salting, these made for a salivating starter.
Our friendly waitress spontaneously recommended the Crawfish Beignets as her favorite shareable, and we agreed it looked unique. Craggy, misshapen fried nuggets were crisp outside with a creamy softness inside. Crawfish tails were present, though few and far between. The accompanying green onion coulis was bright and herbaceous, although the beignets were also perfectly fine without.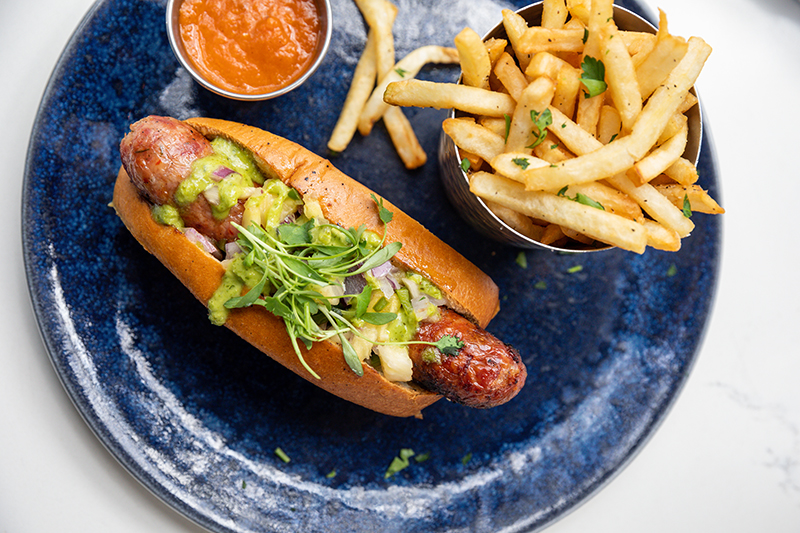 My friend's eyes were instantly drawn to the LA Alligator Hot Dog. Alligator sausage was served in a brioche bun with barbecue sauce, pineapple and salsa. Shoestring French fries were plentiful on the side, with just the right amount of salt. Perfectly sweet, buttery brioche encapsulated an unctuous spicy link, though the bun was a bit dry. The link had a great snap and superb flavors, but we thought the toppings were scant and added little to the dish.
Fish in a Bag was an apt description. Though it was not mentioned on the menu, the accompanying side of maque choux was a welcome addition. The Cajun corn offering was creamy, with rich flavors of red peppers and spices. Roasted sugary tomatoes were a wonderful topping, covering the fish with delightful juices. Though moist and perfectly flakey, the fish on this occasion was rather fishy.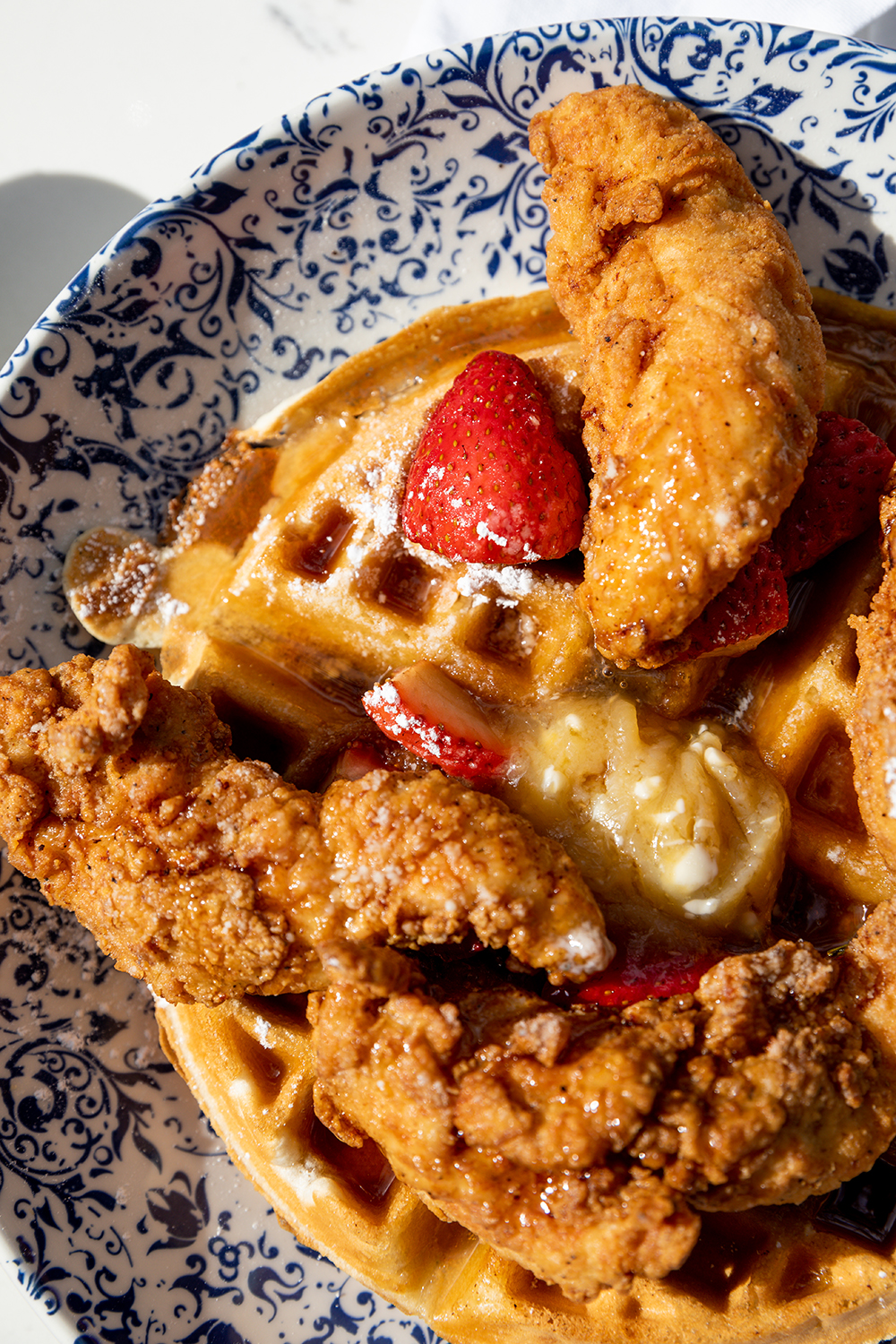 Chicken & Waffles were presented as fried chicken tenders atop a golden brown waffle. The chicken was incredibly juicy with excellent seasoning. A crisp waffle was a mild, splendid complement to the richly flavored chicken, and a tiny drizzle of syrup gilded the lily. This was a drool-worthy offering.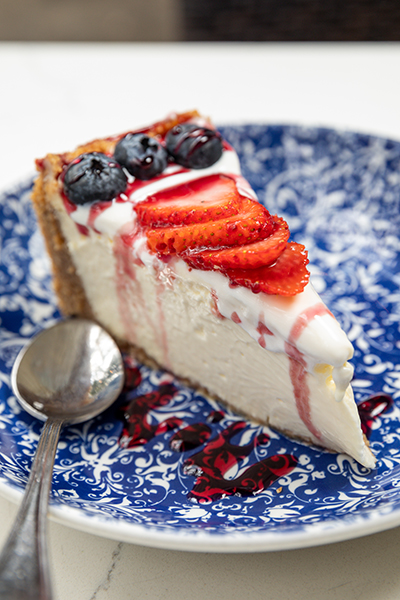 Fig & Pecan Pie with vanilla ice cream was thankfully a reasonably sized slice, given pecan pie's tendency to be cloying. Small chunks of figs cut a lot of sugar, adding an almost savory component. Flakey, buttery crust held the whole thing together, integrating a fresh and enthralling spin on an old standard.
Creole Cheesecake with raspberry sauce and fresh berries presented a captivating piquant element, thanks to the tanginess of Creole cream cheese. This ultra-creamy concoction was truly one of the best cheesecakes I've ever had. Ever.
---
"This ultra-creamy concoction was truly one of the best cheesecakes I've ever had. Ever."
---
Unbeknownst to me, cotton candy is brought to every diner as a whimsical finisher. Mounds of fluffy, white spun-sugar made us giggle with delight. It was fun to eat at first, though the novelty wore off as the fluff dissipated into flavorless sweetness. But this did nothing to diminish the giddy nostalgia we all felt munching on it.
SoLou has done much to convert this space into a newfangled eatery. Thankfully, the glorious and inviting patio from this building's days as The Rum House is still intact. SoLou updated it with sputnik chandeliers, string lights and a greenery wall complete with a mural and neon sign. It's a literal breath of fresh air on affable weather days.
And with such variety on the menu, an entire krewe could be satisfied. And entertained.

Monday-Thursday, 11 a.m.-9 p.m.
Friday, 11 a.m.-10 p.m.
Saturday, 10 a.m.-10 p.m.
Sunday, 10 a.m.-9 p.m.
---
This article was originally published in the April 2022 issue of 225 magazine.