Ruffino's lobster mushroom lollipops. Photo courtesy Ruffino's
---
A peek at the unique, lobster-themed menu
We never thought we'd use the words "lobster" and "lollipop" in the same sentence. And then we saw Ruffino's LobsterFest menu.
Every August, Ruffino's Italian Restaurant rolls out a specialized three-course menu for lobster season. The "three for $30" menu boasts three appetizers, three entrees and one dessert to choose from.
This year, the restaurant's menu features unique dishes such as lobster spring rolls, a lobster "knuckle sandwich," and yes, lobster mushroom lollipops.
The lobster lollipops are true to their name: a set of six baby portobello mushrooms stuffed with Maine lobster, garlic and green onions and served on skewers. The mushrooms are oh-so-lightly breaded and fried to add a little crunch. They come with a dollop of lemon aioli for a sweet complement.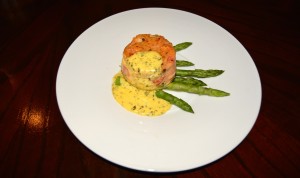 The lollipops could almost be a meal themselves, but you'll regret it if you don't continue with a lobster filet. Reminiscent of filet mignon in shape and size, this tangy lobster creation is topped with Béarnaise sauce and served over asparagus.
The dessert course was Creole bread pudding doused in a sweet whiskey sauce and sprinkled with raisins.
Co-owner Ruffin Rodrigue says Lobsterfest is Ruffino's way of beating the August heat—an incentive for people to enjoy a night out when late summer blues tend to keep people at home.
Here's a look at the full menu:
Appetizers:
Lobster and asparagus bisque: Maine lobster in a cream-based soup with summer asparagus
Lobster mushroom lollipops: mushrooms stuffed with Maine lobster, garlic and green onions and fried to a crispy finish
Lobster spring rolls: Maine lobster, avocado, asparagus, red onion and cilantro wrapped in rice paper and served with a ginger soy dipping sauce
Entrees:
Lobster-stuffed rigatoni: Maine lobster meat stuffed in house-made rigatoni, covered in a lobster cream sauce with herbs
Lobster filet: live Maine lobster and shrimp mousse steak, served with asparagus and Bearnaise sauce
Lobster "knuckle sandwich": Maine lobster meat tossed with a creamy dressing in brioche bread, served with truffle fries
Dessert:
Creole bread pudding: New Orleans-style bread pudding with raisins and cinnamon served with a whiskey sauce
---
LobsterFest ends August 31.
Ruffino's is located at 18811 Highland Road and is open 4:30-10 p.m. Monday-Thursday, 11:30 a.m.-11 p.m. on Friday, 4:30 p.m.-11 p.m. on Saturday and 11:30 a.m.-9 p.m. on Sunday.