---
An entire generation of Baton Rougeans has grown up never knowing what it's like to be without a farmers market. This month, the Red Stick Farmers Market marks its 20th anniversary, an impressive feat given the culinary climate in which it was established.
"A lot of this stuff is common now, but in the mid-'90s it was kind of a new idea," recalls Christopher Campany, executive director of the Windham Regional Commission in Brattleboro, Vermont, and the local farmers market's first director.
Campany was a graduate student at the LSU School of Landscape Architecture when an urban design course inspired him to research installing a public market in Baton Rouge. His master's thesis provided additional research on the idea, and by 1996, he, along with LSU professor emerita Suzanne Turner and a handful of community leaders, moved forward with the idea. They formed a nonprofit then named the Baton Rouge Economic and Agricultural Development Alliance, or BREADA, which would operate the farmers market.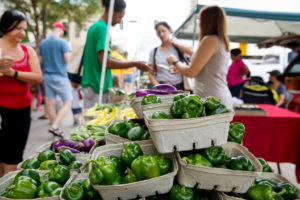 The market was located in a surface parking lot at 300 North Blvd. The 19th Judicial District Courthouse now occupies the block.
Campany recalls that one of the biggest challenges then was educating farmers on the idea of a producer-only market where the only items sold are those produced or grown by the vendors themselves.
Opening in November 1996 with just a few farmers, the market didn't have the variety it's known for today. "We got nervous that all we were going to have was greens," Campany says with a laugh.
Very quickly, farmers who were running their own farmstands, including New Roads-based Glaser's Produce Farm and Chenier Farms from Opelousas, joined the market and began bringing a range of vegetables. Other farmers followed, along with vendors selling fresh eggs, baked goods, cheese, fruit wines and other items.
In those early days, the market began to whet the appetite of health-conscious shoppers and gourmet foods enthusiasts. It also helped farmers and consumers get to know each other. The market was building a loyal following, says BREADA Executive Director Copper Alvarez.
"We have regulars today who have been coming for 20 years," Alvarez says. "We see them arrive early right when the market opens, so they can visit with us and talk to the farmers. A lot of them come week in and week out, and they're a big part of our market family."
The market also helped spark interest in the concept of sustainability, recalls Andrew Smiley, who led BREADA between 1999 and 2003.
"Now it seems like every major city in the country has initiatives to build sustainable food systems," says Smiley, now deputy director of the Austin-based Sustainable Food Center. "But then it was new. I feel like everybody who was working on it then was taking quite a risk because there were very few models to follow. To see what it's become is really something."
In 2001, the market moved to its current location at Fifth and Main streets outside Main Street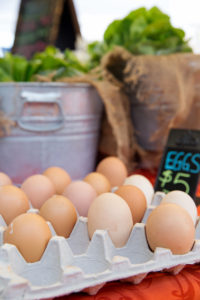 Market. When the growing season is at its most productive, as many as 50 vendors sell a big variety of items outside, while another 20 vendors operate inside Main Street Market. Weekday markets take place on Tuesdays at East Baton Rouge Parish's Main Library and Thursdays at Pennington Biomedical Research Center most of the year.
Market organizers will focus on expanding a couple of key initiatives for the future, Alvarez says. BREADA wants to increase the number of SNAP benefits recipients who shop at the market now that the technology is in place for the market to accept SNAP benefits cards. Alvarez says they also hope to grow the market's role in helping families shop for healthy foods and cook together.
"We want to develop that next generation of shoppers and really reach out to people who don't know about us," she says. "We want to show them what a difference it makes to your quality of life, and that it's that spot where you can buy fresh foods and bump into your friends and build community." 
---
Anniversary celebration
BREADA and the Red Stick Farmers Market mark their 20th anniversary at the Saturday, Nov. 5, farmers market downtown beginning at 8 a.m. Events include an anniversary cake, recognition of co-founder Suzanne Turner, a demonstration by chefs Peter Sclafani and Celeste Gill, morning cocktails and more. "Harvest Days," celebrating the fall bounty, continues all month with events at the Tuesday, Thursday and Saturday markets. For more information, go to breada.org.
---
This article was originally published in the November 2016 issue of 225 Magazine.